The wild, wild west has a rustic charm that makes people want to put on their cowboy hats and boots and embrace the great outdoors. If you love the idea of sleeping under the stars, riding horses, and feeling a million miles away from modern life, look for a property with a fantastic western theme for a relaxing, fun break with your loved ones. Learn about the eight accommodations that'll appeal to your inner cowboy or girl.
Westgate River Ranch Resort & Rodeo – River Ranch, Florida
You will feel like Buffalo Bill when spending a vacation at Westgate River Ranch Resort & Rodeo, which offers Old West activities, such as horseback riding and rodeos. Plus, you can camp under the stars in style in one of the many glamping tents, wagons, and teepees available at this charming resort.
Westgate River Ranch Resort & Rodeo is the only authentic dude ranch in the great state of Florida, offering fun outdoor activities to relive the days of the Old West and some modern options. For example, you can spend time at the petting farm, go horse riding and fishing, enjoy swamp buggy or airboat rides, or watch expert riders at the rodeo. Don't miss out on the tranquil Kissimmee Queen River Cruise during your stay, which provides stunning scenery and unforgettable wildlife encounters.
Following a fun day, you can retire to one of the stunning western-inspired accommodations at the resort. It is arguably the most luxurious glamping resort in Florida, providing a high-end stay in the great outdoors. For example, you could spend the night in a spacious glamping tent, a luxe teepee, or a Luxe Conestoga Wagon. Each features all the comforts of home, a comfortable bed with luxury linen, and a campfire.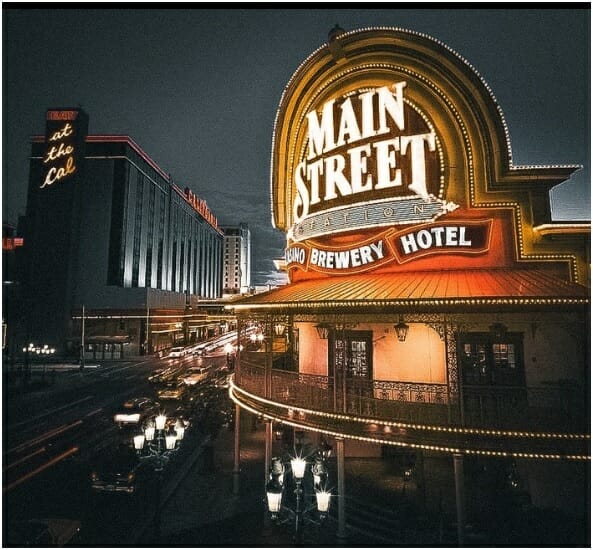 Main Street Station Hotel & Casino – Las Vegas, Nevada
Main Street Station Hotel & Casino is a mishmash of eras, offering an Old West design, 20th-century antiques, and modern casino games and tables. It is a celebration of old and new.
Step back in time to the Victorian era at Main Street Station Hotel & Casino. You will feel as if you have turned back the clock during your stay thanks to the old American West interior, and you can also browse its 20th-century antique collection. For example, it features a snooker table previously owned by Winston Churchill and a huge chunk of the Berlin Wall in the men's room.
The wild, wild west lettering will add some authenticity to the unique venue. The lobby and casino are just as impressive, offering antique slot machines, vaulted ceilings, stained glass windows, and large gold chandeliers.
Dunton Hot Springs – Dolores, Colorado
Stay in the restored 1800s ghost town of Dunton Hot Springs. It offers characterful cabins, an authentic saloon, outdoor activities, and a natural hot spring that will improve your circulation and skin.
Dunton Hot Springs is nestled deep within the San Juan Mountains in the Colorado Rockies. The restored 1800s ghost town is home to beautifully furnished, hand-hewn log cabins, an authentic saloon, and a luxurious natural hot spring underneath a sparkling snowbank.
The romantic backdrop of this historic mining town is an ideal choice for a couple's treat or a relaxing family getaway, offering a charming interior, natural beauty, and fun outdoor activities. For instance, you can test your cowboy or cowgirl skills with a spot of horseback riding in the high Rockies. Also, go mountaineering in the higher San Juans, fly-fishing on the West Fork of the Dolores, or rock climbing, to name a few options.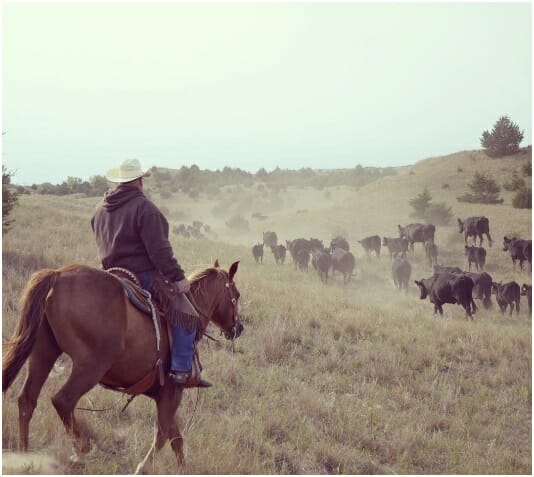 Colorado Cattle Company & Guest Ranch – Raymer, Colorado
Feel at one with nature at the family-owned Colorado Cattle Company & Guest Ranch. The working cattle ranch is operated by modern cowboys and cowgirls, providing an authentic experience you will remember for many years to come.
Real cowboys and girls can be found at Colorado Cattle Company & Guest Ranch, as it is an authentic working cattle ranch in Raymer. As a guest, you will learn about the time and effort it takes to run a ranch daily. Also, you can breathe in the beauty of the exquisite meadows and high bluffs across the countryside, which will make you feel closer to nature.
The ranch sleeps up to 20 guests for a minimum of six nights and offers fun activities to keep everyone entertained, such as horseback riding, cattle drives, riding lessons, and more. Following an active day outdoors, rest your muscles in a hot tub or enjoy a refreshing dip in the indoor pool.
White Stallion Ranch – Tucson, Arizona
Spend your days horseback riding, shooting, or enjoying archery at White Stallion Ranch, which has been featured in many Hollywood cowboy movies. Run by the True family for more than half a century, you will experience a relaxing stay with a personal touch.
The family-owned and operated White Stallion Ranch has everything you could want from an Old West-inspired resort. The True Family has lived in the traditional dude ranch for more than 55 years and strives to provide guests with exceptional hospitality and a personal touch.
If you feel as if you have stepped inside a real wild west film set during your stay, that is because you have, as the ranch has featured in many Cowboy movie classics, such as Confessions of a Dangerous Mind and Arizona.
You will feel like a real-life cowboy when riding through the ranch's rugged mountains and unspoiled desert. Once the day is over, you can return to your recently renovated accommodation to relax in comfort before waking up to a hot breakfast.
The Ranch at Rock Creek – Philipsburg, Montana
Built in the 1800s, The Ranch at Rock Creek features luxury glamping cabins, historic barns, and stunning granite lodges. The beautiful rural backdrop harmonizes with fun activities, such as a rodeo, wildlife safari, a rifle range, and hot air balloon tours.
Experience a real-life western adventure at The Ranch at Rock Creek, a working cattle ranch in the Sapphire Mountain range of the Rockies. You will have a choice to stay in a family canvas cabin or a lodge room, surrounded by 6,600 acres of meadows, mountains, ponds, forests, and a Blue-Ribbon trout stream.
The authentic 19th-century homestead might be steeped in history, but you can enjoy many luxurious amenities throughout your stay. However, you can embrace many outdoor activities for a fun-filled western experience, such as horse riding, line dancing, and fly-fishing.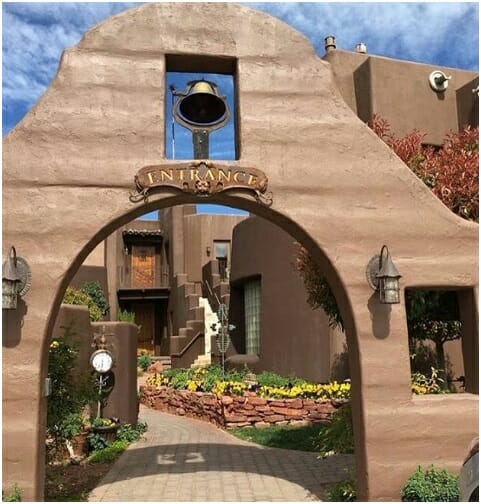 Adobe Grand Villas – Sedona, Arizona
Book a stay at the luxury Wagon Wheel villa at Adobe Grand Villas, which offers a western interior and high-end services and amenities.
Adobe Grand Villas is home to 16 uniquely themed villas to provide guests with a distinctive stay. Those wanting to embrace their inner cowboy should look no further than its western Wagon Wheel villa that embodies the Old West with a wagon-style bed and a functioning water wheel on its door. Also, the villa features a handy bread maker, allowing you to enjoy the pleasant aroma of a fresh loaf during your stay. Also, chef Michael Merilli will serve a stunning five-course breakfast every morning.
Regardless of the villa you pick, you will receive a California king bed, a private patio or balcony, a two-person tub, two fireplaces, and a 40- or 50-inch TV. What's more, you will have access to private dinners, spa services, and an outdoor heated pool.
Spring Creek Ranch – Jackson, Wyoming
Fall in love with the country at Spring Creek Ranch, which offers luxurious western-style accommodation near Yellowstone National Park and the Teton Mountain Range.
Experience an authentic cowboy experience at Spring Creek Ranch, a wildlife sanctuary reaching almost 1,000 feet above Jackson, Wyoming. During your stay at this stunning wildlife sanctuary, you will enjoy unencumbered views of the Teton Mountain Range.
It will serve as a rustic base to explore Yellowstone National Park or the 13,700 ft tall Grand Teton. Choose from various luxurious accommodations to suit your needs and budget, such as townhouses, inn rooms, or mountain villas.
When you're not exploring the wilderness or hiking up iconic mountains, you can enjoy a spot of fly-fishing, embrace the challenge of white-water rafting, or rejuvenate your mind and body with a treatment from Wilderness Adventure Spa.
If you are looking for a hotel stay with a difference, rest assured the above accommodations will bring you closer to nature while helping you tap into your inner cowboy or girl.