Clarity is key if you want a stress-free and hassle-free boat-buying experience. To achieve clarity, you need to be organized, intentional, and specific with your actions. Shopping for a boat need not be tedious and complex if you have a clear idea of everything that you need to do. To get through the whole process with no headache, simply refer to the following steps:
Step #1: Decide on Your Preferred Boat Type
This is a critical decision that you need to make before you do anything else. You need to decide on the type of boat that you want. Knowing the type of boat that you want will streamline your choices and allow you to effectively budget. If you still don't know the type of boat that you want, do consider the following factors:
Your needs
Your wants
Water activities that you prefer
Reasons why you're buying a boat
Boat size
The number of people that you would regularly sail with
Location
Storage
Step #2: Decide on Your Purchase Preference: Brand New or Used?
Once you're settled on the kind of boat that you want, you need to decide if you'd opt for a brand new or used unit. The following are the advantages if you'd opt for a brand new boat:
Clean usage history
Latest technology
Manufacturer's warranty
No need to do extensive research on the previous owner's reason for selling
On the other hand, you'd enjoy the following benefits if you'd opt to buy a used boat:
Discounted price
No uncomfortable feeling of using a brand new boat; no fear of damaging or scratching your boat
Initial boat bugs and errors are already resolved
Time-tested technologies
More options for financing
Step #3: Decide on a Budget
Upon knowing the type of boat that you'd purchase and deciding if you'd opt for a brand new unit or a used unit, only then should you consider your budget. It's important to be particular with your budget because not having one can lead you to overspend. When deciding on a budget, you should also consider the costs of boat ownership. Such costs include maintenance fees and registration fees.
Step #4:  Research on Financing Options
Once you have a set budget, it's time to consider financing options. You shouldn't skip this part as you wouldn't want to pass up a chance to give more value to your money. Opting for financing options will allow you to be more flexible and particular with your budget. Successfully applying for a loan to finance your boat purchase will also significantly increase your credit score.
Step #5: Schedule Your Boat Shopping
Once you've settled all your financial concerns, only then should you start looking for boats for sale from different dealers and manufacturers. A preliminary online search is a must. An online search will allow you to extensively research models and units that you particularly like. Do the following when researching online:
Start with a general online search
Zone in on individual models on the official websites of dealers and manufacturers
Check out forums
Read online reviews
If you have friends and family who sail, dedicate time to discuss matters with them and ask for recommendations. It's imperative that you schedule visits to dealers and ports to allow yourself to fully exercise your judgment.
Step #6: Check Certifications
You should ensure that all your boat options are certified by the National Marine Manufacturers Association (NMMA). An NMMA Certification will ensure that your boat follows international protocols for safety and is of premium quality. An NMMA Certification covers the following:
Ventilation
Fuel Systems
Horsepower Capacity
Passenger and weight capacity
Electrical systems
Flotation
Navigation lights
Steering systems
Guidelines and Warning label placement
Step #7: Compare Your Options 
Upon streamlining your options and ensuring that all are NMMA Certified, you should then duly evaluate and compare each. To do this effectively, you should endeavor to do extensive research on boat values and pricing. Knowing boat values and specific price points will allow you to determine which boat purchase will be financially sound.  When researching, you should also read tips and protocols when negotiating your purchase.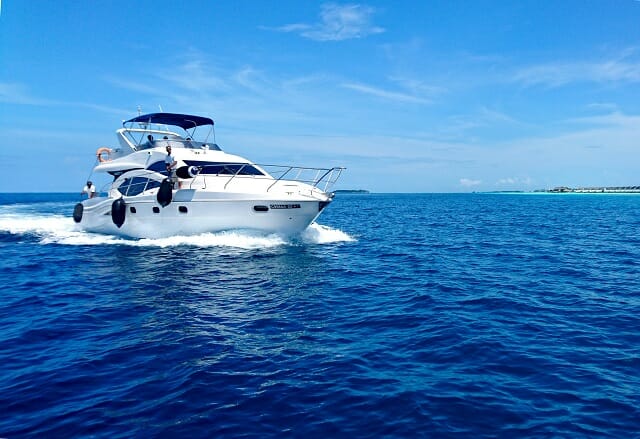 Step #8: Sea Trial
Once you've finalized your choices, you should schedule a sea trial. A sea trial will allow you to test the boat's performance in real-time. Sea trials should be done strategically. If you're looking forward to sailing with family and friends, it's best that you bring people with you during the sea trial. The number of people that should come along with you should equate to the number of people that you plan to always have on board. You should duplicate your regular sailing experience as much as possible. This is to ensure that you really get to evaluate a boat's performance per your personal preferences. Don't do a sea trial with only two people on board when you plan to always go on boating holidays with family and friends. Once satisfied with a boat's performance, you should schedule a marine survey. It should be done by an independent marine surveyor that has no ties to you or your dealer. 
Step #9: Seal the Contract
Upon picking the boat of your choice after duly conducting a sea trial and a marine survey, you should then opt to take steps to seal the contract with your dealer. Inquire on the following when computing for final costs:
Insurance
Dealer fees
Registration
Accessories
Upkeep
Storage