For people who enjoy rolling solo, hiking alone can be a joyous and highly personal experience. There's something about emerging onto a sweeping vista all by yourself, appreciating your tininess in a vast universe and feeling a bracing rush of independence at the same time.
However, it's a fact that hiking alone carries some unique risks that have to be addressed. That same human smallness that leaves you awestruck also means that you're at the mercy of nature. You need to take precautions to ensure that you hike alone as safely as possible.
Below, we'll talk about the basics of hiking alone and how to protect yourself when doing so. From the essential gear (hint: you probably need an LED headlamp, even if it's daytime!) to the key preparations to take, these are the basics of hiking alone safely.
The Risks of Hiking Alone
 When you participate in any activity that involves risk, you should be aware of the specific nature of the risks you're taking. These are some of the risks you're taking by hiking alone:
If you become injured, trapped or lost while hiking alone, it'll be more difficult for you to get help.
Lone hikers may be more likely to experience trouble with animals that could otherwise be scared off by a group's presence.
Lone hikers have fewer options for help if they encounter a dangerous person on the trail.
Certain parts of a trail may be easier and safer to conquer with a group or partner, such as areas that require climbing.
You won't have another person to help you carry shared items, and if you're camping, you'll have to do all of the camping chores (such as gathering firewood and boiling water) by yourself.
These risks are important to know about, but they don't have to stop you if your heart is set on hiking solo. However, you'll need to take some extra precautions to reduce these risks and remain aware of them throughout your trip.
Establishing a Safety Contact 
When hiking solo, communication is your most important safety tool. Always find a trusted friend or family member whom you can count on to check on you and get help if necessary.
You should give your safety contact all of the following information:
The location you're going to
The trails you plan on hiking
When you're planning to leave and planning to return
How to get in touch with you
A scheduled time for check-in calls
Who to contact if they can't get in touch with you
Any concerns you have about the hike you're taking
Where to Hike Alone 
Picking the right spot is important for making sure your solo hike is fun and safe. Think about these tips when choosing a trail for a solo hike:
Choose a trail that's not too far out and is reasonably well-traveled. Having other hikers around will make it easier to get help if you need it.
Choose a trail that you've hiked before, at least for your first few solo hikes.
Choose a trail that's within the limits of your physical abilities. A solo hike isn't the best time to push yourself to your physical limits.
Choose a trail where your phone gets service. This one is not essential, but it's a good idea if you're nervous about hiking by yourself for the first time.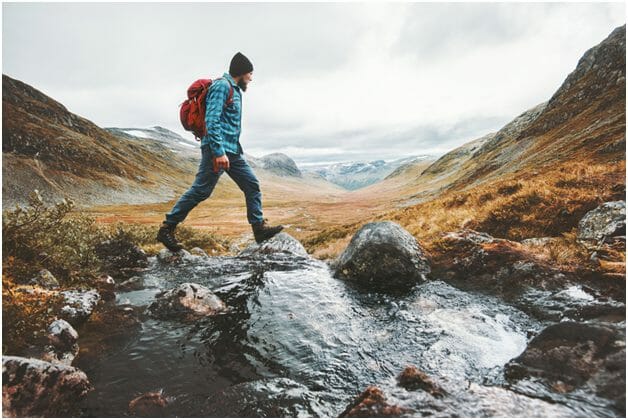 Source: everst/Shutterstock
Preparing for a Solo Hike 
A well-prepared solo hiker will go in armed with the key information they need for a safe hike. Here are some important preparations you should take before heading out:
Learn about the length, major features and marker system of the trail you're tackling.
Look at weather reports for the trail before you leave.
Be aware of common wildlife in your area and know what to do if you encounter some.
Find and mark water stations, places to eat and ranger stations along your route.
Solo Hike Safety  
There's no denying that solo hiking does come with some increased safety risks. These solo hiking safety tips will help you minimize the chance of problems:
Don't head off the trail into unmarked areas. It's easier to get lost than you might think.
Be extra careful when crossing streams and rivers, and use bridges whenever you're able to (even if it means taking the long way around).
Don't wear headphones–or wear earbuds and keep one ear open. You want to maintain an awareness of your surroundings, including weather conditions and people around you.
Trust your instincts. If you encounter a situation that makes you uneasy but you can't explain why, go with your gut and get out of there.
 Essential Gear for Hiking Alone 
Solo hikers should start by carrying the essential hiking gear that pretty much every hiker needs, including:
Water
Snacks
Extra layers
Basic first aid kit
Sunscreen
Bug spray
Emergency shelter
Multi-tool knife
LED headlamp
We should pause for a minute and emphasize how crucial an LED headlamp can be. Even if you're just going on a day hike, a headlamp is a near-essential "just in case" item. It takes up very little space in your bag, but in the unlikely event that you get lost and end up on the trail at night, it can help you avoid becoming injured while you wait for help.
As a general rule, though, remember that you're the only one carrying the weight when you hike alone. Thus, you really need to pare down your pack list to the bare essentials. And whatever you're packing, you should make sure it's in a heavy-duty backpack with a dry bag to keep your most important gear safe from a sudden downpour.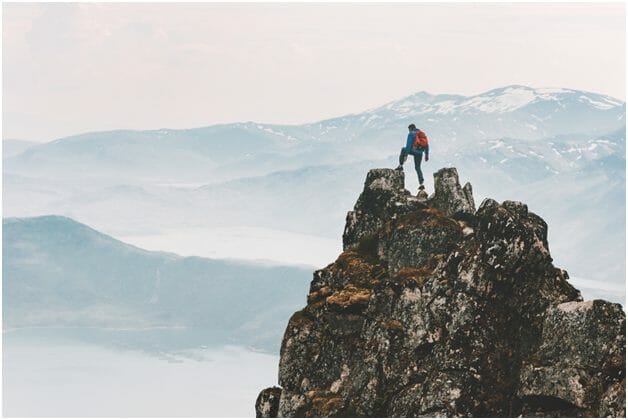 Source: everst/Shutterstock
The magic of hiking alone is real, but the risks are also no joke. Prioritize safety and follow the tips we've laid out here, and you'll have an amazing solo hiking experience to treasure for the rest of your life.