Your guests might be expecting a fun and memorable yacht trip. To think of ways that could offer something new for a charter experience is necessary to generate more income. Boat charters are not new in the market and there are lots of competitors out there. Well, this post will share some tips on how to attract more clients to charter a superyacht above all else.
Yachts became one of the best options when it comes to a holiday trip because of their outstanding features. It may not be the cheapest way to explore beautiful beaches, but offers better privacy for travelers. Each boat also comes with a crew to guarantee a safer trip and is also made available for convenience. Having experts on board may add up to your expenses but it is worthwhile.
Charter services are now wiser in assuring clients that every penny they invest in won't be wasted. They anticipate the particular needs of each guest from the beginning not to miss out on anything. It takes time and dynamic planning to come up with the best features that a specific yacht could offer. The main goal is to satisfy the clients' both budget and needs.
Things to Consider for Yacht Chartering Services
Chartering a yacht is much easier nowadays due to a lot of options. So, here are different ways to draw clients to trust your services without hesitation:
Be Eco-Friendly
One effective way to stun your guests is by promoting a positive impact on the environment. You must seek practices, like reducing the use of plastic and carbon on board, to mitigate the bad effects of waste on nature. This impresses the clients and will soon increase the demand for yacht chartering. It is also ethical in the industry to take care of the beaches through simple acts like what is mentioned earlier.
Qualify a Good Crew
Quality yacht service is possible with a good crew. It makes the trip more pleasant and relaxing knowing there are crews you can trust. That is why it is important to find a crew that values its job and is also knowledgeable enough to face trials while on board.
The guests must feel at home on board with the help of a crew. There should be a happy environment for everyone to feel at ease.
Upgrade Your Technology
Yachts will work best with the latest technology that provides strong signals, like the internet. This adds up joy for the guests and also eases the boredom on board. Using gadgets is indeed possible while riding on a yacht.
Instagram is one of the best tools to share stunning photos from your trip. Having a signal for streaming also matters for a more joyous yacht trip.
Improve the Dishes
Yacht travel would be more fun with delicious foods on board. Charter services should Include a variety of foods and drinks in their menu to attract more clients. Thus, hiring chefs is essential for they know the right nutrients every client needs.
Assessing the health needs of the guests plays a vital role in deciding what kind of meals to prepare.
Prioritize the Client's Well-Being
Most guests have a fitness routine that charter services must consider. Let the travelers request gym equipment and other tools for their convenience.
Establish Activities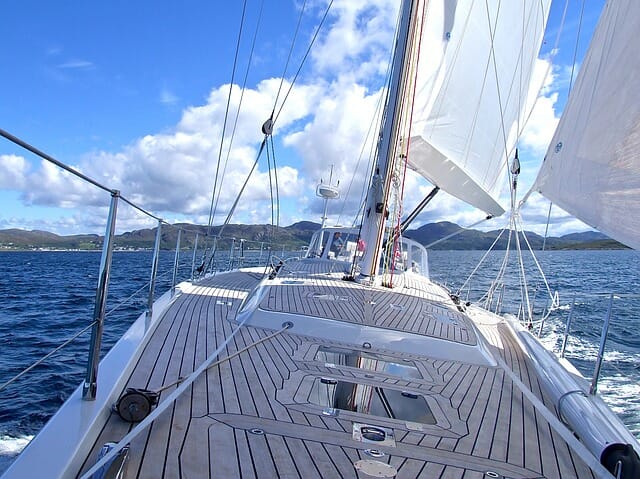 A yacht trip will be more exciting with lots of activities each guest will enjoy. It can be indoors or outdoors. Make sure to provide activities for children and adults. You can get ideas from other charter services, but put a unique touch into it to be on top of the competitors.
Guarantee your guests that they will leave the yacht with stories to tell. This will help you advertise your services with less effort.
You can also create special events to amuse guests. It could be game parties to let children enjoy their stay on the yacht. Aim to maximize the trip by investing in interesting activities for everyone.
Enhance Your Destination Choices
One of the things that attract guests is the destination list you could offer. Choose places and allow the tourists to explore the different sights. You can explore the wildlife, if possible, to experience a new level of adventure.
Try to innovate your travel plan to persuade new clients and to attain loyal guests.
Heighten Privacy
Travelers are longing for better privacy to keep the trip safer and more memorable. It helps to easily captivate high-profile tourists to have fun onboard.
Privacy also makes a difference during the pandemic. It eliminates the risk of getting infected by the virus as the number of guests will be limited. Give your clients the freedom to decide who to travel with.
Giveaways
Allotting gifts to your loyal guests will make them stay and share with others your chartering services. It can be a t-shirt that has the logo of your yacht service. This can be a way to promote your business in a wider market. Whatever stuff you can think that has a connection with the business can help to expand your market a lot easier.
Final Thoughts
You can get ideas from Simpson Yacht Charter on how to improve your sale this summer. They can give tips like the ones above to let your guests experience the most amazing yacht ride ever. Last but not least, do not skip to reconsider the budget of your clients in setting your price ranges.