Delhi, the capital of India receives the maximum number of tourists only during summer due to the annual holidays for all the academic institutions. The visitors are aware that Delhi gets unbearably hot during the months of April and May. Nevertheless, the extreme heat waves don't prevent the tourists from going to Delhi during the summer. At the back of their minds, they know they can cool their heels in various Water Theme Parks near Delhi.
I would say Water Theme Parks near Delhi are more essential for the development of tourism in Delhi and Rajasthan states because of intense hot summer.
Come, I will introduce to you the Water Theme Parks near Delhi and its neighborhood.
1. Water Theme Parks near Delhi: Fun N Food Village
It is a well-known amusement park with several water-themed rides. The Fun N Food Village is operating in Nagpur also in India apart from Delhi. They have one more water theme park in Tashkent also.
The Fun N Food Village's water slides are fun and kids' friendly too.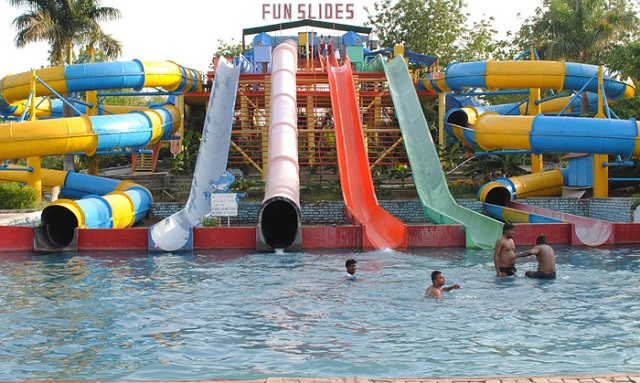 In addition to easy-to-slide provisions, there is an 800 feet long river channel that the elders love and linger in the pool at the end of the tunnel and splash around for a long time.
The unique water game in Fun N Food Village is the 'wave pool'. It is a sort of artificial wave generator that children enjoy. It is a good idea to introduce the man-made sea in Delhi which is too far off from the seafront.
The names of other water slides in Fun N Food Village are:
Family slide
Speed Coaster
The Tornado
Aqua Shute (very thrilling ride on a sledge)
Water Gun
Twister Slide
The Fun N Food Village water theme park is open to the public from 10 am to 6 pm on all days. It is located on the Old Delhi-Gurgaon highway.
You can choose to stay either in Delhi or Gurgaon. The distance to the water park from Gurgaon railway station is only 11 km. From New Delhi railway station, the water theme park is only 27 km.
Buy your tickets for the water rides and slides
2. Water Theme Parks near Delhi: Drizzling Land, Ghaziabad
There is no dearth of water-themed amusement in Drizzling Land that is located in Ghaziabad. To make it easy to understand, this amusement park is found on the Delhi-Meerut highway. The distance between the New Delhi railway station to the Drizzling Land is about 35 km.
You can hop in a Delhi Metro and buy tickets to either Vaishali station or the Dilshad Garden metro rail station. From there, the Drizzling land water park is 24 and 20 km respectively.
Some of the water rides and slides in Drizzling Land near Delhi:
Wave Pool
Revolving Tower
Disc Coaster
Kempty Falls
Pendulum slide
Cyclone slide
This video clip below tells you about some of the water slides in Drizzling Land, Water Theme Park near Delhi.
3. Water Theme Parks near Delhi: Ffunmax Water Park, Faridabad
This water theme park is located on the 45th km milestone on the Delhi to Mathura highway. Yes, it is slightly far off considering the hot sun during the summer. However, you can reach the water park in about 90 minutes.
The   lacks all the basic and essential information about the names of water rides, specialties, the availability of food and water etc.
4. Water Theme Parks near Delhi: Adventure Island, Rohini, New Delhi
This water theme park is located right inside the Delhi city. There is a metro station called Rithala, Sector 10, Rohini. Our water park is located right opposite to the Rithala metro station.
There are as many as twenty-five water slides on Adventure Island. As it is located within the Delhi city, it is well patronized.
Of the several attractions in this water park, the Amazon Mist Forest is a favorite among kids and children.
Some of the water rides and slides are:
Aqua Bump
Swan Boat
Splash Down
5. Water Theme Parks near Delhi: Just Chill Water Park
This water theme park being located very well in New Delhi city is frequently visited by the locals and the tourists. There are various water slides suitable for all ages.
The image above prompted me to know more about it. Those seven colored tubes generate misty shower on those who pass through the passage. This is an instant coolant-eh?
Other water-themed rides are:
Singh Dwar
Katrina Twist
Black Thrill
Godzilla
From the images on their website, what I could guess was that all the water adventure rides are friendly to all age group. There is no scary ride that makes us scream in fear.
6. Water Theme Parks near Delhi: Worlds of Wonder, Noida, near Delhi
Noida is close to New Delhi's outskirts and is part of Uttar Pradesh state. The sprawling greater Delhi area has several amusement and entertainment options and one of them is Worlds of Wonder which is an amusement park with dedicated water rides and slides that draw more crowd than the usual coaster rides in the amusement division.
The water-themed park alone offers over 25 water slides and rides, some of which are:
Free Fall from 60 feet height slider
Turbo Tunnel
Rip Curl
Boomerango
Rip Tide
Lazy River
Wave pool
All the water slides are good for kids and children too.
See, Delhi is not only of mosques, domes, and parathas. The entertainment and amusement sector in Delhi has evolved a lot in the last 25 years or so.