Out of 227 islands in Greek, 7 Ionian Islands are great for a relaxing holiday. These 7 islands are located on the western coast of Greece. The seven islands are situated in the Ionian Sea.
Though there are 43 more small islands and islets in the Ionian Sea that are part of the Greek Islands, only the main 7 islands are visited as vacation destinations.
Of course, if you want to emulate the legendary sailor Columbus, you can charter a small ferry and wet your feet in all of the other islands. Maybe you can discover a new tribe.
Fact:
The 227 Greek Islands are spread in three seas namely:
Aegean Sea
Ionian Sea
Libyan Sea (a part of the Mediterranean Sea)
Now, our destinations are the main 7 Ionian Islands of Greece.
Ionian Islands Map:
Here is a map showing these seven islands.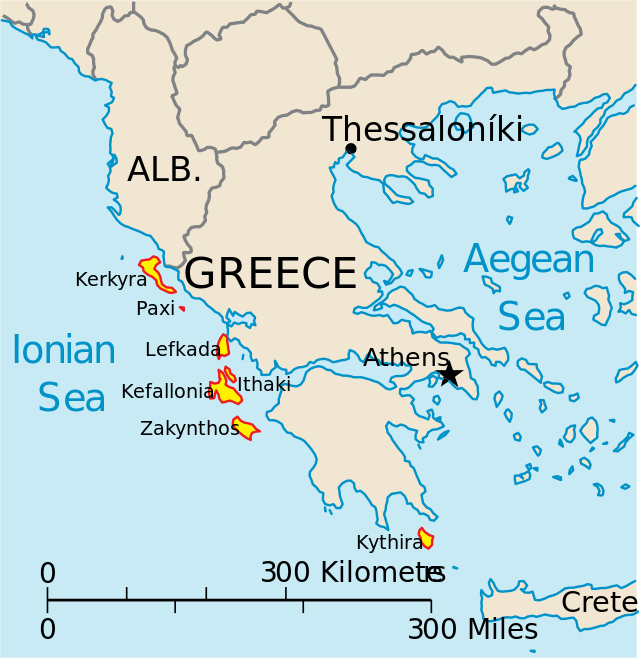 There are six of them in western Greece and one (Kythira) island is located on the southern tip of Greece where the Ionian Sea and the Aegean Sea meet.
Beautiful and Relaxing Greece Holidays in 7 Ionian Islands:
In fact, the Ionian Sea itself is a part of the Mediterranean Sea.
Here are the names of the 7 Ionian Islands that we are going to see.
Paxi
Lefkada
Ithaki
Kefalonia
Zakynthos
Kythira
Note: All these 7 islands have Greek names too and that is how the cruise tour organizers mention them in their travel brochure.
Beautiful and Relaxing Things to Do in Ionian Islands:
If you are fascinated by the rich Greek history and mythology, their Gods of nature (Zeus, Apollo, Poseidon), you would be excited to visit the lands of the great warrior Achilles.
This blog post on the Ionian Islands is not a travel guide but only highlights the important tourist landmarks. If you are part of a Mediterranean cruise tour, you will see all those highly popular Greek tourist attractions.
I will also give you some clues as to what to eat on the Greek Islands and a few hotels to stay in if you opt-out of staying in a cruise ship cabin.
Statue of Achilles
This is most probably the first tourist attraction you will be taken to in Corfu Island, the first of the seven Ionian sea islands in Greece.
Corfu City
Corfu is also the name of the major city on Corfu Island.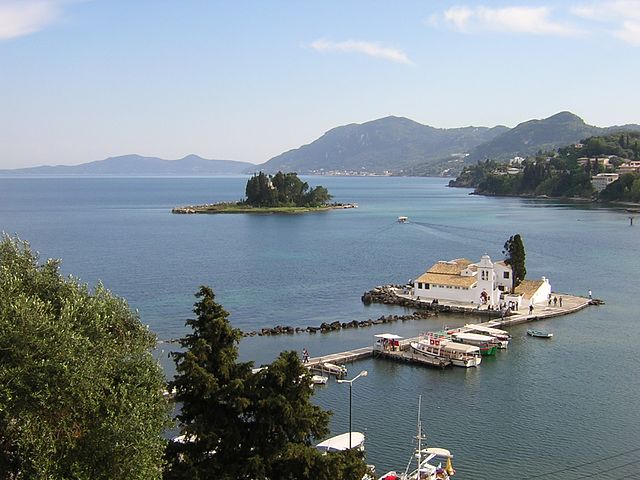 Here is where you shop collecting curious about ancient Greek mythological figurines, exemplary bone china cups, and saucers, jewelry made of brass and seashells, etc.
Everything about this town is exotic to us-the modern travelers. We tend to overbuy that we need to curtail as there 6 more Ionian Islands we will be visiting.
Blue Caves Corfu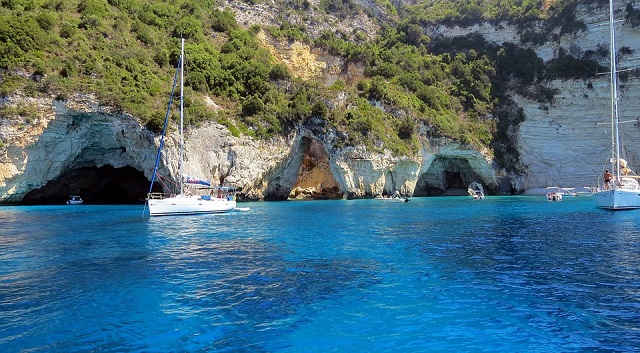 Paxos and Antipaxos are two smaller islands near Corfu Island. From Corfu, a boat tour will take you to the spectacular sight of three sea caves that are called Blue Caves.
This is a must-visit part of your itinerary of the Ionian Islands trip. Numerous boat departures from Corfu to these splendid blue caves are operated. I doubt you can completely see Corfu Island in one day. If, you have little time left, insist on visiting the electric blue caves.
Try to go for a swim up to the caves or at least do some snorkeling to appreciate the marine lives of the Ionian Sea.
Agios Georgios Beach
The aerial view of the bay of Agios Georgios is a sample of the actual scene.  Most of the beaches of the Ionian sea are dramatically gorgeous. The Mediterranean blue will stay etched in your memory forever.
Island Hopping from Corfu Island
Apart from the already mentioned Paxos and Antipaxos (what a name!) islands near Corfu, you can visit a few more nearby islands.
Diapontia Islands are only 10  minutes of sailing away from Corfu Island. You will be set your feet in three smaller islands that include Ereikoussa, Othonoi, and Mathraki.
If you ask your sailor to move some more distance further north, you will be hitting the seas of Italy.
All three Diapontia Islands are inhabited.  Try to strike a conversation with local fishermen. They may thrill you with some interesting Greek mythological stories!
Churches on Corfu Island
The islands in Ionian sea were under Venetian influence for long. Therefore, you will many of the buildings, churches, and monuments reflect Venetian architecture.
Greek churches are unique in the world. Their architecture won't fail to impress you. You will see at least a couple of churches in Corfu old town. I believe, there are as many as 37 churches on Corfu Island.
The churches including the St Spyridon Church belong to the famous Greek Orthodox Monasteries.
Isle of Pontikonisi
Inside the islet is a chapel that is surrounded by dense trees.
We will move to the next island called Paxi.
Trivia:
As per Greek mythology, the Greek God Poseidon who was considered the God of seas, storms, and earthquakes created the island of Paxi by splitting the Corfu Island.
Actually, Paxi is a group of small islands that are called Paxos (plural of Paxi). The little Antipaxos is also a part of the Paxos Islands.
What to Do in Paxi?
Walk Across the Island
It is said the foremost thing to do in Paxi is to walk the length of it. The entire stretch of 13 km is one of the ways you can explore this small island.
Blue Caves
The earlier mentioned 'blue caves are the biggest attractions on this Ionian Island. Since Corfu Island is where you will be staying during your tour of the Ionian Sea, visiting the beautiful blue caves from your hotel is advised.
White Cliffs
These steep cliffs that dot the western side of Paxi can be viewed when your boat takes you to see the 'blue caves.
See the Gorgeous Gaios Harbor
Gaios is the name of the biggest town in Paxi. The harbor bears the same name. It is a natural harbor that is protected by another island of Paxos called St. Nicholas Island.
See the beauty of the Gaios harbor in this video clip.
How to See the Blue Caves in Paxi Island from Mainland Greece?
If your intention is only to see the 'blue caves', you can take a ferry from Igoumenitsa', the harbor town in the Greece mainland. In just one and a half hour, a fast hydrofoil will deposit you in Gaios harbor.
Lakka Beach
Lakka Beach is a fishers' settlement in Paxos. Generally, tourists to the Ionian Sea lands are taken to Lakka Bay because of its scenic settings. In addition, here is where you can buy quality olive fruits and olive oil.
The presence of numerous yachts indicates it is a popular water sport in Paxi. Sailboats indicate the wind is quite strong and favorable to sailing and windsurfing.
Do you want to see how a shopping street in Paxi Island looks?
See below the scene at Gaios Square.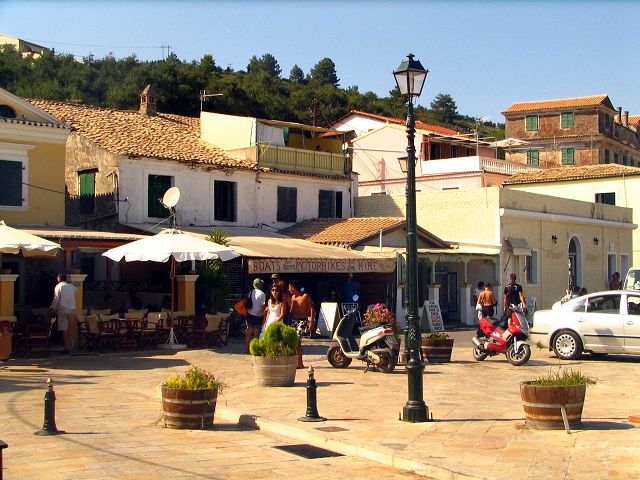 The buildings seem to be old and business is carried on without any modernization. Nonetheless, it bears a sense of authenticity.
Our next destination in the Islands of Inonia Sea tour is Lefkada Island.
Beaches in Lefkada
There are a few beaches on this island that is no different from the other beaches on the Ionian Islands.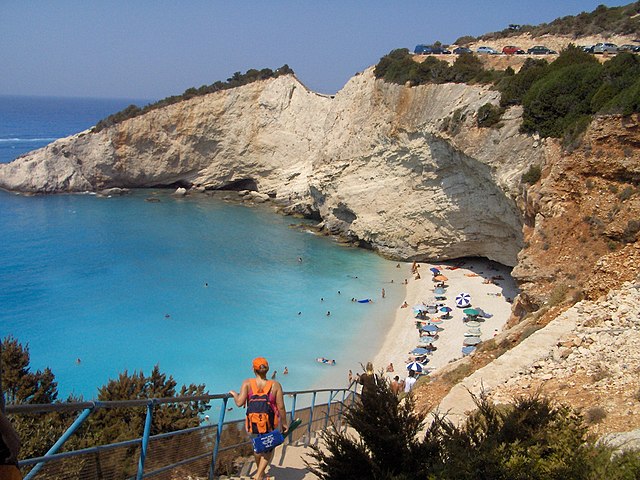 Porto Katsiki Beach.
The Mediterranean appearance is surely mesmerizing-eh?
Lefkada can be reached by road from Greece mainland via a causeway.
There is also a floating bridge between the two points. I wonder whether it is suitable for motor traffic! Since the island is reached in 25 minutes by car from Greece mainland. I think, this floating bridge can be used by walking buffs.
Our next stop is in the Ithaki.
Ancient Olive Tree
There is nothing to do on this small island except an old Olive tree whose age is an impressive 1500.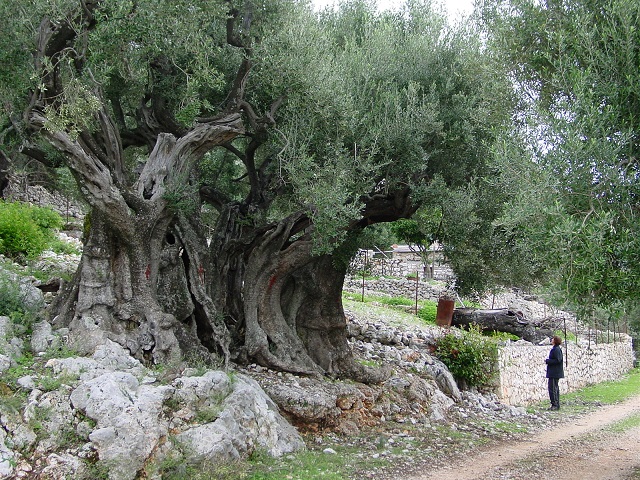 Strait of Ithaka
It's a fairly large strait separating Ithaki and Kefalonia Islands. Measuring 20 km by 6 km in length and width respectively, you don't find anything interesting to see here on Ithaki Island.
Let us what are the famous tourist landmarks on the island of Kefalonia.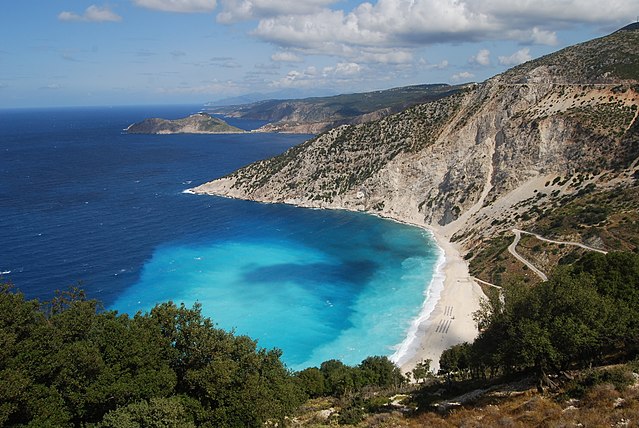 It seems the entire island is mountainous and wilderness. The yachts that are floating in the Ionian Sea suggest Kefalonia is a popular stop for private yachts and luxury cruise ships.
Kefallonia Island is the largest of the 7.
Argostoli
It's the capital of Kefalonia.
For authentic Greek food, this town is popular for several restaurants.
Lixouri
For a breathtaking view of the Ionian Sea, you have to climb on the mountains and find a vantage viewpoint.
Myrtos Beach
I don't think you can ignore the spectacular beach on Kefalonia Island. The surrounding mountains give real Greek island settings.
It is ranked as the best beach in all of the Greek islands.
European Pine Marten
This cute mammal lives in the mountains of Kefalonia.
Mellisani Cave
It looks very attractive to me. It is unspoiled by tourism.
Agia Effimia
This small fishing town is known for its cafes and bars. Cruise ships make a brief stop here so that the passengers can quench their thirst in one of the many Greek bars that are called 'taverns' here.
The last two islands in the Ionian Sea Zakynthos and Kythira are again no different from the other islands. It seems Corfu and Paxos attract the most tourists.
The main interest of the visitors lies in shopping Greek curios.  I have a feeling they are indifferent to the old buildings from where hotels, bars, and restaurants function.
Consequently, tourists prefer to stay in their ships and yachts.
The mountainous backdrop of the Ionian Islands is excellent location for films, and cruise ships advertisements.
I think tourists to these Greek Islands in the Ionian Sea are not interested in repeat trips.