I suspect even regular travelers who did not mind the pandemic times are not aware of how safe it is to stay in treehouses hotels in the United States, thus far the worst affected country in the world by the dreaded 'Carona virus'
I don't know whether the virus sticks to wood, similar to metal railings, windows, and what not!
I read the majority of the treecottages did not remain vacant for the past 18 months.
Now that tourism is opening up worldwide, I foresee a big jump in the booking of treehouse hotels in the United States.
Does this make sense? Do you see the safety behind staying in a treehouse hotel? May I recommend to you some of the top and safe Treehouses in America?
Browse my list of safe treehouse hotels in the U.S.
Fact:
Do you know some canopy houses cost more than a five-star hotel room? It is not because of the height of the tree house from the ground level but because of the in-house facilities and the standard of the food and services.
Treehouse Rental in San Jose, California
San Jose in California is one of the biggest vacation spots in the U.S. The proximity to Silicon Valley and the world's leading IT corporate world, make San Jose hotels command high occupancy right through the year.
Capitalizing on such a lucrative demand, house owners including the owners of tree houses rent their.
This particular treehouse in San Jose is equipped with two loft beds that promise a clear view of the beautiful Silicon Valley.
The tree house is quite lonely out there but that means peace and privacy. The height is 14 feet only from the ground.
Regarding its facilities and amenities, it is built with an adequate kitchen with basic appliances. A bathroom is also thrown in, mate.
Overall, the tree house comprises 250 sq. ft only but still, four people can sleep. Ah, that is more than one family of two or even a single businessman would need-right?
here is no word about the food served by the host who happens to be a dentist. But then, since San Jose city is not far off, one can always drive to a restaurant or simply use the in-built kitchen to cook.
A big treehouse in Dallas, Texas
The perched tree house appears roomy and sunny. The leaves that surround the perched house are soothing to the eyes. For once, you won't feel locked up in jail. That is how I always feel whenever I stay in a hotel room.
The added attraction to the wooded settings is a brook that silently flows in the vicinity.There is also a lake nearby but did not mention how far it is from the tree house.
If you choose to stay in this extraordinary (claim of the owner) tree house, please read the conditions laid down by the host before booking.
A Retreat of Treehouses, Montana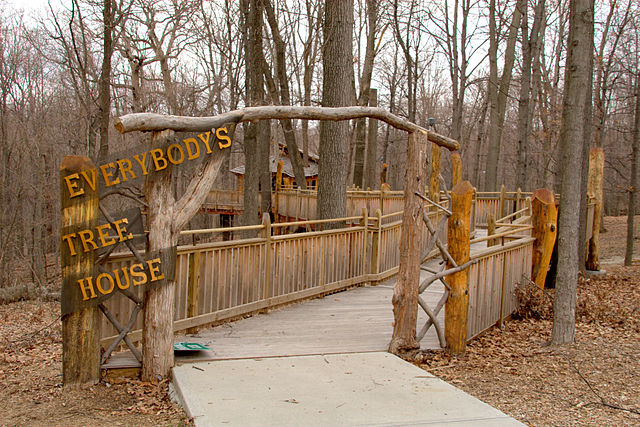 This is the first time I am seeing a two-story tree house. Some call it a 'double-decker tree house'.
The photo of this perched-up house was taken during winter. I wonder how you will feel warm in a tree-house during the snow season because the sides of the property are open.
Nonetheless, Montana is an ideal state in the U.S. for experiencing a rustic stay in a wood-house on tree branches. Montana is one state where you have to be outdoors most of the time to appreciate the scenery and climate.
The luxury tree-house retreat in Halfmoon, Montana measures 500 sq. ft overall built in two levels. Only one bedroom is provided but it seems the bed is large enough to accommodate three people.
Strangely, it has two bathrooms.
Of course, there is a kitchen with cooking appliances and a fridge too.
The location speaks volumes of the tree-house's occupancy level. The lovely Glacier National Park is not far off.
Since Montana is known as a popular skiing area, you can enjoy a day or two skiing nearby.
The Montana tree house retreat is built amidst a private forest area with a few walking trails up to the Whitefish Mountain ski resort.
The location offers several outdoor adventure activities including kayaking in a lake close by and a campfire.
About-to-be-married couples can seriously think of spending their first honeymoon in Montana tree house resort as it also offers television with free wi-fi access.
Flying Pig Treehouse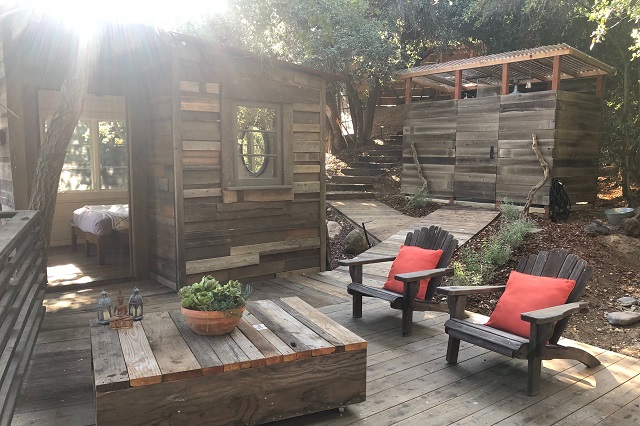 The tree house has an appealing open space, that looks like an open deck. Who would not fall in love with decks that are built above the ground and in addition, it is open to the sky?
The location is one of the scenic places just outside Los Angeles. It is known to everyone that lives in Los Angeles as "Topanga".
The region is surrounded by the majestic Santa Monica Mountains, which is a popular sightseeing spot for the Topanga Canyon.
This tree house has a unique design; half the tree stands on a tree and half of it is on the ground. This easy access facility is loved by children who rush out and rush in with vibrant energy.
Some of the modern amenities include wi-fi, Bluetooth speaker, electric kettle, coffee maker, and a refrigerator.
The Flying Pig Treehouse is fitted with a bathroom that is built a little outside with open-to-sky provision.
I fancy this idea that gives you a sense of ultimate freedom while bathing. I reckon it is a well-thought-of addition for a tree house in the mountain.
Canopy Treehouse, Maine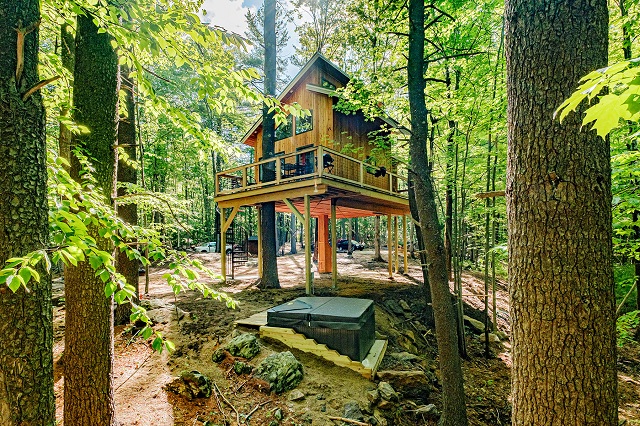 It looks small really but why do you need a bigger treehouse when your stay will not exceed a night? The Canopy Tree house is set amidst lovely surroundings that assure peace and privacy.
If you like to extend your stay after staying a night, you can use the fully-equipped kitchen to cook fresh food. A range of cutleries with which you can entertain a couple of guests is provided.
In spite of comprising only 350 sq. ft, the builder has utilized the small space cleverly by providing two bedrooms and a common restroom. So, a family of four can rent this property for a day or two. It will work out cheap to them.
There is a pond nearby where deer will come to quench their thirst. Is the pond big enough for the guests to do kayaking or canoeing, just to flex their muscles?
The Littlefield Retreat as the area is christened is ideal for tree-houses.
Insta-famous treehouse, Georgia
I am sure this image of the tree house in Atlanta must have attracted a few thousand views already because of the rope bridge interconnectivity between the tree house's bedroom, sitting room, and the deck.
I think this canopy house will command a higher price if another image of it (below) is promoted.
How is it? The location is simply gorgeous and enviable for all the hosts of perched-up holiday rentals in the United States.
All three rooms of the house are connected by suspended rope bridges.  The green surroundings, the seclusion guarantees the utmost privacy that the honeymooners would look out for.
The house is more of an elevated house than a treehouse that is built on tree branches.
Located just a few minutes drive from Atlanta's downtown, it serves as an ideal weekend escape from a city.
There is a long list of amenities offered that implies you carry almost nothing except your change of dress. Yes, there is wi-fi, a kitchen, and a bathroom if that is what you want to know the most.
Red Treehouse, Colorado
If you show the photographs of a dozen treecottages to your children, do you think they would glance at other photos once their eyes settled on this beautiful red-tree house?
I guess I have lured you fully with the best choice of a tree house retreat for a short family weekend.
Lyons in Colorado is the location of this red treehouse.
Well, Lyons town is a blessed town in the United States because it is the gateway to the Rocky Mountains of Colorado, one of the highly visited for adventures and stunning natural beauty.
One example of the attraction of Lyons is the St. Vrain Creek.
It is no wonder a place for treecottages because of abundant trees that are old and strong.
Sadly, this is a very small canopy house where your children have to sleep on the floor. Only one bedroom is provided with two beds.
If you have only one kid, you can show the place to sleep in a loft. Hmm… not a good idea by the host.
You have a kitchen and bathroom. Relax, wi-fi is provided.
Since Lyons town is close by, you can always take your car shopping and eating outside.
For adventure buffs, hiking trails are plentiful. One can enjoy a thrilling stint of river rafting in St. Vrain Creek.
There are so many  excellent resources for finding offbeat staying options that include treehouses, treecottages and overwater bungalows.