Can you count the number of palaces in the image above? Obviously not. You must visit Udaipur to see all the palaces and lakes that are simply the breathtaking tourist attractions in it.
It is often ranked number one in the list of best Asian cities even though it is not a capital city of any Indian state. As a matter of fact, it is in the midst of a cruel Thar Desert.
Overview of Udaipur.
It is one of the big cities in Rajasthan state. An English officer during the British India reign termed it as the most romantic city in the world.
His impression must have formed after seeing and appreciating all the highly popular tourist attractions in Udaipur that include:
Lakes
Palaces
Museums and art galleries
Forts
Colorful attire of the native Rajasthani village dwellers
Incredible festivals
A big range of traditional handicrafts by the locals that are made of wood, brass, beads, and fabric.
Absolutely mouth-watering vegetarian food
It was ruled by the brave Rajaputnas of Mewar whose taste for constructing awesome forts and palaces has no match, even by the royal Moguls.
Let us go through a long list of attractions. At the end of this blog post, you will wonder why you never thought of touring Udaipur thus far in your life.
Tourist Attractions in Udaipur
There are eight sprawling lakes in Udaipur that gave the name 'city of Lakes'.
Lake Pichola
This beautiful  attraction called Lake Pichola is a manmade lake. The water in the lake is said to be freshwater. It was developed as early as 1362 AD when nothing of the modern construction technologies and excavating equipment was unheard of. I think it justifies the status of a 'manmade' lake.
As one of the foremost tourist attractions Pichola attracts thousands of tourists from western countries who stand mesmerized at the water palaces that were built in the lake islands in Pichola.
There are four islands on the lake:
Jag Niwas is home to the astonishing Lake Palace
Jag Mandir
Mohan Mandi
Arsi Vilas-it is known for a small palace. In addition, Arsi Nivas lake island functions as a bird sanctuary in which you can spot several waterbirds that include Coots
Terns and Tufted Ducks.
Lake Fateh Sagar
Can you believe it is a manmade lake? Yes, it was created late in the 1600s. It bears the name of Maharana Fateh Singh, a Mewar region ruler.
The large size of that lake has rooms for three artificial islands of which one is the home to Nehru Park and one hosts the Udaipur Solar Observatory.
On the third smallest island is another park that attracts visitors with its breathtaking fountain.
Lake Swaroop Sagar
Made by the brave Rajputs, Lake Swaroop Sagar is one more  beautiful attraction. Since its location is close to the two previous lakes (Pichola and Fateh Sagar), visitors won't bypass this artificial lake.
Lake Udai Sagar
Lake Udai Sagar is located some distance away from the city. It is a sprawling lake that measured 4 km by 2.5 km in length and width respectively. This is a natural lake that receives water from the Ahar River.
Lake Rang Sagar
It is a very small lake, almost the size of a pond. It receives water from the adjacent Pichola and Swaroop Lakes.
Lake Dudh Talai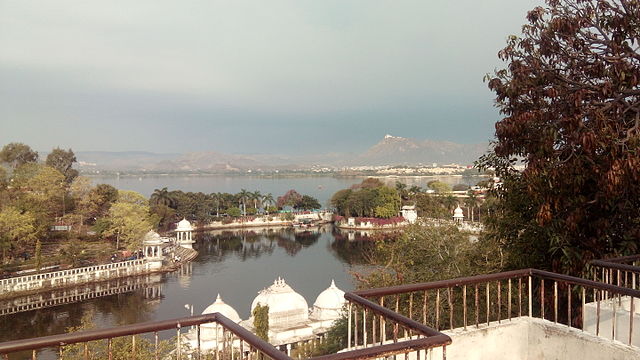 This is a smaller version of Lake Pichola and is located adjacent to it. It hosts an impressive Manikya Lal Verma Garden.
To access this good-looking garden, you have to climb a small hill that stands as a backdrop of the Dudh Talai lake.
Two more Udaipur tourist attractions on two more hills include:
Pandit Deen Dayal Upadhyay Park where a musical fountain is the star attraction.
Cable Car:tourists get on aboard a cable car that leaves the Pandit Deen Dayal Upadhyay Park to a strange temple called Karni Mata Temple.
As you ride on the ropeway at an altitude of 500 meters, your can have amazing views of the City, Pichola Lake, and Sajjangarh Fort. The rope car ride lasts just four minutes.
Lake Dhebar aka Jaisamand Lake
Dhebar Lake is all beautiful and picturesque. To enjoy this scenic lake, you have to travel nearly 50 km by car from your hotel.
Comprising an area of a big 87 sq. km, it was artificially created and ranked as the second-largest manmade lake in the world.
Lake Rajsamand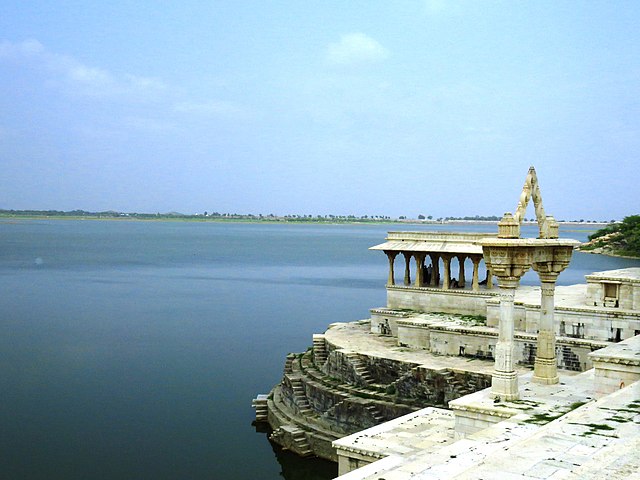 Lake Rajsmand is actually a reservoir capturing the water of rivers Gomati and Kelwa. The dam is quite large that is running a mammoth six and a half km in length and 3 km in width.
The city is 60 km away from Lake Rajsmand.
Dhebar Lake Marble Dam
In India, the state of Rajasthan is famous for authentic Mewari marbles and granites. There are numerous granite hills in and around Udaipur and Jaipur.
The Dhebar Lake Marble Dam is built at a height of nearly 1000 feet thus storing large quantities of drinking and irrigation water for the city and its surrounding villages.
Unique Fact:
The entire dam is built using marble slabs.
It must truly be a magnificent sight.
Jaisamand Wildlife Sanctuary
Your previous attraction,  the Dhebar Lake is surrounded by teak tree groves. Our new destination, the Jaisamand Wildlife Sanctuary is not far away from the Dhebar Lake Marble Dam.
As I mentioned earlier in this blog post, the geography of Udaipur mostly comprises a simmering desert with no green at all. In spite of that, the wildlife of it doesn't is rich in diversity. It is because of the Aravalli forest range, numerous lakes, rivers, and mountains.
Join a recognized safari tour  and spot the following forest animals.
Spotted Deer
Panther
Antelopes
Wild-boar
You need half a day to visit this sanctuary that is located at a distance of 50 km from the city, on the foothills of the Aravalli mountain range.
The presence of the Jaisamand Lake nearby attracts migratory birds too to this wildlife sanctuary.
You inquire with this Rajasthan Tour Operators.
Let us look into the palatial palaces and ancient forts, mahals, and Havelis  before we focus our attention on all other tourist attractions in Udaipur.
City Palace
What magnificent architecture! It truly belongs to India and only to the Rajput kings. When Maharana Udai Singh II visualized this stupendous palace and started constructing it in 1553, he had no idea he won't live to see it completed.
As a matter of fact, the construction went on for an incredible four centuries!
It is not a single building but a complex of several palaces.. This majestic City Palace is located on the shores of the grand Pichola Lake, a picturesque location.
See how many palaces comprise the palace complex.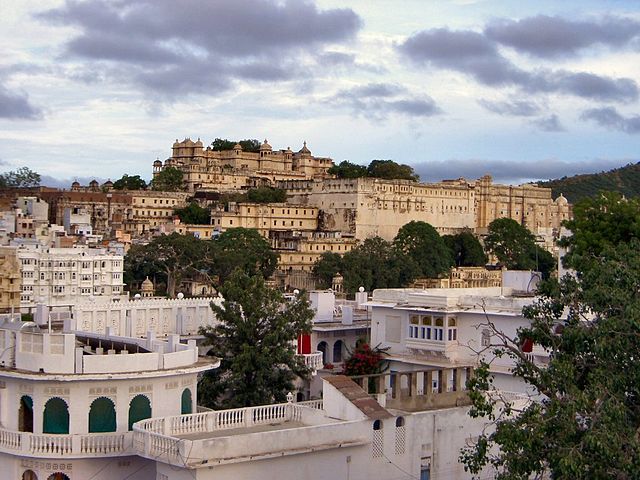 As the entire City Palace complex is built on an elevated location, the view of the city and the Pichola Lake makes you gasp.
A guided tour of the palace will reveal:
Badi Mahal
Amar Vilas
Bhim Vilas
Darbar Hall
Dilkush Mahal
Krishna Vilas
and many more intricately decorated mahals and halls.
The entrée fee is very nominal but you have to pay extra for your cameras. The public is allowed inside the palace complex all day from 9.30 am to 5.30 pm.
City Palace Museum
This is another Udaipur attraction that you will anyway visit during your guided tour of City Palace. The museum is located within the palace and is a must-see place.
At the entrance to the museum, you can locate guides.
Jag Mandir
I think the word 'mandir' is a misnomer here because it is not a mandir (temple) but a palace. When you come to know its location, you will be amazed by the sophisticated lifestyle of those Ranas and Maharanas of Rajasthan.
Jagat Mandir (later shrunk to Jag Mandir) is a palace built on one of the lake islands in Pichola Lake. The large lake and the three islands in it are all created by the Rajputs. I mean to say the lake itself is not a natural lake but a manmade one.
This palace construction had also lasted around 100 years. (1551 to 1640 maybe). The last king's name was Maharana Jat Singh who saw the completion of the palace. To honor him, the palace was named 'Jagat Mandir.
When you are touring the City Palace complex, you would be able to see a mini boat harbor (jetty). The boats ply between the City Palace and the Jag Mandir.
Bagore ki Haveli
A 'haveli' indicates a sort of mansion or a place with numerous rooms for the royal family and their guests. Bagore ki Haveli has 138 rooms! You cannot miss it as it stands right on the shore of Lake Pichola.
It seems Lake Pichola must have been a happening place during the Mewar rules. I suppose it is still a bustling tourist attraction in Udaipur.
Look at the colored glass windows that decorate the Haveli.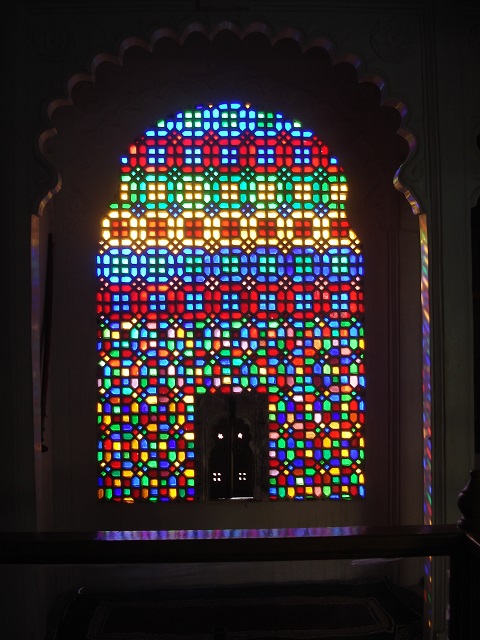 A glass window at Bagore-ki-Haveli.
Some of the Mewar paintings that hung on the haveli's wall will make stand before them for long, appreciating the intricate fresco art. (peacocks painting).
You can see where the royal women took their baths and where they rested.
Your guide will also point out pooja rooms, bedrooms, and siesta rooms.
Pay attention to the guide's narration else you will miss seeing numerous artifacts that include hookah, betel leaves, and nuts boxes, jewel boxes, and so on.
Kumbhalgarh Fort
The distance between the two places is 85 km. Amidst the various forts and Havelis, the Kumbhalgarh Fort occupies a prominent place.
This hill fort is covered under the prestigious UNESCO World Heritage Sites.
Look at the imposing entrance to the Kumbhalgarh Fort.
Aren't you impressed? India's history and culture continue to amaze us.
Monsoon Palace
Here is one more palace in Udaipur, exhibiting the lifestyle of Maharanas of Mewar.  Its purpose was to watch the monsoon when it enshrouded the city of lakes.
What an idea!
Sajjan Garh Palace as it is alternatively known, the  Monsoon Palace is located on the outskirts of the city. The distance from the city center is only 5 km.
Being a hilltop palace, it offers a splendid view of the city and the Fateh Sagar Lake. It is interesting to watch the sun dipping behind the horizons of Udaipur. You get an uninterrupted view.
Sajjangarh Wildlife Sanctuary
Sajjan Singh Sanctuary is a small game park where you can spot hyenas, panthers, tigers, and a few species of deer.
Bird watchers can also be spotted patiently waiting under the shadows of trees, with their caps and sunglasses on.
The sanctuary encircles the Monsoon Palace.
Jagdish temple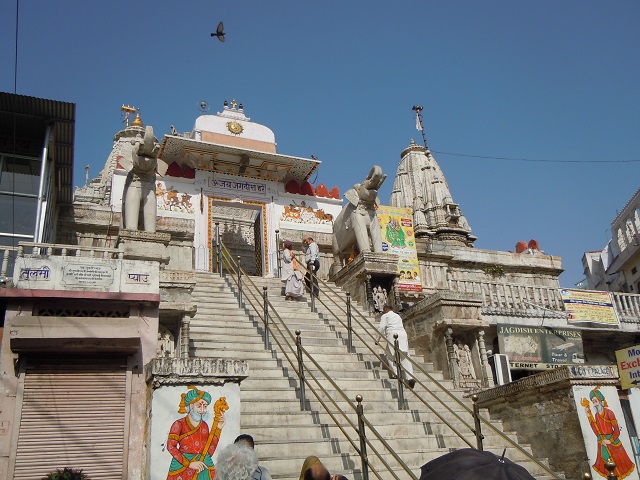 Those you see in the image are marble steps that lead to the temple.
If you are a sculpture lover or an archeologist, you will spend considerable time examining countless sculptures from where you can't take your eyes off.
The architecture and grandeur of the Jagdish temple are so compelling attractions that this is one of the prime tourist landmarks of it.
Ranakpur Jain Temple
Now that you saw the image of this breathtaking Jain temple, you would not dare miss seeing it when you go to Udaipur in spite of its location that is about 100 km away from city.
Apart from the main temple, this temple complex has several more temples including a temple for the SUN.
The temple occupies a whopping 48,000 sq. ft. Here is an incredible scene. There are 1444 pillars that are all made with marble.
Have another look at this huge Jain temple complex.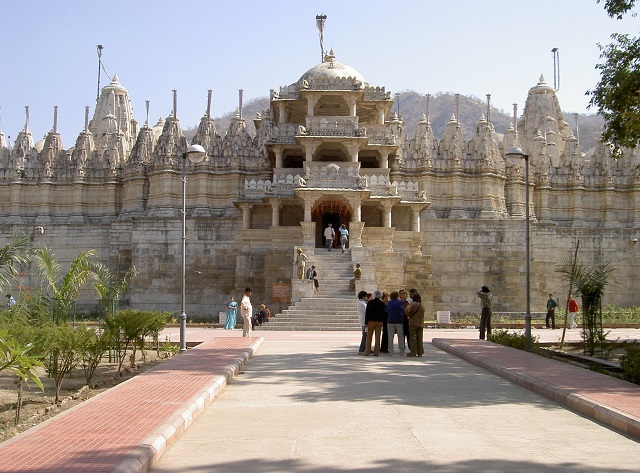 Absolutely splendid!
A video clip below takes you through marble pillared halls and exquisitely carved ceilings in marble.
If I were ever to go to Udaipur, I would first head to this most beautiful tourist attraction.
Hot Air Balloon Over Udaipur
Of the numerous attractions, adventure sports garner one sect of tourists, especially the foreigners who are generally brave.
A ride in a hot air balloon is a thrilling adventure offered here.  If you have time up to five hours and if you are sport, go for a hot air balloon ride.
Though the ride involves only 45 minutes, the initial preparation of getting the balloon ready, briefing of security to follow, require much time.
If the weather is hot, your heated balloon will soar up to 4000 feet! The city, its beautiful lakes, palaces, forts, and the Thar Desert look terrific from such a height.
Fly high in an open helicopter
Another version of air safari is getting on board in an open helicopter and take off. The whole world is open below you, above you, and everywhere.
You get an interrupted view of it as your open vehicle surges forward on land before taking off.
May be the video below will tell you more about this exciting adventure.
Did you notice the parachute attached to the crude machine? I think you can call it paragliding.
Revered rats in Karni Mata Temple
Musophobics stay even from reading this short paragraph as I know you are terrified of rats and rat-related information.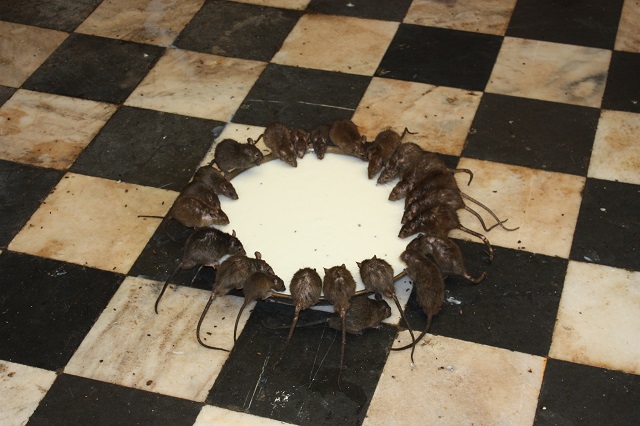 Karni Mata temple is where more than twenty thousand rats live and are offered food and worshipped!
Among the majority of the black rats, a few white rats also co-exist. If you spot them, you are supposed to be especially blessed.
In this weird temple, the rats allow themselves to be stroked by the devotees!
You have don't have to take my word, buddy! Watch the video below.
Convinced?
Karni Mata temple is surely a strange attraction.
Buy Rajasthani handicrafts at Hathi Pol Bazaar
This is the main shopping bazaar in Udaipur. You need at least two hours to buy an extraordinary range of local handicraft items that include:
Wooden toys
Wooded puja shelves
Cloth wall hangers
Marble toys
Marble jewelry boxes
Rajasthani traditional women's cotton dresses
Bead jewelry
Glass embedded dresses
Brass lamps
Marble flower vases
Antiques
This video will give you some idea of what is in store so that you can decide on the size of the bag that you need to carry to put your purchases in it.
Ahar Cenotaphs
A Cenotaph is a kind of monument. It is a tomb of nothing. I mean it is an empty tomb that is built in the memory of someone who is venerated.
Well, these cenotaphs were created in the memory of Ranas (kings) that ruled the Mewar region.
It is one of the must-see tourist attractions here.
Lake Palace
Lake Palace is one of the most booked five-star hotels in the world under the ultra-luxury heritage hotels category.
The exquisite hotel is located on a lake island called Jag Niwas in Pichola Lake.
It was meant to be a royal palace which is transformed into a hotel that command very high occupancy.
Gulab Bagh
It is translated into 'rose garden' but this 100-acre park has hundreds of colorful flowers including numerous varieties of rose flowers.
Since there is also a mini zoo inside the Gulab park, it is one of the prime tourist attractions. The star attraction in Gulab park is a toy train that circles the zoo. Both the children and adults are allowed to ride on the train.
Aravalli Mountains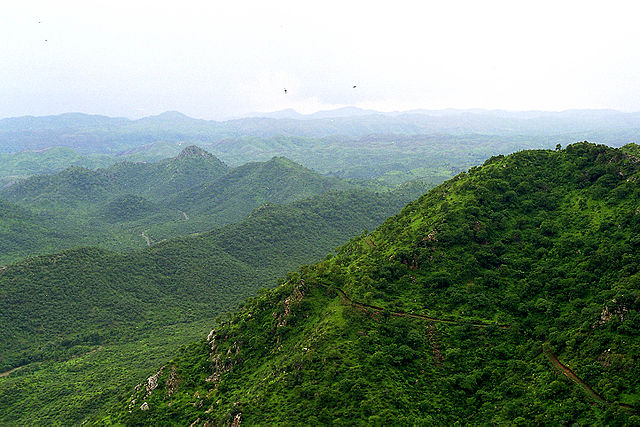 As you can see, Aravalli is a mountain range in Rajasthan with a splendid climate. About a dozen main rivers and their subsidiaries flow through the Aravalli mountains.
Nathdwaraka
It is a highly revered Krishna temple and one of the Pancha Dwaraka temples. The other four Dwaraka temples are located in Gujarat, the adjoining state in India.
You have to travel for about 70 minutes to go to Nathdwaraka temple. I think the distance is 50 km from the city.
Sita Mata Wildlife Sanctuary
Goddess Sita, the consort of Lord Rama spent several years here in Valmiki ashram.
It is a picturesque forest with several rivers inside. Sita Mata Wildlife Sanctuary is one of the important bird-watching spots in Rajasthan.
The specialty of the sanctuary is the number of species of eagles and vultures that chose to live here.
It is called White-backed Vulture
Look at this huge bird called the King Vulture that lives in the sanctuary.
In addition, the sanctuary is a habitat for many species of ducks.
This one below is a stunning-looking Yellow-cheeked Tit.
The tourist attractions in Udaipur are many more that I have not covered here. They are all slightly away from the heart of the city; maybe an hour or two hours drive away.
I reckon you need at least a full week to see all  and its surroundings assuming, you don't spend more than two hours in a wildlife sanctuary.
Udaipur-what a city to see in India. It is easily accessible by flights, trains, and roads.