Here let us know, where to Go Hang Gliding and Paragliding in Canada. Does this picture reveal anything about paragliding? If not, please read further.
The fabric wing you see is the paragliding sail or a paragliding aircraft. In spite of using the word aircraft, it has no engine.
You as the paraglider sit snugly in a chair that is securely harnessed to the wing. Then, holding to the ropes, you start running on a mountain top.
When you are near the abyss, you jump up and the aircraft lifts up.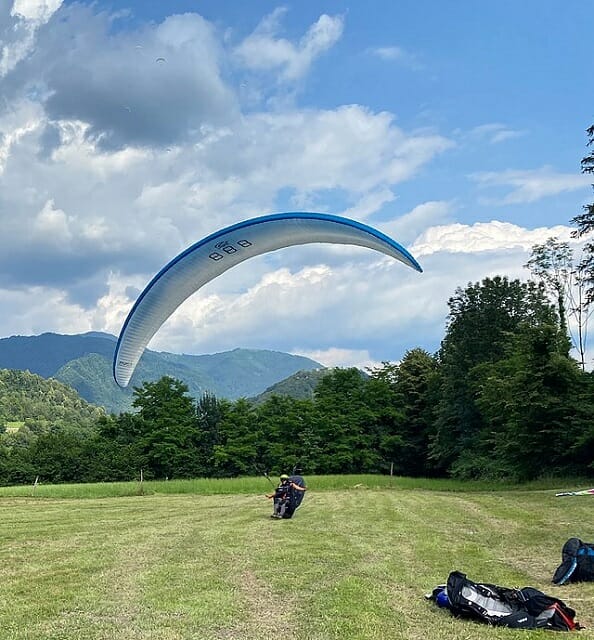 The prevalent wind will surge you forward. You simply fly, enjoying the breathtaking view all around. After 30 minutes or so you come back to the place from where you launched yourself.
The licensed trainer will teach you how to maneuver the aircraft including landing.
While you are born, you may be flying at an altitude around 3000 feet!
Paragliding is only a seasonal adventure sport. You require helpful wind conditions to fly the paraglide
8 Best Scenic Spots For Paragliding In Canada
In this blog spot, we will look into some spectacular paragliding locations in Canada. For adventure-minded Canadians, Canada is a hotspot as far as paragliding is concerned. Paragliding spots in Canada are said to be the best in the world.
Mont-Sainte-Anne
Mount-Sainte-Anne is a very popular ski resort in Canada. Naturally, when the snow melts away, the entire mountain becomes a hotspot for various activities and paragliding is the chief adventure sport among them.
Mount-Sainte-Anne is part of the Laurentian Mountain range. This particular mountainous region is known for over 200 lakes. In addition, there are about 1000 mountain spots from where the pilots launch their paragliders.
Our paragliding destination is not very far from Quebec City. The name of the paragliding spot in Canada is Beaupré. It is 40 km from Quebec City in the northeast direction.
Flyers can spot both the Ottawa River and St. Lawrence River, way below. Both these rivers flow through the city of Ottawa.
Mountain biking enthusiasts throng this paragliding location. Wildlife and nature enthusiasts pitch up their canvas camps and start counting the stars. I believe it is a good location for stargazing too.
Nearby attraction:
Laurentides Wildlife Reserve is part of the Laurentian Mountain range. I browsed through the list of wildlife that you can spot and identify. One of them caught my attention.
It is the 'Common Loon' that is not common to see.
Hunker Creek Valley, Klondike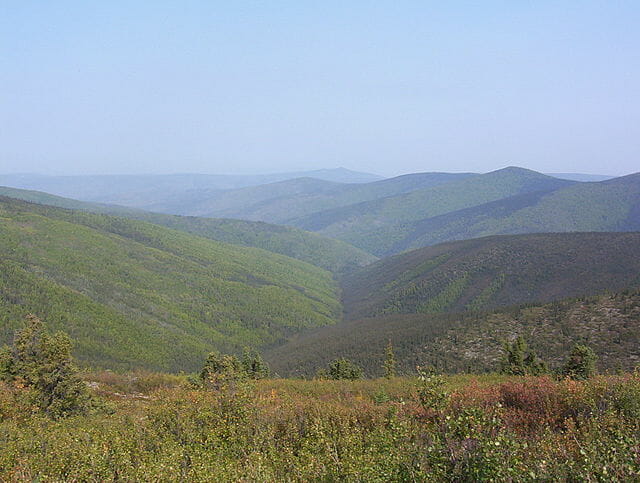 As you can see this sprawling mountainous region is just great for a paragliding adventure. This paragliding spot in Canada is in the Yukon region, in the vicinity of the Yukon River.
It is the site of the gold rush once, now its picturesque location is suitable for picnics and paragliding.
Ogilvie Mountain, Dawson City
We have not left the Yukon region yet. In spite of a long winter, the Yukon region got famous somehow as a location for the paragliding aero sport.
This site below pulls the paragliding adventurers like a magnet.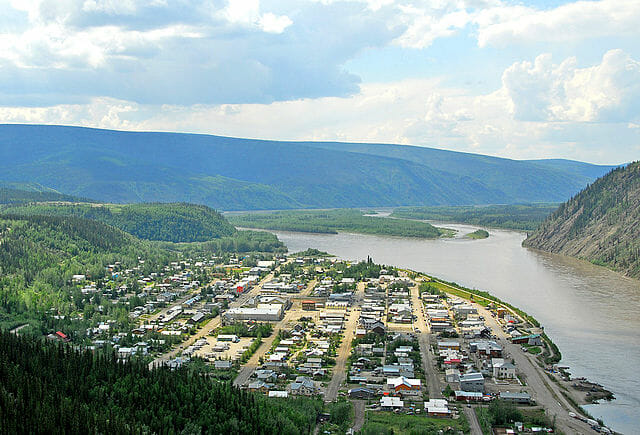 Well, I would at least look for a helicopter tour of the Dawson Dome if paragliding is not my game.
Paint Mountain
This is one more paragliding location in Canada. Paint Mountain probably got its name because of the superb view one can get from the mountain's summit.
The paragliding launch spot is situated at an altitude of 4200 meters. During summer (a very short summer) in Yukon territory, paragliders lug their paragliding gear to the top of the Paint Mountain and begin their free-flying experience.
Salt Spring Island
Salt Springs are found on this island and thus got this name. It is a bit weird that natural springs emanate saltish water as normally, springs' water is clean, pure, and potable.
Salt Spring Island is located off the coast of Vancouver Island and the mainland of British Columbia. You can say the island is lying between British Columbia mainland and Vancouver Islands.
Salt Spring Island is one of the 225 Gulf Islands in the Strait of Georgia
Salt Spring Island has a few peaks, the tallest among these known as Bruce Mountain. Two other smaller mountains on the island offer excellent walking trails.
The geography of the island is such that even the walkers on the trail feel strong wind.
Mount Erskine and Mount Tuam are the two other mountains.
All these three mountains are considered ideal for paragliding. The wind is the major factor for this island getting popular among paragliding locations in Canada.
Reaching the Salt Spring Island.
Ferries carry passengers either from Swartz Bay, Vancouver Island, or from British Columbia's Tsawwassen harbor.
Seaplanes too are the alternative modes of reaching Salt Spring Island either from Vancouver Island or from Vancouver International Water Airport.
Vancouver Island
Vancouver Island is part of the British Columbia province in Canada. It is a large island comprising a mindboggling 32000+ sq. km
The island's length alone stands at 456 km!
Vancouver Island is a major holiday getaway for sun-starved Canadians. It is one of the best aero sports locations in Canada.
There is a dedicated Facebook page for paragliding adventures on Vancouver Island.
Sadly, it is not a Facebook or Search Engine optimized URL.
There is a phone number given on the FB page. You can call and inquire about booking your slot of the paragliding session.
Mount Swansea
We are again entering the British Columbia province to look at the Mount Swansea where facilities for paragliding sports are available.
I could not dig out more information on the location.
Okanagan Valley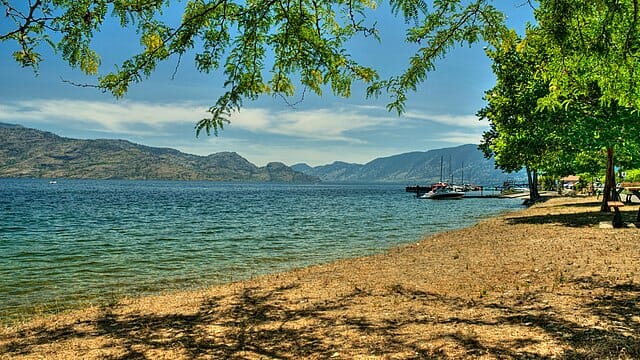 The lake you see above is Okanagan Lake. The surrounding mountains have created a natural valley that acts as jumping-off points for paragliders and hang gliders.
This is another aero sports location in Canada's British Columbia province.