Which are the best dosa places in Bangalore?
When I relocated to Bangalore, the first thing that realized was missing the authentic 'dosa' that is better known as 'dosai'. Within a week after moving to Bangalore, I started searching Which are the best dosa places in Bangalore and
where can I eat best dosa in Bangalore?
The Google search results startled me. There were hundreds of vegetarian restaurants in Bangalore that promised authentic dosa that included 'masala dosa' and the ubiquitous 'Davangere Benne (butter) dosa'.
I found out a butter dosa outlet near my residence. And I rushed immediately and asked for the popular dish in Karnataka State. Really, I was disappointed at the taste. The butter blob was too small to distinguish and the dosa was really hard to bite.
3 Best Dosa Places in Bangalore
I decided to scour the web more seriously for best dosa places in Bangalore. Here is what I found.
MTR Outlets
MTR when expanded reveals 'Malavalli Tiffin Room'. The highly popular and respected brand of restaurants and ready to cook and eat vegetarian food items have several outlets in Bangalore city.
Their outlet in Malleswaram is mentioned in hundreds of foodie blogs and newspaper articles.
The restaurants plain dosa and masala dosa are in severe demand. I had to wait for 20 minutes to get a table (just small table shared by minimum 4 diners in standing position).
I ordered a plate of plain dosa that was served with chutney and sambar. While the dosa and the chutney tasted excellent, the sambar was a disappointment. It was far from authenticity.
The dosa reminded me of the dosas in Gayathri Bhavan, a chain of hotels in Hyderabad. It was thinner version of Hyderabad dosa. MTR served it really hot. Satisfied with the taste, I took away two masala dosas for my family.
If you are in Bangalore and crave for good dosa varieties, enter the nearest MTR outlet. Be prepared to wait to get a place.
I think there are 15 MTR restaurants in Bangalore. Its Rajaji Nagar branch is also always crowded.
Vidyarthi Bhavan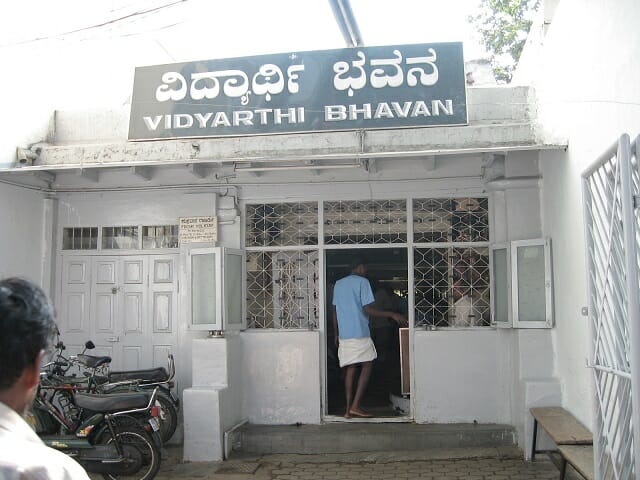 This pure vegetarian restaurant is located in Basavangudi and Rajaji Nagar, Bangalore. Both these localities are crowded residential areas.
Vidyarthi Bhavan is another good place to eat dosa in Bangalore. Their masala dosa is famous.
In addition, they make crispy 'rava vada'. It is unheard of in Tamilnadu and Karnataka. I think only the Vidyarthi Bhavan makes this unique dish that is served with chutney.
Another interesting fact that I noticed is the quality of chutney in Bangalore is almost same in every big and small restaurants. I rate it the best.
This restaurant don't provide sambar along with dosa.
They have been in this business since 1943! Without high quality, no one can sustain this long in the food business-right?
Rameswaram Café
A 100% vegetarian restaurant that is famous for a range of dosas that include:
Podi Masala Dosa
Open Butter Dosa
Ghee podi dosa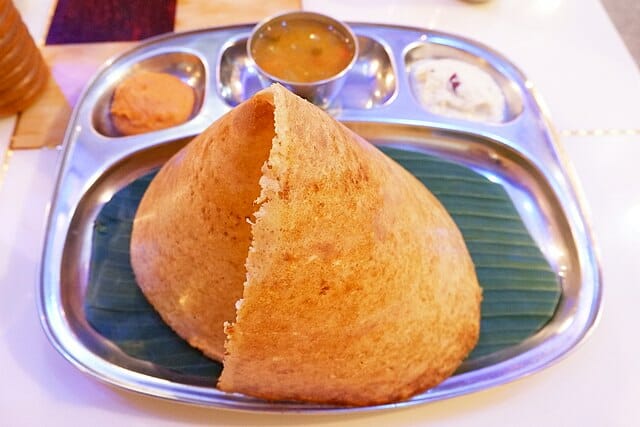 In addition, you can get unique rice varieties here such as gongura rice and ghee podi rice. I don't think even in Andhra Pradesh State, gongura rice is served.
Rameswaram Café enjoys great patronage from the public that is evident from the long queue in front of a very small outlet. From such a tiny outlet that has no seating capacity (only standing), it is surprising that they do roaring business.
Head to Rameswaram Café in JP Nagar to eat best dosa in Bangalore. Surprisingly, you get solid chutney (getty chutney) instead of a rather diluted chutney that other restaurants serve with idly, dosa and vada.
While the taste was good, I didn't like the extra brown crust. The dosa should be in gloden color only for great appearance.
Generally, all the restaurants in Bangalore apply a sort of paste on the dosa before adding oil around it. This makes the dosa hard quickly. Unless you eat piping hot (I cannot do this), the dosa becomes difficult to bite and chew.
Other Dosa Outlets in Bangalore:
Here are a few more places to eat top dosas in Bangalore but they are not in the class of the above three restaurants where you will find yourself making repeat visits.
Well, these three restaurant chains are excellent places to eat best dosa in Bangalore. Of course, there is always the highly popular Adyar Ananda Bhavan, the restaurant chain from Tamilnadu that serves authentic dosa with sambar and chutney in pure Tamilnadu style.
I heard Siddappa Hotel is also getting famous for dosas in Bangalore. I am yet to go there.
Oh yes, I forgot to add India Coffee House to eat best dosa in Bangalore. However, it is not a pure vegetarian restaurant.
In Wilson Garden, the RK Dosa Camp is making heads turn towards it because of their 4 feet long dosa.
Wow! It is a giant anaconda dosa! Nevertheless, I have reservations about the taste.
Well, did I miss any Best Dosa Places in Bangalore, folks?