I wonder why tourists are still staying in hotels or resorts when there are better options. Though this is not applicable to all the vacation destinations, surely, other accommodation types are available in farms, tea estates, ranches, and homes, etc.
For example, Darjeeling, one of the prime hill stations in the Himalayan Hills, India, has numerous tea estates bungalows. They are located in and around Darjeeling.
A few of the larger Darjeeling tea gardens are equipped with spacious guest houses with breathtaking views, amidst rolling hills and tea plantations.
It is wise to experience the Darjeeling tea garden stays. You get very clean linens and mattresses, bath towels, hot water, and above all hygienic home-cooked food.
Of course, you get to taste very fresh tea. Even you can fill in as a tea taster!
The advantage of tea tourism is the owners of the tea guest houses can you show around and take you to all the hidden paradises that the public has no way of knowing.
For example, you can go to certain valleys where all those beautiful birds of the Himalayas come for their food on trees and flowers.
In addition, you will have the privilege of seeing hidden waterfalls and small, naturally formed lakes.
Interacting with tea garden workers and a few Himalayan tribes is possible if you decide Darjeeling tea garden stays.
Most of the tea gardens that offer guesthouse stays take their guests in a jeep to places of tourist interest.
If you are a hiking buff, you are free to go down the hill slopes or up on the hills for a healthy, and breezy hiking till you get tea-thirsty.
Darjeeling Tea Garden Stays:
Below are some of the tea estates in Darjeeling that offer guest house accommodations.
Singtom Tea Estate Resort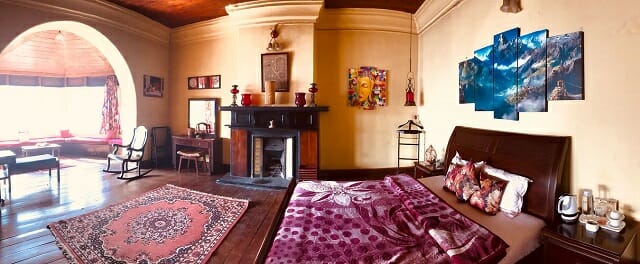 This is the scene of a typical tea estate guesthouse. They belong to another era when people had a big heart that reflects in the size of the bedrooms.
With a fine Persian carpet on the floor, a grandfather-fireplace, and authentic oak wood furniture, you will fall in love with them immediately. In addition, you will vow not to stay in a dingy hotel room hereafter.
Tea tourism is also getting popular among various tea estate locations in India that include, Shimla, Nainital, Kodaikanal, Ooty.
Singtom Tea Estate is nearly 160 old, developed during the British reign in India. You have to drive out of Darjeeling town for 15 minutes to reach tea plantations.
Aren't you mesmerized by looking at the sprawling rooms and the view outside?
To have a better picture of the tea resort, watch the video below.
To encourage their guests to come again, the Singtom Tea Estate arranges picnics for them at stunning peaks such as Tonglu Peak and 360 point peak. I believe you have to pay extra for these picnics.
More picnics are mentioned on their website https://www.singtomresort.com/things-to-do. Moreover, you can definitely expect a session of tea tasting, combined with a tea plucking tour.
With so many awards from Trip Advisor, it is no wonder the Singtom Tea Estate Resort is ranked number one among all the Darjeeling Tea Garden stays.
Note:
You get only vegetarian food in the bungalow.
Coomtea Tea Estate Bungalow
This is a heritage bungalow built by a Britisher. I think, most of the Darjeeling tea estate bungalows are built during the British reign in India. They are adept at spotting cool hill stations all over India.
Coomtea tea estate is lightly far off from Darjeeling town at 50 km down, towards Kurseong.  Siliguri city, the gateway to Darjeeling is 33 further down from Kurseong.
One of the best and exciting ways to reach the Coomtee tea estate is to take the toy train from Siliguri to Kurseong. The train ride is absolutely picturesque.
The estate bungalow is more than 100 years old but I read it is fully revamped. Apart from 100% vegetarian food, you get to drink the freshest Darjeeling tea in the morning.
You can see around the tea plantations on the mountain slopes and visit the tea manufacturing factory. You can even buy a kilogram of aromatic tea after a fat discount.
If you love to hike without a guide, you can stumble on to small waterfalls, mountain streams that cross your hiking trail and spot lovely Himalayan birds, monkeys, and sheep.
The rising popularity of tea tourism must have started from Darjeeling tea estate bungalows that are open to guests from India and abroad. One of the reviews was left behind by a Japanese!
Don't oversleep in such hill stations in India. Try to get up early to see the sunrise. The air will be absolutely crisp carrying the faint aroma of mist, tea, and magnolia flowers. It gives you a heady feeling. I promise you will consider overstaying in Kurseong near Darjeeling.
There are four bungalows to choose from, each one is with fantastic views of the mist-clad mountains, pine trees, flower gardens, and bamboo groves.
Tumsong Tea Garden Retreat
I think it is appropriate to call the Darjeeling tea garden stays as retreats because you live very close to nature and are cut off from your usual urban amenities and routines.
Yes, most of the bungalows built within the tea plantations don't offer television. In some remote retreats, you will not even find Wi-Fi.
Without the Internet, you naturally accept the way of living like the tea estate workers and bungalow staff.
The town where the Tumsong tea estate is located is called Ghum (also known as Ghoom). Its altitude is 7500 feet approximately. India's highest railway station is here only.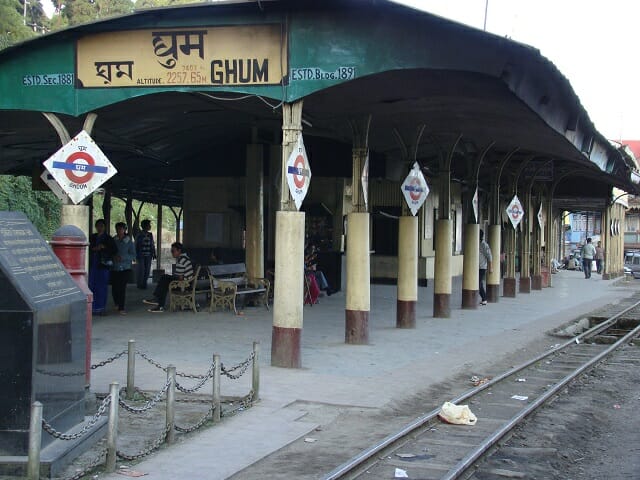 Darjeeling town is just 9km away from Ghoom.
The colonial-era bungalow has four large rooms with bathrooms that are definitely oversized by modern standards.
You get to eat food, thrice a day. Tea is available without saying.
Nearby attractions include:
Yiga Choling Monastery.
Ghum Monastery
Garg World amusement park
Tumsong Tea Estate offers one of the finest Darjeeling tea gardens stays in the Himalayas.
Glenburn Tea Estate
Glenburn Tea Estate is one of the largest tea gardens in Darjeeling. There are 8 large bedrooms with attached bathrooms in two beautiful, heritage bungalows called Burra Bungalow and Water Lily Bungalow.
These old-world buildings in tea estates come with a thoughtfully built verandah where you can relax in a wicker chair and gaze over the green hills for hours.
All the guesthouses in tea estates charge an all-inclusive fare that includes boarding and lodging. Your fare doesn't include market visits and other sightseeing tours around Darjeeling.
The food served is from various cuisines such as Chinese, European, and Indian. Some Tibetian and Burmese delicacies can also be found on the menu card.
Unique food in Glenburn Tea Estate:
Have you ever heard of a pakora (a deep-fried snack) made of tea leaves? You get to eat it here.
If what I read is right, the food can be customized! This is a wonderful facility.
These British-era tea garden guesthouses are great bakers. They bake bread and soft and crispy cookies.
Being a Himalayan tea garden, you get several berries. The chefs make delicious jams and marmalades from the local berries and fruits.
While leaving the estate, don't forget to buy Glenburn tea, cakes, jams, and cookies.
Makaibari Bungalow, Darjeeling
The exact location of this Darjeeling Tea Estate Bungalow is in Kurseong. You can reach Kurseong by the most romantic hill train from Siliguri city.  While booking your room, you can ask for a car to pick you up from the railway station.
This lovely heritage tea bungalow has 5 spacious bedrooms. The room is fitted with an air-conditioner. This is weird because you will not need it even in summer.
The other amenities include Wi-Fi and a cook who can make food as per your order. Though Chinese foods can be made, it is better if you stick to Indian food.
The Kanchenjunga peak is clearly visible from anywhere in this tea estate.
The hiking trails near the tea estate are stunningly beautiful with tall trees on either side of the road. If you have some interest in flowers, the range of Himalayan flowers will keep you busy with your mobile phone camera.
Ging Tea Bungalow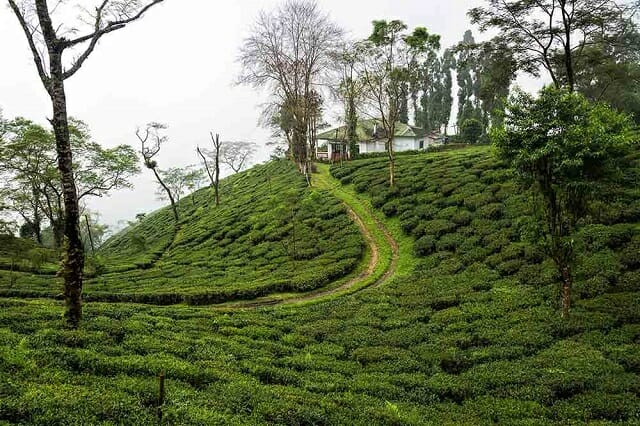 What a breathtaking location! I am sure all the Darjeeling tea garden stays guarantee a terrific location with stunning views.
The Darjeeling tea bungalow belongs to the British era with charming wooden-floored 6 suites with different names. Your price is inclusive of food and fresh bed tea.
If you hire a taxi from Darjeeling railway station, you can reach the Ging tea bungalow in half an hour. Besides,  if you prefer to approach your destination directly from Siliguri, the driving time will be three hours.
If a flight is your option, the nearest airport is the international airport that is located outside Siliguri. The name of the airport is Bagdogra Airport.
It is well connected with Calcutta and New Delhi, the two top cities in India.
Make a reservation by emailing them. As an added convenience, the host will also buy your flight or train tickets from your starting point in India.
Additionally, you can call them.
Activities in and around Ging Tea Estate.
Walking through lush tea plantations and nearby woods.
Pool Table
Visit Darjeeling zoo, botanical garden, and market
Happy Valley Tea Estate Homestay
It is a 167 years old tea estate. Of course, the Homestay where you can stay may not be that old.
This is a large tea estate that employs more than 1000 people! OMG! Then, it must be really big.
Happy Valley Tea Estate is located 3 km from Darjeeling town and its altitude is 7000 feet approximately.
They are exporting their tea to the U.K. and France.
Darjeeling hill station is loaded with budget lodges,  three and five-star hotels, that command full occupancy during the peak season that starts from April and ends in mid-June However, forget the hotels for once and try a Darjeeling tea bungalow to stay. You won't get another chance.