Which place in the world has the maximum number of treehouses? Can you believe if the answer is Bali Island, the world's most visited island in Asia? The modern concept treehouse lodging is not new. It has been in existence since prehistoric times. For the primitive people, treehouses were for their habitation. Bali Treehouse are unique.
Now, tree-sheds are used for accommodating guests who are visiting the nearby tourist attractions that include:
Tropical forests
Bird and animal sanctuaries
Lakefront attractions
Now that the idea of staycations is taking place, small treehouses are used as workplaces cum living for a short period.
I foresee treetop houses will be booked for parties and hangouts.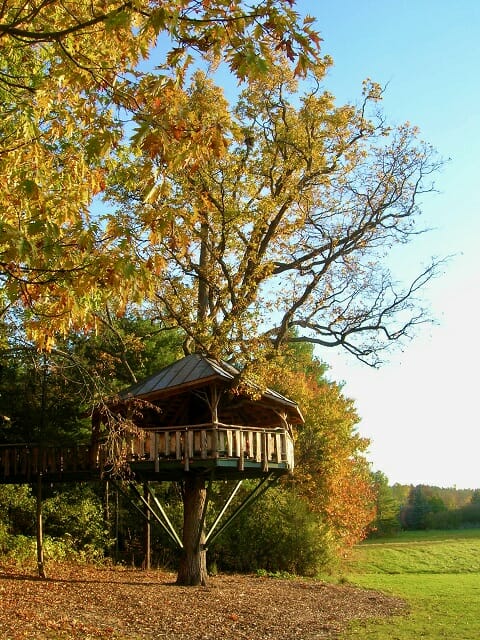 Bali Treehouses for Unique Staycation Expeerience
Let us see some of the popular treehouses on Bali Island that serve as viable alternatives to conventional lodging such as hotels, vacation homes, and spa resorts.
The Rice Joglo Bali Treehouse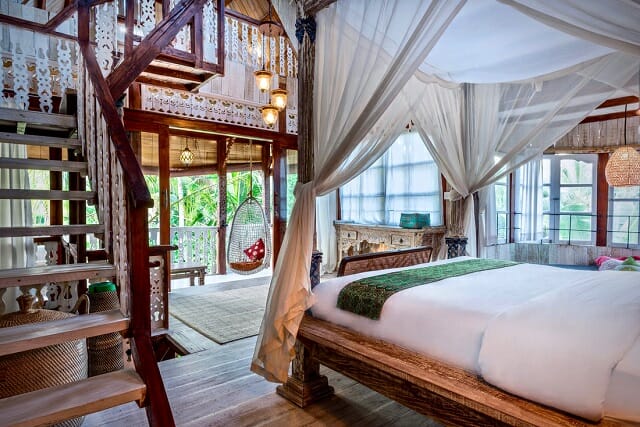 Hmm.. this treehouse in Bali looks quite spacious-isn't it? In addition, the accommodation on a treetop is tastefully furnished and decorated.
When you rent it, you get three bedrooms. This means unless you are a group of 6 persons, it will be a waste of money if you are just two.
There is only one bathroom which is not attached to any bedroom. It is a common bathroom with the sky as the roof! What a terrific way of bathing. It is called freedom to the core. One should get inside the open-air bathroom when it is raining.
The builder has thoughtfully provided a few balconies for splendid views and sun on your back.
For the travelers who are used to traveling in style, there is even a bar inside the treetop lodge.
The unique fact about this canopy house is it is built on two levels. The first floor is where the dining table is placed. It is accompanied by a bar.
All the bedrooms are on the second level of the treehouse.
The cons are, you have to access the two smaller bedrooms only through the master bedroom. And there is no air-conditioning. Only ceiling fans are provided to cool yourself as well as to drive away the mosquitoes.
Veluvana Bali
It is treehouse in Bali that is made of bamboo poles. The use of bamboo poles in Indonesia, Vietnam, and Cambodia are well known. This canopy house has two floors. The lower one is used to lounge around the upper has the bedroom.
What are the specialties of Veluvana Bali bamboo house in Bali?
There are few aspects that stand out in this treetop lodge in Bali.
The first is the Mughal-style flower pool.
If you are contemplating a tour to Bali, then, without any second thought, book this bamboo house just to enjoy an exotic and highly romantic time in the flower pool that is filled with rose petals.
The second attractor factor is the Balinese massage that is so different from the usual massage that we get in Hong Kong and Thailand. Here, the Balinese massage lasts for one and a half hours.
Ah, the final unique aspect at Veluvana Bali is the floating breakfast. As you sit on the edge of a small pool, your breakfast order is placed on a bamboo tray and comes floating to you. Wouldn't you call it the height of luxury? At least once in our lifetime, we should live like a king of an island.
The canopy house is overlooking Mount Agung and Sideman Valley. The mountains slopes are used to cultivate rice and they are called the 'rice fields of Indonesia'.
Nearby attractions of Sideman Valley:
Besakih Temple
Lempuyang Temple
Royal Water Palace
River Rafting
You get an airport transfer to the bamboo house.
Ayu treehouse, Bali
One more treetop lodge is made of bamboo poles. It is located in a place that is typical Indonesian countryside filled with rice fields and coconut trees. The working farmers wear that peculiar hat that fully covers the head and nape.
Here also, the bathroom is open to the sky. I am sure you would be waiting eagerly to get under the shower with the sun looking at you unashamed. The bathroom is on the first floor.
There is only one bedroom that can take in only two guests. It is on the first floor. The bedroom comes with a balcony where the early morning breeze is soothing on your body. The rest of the day will be warm.
It will be a different experience if you buy the groceries and vegetables locally at a very cheap price and cook your meal. Yes, there is a small kitchen in the treehouse. Remember, the kitchen is also accessible to the guests of the other treehouse next to you.
To get connected with the outer world, you get free Wi-Fi.
Bali is the most visited island in Asia. It is generally crowded throughout the year except for the monsoon. Therefore, it is necessary to book your choice of a treehouse in Bali well in advance.
More tree houses in Bali follows.
Rumah Pohon Tree House
If you feel Bali is too crowded for you, you can stay in a treehouse in Nusa Penida Island, near Bali. In fact, it will work out cheaper for you.
Doesn't it look quaint with that thatched roof with the backdrop of a mountain?
Nusa Penida Island is only 30 minutes boat ride away from Bali. Just stay in Nusa Penida and make a day trip to Bali. In fact, you can make two days in a day to Bali from Rumah Pohon treehouse.
Wi-Fi is available. The beaches of Nusa Penida are splendid to splash around.
Aura Bamboo Treehouse, Bali
It's an all bamboo house that is built above the ground on three levels. Did you notice the bamboo furniture? They look absolutely awesome! The design is very creative, giving plenty of room for cross ventilation.
I read about Balinese craftmanship before. This treehouse in Bali is a striking example of it.
The added attraction is the scenic Ayung River that flows nearby.
A log house on the outskirts of Ubud, a major tourist area in Bali is certainly your best bet if you want to live like a Balinese native.
There are two bedrooms which are more than enough for a family of four including two children.
Wifi is provided. I have no idea whether it is free or paid. On your first day as a guest in the Aura treehouse in Bali, you are given free breakfast. Even if you check in late in the evening, you get your complimentary breakfast the next day.
The surrounding forest allows you to wander through thick greenery filled with myriad bird songs.
Room service is assured. I would do that as I love to enjoy eating, looking at the forest.
For extra money, you can avail a relaxed session of Balinese massage.
Writers' Treehouse, Bali
There are three treehouses that are named after 3 famous writers. It is set in a total rural area, a bit far off from all the Bali's attractions. I guess the tree home is meant just for spending your holiday in a quiet environment.
You can still get out in the evening and do a bit of shopping and drinking in Bali. Since it will be hot always, it is better to stay inside the cool treetop lodge until the sunset.
The lounging furniture in the verandah is very comfortable.
Impressive-eh? The canopy house is set amidst a lovely tropical garden, chilling the house even in high noon.
The host of this dreamy log home is also a travel writer. No wonder the host furnished a house that is comfortable to sit and write, enjoying nature.
I unearthed the names of 15 Bali treehouses but since the majority of them are let out through Airbnb, they lack information about the address of the location, facilities and amenities provided and what are the nearby attractions to see, etc.
For example, I saw a photo of Har's Garden, in Bali. It was a woodhouse alight built in a garden. Sadly, I could not dig around much to reveal more about it.
There is another beautiful canopy house in Bali that is called Adorable Home. I read it as an organic treehouse. I could nod figure out what is meant by an organic treehouse.
It is fully made of bamboo poles that are not a treehouse but a log home. Look at it below.
Bali's log homes are a great alternative to hotels. Moreover, they don't cost much for all the facilities you get. Staying in such rural environments gives you opportunities to interact with local farmers.