Here is a surprising fact that will make you raise your eyebrows and also urge you to share this fact with your friends.
Fact about Rwanda:
Rwanda, a central east African country is the safest country in Africa and is also the 9th safest country in the world. This declaration is directly from the horse's mouth; I mean the World Economic Forum.
How do you like it? I am sure you did not expect to hear about such an African country-right?
Surely, the country had come a long way since it was subjected to shocking genocide in 1994, when over a million natives died fighting against each other (the Hutus and Tutsis).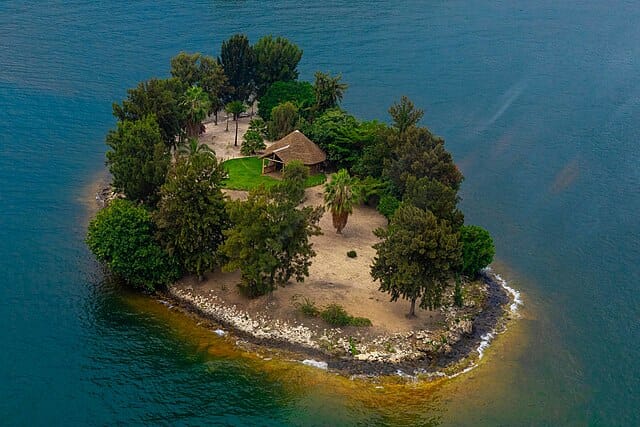 In this blog post, I will tell you the things to do in Rwanda and brief you about some of Rwanda attractions.
Contrary to your belief that all the African countries are too hot to travel, it has pleasant climate throughout the year because, the whole country is mountainous. The average altitude is nearly 4000 feet! It is no wonder Rwanda is called "the land of thousand hills".
Location of Rwanda:
It is a country stuffed in between several other African countries namely:
Uganda
Congo
Burundi
Tanzania
The Great Rift Valley (7000 km length) passes through it.
How to Reach Rwanda?
Kigali is Rwanda's capital city.
It is a beautiful city geographically with large tracts of meadows, mountains, lakes, and valleys. Yes, you can expect a pleasant stay in Kigali.
In spite of an international airport, it doesn't receive direct flights from any other country. Thus, all flights arriving from the U.S., Europe, Asia, and the U.K., first reach other bigger African nations that include Kenya, Ethiopia, Tanzania, and Uganda and then proceed to to Kigali.
How does a Tourist Move in Rwanda?
The cheapest and the most used form of transportation within Rwanda is two-wheeler taxi (motorcycle taxi) operated by the local youth. They are dependable and also knowledgeable. In fact, they also serve you as a guide.
There are car taxis but it has 'car-free' days in a month. Wow! I give a big salute to Rwandese for this thoughtful declaration.
This rule is applicable only in Kigali. The cars are off the roads on the first and the third Sundays of every month.
How Many Days should I spend in Rwanda?
From what I studied about the little African country, Rwanda demands a little more than week of your holiday.
What Are Rwanda's Attractions?
The country's geography will steal your heart. In addition, like any other African country, you get to watch incredible animals and birds.
There are areas of vast wilderness. You can visit volcanoes and thick forests. There are lakes and waterfalls. Thus, Rwanda's geography is extremely diverse. Above all, the people of Rwanda are friendly and smiling.
One more surprising fact:
Rwanda is rated as one of the cleanest countries in the world.
9 Best Things to Do in Rwanda
Taste The Local Coffee.
I would recommend this as one of the first things to do in Rwanda. On the day of your arrival, as soon as you are settled in your hotel room, order a cup of coffee. The Rwandese (that's how you call the people of this country) cultivates unbelievably excellent coffee.
Isn't that a good start of your Rwanda travel?
Genocide Memorial
Whether you like it or not, your first stop of Kigali tour will be at the memorial for those who were murdered during the large-scale genocide the country faced in 1994.
Naturally, you feel sorry for them.
Visiting this memorial is among the important things to do in Rwanda.
In your Kigali city tour itinerary, you will find several museums and memorials that you can skip if you want to.
Things to buy in Rwanda
It is better to finish your shopping in Rwanda on the first day your tour. There are many products to buy from there, including a few edible souvenirs. Buy them, before your wallet gets thin.
Buy coffee powder from recognized supermarkets only.
Next to coffee, honey will be your best purchase.
You might have seen in films showing elaborate beaded jewelry worn by the Africans (both men and women).
They are cheap and make great souvenirs.
Local seasonal fruits are sold at very cheap prices. Unexpectedly, you can see truckloads of 'avocados' everywhere.
You can buy exotic fruit jams from the street vendors all over Rwanda. How about a bottle of 'passion fruit jam'?
Rwandese women wear brightly colored dresses.
Think of buying some of them as souvenirs from this country. These Rwandese dresses are known as 'Kitenge'.
Rwanda's mountains yield extremely rare herbs that bear health benefits. Rwandese produce valuable herbal oils and sell them as village produce.
If you are fond of eating very hot chilli, then, Rwanda has something for you. Pili Pili is grown all over the country as a very spicy chilli. They make a chilli sauce out of it. It is marketed as 'Akabanga'.
Scarves worn over the head.
Isn't it highly attractive! It is one of the shopping items you can buy in Rwanda.
The Rwandese women are experts at making unique handmade candles in myriad shapes and colors that will make you buy them immediately. It is recommended to haggle a bit.
The moment you see them in the shelves of shops, you will end up buying at least 6 of them in various colors.
They are supposed to bring good fortunes. The colourful Amahoro baskets are made from the fibres of 'agave' plants.
These handmade baskets are also known as 'agaseke baskets'. You can buy them only from here.
Hmm… it seems there are quite a lot of products that you can buy from Rwanda. You can add them in the list of things to do in  Rwanda.
Kimoronko Market is the best place to buy your  souvenirs. It is in Kigali city.
Gorilla Sighting in Rwanda
Gorilla sighting is among the most looking-forward to types of Rwanda attractions.
Gorilla is spotted only in Congo, Uganda, and Rwanda in Africa. No other forests serve as habitats for Gorilla.
In Rwanda too, you cannot foray into the forests alone expecting to shake hands with the ape. You need to join an organized and guided Gorilla trekking tour.
The duration of this forest expedition will around 4 hours. It is an expensive adventure costing a minimum of $1000!
The gorilla sighting tour is said to be difficult. The terrain is through some dense jungle. You have to climb high up on the mountains in search of the ape.  If it had rained the previous night, the trekking path will be slippery.
See a sample of Gorilla trekking in the video below.
Nonetheless, the experience is worth the time and money. You will return with some awe-inspiring stories to recount to your children and friends.
Those who can afford and who have passionate interest in watching the life of Gorillas, can stay in a forest camp with a local guide. Overnight stays with food and guided expedition will cost you around $1700. Are you game?
Where to Watch Other Wildlife in Rwanda?
Don't assume Gorillas are the only African wildlife you can see in Rwanda. There are several other animals and birds that are living in the montane forests (in the hills).
Other wildlife includes:
Warthog
Masai Giraffe
Bushbuck
Vervet Monkey
Oliva Baboon
Bohor Reedbuck
Oribi (a deer species)
Eland
Kipsringer
Topi-another one of those deer species
Marshbuck (Sitaunga)
Where Can You See the Gorillas and Other Wildlife in Rwanda?
Among the Rwanda attractions, you will be visiting the following national parks that are ideal places to spot the huge Gorillas and the other animals mentioned above.
Volcanoes National Park (main Gorilla habitat)
Akagera National Park
Nyungwe Forest National Park
The graceful cheetahs, lions, rhinos, zebras, and also the African elephants are living in these forests.
Passionate bird watchers find the tree national parks in Rwanda, as real haven. More than 600 species of African birds have been recorded and classified. There are may be more species of avifauna because the forests are too thick to spot all them.
The majority of the bird species are too rare and are found to be living only in the montane forests of Rwanda and Condo.
Here are a few that caught my attention:
African Jacana
Hamerkop
Goliath Heron
Saddle-billed Stork
Turaco
Isn't it a stunning bird? I read there are 17 species of Turaco in the world.
Lake Kivu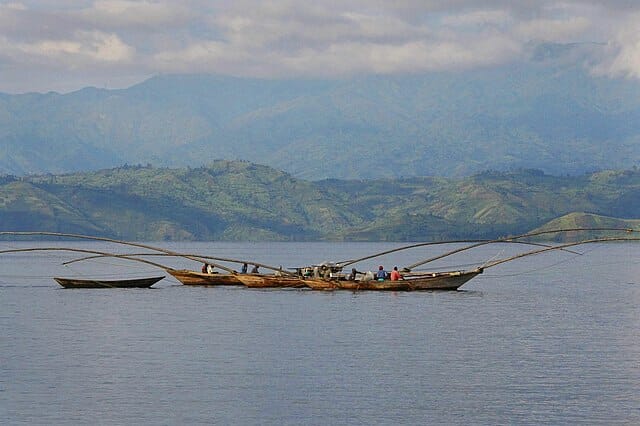 Lake Kivu is one the lakes that is situated in the Rift Valley. This is quite a large lake measuring 42 km by 50 km in length and breadth respectively.
Lake Kivu is one of the foremost Rwanda attractions and it is a not-to-be-missed place. Its altitude is approximately 5000 feet!
A Rare Geological Phenomenon:
Lake Kivu sometimes erupts, emanating thick clouds of carbon-di-oxide, a fatal gas when emitted in thick volume. However, this kind of "limnic eruption" (lake eruption) happens once in a millennium only.
Boating excursions are offered in Lake Kivu, giving scope of exceptional natural sceneries. Swimming is also permitted in the lake.
Lake Kivu, one of the star attractions is located about 200 km from capital Kigali.
Gishwati Mukura Bio Reserve
There is no limit to the broad range of bio-diversity in Rwanda. The locals continue to unearth natural beauties and eco-rich geographical hot spots.
Gishwati Mukura forest is located in the western region of Rwanda, in the Albertine Rift, part of the Great Rift Valley.
It is elevated to the status of National Park because of several endemic and endangered species of wildlife out of which, two caught my attention.
Golden Monkey
Eastern Chimpanzee
You can quickly visit this national park during your visit to Lake Kivu. The distance between these attractions is only 32 km.
The landscape of Gishwati Mukura forest is very scenic and there are fantastic hiking trails with great opportunities to spot numerous African birds,
Mount Bisoke
Located in the Albertine Rift, Mount Bisoke is an active volcano. The distance from Lake Kivu is 75 km roughly.
The summit of the volcano has two craters; both are filled with natural water. Trekkers are seen climbing the volcano. Gorillas are spotted in the mountain slopes that are dense with rain attracting trees.
Visiting Mount Besoke is one of the adventurous things to do in Rwanda.
Rwanda, the central-east African nation is undoubtedly a great tourist attraction. The history, culture and the country's come back from the bottom of poverty are commendable.
Plan your trip to Rwanda for at least a week. It is not an expensive country for the tourists.