Breaking News: Gold is freely available on a mountain! There is a mountain in Congo whose soil is composed of 60 to 90% gold!
Before reading this breaking news further, know where it is in the atlas.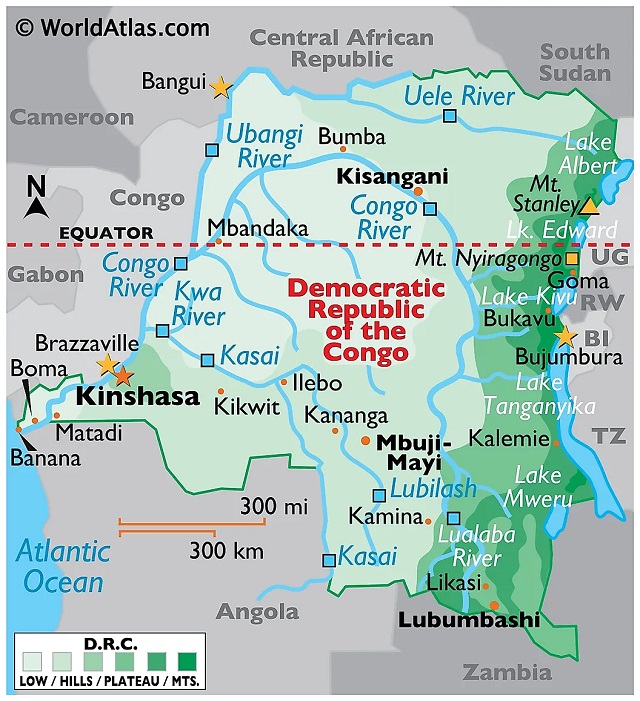 Democratic Republic of Congo is an African country that is surrounded by several exotic African nations that include Zambia, Sudan, Tanzania, Angola, and Uganda. It is a land-locked country in central Africa.
Now, read the golden news by clicking the link below.
Gold mountain in Africa | Gold' discovered in Congo.
Naturally, the natives of it have started their journey to Luhihi where the mountain with gold is located. With spades and buckets, they have started mining the free gold.
Will this exciting news increase the inflow of tourists to Congo?
What is there to do in the land of Pigmies?
Are there exotic places to see in Congo?
Exotic Natural Attractions of Congo
Let us discover more about this exotic travel attraction.
A rendezvous with pygmies in Congo.
If I ever were to visit Congo, my first interest would be to meet a tribe of Pygmy, the world's shortest people, and the biggest hunters. Ever since I read about pygmies in school, I have been fascinated by their way of living and their strange languages. In addition, the way they communicate with the fellow hunters through just sounds is incredible.
Here is a video f pygmies by the BBC.
See an Okapi
Okapi is an animal that you cannot immediately classify. Don't take my word, buddy. See it for yourself below how an Okapi looks like.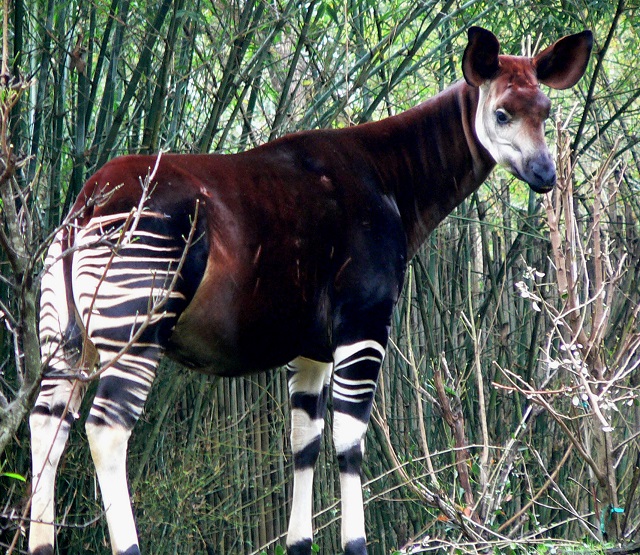 This is my second exotic thing to do in Congo.
Here is another image of Okapi.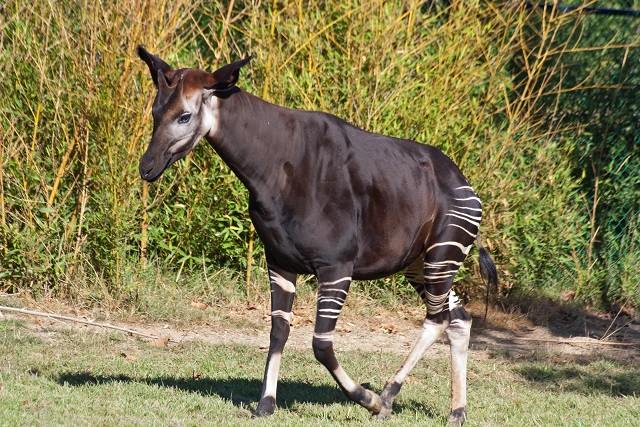 Okapi is a mixture of zebra and giraffe. That's why it has alternative names that are:
Forest giraffe
Zebra Giraffe
Congolese giraffe
This country has so many hidden wonders; let us explore more of them in terms of nature and geography.
Mount Nyiragongo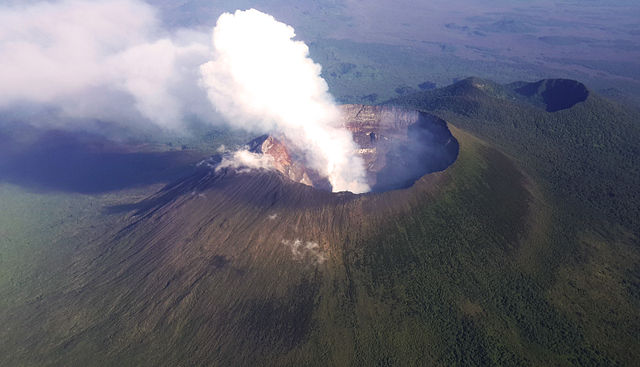 Yes, as you can see, it is an active volcano. If you trek to its summit, you will see a 2 km wide crater that is filled with lava.
However, I believe it is not easy to hike to the peak as its elevation stands at over 11,300 feet!
To see the fuming volcano even from a distance is a terrific sight. Mount Nyiragongo is part of the more exotic Virunga National Park.
Virunga National Park
Virunga National Park is another fantastic natural attraction and it is a must-see place.  The hidden surprises of this national park will take your breath away.
The tall misty mountains, dense rain forests, countless bird species, and above all, you can spot the rare and the most dreaded mountain Gorilla, the identity of Congo in this dense jungle.
Mountain Gorilla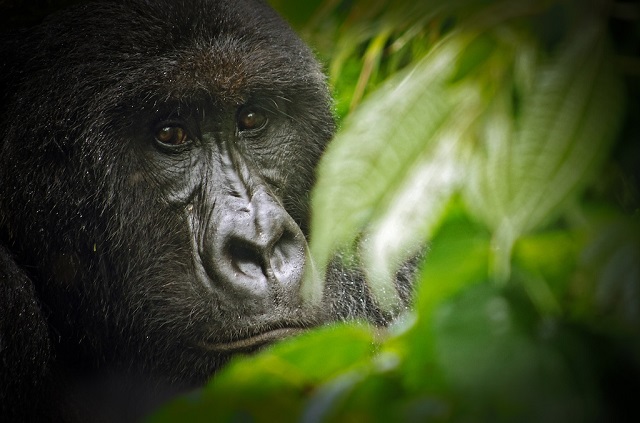 The green mountain range you see in the above image is part of the Albertine Rift Valley. It measures nearly 300 km in length. The highest point of the mountain range that also houses two volcanoes stands at 16,700  feet!
All its 8000 sq.km area comes under the List of World heritage sites of UNESCO.
Places to see the real African animals in Congo
Odzala National Park
Wildlife safari
You just cannot afford to say 'no' to the most thrilling part of your tour. A guided wildlife safari in  thick jungles is a memorable thing to do.
You have to include a trip to the 'Odzala National Park' to see some of the world's mighty mammals such as the Gorilla and the African bush elephant.
African bush elephant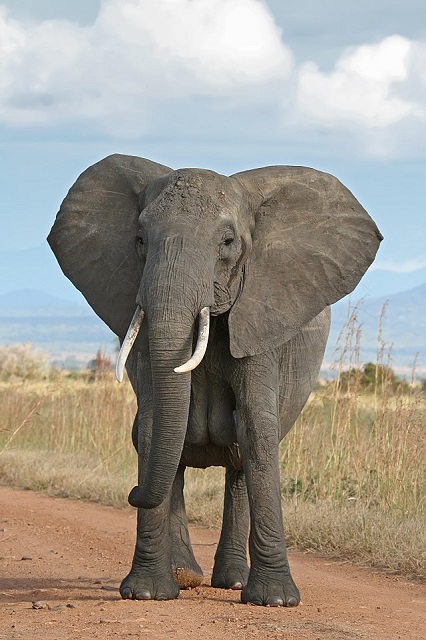 Above all, the Chimpanzee that you have been waiting to encounter in its dense surroundings can also be spotted.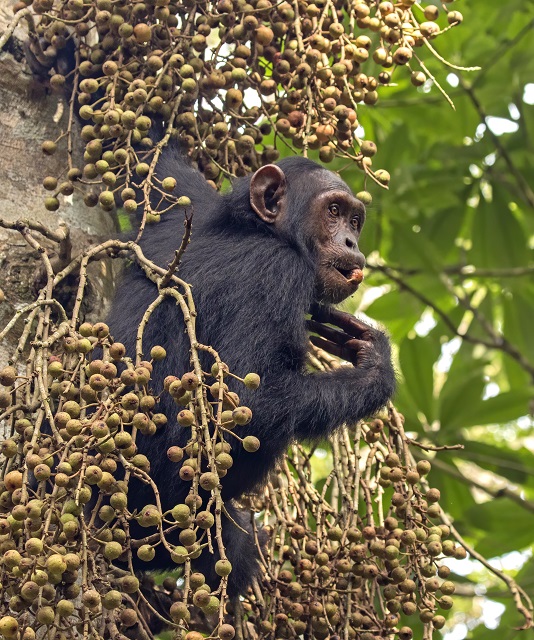 Nouabale-Ndoki National Park
Nouabale-Ndoki National Park is another big wildlife-watching attraction here. This fantastic national park is home to incredibly diverse flora and fauna. If you can spot ad identify at least a dozen African exotic birds, you can enjoy an hour of intense bird watching here.
Lola ya Bonobo, Kinshasa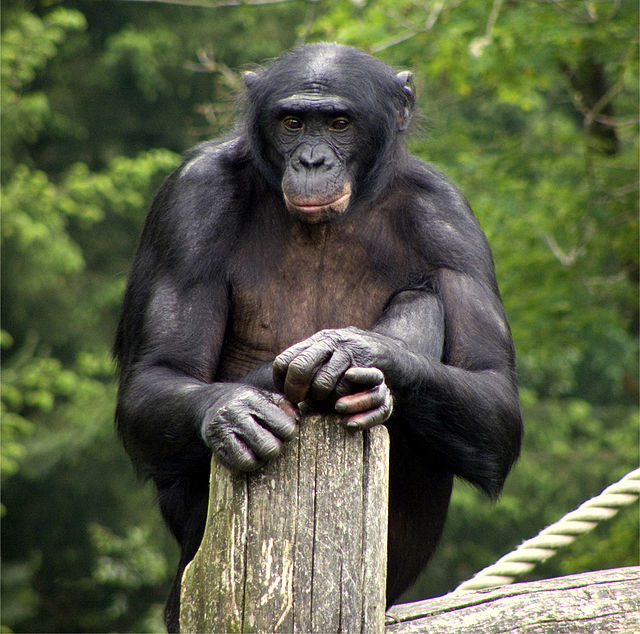 What you see in the image above is called 'Bonobo', an ape but an endangered species that comes under the category of pygmy chimpanzee.
Lola ya Bonobo is a sanctuary where the orphaned Bonobos are cared for. The Congolese  kill these apes in large numbers  for meat
The sanctuary for bonobos is situated in a lush green forest that provides ample fodder for these friendly apes.
Kahuzi-Biega National Park
This huge national park, and is another exciting venue to watch the wildlife of Africa. This particular national park is the only place where you can see the protected Eastern Lowland Gorillas.
For us novices, all gorillas and chimpanzees look the same-right?
Kahuzi-Biega National Park is home to two volcanoes that are long since died. They are  Mount Kahuzi and Mount Biega. The diverse habitat will make a naturalist pitch up his tent and begin to study the myriad insects, reptiles, birds, and bushes. It is no wonder this national park is a UNESCO World Heritage Site.
Garamba National Park
One more huge national park is Garamba that is located within the Northern Province. This wildlife park's size is a whopping 5200 sq. km! It is a habitat for a large number of elephants and giraffes.
Moreover, you can spot the two most fascinating African specials namely:
White Rhinoceros
Secretary Bird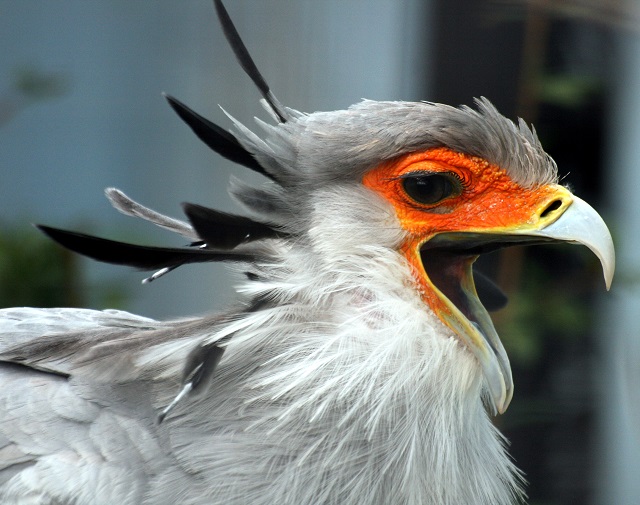 The Secretary bird
Garaab National Park is protected as a World Heritage Site by UNESCO.
The park's prime savannah grasslands are wonderful grazing areas for giraffes and ideal hunting grounds for the fiery African lions. Other forest animals you can spot here include:
Hippos
Hyenas
Giant hogs
Antelopes
Okapi sanctuary
I nearly forgot. You can see several Okapis at a protected reserve for them in this country. There are over 5000 Okapis are reared here. To keep them company are the wild elephants and thousands of leopards.
Bombo Lumene National Park
This is another wildlife spotting area in Congo. Moreover, the added attraction of this national park is the facility to stay close to the ground. I mean, you can stay in canvas camps here to listen to the intoxicating nocturnal sounds of a real African forest.
Lake Kivu.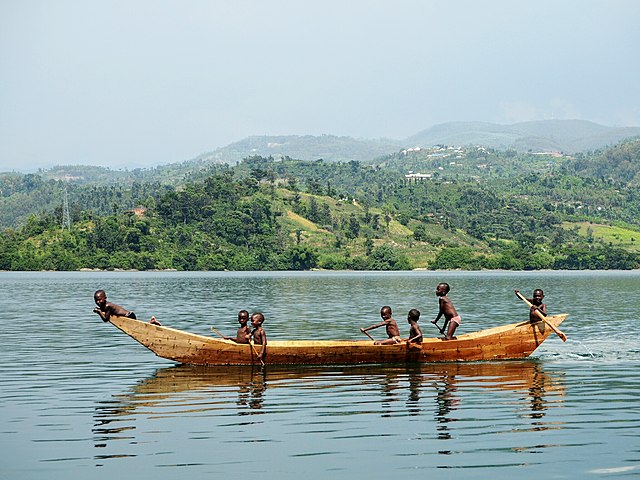 Can you ignore such a beautiful and large water body n Congo? Lake Kivu is one of the world's largest lakes and it measures 90 km by 50 km in length and width respectively.
Can you recognize the lake island in the above image? It is named, Idjwi. A relaxed boat ride or a self-propelled canoe would give goosebumps to a nature lover.
Zongo Falls
Zongo Falls is one of the biggest natural attractions here. The thundering and voluminous Zongo Falls is located within the Kinhasa province.
If you get up early from the overnight bungalow accommodation in Kinshasa (130 km ) and go to the site of Zongo Falls, you can witness the raw and non-urbanized side of true African rainforest settings.
Best African safari tours in Congo:
I have listed out several places where you can go on a guided safari tour to have a close look at the Africa wildlife. However, here are some of the best African safari tours that you can book and join.
Gorilla Trekking & Safari Tours
Virunga Amani Tours and Travel
Virunga Park Gorilla Safaris
Bonobo sanctuary tour
Seli Safari Project
Kasitu Eco Tour
Trekking Safaris
Danico Tours
Ubuntu Tours
African Tribes tour
If you are deeply interested in meeting the original African tribes including the legendary pigmies, you can search for African Tribal Tour operators.
When to visit the Republic of the Congo?
It is highly recommended to tour the forests during the dry periods that begin in November and lasts until February. In addition, June to August also is a good time to visit this republic.
The Democratic Republic of Congo has more in store than any other African country. In addition, You should go there with an open mind, choose the best safari tour and enjoy an unprecedented natural attraction.