Who provides Zanzibar and Tanzania safari?
African Safari is a vague expression. You must specifically mention the safari in the name of any African nation.
For example, Tanzania safari.
Tanzania is undoubtedly the hottest country for wildlife viewing. While other African nation's safari operators might protest, they will be reluctantly agreeing to my claim.
Tanzania is the most highly visited African country for game viewing.  Once you decided to go on a wildlife safari in Tanzania, you must do your research for reliable safari tour operators. Once you decided upon a reputed safari company, you can contact them and ask all your pre-safari questions.
Those who are contemplating touring Tanzania, are invariably advised to combine a tour of Zanzibar also, a group of islands that are located within 50 km from the mainland of Tanzania.
First, take a look at the exact location of Tanzania on the Africa map.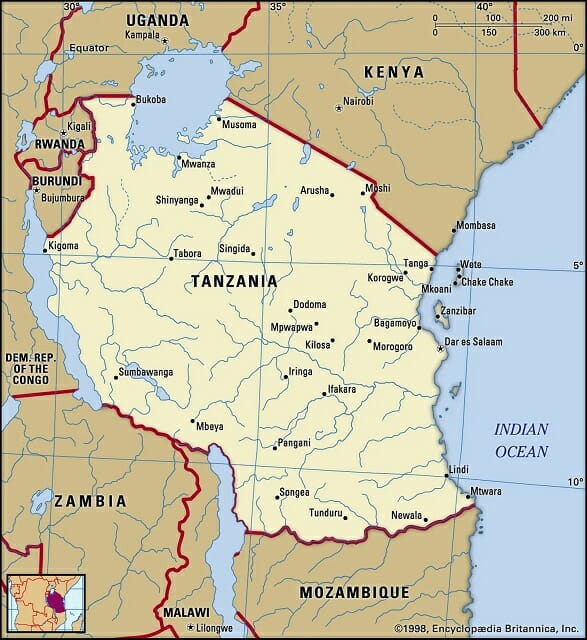 Did you notice the bordering countries? Uganda, Kenya, Zambia, Mozambique; all of them are well-known for their stunning species of animals, birds, and reptiles.
Now, see where Zanzibar is!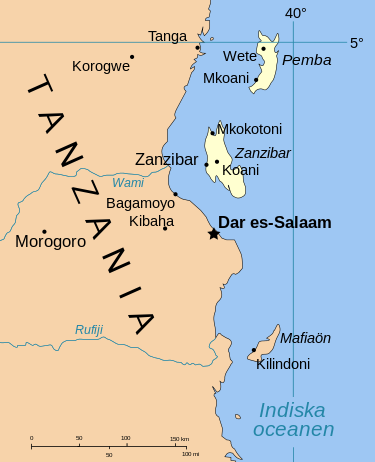 Apart from going on a safari in search of the famous African elephants, giraffes, leopards, hippos, and crocodiles, you have two more exciting things to do in Tanzania.
Mount Kilimanjaro hiking
Mount Meru hiking (a volcano)
Since we are only looking for experienced safari operators, let us skip which animals and birds you can spot during the jeep or elephant safari.
At the outset, I will mention the names safaris in Tanzania and Zanzibar. Based on this information, you can search for a suitable tour operator.
Please note that your Tanzania safari operator will offer a safari package based on the number of days you are willing to spend in Tanzania and Zanzibar.
Names of the Tanzania safari:
Northern Tanzania Safari
Hiking tour in Mount Kilimanjaro
Trekking expedition on Mount Meru volcano
Two days tour of the waterfalls and natural geysers (hot springs) in Tanzania
Day trip to Ngorongoro Crater
A Day trip to Mikumi National Park
One Day trip to Tarangire Park
Safari in Serengeti
Zanzibar safari that you can choose:
A visit to Blue Zanzibar
Day trip to Josani Jungle
Day trip to Sadaani National Park
A tour of beaches in Zanzibar
Suppose, if you staying in Zanzibar Island, the local as well Tanzania safari companies will take you to all the above-mentioned safaris in Tanzania. If I were you, I will stay in Dar-e-Salam in Tanzania.
Do you know?
Do you know the Tanzanians living in various regions speak as many as 100 languages, with Swahili as the main language?
Sometimes, whenever I see the videos of African safari, I used to wonder even the wildlife of Africa u8nderstand the Swahili language.
I will give you a brief intro about some of the major places that are covered in the safaris of Tanzania and Zanzibar.
What should you know about Serengeti?
Serengeti is a nature preserve comprising a staggering 30,000 sq. km! The major part of the land is part of the Serengeti National Park. In addition, there are many more game reserves to go on a safari.
One of the exciting ways to spot the African forest animals is to watch them lazily roam or graze from a height. There is a hot air balloon ride that floats over the game parks.
Serengeti, as the host of large-scale migration of wild animals, is considered as one of the "seven wonders of Africa". The masculine Blue Wildebeest is one of the large mammals that participate in the grand migration.
A photo of the great migration of wildebeests.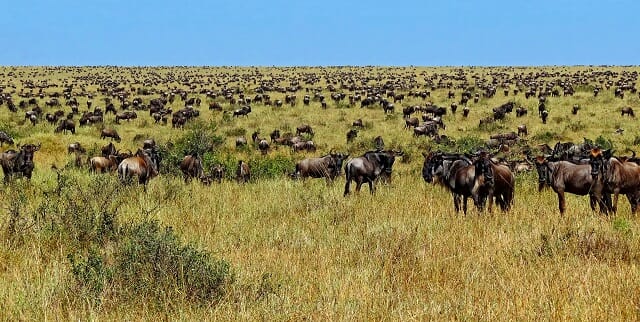 The large-scale migration takes from Serengeti in Tanzania to Masai Mara in Kenya.
If you are die-hard of lions and are thrilled to watch them roar in their own habitat, then, Serengeti is the best place to spot the African lions.
An interesting fact about Serengeti:
There are as many as 260 thousand zebras in Tanzania alone.
Mount Kilimanjaro Hiking: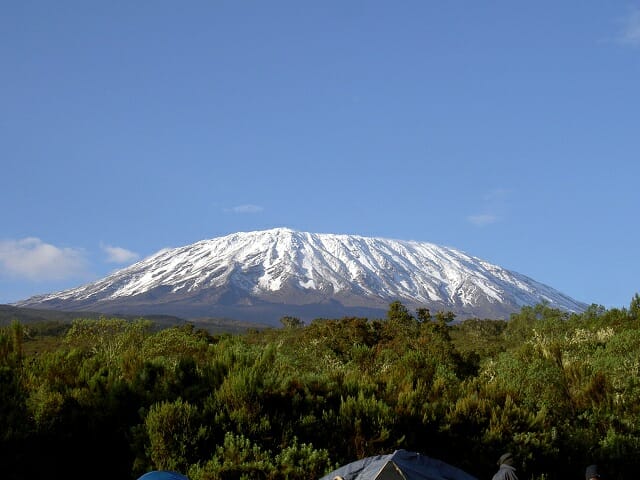 Not many of you are aware that Kilimanjaro is also a volcanic mountain but now dormant. The mount Kilimanjaro hikers are given an option of trekking up to any one of the three craters known by the names Kibo, Mawnzi, and Shira.
Roof of Africa.
Its tallest peak stands at a staggering 19,300 feet! It is called Uhuru Peak.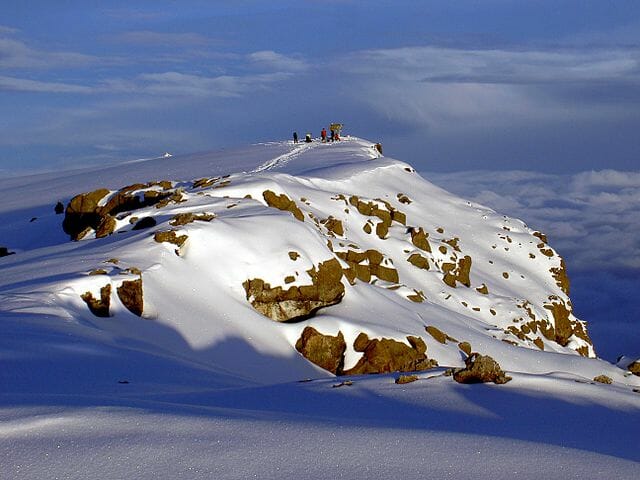 Uhuru Peak. It is aptly called the 'roof of Africa'.
Hikers encounter some rare fauna that includes chameleons, warthogs, and duikers ( a deer species).
When you enter the Kilimanjaro National Park and proceed further to choose one of the seven trekking trails. Further, you cannot complete your trekking in a single day. You just walk up a few kilometers and begin to retrace your steps.
Just a Brief Description of Mount Meru Hiking: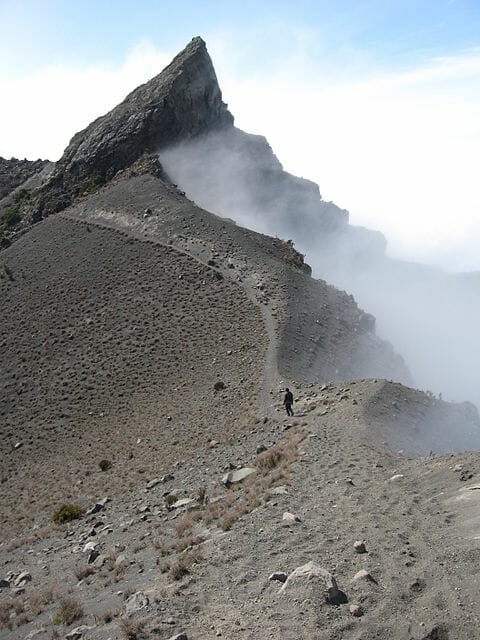 As you can see from the black, charred surface of the mountain, it is a volcano but a dormant one.  The volcano's crater is situated at an altitude of 15,000 feet! The crater's width is said to be a mammoth 3.5 km!
By the way, do you how a crater (a hollow on top of a volcano) looks?
Here is one of the craters called 'Ash Cone' in Mount Meru.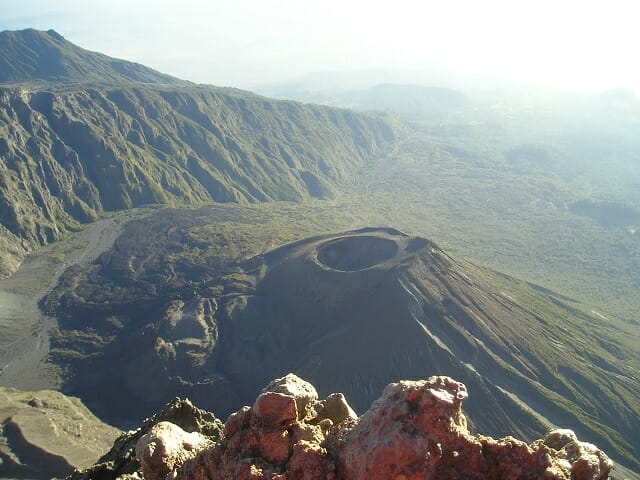 Ah, it is no wonder a mountain for trekking enthusiasts. Surely, their elated feelings can't be put into words once they reach the summit.
Trekking on a dormant volcano and that too in Africa requires a guide. Your safari operator will also act as your guide. He knows Africa like the back of his hand.
What is Blue Zanzibar tour?
From the coast of Zanzibar's Stone Town, you along with five other passengers are taken in a primitive-looking boat for a short cruise to a place called Menai Bay.
It is a popular spot for snorkeling. The wild dolphins are the star attraction.
Look at the video of the "Blue Zanzibar safari'.
Did you notice the stunning blue color of the Indian Ocean in this part of East Africa? In addition, the colorful corals and the several fish species give the snorkeler a unique and unforgettable experience.
Before your departure, the guide will tell you to come with your lunch box. When the time approaches to eat, the boat will be docked at a nearby mangrove island where you can disembark and enjoy your lunch in a totally natural, uninhabited islet.
What to see in Jozani Jungle?
It is also known as the 'Jozani Forest Tour'. It is one of the Zanzibar day trip safaris.
Any African safari includes some introduction to the flora. In Jazoni jungle, the various tree species numbering about one hundred can be expected. Insist on your guide to tell you something about the tall trees that are home and playground to the playful Colobus Monkeys.
Fine-tune your hearing capacity to hear the myriad calls of the forest, its birds, and animals. You will be simply awestruck.
There is a 'canopy walk' built for the tourists who can go through the thick forest which is otherwise not possible to walk through.
The Jazoni Forest looks almost like an Amazon forest as far as the density is concerned.
This is a major tourist landmark near Stone Town in Zanzibar.
The Jazoni Jungle walking safari is truly a scintillating experience. The real face of Africa can be seen all over Zanzibar Island. Don't forget to take some candies that you can distribute to the children that gather around you wherever you go.
Safari packages in Tanzania and Zanzibar are offered by plenty of peoples and you select them wisely.
The choice of safari tours in Tanzania and Zanzibar is overwhelming. You need to do your research about where to stay and what is the food scenario in Tanzania.
Once you decide on the safari operator, you can eagerly look forward to your tour of the gems of Africa.