Thrilling spots for white water rafting in India.
Among various water sports, I think white water rafting is truly a big adventure. Even while watching white water rafting in films (yes, I never witnessed it live), I used to feel the rise in my heartbeat.
All over the world, there are hundreds of spots for white water rafting. In this blog post, I collected some places where white water river rafting is passionately pursued.
So, why it is a white water rafting? Why not it is not called river rafting?
The rafting gets exciting when the rafters maneuver their raft in a surging river with ample current. Rivers, where white water is not produced, are generally not chosen for rafting; they are good only for boating, single man kayaking, or canoeing.
What exactly is white water in a river?
Rivers that encounter steep gradients on their course will produce water velocity. The water when it surges down a gradient is said to form a 'rapid'.
The turbulence thus created usually traps a lot of air in the water. The resultant effect makes the water frothy (white foam) and hence is termed "white water".
White water canoeing and white water kayaking
Of late, some adventurers dare to go canoeing or kayaking in a rapid. They face high risk but they love the challenge in white water canoeing and white water kayaking.
8 Thrilling spots for white water rafting in India.
Places to go white water rafting in India.
White Water Rafting in India- Rishikesh
Rishikesh is the most popular place in India for white water rafting. The reason for its popularity is because the River Ganga is in high-speed mode when it descends from the high altitude of the Himalayas.
Consequently, there are numerous rapids that formed during its journey to the plains of Haridwar.
Another reason for Rishikesh as the best white rafting destination in India is the river is always flowing fully throughout the year.
Ardent river rafters enjoy the challenges of rafting in the furious River Ganga in Rishikesh. There is a particular stretch of white water rafting in Rishikesh that stretches into 30+ km!
The Kaudiayala to Rishikesh white water rafting trail is a favorite among highly experienced river rafters in the world.
Additionally, white water rafting in Rishikesh is more enjoyable because it is stunningly scenic. The Ganges touches the towering Himalayan foothills, sometimes on both of its sides.
Another famous river rafting stretch in Rishikesh starts from Shivpuri. The distance of this white water rafting is 160km.
There is another rafting stretch between Brahampuri to Rishikesh. It covers a distance of just 8 km.
River rafting packages sold in Rishikesh by a few operators that offer rafts and paddles for rent.
Tourmyindia.com offers river rafting tours in Rishikesh. You can buy a package and go watching rafters enjoying and screaming their white water rafting session.
Let us move on to another location for white water rafting in India.
White Water Rafting in India- Kullu
White water rafting in India is mostly suitable in rivers that descend the Himalayan Hills where rapids are copiously created.
The River Beas, one of the five rivers of Punjab is highly popular for river rafting. Unlike white water rafting in Rishikesh, there are not much rafting stretches in Beas River in Kullu, Himachal Pradesh.
From Pirdi to Jihri, there is a rafting stretch that runs for 13 km. "Oxygen Adventures" is another name for white water rafting in India.
The same Beas River flows through Manali also where rafters enjoy a short 7 km distance of gushing river rafting.
River Rafting in Ladakh
Ladakh's high altitude river is Zanskar, a tributary of the mighty River Indus. It is an ideal place for white water rafting in India.
Did you notice the gorge through which the river rafters surge their raft? Breathtaking!
Indus River that flows through the Ladakh region offers white water rafting stretches.
As many as 6 white water rafting stretches are available in the Indus River in Ladakh. The most used among them is the stretch between Kharu and Spituk.
Next to Rishikesh, Ladakh is the most sought after destination among the river rafters in India.
Arunachal Pradesh White Water Rafting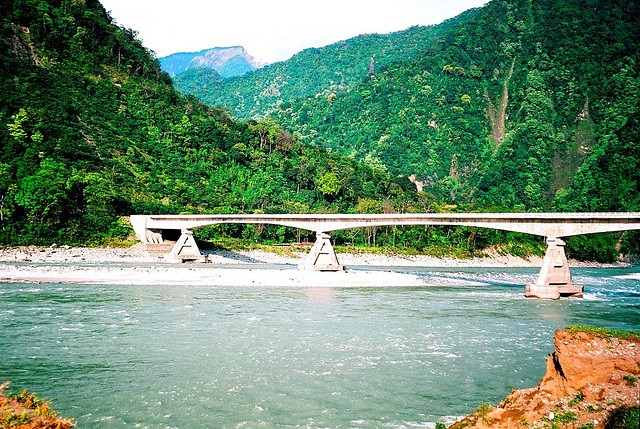 Oh, what a scenic place! The river you see in the image is the Lohit River that flows stunning location in North East India.
Lohit River has another name "Zayu River". It sounds like a Chinese name and aptly so because the river enters China too.
Lohit River is a tributary of the fiery Brahmaputra River that flows through several states in North East India.
The flora of the forest along its route will be pleasing to the eyes of the rafters in Lohit River.
White Water Rafting in IndiaDandeli
The rafters were screaming in joy when their inflatable raft descended a rapid in River Kali, Dandeli, Karnataka.
Very few places fit for white water rafting in India exist in South India. Karnataka is a lucky state to have a river with rapids.
River Kali is not a long river but with copious water that is stored in a few reservoirs in the North Karnataka region.
Darjeeling
The beautiful River Teesta flows through Darjeeling and then on to Sikkim.
White water rafters take to their rafts in this river that offers ample scopes for them with turbulence and rapids.
The Teesta River flows through some breathtaking locations including the beautiful region of Kalimpong Hill.
Goorg
Here is one more place in Karnataka where you can fully enjoy white water rafting. The river in which you propel your inflatable is called Barapole River.
The river is blessed with several deep gradients as it descends the slopes of the Western Ghats, carrying the smell of wild flowers, cardamom, and coffee.
In fact one of the rafting routes in Barapole River is "Morning Coffee". When the monsoon arrives, the river turns turbulent, thus making the passionate rafters to salivate at the prospect of maneuvering their raft in swirling white water.
So, there are two places in Karnataka for white water rafting adventure.
Kerala
There cannot be a better way to see the hidden beauty of Kerala than going on white water river rafting. The course of the rivers takes you through lush landscape, groves and groves of coconut and rubber.
There are two rivers (they are siblings) in Kerala where one can enjoy a session of exciting river rafting.
Iruvannjhipuzha River
Chalipuzha River
Both the rivers have terrific rapids resulting in pulsating rafting experience.
Oops! The rapids are scarily deep, boss!
I think there are more small places for doing white water rafting in India, especially in the western and eastern Himalayas. Since I could not unearth enough information, I am closing this article on superb white water rafting in India.