What to do in Montenegro?   Is it worth for a visit? Yes!  There are plenty of things to do in Montenegro. The beautiful beaches, the old towns of Kotor and Budva, the stunning natural beauty of its mountains are worth for a visit.
The image depicts the Bay of Kotor, one of the scenic places in Montenegro, a southeast European country surrounded by several countries that include:
Serbia
Albania
Kosovo
Bosnia-Herzegovina
Croatia
Now, can you visualize Montenegro's position on the world atlas?
If not, here is the atlas where it shows Montenegro.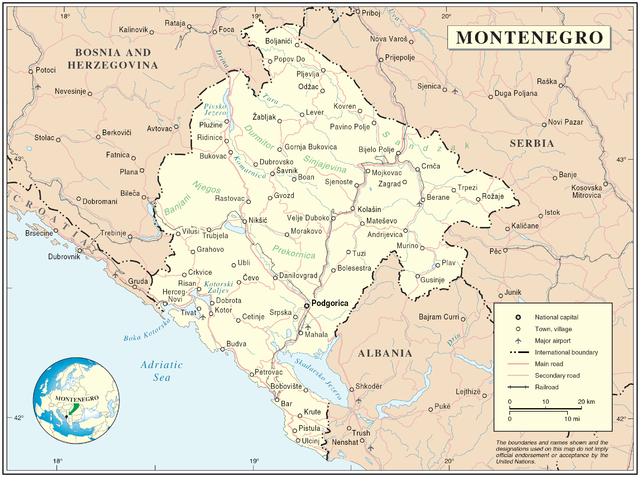 Oh yes! That sea inlet; it certainly looks like a fjord. If you like the appearance of the Bay of Kotor, then, you should also visit Norway, the land of fjords.
The bay belongs to the Adriatic Sea.
Here is another view of Bay of Kotor that houses many old and charming towns that forced the UNESCO to declare the site as a world heritage site.
This part of Montenegro is more of a pilgrimage center because of numerous churches and monasteries that were built during the medieval period.
Here is a grand church in the Bay of Kotor.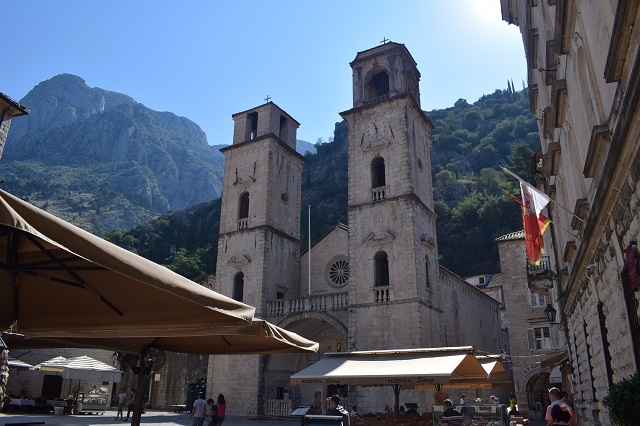 If you are buff of anything medieval such as architecture, couture, cuisine, and customs, then, you should focus your vacation destination in Europe, especially, the east, south, and southeast European countries of which Montenegro is one.
Other beautiful things to see in the Bay of Kotor, Montenegro.
Lovcen mountain and the national park in the vicinity.
A man made island called "Our lady of the Rocks".
Oh, isn't that breathtaking?
Saint George Island
Perast Village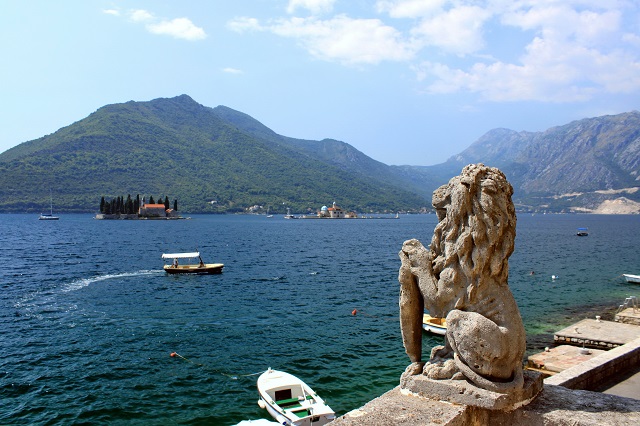 Explore this typical medieval European town by walk. Sip a coffee after tasting a fluffy pastry. See the laid back life of the local citizens.
Pray inside the immaculate Kotor Cathedral
Trek up to Kotor Fortress situated in a small hill
Spend some time in Kotor Beach-one of the many beaches of Montenegro
Becici Beach, Montenegro
Coming to the Montenegro beaches, Becici Beach is one of the most loved beaches by the locals and the tourists.
The backdrop of mountains and the numerous beach chaises make idyllic settings. The beach is full of activities that include sunbathing, jet-skiing, and parasailing.
The Becici Beach is on the radar of cruise ships during summer.
Sea Glass and sea pebbles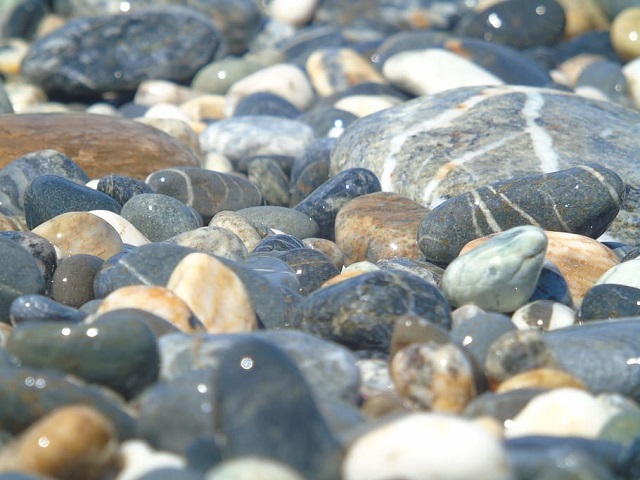 Facing the Adriatic Sea, Becici Beach has a unique attraction. It's the pebbles of varied shapes and hues that the tourists don't fail to collect as souvenirs.
In addition to the smooth pebbles, you can also collect sea glass in Becici Beach.
Sea glasses are broken bottles and other glass articles that are washed away from the shipwrecks. The sea glasses lose their sharp edge by the churning and thrashing of the waves.
These brightly colored pieces of sea glass make rare collections.
The beach has so many hotels and resorts that boast of excellent occupancy all through the year.
Jaz Beach
Of the several Montenegro Beaches, the Jaz Beach is also a highly visited beach.
You can collect those lovely sea pebbles in Jaz Beach. It is a favorite venue for music and dance festivals.
The beaches of Ulcinj
The popularity of Montenegro Beaches continue to attract tourist from neighboring countries. Ulcinj is a small town in Montenegro facing the Adriatic Sea.
There are a few beaches in Ulcinj that I have given below.
Long Beach
Ladies Beach-find sea pebbles in this small beach
Mala Plaža Beach
These Montenegro Beaches located in Ulcinj are rather unknown and thus less crowded. This makes the beaches in Ulcinj affordable. Moreover, you can collect as many sea pebbles as you can.
Impressed-eh?
Biogradska Gora National Park
Well, that forest, a rainforest by nature, commands an exclusive trip to Montenegro. The forest with giant and centuries-old trees is thick and dark. I read the annual rain here measures a whopping 250+ cm!
I believe it acts as a wonderful habitat for animals, birds, and insects.
Adjoining the Biogradska Gora National Park there are snow-peaked mountains, glacial lakes, and freshwater rivers called Tara and Lim.
Biogradska Lake
This lake is filled by melting glaciers.
The presence of glacial lakes, rivers, and mountainous slopes mean you can stumble onto gurgling streams with cool and freshwater that flows encircling vast meadows.
Even while describing the scene, I could visualize myself strolling on the meadows.
Sveti Stefan floating resort, Montenegro
Do you feel like visiting such a place in Montengero? Well, you don't have to stay in this 5-star resort that is built on an islet in the Adriatic Sea.
You can still go close up to it in a boat to admire the architecture, location, and the stunning view of the sea.
The gateway to Sveti Stefan islet is the Budva town. The 10 km distance should be crossed in a boat to sink in the breathtaking view of the Adriatic Sea.
Alternatively, you can reach the islet by traveling on a bus from Budva.
Skadar Lake, Montenegro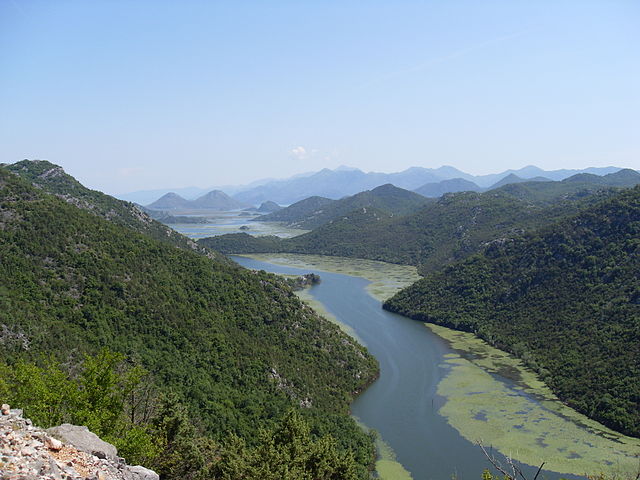 That's Dalmatian Pelican. No, don't try to find the typical black dots on it. It named Dalmatian Pelican because of the name of the region.
Skadar lake is a huge water body in Montenegro measuring a large 44 km in length and 15 km in width.
The lake's size is so large that one-third of it spills into neighboring Albania.
It is a topmost bird-watching spot in all of Southern Europe. Wikipedia says nearly 250 species of birds are found around the lake.
They feast on quite a number of fish species that include:
Apart from the Dalmatian Pelican, you can spot egrets, flamingoes, mallard, glossy ibis, and Great Crested Grebe.
Check the right season to watch the birds and plan your trip accordingly.
However, you can go to Montenegro anytime and visit the Skadar Lake that is fed by River Morača and several underwater springs.
Tara River Canyon, Montenegro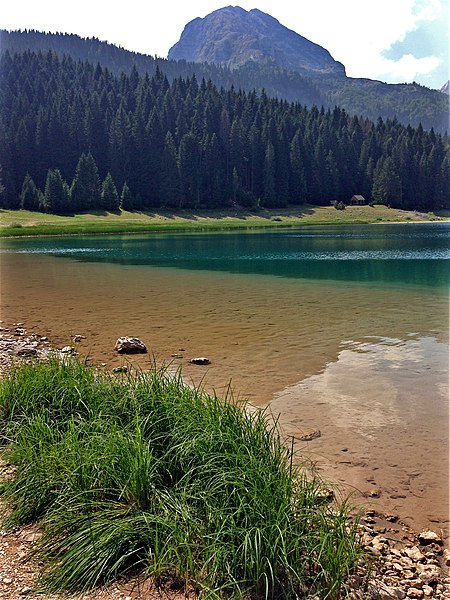 Wow! Even to look at its image, this river canyon is scary. When you look down from the topmost point of the cliff, the bottom is placed way below at 4300 feet!
The Tara River Canyon stretches into Bosnia and Herzegovina.
The best way to explore this gorge(ous) is to go on a rafting expedition.  If you gather a team of rafters, you will enjoy a 15-km stretch of thrilling white water rafting tour that comprises more than 20 rapids!
Herceg Novi, Montenegro
Lovely location-eh? In addition, the aerial angle is creatively used. This coastal town in Montenegro is a busy tourist attraction and is included in the list of things to do in Montenegro.
The specialty of Herceg Novi is its numerous spa and health studios where you are treated with a rare 'sea mud'. It has healing properties (don't ask me what it will heal) and is known as 'Igalo Mud' because it is found in Igalo, an adjacent town to Herceg Novi.
Another big attraction of Herceg Novi is several mineral springs. So, Herceg Novi is more of a health retreat in Montenegro.
The mountain you see as a backdrop is Mount Orjen.  When you go to enjoy the Bay of Kotor, you will pass Herceg Novi.
In addition to the spa and natural springs, you can while away your time in Herceg Novi by seeing a castle named Forte Mare. It belongs to the 14th century.
As far as Montenegro Beaches, Herceg Novi is a gateway for beaches located in Boka Kotorska Bay and Luštica peninsula.
Try to note down the names of these three Montenegro Beaches:
It looks like a serene location in Montenegro. .
Lipa Cave, Montenegro
I generally do not like to enter caves but this cave complex in Montenegro is an exception. I would certainly not question its addition in thie list of things to do in Montenegro.
The cave covered with sharp icy pillars. You can walk through the cave but only with a guide. Without him, you won't find your way out of the cave system.
Black Lake, Montenegro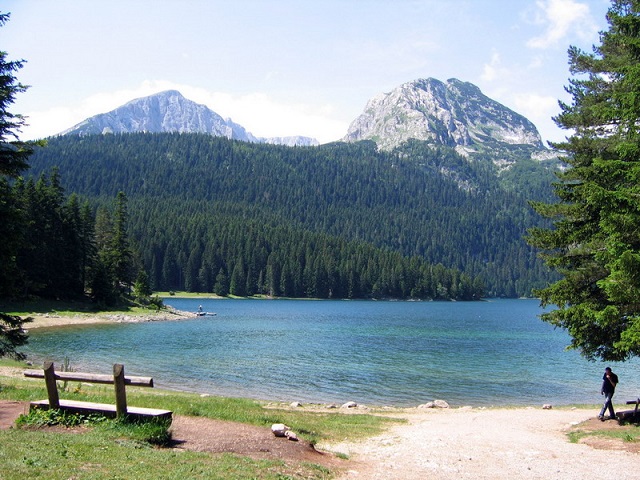 Oh, what a misnomer! It is blue and what a lovely blue it is! It is a glacial lake situated at a high altitude of 4600 feet!
Black lake is not a single lake but a system of three lakes that are interconnected.
The surrounding area is serene and peaceful. You can go for a long walk and stumble onto more glacial lakes.
A trip to the Blak lake is one of the pleasant things to do in Montenegro.
Ostrog Monastery
One of the important things to do in Montenegro apart from seeing  Beaches is to enter this Serbian Orthodox Church.
Looking at this location that is rather remote but accessible, it is a monastery with some strong beliefs and customs.
One such custom is the requirement of visitors to the church to walk bare-footed to the upper monastery, donate essentials to the monks that live in the monastery.
The church  dedicated to Saint Basil of Ostrog. It is one of the many pilgrimages in Montenegro.
Dancing Girl statue, Montenegro
Isn't it awesome? Both the dancing girl statue made in bronze and its stunning location right on the Adriatic Sea shore against the backdrop of jagged rock is a sight to behold.
To see the brilliant piece of sculpture in Montenegro, you have to go to Morgen Beach, one of the famous  Beaches.
This beach is located in Budva town. It seems Budva is the most happening place in Montenegro in spite of being a small town with just 20,000 permanent residents.
Montenegro is a small country in Southern Europe with many countries dotting its borders. The list of things to do in Montenegro warrants more than a weekend vacation.
I think to enjoy all these stunning places, beaches, and natural wonders not to forget tasting  its cuisine and drinks, you need a minimum of 5 days to stay in Montenegro.