Where can you go dog sledding in the world?
Is dog sledding, fun?
Where in the world one can go dog sledding?
How far a dog sled can go?
What is the speed at which the sleigh dogs can pull?
Can you cross a surface of ice on a dog sled?
I think these are all the questions that you would have entertained when you saw the image of the dog sled above.
Read further to get your answers along with the answer to the title question, "Where can you go dog sledding in the world?"
Dog sledding was a mode of real transportation, not just a jolly ride in the world where there is only a snow cover and not any other surface of transportation that include road or waterway.
Therefore, you can go dog sledge  wherever there is snow, thick and long. It means dogs cannot pull a sleigh (sled or sledge) over ice. The sleigh can move but the dogs will skid on an icy surface.
Dogs pull a sledge at the maximum speed of around 10 km per hour. Given rest in between, you can cover about 150 km a day (24 hour period).
Here is a sled(sledge).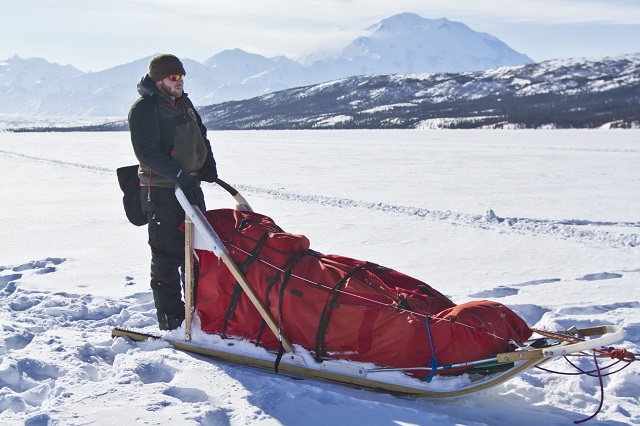 You the rider on a sled that is pulled by dogs or Reindeer will have to stand and hence, the ride will not be comfortable. It will be bumpy and definitely snowy.
Now, coming to the places in the world where you can go dog sledge, Alaska should come to your mind immediately because of the abundance of snow almost throughout the year.
Even in places where dog sledding is the sole mode of moving around, there are designated sledding trails where dog sledding races are conducted.
Dog sledding in Alaska
I recently watched a film titled, Togo". It was about the lead dog called Togo. He along with other team dogs pulled a sled and its rider Seppala nearly 500 km to transport life-saving serum.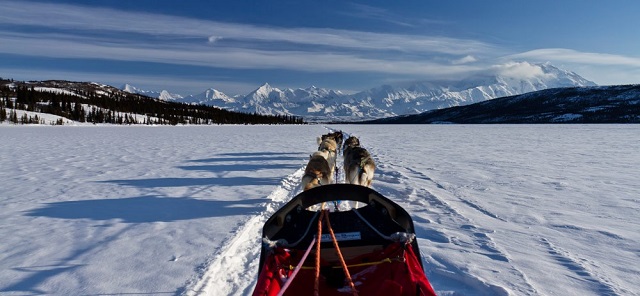 The movie will expose you about dog sledding, the challenges en route, the gloomy weather, snowstorms, and the resting places at night.
In Alaska, there are several places where dog sledging is a vital means of transport.
In Alaska, you can book a dog sledding tour with certified dog sled tour operators.  Nine places are identified in Alaska as ideal for dog sledging tours.
Juneau glaciers dog sledding
In this place, you can go on a helicopter tour of the glaciers plus experience a short ride on a dog sledge.
Mendenhall glacier dog sledding
Skagway Glacier dog sledging
Dog sledding tour in Denali National Park
Anchorage Glacier Dog sledging
Trivia:
Do you know dog sledding also called "Mushing"?
Ah, the Swiss Alps. They are very popular in the world for skiing. If a place is conducive for skiing, then, it must also facilitate dog sleighing-right?
The most popular place for dog sledging in Switzerland is the "Jungfrau" peak in the Alps.
Dog sledding in Russia.
Russia must be mentioned in the list of places in the world where you can experience dog sledding-right? After all, there is Siberia, the vast and never-ending terrain of snow comprising a mind-boggling 13 million sq.km!
Yakutsk is the right place in Siberia to ride a dog sled. I believe very passionate dog sledging adventurer go on a 9-day dog sledding expedition across the vast expanse of Siberia.
Even the outskirts of Moscow will be turned into a dog sledging trail during winter.
Dog sledding in Canada
Yes, most of Canada is known to get white, snow-white I mean, for nearly 5 months in a year.
I am sure you have heard about the frozen lakes and rivers in Canada during winter.
The most visited places in Canada for enjoying a dog sled ride are located in Calgary, Alberta,  Banff National Park, Quebec, Ontario, and Jasper National Park.
Dog Sledging in Sweden
Similar to Norway, dog sledding is also popular in Sweden.  You can find dog sledging tours in Alaska National Park, Salen, Arc, Kiruna, and Sarek National Park.
Dog Sledging tours in Norway
Norway also covered in thick snow for more than 6 months in a year. Dog sledging enjoyed in various places in Norway that include Langsua National Park, Finnmark, and Svalbard.
Dog sledding in France
I remember reading the French tourists' preference to give maximum fun and exposure to their small children whenever they go on annual vacation.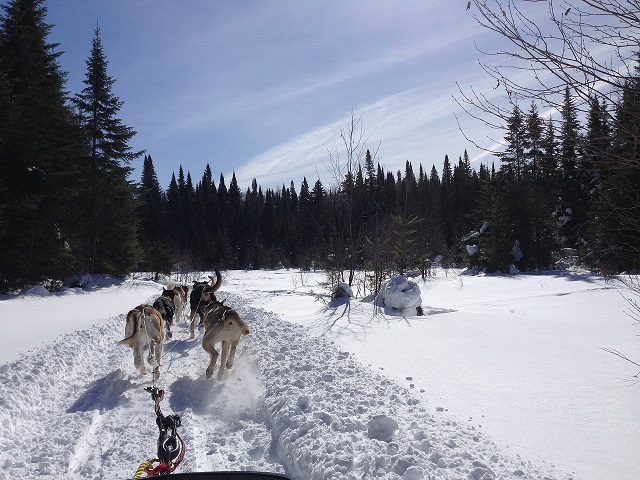 It is obvious that the French holidaymakers choose vacation spots that have attractions for the whole family.
Dog Sledding is an enjoyable experience for children. They love any kind of vehicle that moves them around.
For example, they enjoy a toy train ride, mini cars that they can drive, boats, and horse-drawn carts.
Surely, a small cart pulled by the dogs on snow will be their ultimate entertainment.
Dog sledding in France is available at a few places in the French Alps where there is also a ski resort.
Yes, you got it! Chamonix at Mont Blanc that is conveniently located at borders of France, Switzerland, and Italy is a world-famous ski resort.
Other places where you can go dog sledding in France:
Petite Charnie National Forest
Jura Mountains
Go dog

sledging

in Austria
Austria is extremely popular for ski resorts that are convenient to the East Europeans. Dog sledging rides are available in various places in Austria that include:
Austrian Alps near Kleinwalsertal
Mountains in Bregenzerwald
To conclude, Canada has more places to go dog sledding than Russia and Alaska. In addition, most of the ski resorts in the world offer dog sledding tours to engage the children of travelers.