Before I list out the best places to see in a scenic river canoe, I thought I would briefly explain the basic difference between canoeing and kayaking.
We very frequently come across the words, "Canoeing" and "kayaking". These two twin water sports are goad for adventure lovers who are confident of their muscle powers.
Since both canoeing and kayaking are paddle boats, you must have good strength on your arms as well as thighs.
In a kayak, your boat has just a small cubicle of a space to sit. The paddle used will have blades at both the ends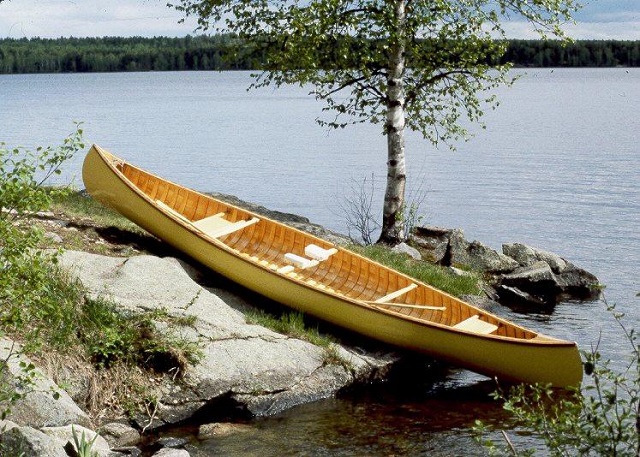 In a canoe, the deck is generally open. You, as the paddler kneel down and paddle to move the boat. The paddle will have single blade only.
Here is a video that explains clearly the difference between canoeing and kayaking.
8 best places in the world to go Scenic River Canoe
Come, I will show you all the eight places to go Scenic River Canoe Excursions and Kayaking.
Okefenokee National Wildlife Refuge, Georgia
Canoeing or kayaking will be more thrilling if the water body is a swamp where insects, reptiles, and birds live.
In addition, the flora species are numerous and they give terrific green cover to the surroundings.
In Okefenokee National Wildlife Refuge, Georgia, there are several trails running to several kilometers! You cannot cover the entire distance in a single day.
At the end of the day or in between, you stay in a camp on the shores of the Mississippi River.
In Okefenokee National Wildlife Refuge, the river Mississippi flows through.
The area is too large in Okefenokee comprising over 1600 sq.km!
The swamp is a habitat for a range of alligators, snakes, raccoons, and bats.
Pichavaram, India
A kayaking trail is much more beautiful if it is fully surrounded by a thick green cover. Pichavaram in Tamilnadu state in India is one such place. Look at the video of it.
Pichavaram has two river estuaries namely River Kollidam and River Vellar.  Both the rivers empty in the Bay of Bengal. In addition, the backwaters from the sea also meet the river.
The area is so large that there are as many as four hundred kayaking trails in Pichavaram! I don't think there is another match to Pichavarm as far as canoeing and kayaking are concerned.
The thick, hundreds of years old mangrove forest is habitat to several species of birds that nest and breed there perennially.
Your guide will point out at birds that include:
Herons
Pelicans
Egrets
Storks
Spoonbills
The swamp inside the forest is teeming with venomous snakes, crocodiles, and other reptiles.
There are several naturally formed river islands in the canal.
Kayaking, motor boating, and canoeing facilities are available in Pichavaram throughout the year. There is no off-season here.
However, birds are seen in large numbers immediately after the monsoon.
Pichavaram is the topmost place for canoeing and kayaking in entire India.
  River Canoeing in Sundarbans, India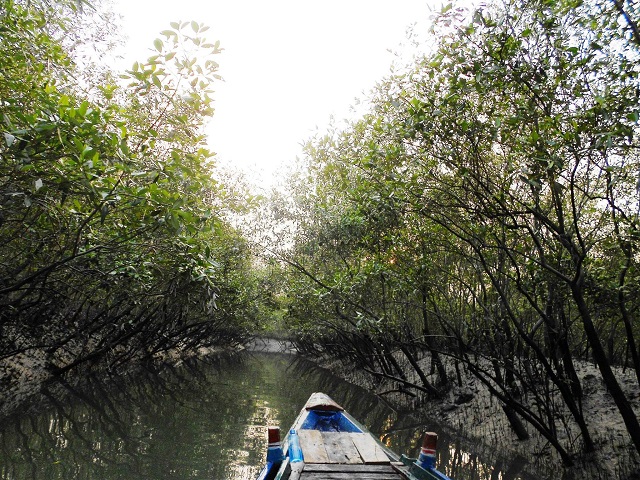 With 6k sq.ft of area, I am sure the Sundarbans National Park in the West Bengal state of India is an under-visited destination to go canoeing and kayaking.
The dense mangrove forest coupled with more than 100 river islands (even one of them is inhabited!), you get diverse canoeing trails in the Sundarbans that is spread over India and Bangladesh.
The reason for perennial water flow in Sundarbans is due to the following mighty rivers that flow through the region:
Ganga
Brahmaputra
Hoogly
Padma
Meghna
Kayakers can spot even the Royal Bengal Tigers inside the mangrove forest along with spotted deer, feral cats, mongoose, and porcupines.
Paddling your canoe or kayak as a loner can be fun only if the boating trail is covered with flora and fauna. I am sure you won't enjoy your canoeing trip on a large lake that is devoid of trees and birds.
If you choose to go to Sundarbans for your kayaking trip, you can visit several wildlife sanctuaries and protected forests that include:
Nilkumar Wildlife Sanctuary
Sundarbans Karamzal Wild and Crocodile Reproductive Center
Mandar Bariya Wildlife Sanctuary
Harbariya Eco Center
How do you like this beautiful place in India for kayaking and canoeing?
Scenic River Canoeing in Tangalle Lagoon, Srilanka
Srilanka is famous for lush Rainforests and mangrove jungles. Kayaking through such a waterscape is memorable.
Wow! This kayaking route has got a good green cover. Your canoeing or kayaking stint lasts just for two hours in this Srilankan venue.
The mangrove forest on your Scenic River Canoe Excursions route is gladly hosting several species of birds, insects, and reptiles that make great dinner for the birds.
Scenic River Canoe in the Amazon, South America
Ah, for the ultimate and matchless scenic canoe expedition, Amazon River stands (flows) long. We have watched professional geography channel videographers and the natives of Amazon forest expertly navigate their long canoe silently through the Amazon River. Invariably, we were shown a crocodile approach the canoe as silently as the canoe moved.
The canoeing trail suddenly moved out of the jungle background and emerged on a clearing.
To make the scene real in your life, you must contact an organized  Cruise company that offers you a tailor made boat safari on the Amazon.
My God! Look at the trees and bushes that at times might even make you crouch very low to move forward.
The kayak tour in Amazon can last up to 10 days! Yes, you will cover nearly 900 km during your canoeing expedition in South America, staying in camps and caravans during the night.
In addition to kayaking in the Amazon River, you can also choose to paddle your kayak in the Rio Negro River and Urubu River.
No wonder Amazon River is simply one of the best for a scenic river canoe trip.
Boundary Waters, Voyageurs National Park, Minnesota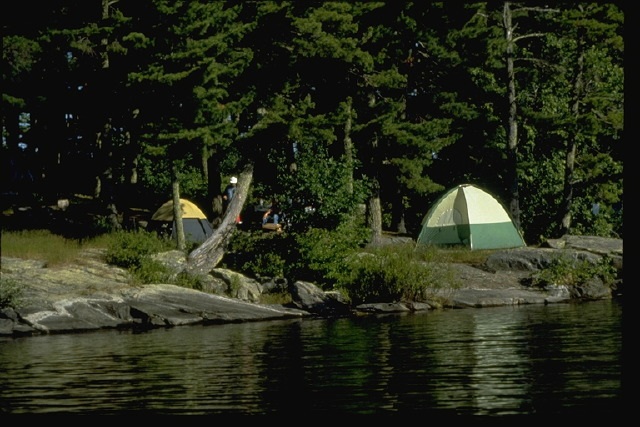 How about a scenic river canoe vacation in Minnesota where you can camp for a week or two and go canoeing to your heart's content?
Your ambitious canoeing and kayaking destination in all of the United States is the Voyageurs National Park located in Minnesota state.
Countless lakes and sub-lakes, streams, and rivers provide wonderful canoeing trails in the Boundary waters region, close to the Voyageurs National Park.
Superior National Forest is also a part of the Boundary waters region that you can claim as the world's capital for canoeing and kayaking. I am sure no one will dispute your declaration.
It is no wonder called "Boundary Waters Canoe Area Wilderness".
Unlike the Pichavaram or Sundarbans mangrove forest, the jungle doesn't seem as so think in Boundary Waters Canoeing Wilderness. Nonetheless, since the area of the waterscape is vast, the forests on either side of the river seem thin.
Don't assume canoeing down a single river at a time in Minnesota, boss!. It is a network of waterways there, thus providing crisscrossing kayaking trails, each one holding a new surprise for the keen wildlife observer.
Apart from rivers and canals, you can go canoeing in bogs that are mini swamps.
If you are planning for a week-long Scenic River Canoe Excursion, there are trustworthy companies that offer camping facilities.
When you stay in a camp after the sunset, you can spot and hear numerous nocturnal wildlife such as fox, owl, and bear.
Scenic River Canoe and Kayaking in Colorado River
If you are a big adventure traveler and if you are a kayaking or canoeing buff, you should plan a Scenic River Canoe Excursion in the River Colorado.
The entire length of the Colorado River is around 2300 km and it flows through seven states of America.
In addition, one of the most visited tourist landmarks in the world "The Grand Canyons"  are in fact created by the erosion caused by the Colorado River.
Your canoe or kayak as the case may be can be rented at Kremmling, Colorado.
Scenic River Canoe Excursion in Mulberry River, Arkansas
The water looks sparkling-eh? The surrounding of the Kayaking trail in Mulberry River is certainly scenic. The water current is also good for kayaking or canoeing.
I read Scenic River Canoe Excursion is exciting in Fjords and Sounds. However, I believe any kind of boating for recreational purposes will be enjoyable only on rivers, lakes, and backwater canals.