India  River cruises  is not at all new to India. There are enough historical proofs that the Indians were adept in using fairly big yachts and ferries and used the ample river courses for commercial and maritime traffic.
However, I must admit the ancient Indians and to some extent, the contemporary Indians are not inclined to go on a cruise vacation.
In spite of the various rivers in India that are really conducive for a relaxing vacation touching distant and untouched ports, I would say such beautiful cruise destinations are underrated.
The Indian mindset is fixed on spending vacations mostly in hill stations and beach cities.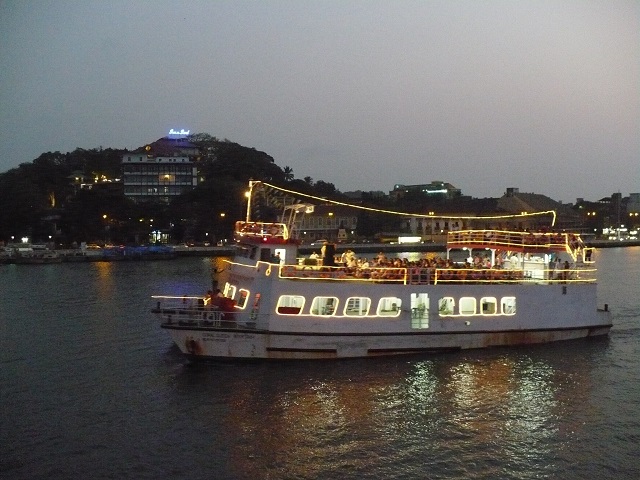 In addition, they are obsessed with foreign travel by skipping the gorgeous holiday destinations in their own backyard.
Several recent news stories and travel-related magazines highlighted the beauty and pleasures of India River cruises plans that started attracting even western travelers.
Above all, In this article, I am giving a bit of exposure to all the available India River cruises packages on Indian rivers, lakes, and some short ocean cruises too.
Underrated India River Cruises Vacation Plans
I hope you will make use of the handy information and plan your first cruise vacation in India. Therefore, I have detailed, India River Cruises Plans in India.
River Cruise From Goa
India River Cruises: Mandovi River Cruise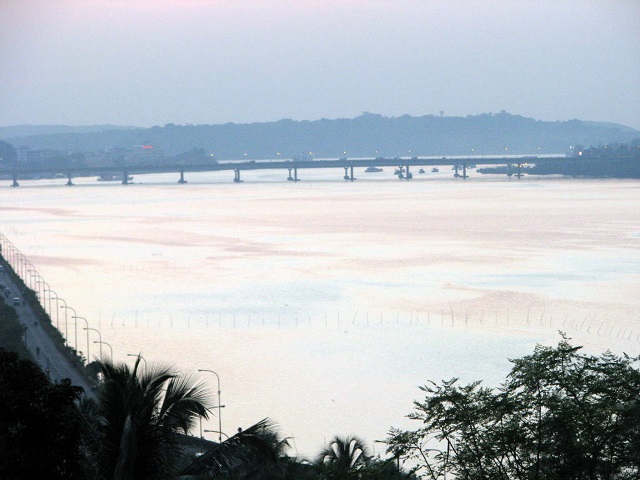 Wow! What a pleasing sight of Mandovi River! I think the photo was shot early in the morning as can be seen from the silver rays of sun reflecting the river.
There are two rivers in Goa, India.
Mandovi River
Zuari River
Zuari River is the longer of the two and both the river offers cruising plans. However, cruise in Mandovi is more sought after because you can see several attractive spots in two states of India namely Karnataka and Goa.
The most important tourist landmarks in the Mandovi River Cruise Plan is the breathtaking Dhudsagar Falls thundering down the lush western ghats.
Such a voluminous fall of water is a sight to behold! The Dhudsagar Waterfall is fed by the River Mandovi.
 More about Mandovi River Cruise facts.
The Mandovi River's flowing length is just 77 km. The river starts its lustrous journey from Belgaum, Karnataka and enters Goa.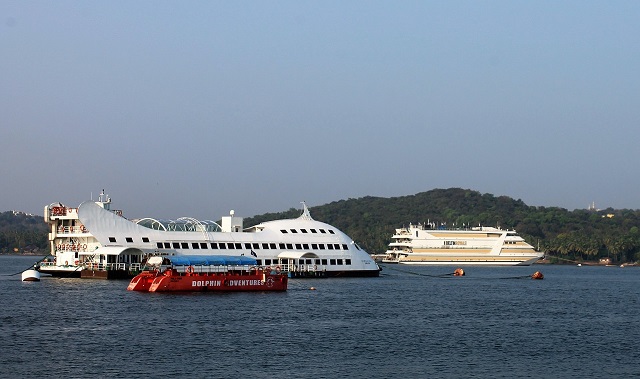 Somewhere in Goa, Mandovi Rivers embraces River Zuari before meeting the Arabian Sea in Goa.
The spellbinding cruise on Mandovi River can be a lifetime experience when you tour the state of Goa.
Forget about the salty beaches of Goa for half a day and take one of the five different Mandovi River cruise plans. You would pat yourself on your back for making that decision.
Oh, I almost forgot! Another waterfall that is fed by Mandovi River is "Vajrapoha falls".
Here is a video clip of Vajrapoha Falls.
The duration of the Mandovi River Cruise:
The casual cruise just lasts an hour, boss! I know you are disappointed and so am I. I would urge the cruise ship crew to extend the cruise for at least 3 hours to appreciate the untouched countryside of Karnataka and Goa.
How many types of Mandovi River cruises are offered in Goa?
Depending on the time of the cruise, there are six types of cruise plans in Mandovi River. They decide what can you see in your chosen river cruise plan.
Please note that the Mandovi River cruise starts from Santa Monica Jetty in Goa. The boat jetty is located very close to the Panaji bus terminus.
I think this is the longest Mandovi River cruise for public in Goa. It lasts for approximately two hours on River Mandovi. As the name of the cruise plan suggests, the passengers go wild with screams and 'wow's when their boat is stationed at a vantage point to watch the sunset.
The act of the sun dipping vigorously fast in the Arabian Sea is an unforgettable sight.
In almost all the river cruise plans in Goa, you will be entertained with drinks (beer, whiskey, and champagne) and snacks.
Indian River Cruises: Party Cruise
This type of Mandovi River cruise plan involves engaging a yacht for your own group of friends and relatives whom you have invited to your private party.
When chartering a yacht for your party cruise, you will be paying for drinks, dinner or lunch as the case may be and also for the music band.
Moreover, you can hire a DJ for your party! How about it?
Do you know, you can even stage your own wedding or your son's or daughter's on the yacht!  Imagine such a lifetime event while cruising a river!
For the party cruise, the ship will be with you for up to seven hours!
I read Bollywood films are increasingly shot on a chartered yacht on River Mandovi.
Destination Indian River Cruises
The course of Mandovi River before it marries the Arabian Sea is full of stunningly beautiful places including river islands, bird sanctuaries, uncrowded beaches, and more.
If you chose a destination cruise on Mandovi River, you will see:
San Jacinto Island
Chorao Island
Zuari River Estuary
St. Estevam Island.
Anjediva Island
Dr. Salim Ali bird sanctuary
Corjuem Island
Divar Island
Adil Shah Palace
Vanxim Island
Onboard, you can feast on a well-spread buffet with beer.
This dinner cruise plan on Mandovi River lasts for two starting just before 9 pm.
Full day Mandovi River Cruise Plan
Recently a full day cruise plan was launched. The ship leaves the Santa Monica Jetty at 9.30 am sharp and returns to the jetty by 4 pm.
River Mandovi cruise plan also offers a private cruise, exclusively for you. You can take on board whosoever you want and enjoy a royal treatment from the crew. The name of this cruise plan is "Indian Cruise".
Who operates Mandovi River Cruise?
Paradise Cruises is a respected cruise liner that offers different river cruise plans on Mandovi River.
In addition, you can visit online sources to explore the Mandovi River cruise plans.
Ganga River Cruise Plan
If you are looking to cruise on the holy river Ganga and that too enjoying an ultra-luxurious cruise, you can buy a ticket from "Exotic Heritage Group".
They operate a luxury liner on River Ganga and the cruise starts from Calcutta and terminates at the holy city of Varanasi.
Inside the yacht, you will be provided cozy quarters. The food will suit the palates of gourmets and gluttons.
It will be a sort of heritage cruise as you will be visiting so many sacred Hindu temples.
India River Cruises: Brahmaputra River Cruise
How about visiting Assam, Darjeeling, and Bhutan on a Brahmaputra  River cruise?
Among the rivers of India, Brahmaputra is a mighty river that flows for as many as 3000 km and terminating at the Bay of Bengal in Bangladesh.
Won't it be a dream of a cruise plan for a change? Such a grand India river cruises holiday has no match, buddy!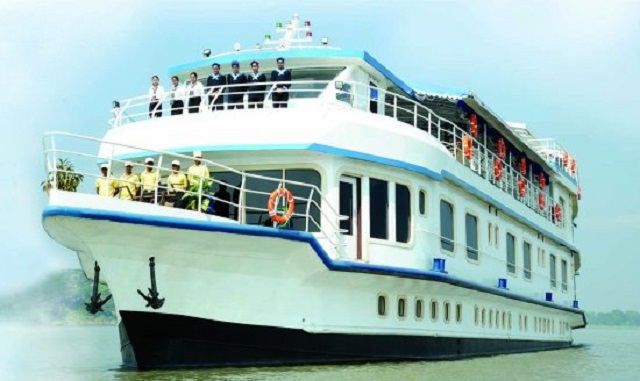 During this exotic and rarely taken Indian river cruises holiday, you will see:
Green tea gardens of Assam and Darjeeling
Enjoy the food and culture of entire North East India
Taste an ultimate new cuisine of the Himalayan foothill villages
Interact with some of the tribes of North East India
Go on an elephant safari in thick tropical jungles
Watch the racing one-horned Rhinoceros in Kaziranga National Park
Stay in the ships luxury cabins
Eat different cuisines spread on a buffet tables
Wet your feet on a river island
Above all, If you are an avid bird watcher, you would be able to spot countless rare birds of North East India.
If you think you would love to go cruising the majestic Brahmaputra River, book a ticket  through various travel websites.
You have seen the life in the  luxury liner in the video above.  I think it is the best in this field that offers a suitable Brahmaputra River cruise plan.
In addition, The amenities in the yacht include:
Air-conditioned accommodation
Restaurant
Bar
Spa
Swimming pool
Jacuzzi
Library
India River Cruises: Malta River Cruise
In other words, it is also called "Sunderbans River Cruise" because the Malta River enters a thick mangrove forest that is inexplicably beautiful and is known as Sunderbans Delta.
The birds, marine life, snakes, reptiles and insects of mangrove forests are wonderful treats to the eyes of a nature lover.
The Sunderbans Mangrove Delta is formed around the course and confluence of three Indian rivers namely:
Look at this picture of Sunderbans delta.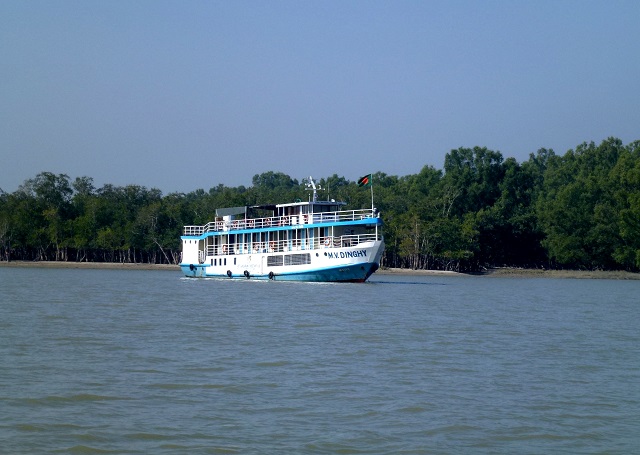 It will be a dream to go cruising through this river-right?
One of the exciting aspects of the Sunderbans River Cruise is the Sundarbans Tiger Reserve. In addition, The river cruise plan would include a tour of Sundarbans Tiger Reserve.
Above all, The Sunderbans Luxury Cruise Liner offers all kinds of modern amenities that include:
Accommodation
Food
Ayurvedic Spa
Bar
Library
Apart from these India river cruises plans, there is also a lake cruise in Chilika Lake in Orissa.
For instance, forget about beachfront resorts, Ooty and Shimla, forts and palaces of Rajasthan and get on board a luxury river cruise ship. There are various India river cruises plans that suit different budgets.
In Conclusion, make your Dream of a memorable vacation on the mighty India River Cruises to true.