What are the top sights during the 7-Day Mexican Riviera cruise?
See the places along Mexico's western coast starting from San Diego. California's last coastal city.  These coastal cities and towns on the west coast of Mexico comprise the Mexican Riviera.
This is the huge cruise ship in which you can travel for a 7-day round trip starting from San Diego and ending at the same port on the seventh day.
MS Koningsdam
Before I fill you up with the details of top sights that you can see during your Mexican Riviera cruise tour, let me tell you something about the ship in which you are going to spend your life's best week because, you are really going to brag about it after knowing the size of the ship, the facilities and amenities offered onboard.
MS Koningsdam is an ultra-luxury floating city. It is owned and operated by Holland America Line (HAL) owns a whopping 100 vessels of various sizes and shapes and is co-owned by Carnival Corporation & plc.
Facilities and amenities in MS Koningsdam ship:
1300 quarters for the passengers
588 quarters for the crew
Two theaters
Three stages for performing shows of music, plays, and cooking classes
French Bistro
Italian restaurant
 American restaurant
Own wine brewery
Swimming pools
Spa
This incredibly-large ship has already completed several runs including a cruise of all the important Caribbean Islands, a tour of South America, an Alaskan cruise, and a long haul cruise to Vancouver.
I am sure you are already beginning to feel proud even before you book your cabin for the week-long Mexican Riviera cruise.
Date of Departure:          6th March 2022
Time of Departure:          4 PM
Date of Return:                13th March 2022
Time of Return:                8 AM
What is a Riviera?
I think I should have put this paragraph at the beginning itself. I am sure you have heard about 'French Riviera' and 'Italian Riviera' before. The word 'Riviera' refers to a long coastline dotted with numerous ports at regular intervals.
Rivieras are popular among voyagers. They look for cruise lines that offer a week to two weeks cruise package tours a covering Riviera.
What is Mexican Riviera?
As you saw in the map above, the Mexican Riviera comprises as many as twenty port cities along the west coast of Mexico.
Because of sunny beaches, diverse marine creatures, these coastal cities are loaded with numerous resorts and vacation homes. Tourists visit these Mexican coastal cities throughout the year. The majority of them arrive on cruise ships because your worry about how to reach several cities in less time is taken care of when you join a cruise tour.
I give below some of the ports of call that the MS Koningsdam will dock at, followed by what can you see and do in those places. This is the essence of your Mexican Riviera Cruise.
Ensenada, Baja California
Cabo San Lucas, Baja California Sur
Mazatlán, Sinaloa
San Blas, Nayarit
Puerto Vallarta, Jalisco
Manzanillo, Colima
Ixtapa, Zihuatanejo
Acapulco, Guerrero
Puerto Escondido, Oaxaca
Salina Cruz, Oaxaca
A brief description of every port of call in the Mexican Riviera Cruise.
Ensenada, Baja California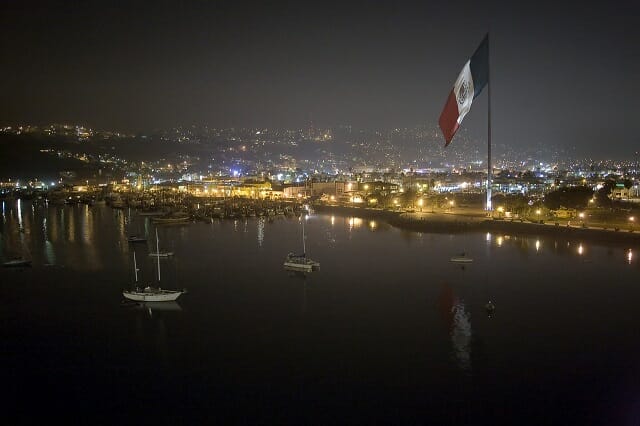 Do you want to know what is meant by 'Baja California'?
It is not part of California but one of the states of Mexico. It is the first of the 32 Mexican states, starting from the North.
Ensenada is a coastal city in Mexico's Baja California state. It is the third-largest city in Baja California. San Diego is located 125 km to the north of Ensenada.
I came across an interesting fond name to Ensenada. "The Cinderella of the Pacific". The name points to the small size and beauty of Ensenada, the first port of the Mexican Riviera the cruise ship calls at. What a way to begin your Mexican Riviera Cruise!
Ensenada has a strong presence as a wine-producing region. As a matter of fact, it is the sole reason to attract migrants from other countries.
All the vineyards are clustered together in a place called Valle de Guadalupe.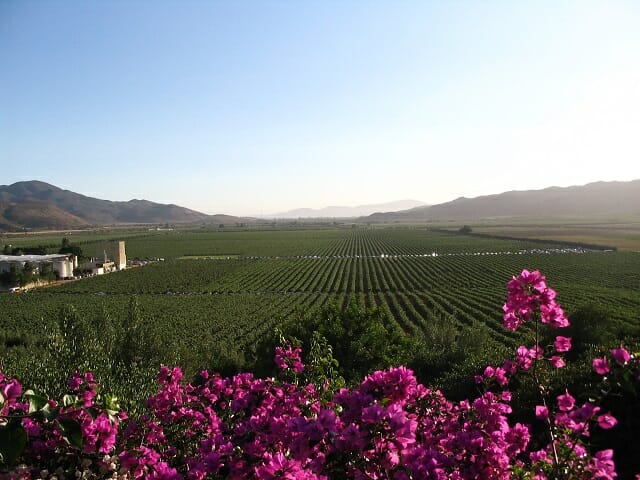 I think the passengers of the Mexican Riviera Cruise are notified in advance of the local specialties at every port of call of the cruise ship. Ensenada's chefs have learned the art of cooking a new cuisine called "Baja Med". It is a fusion of Asian and Mexican cuisine.
Being a Riviera city, naturally, seafood is the staple here. Apart from fishes and crabs, you get to eat oysters, clams, mussels, and blue tuna that are cooked in the Baja Med-style that is liked by the vineyard workers.
Here is some exotic seafood that you can eat in the restaurants of Ensenada:
Red Lobster
Sea Cucumbers
In addition. this wine region is known to produce large quantities of tomatoes, strawberries, Salicornia (a kind of spice), and dates.
When I looked at the photos of 'salicornia', it appeared similar to 'asparagus', a vegetable that I ate in Canada.
To arm you with some knowledge about the names of the local specialties, I mention a few dishes below.
Tempura fish tacos
Deep sea shrimp
Beet carpaccio-this Baja Med dish is served with the rare '

blue cheese

'.
Duck skewers
Risotto
Among the Mexican Riviera cities, Ensenada is the most visited destination by the Californians and the Mexicans.
Some of the tourist landmarks in Ensenada:
Sierra de San Pedro Mártir National Park
Sierra de San Pedro Mártir mountain range
Hiking up to the Picacho del Diablo alternatively known as Devil's Peak because of its very high altitude of over 10,000 feet!
UNESCO Creative Cities Network
Have you ever heard of this unique network of cities that are classified under UNESCO Creative Cities Network?  There are as many as 180 cities are listed. These 180 cities are scattered in mammoth 72 countries!
Surely, you will be happy that you have landed in Ensenada.
Cabo San Lucas
Somehow, the beaches of Mexico pull thousands of tourists. Though I don't find any big difference between the beaches of Goa and of the Mexican west coast, still the resorts there are always booked and the cruise ships command good patronage. I would attribute the delicious Mexican food as the major crowd puller.
Cabo San Lucas occupies above 6 of the top ten Mexican beachfront cities.  It is due to its long beaches that offer all the facilities and entertainments of a Balneario.
Additionally, Cabo San Lucas, your second stop of the Mexican Riviera Cruise is popular among scuba divers.
The world-famous sea arch called "El Arco de Cabo San Lucas" is found off the coast of Cabo San Lucas.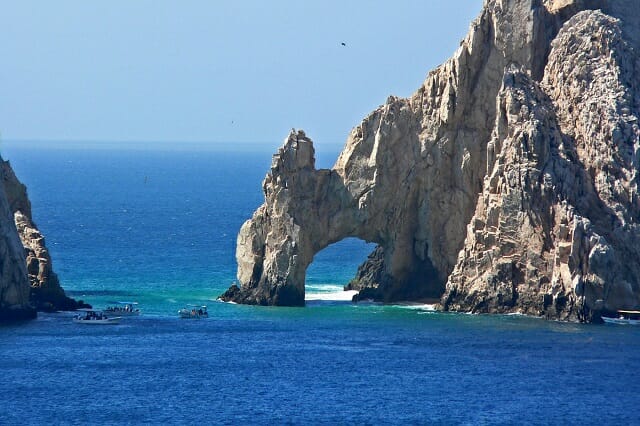 El Arco de Cabo San Lucas
Of all the beaches in Cabos San Lucas, Lover's Beach is unique because on either side of the beach in the Pacific Ocean.
While one side of the beach is called the 'lover's beach and do you know what the other side the beach is called?
It's 'Diverse Beach'!
Main attractions of Cabos San Lucas:
Diverse marine creatures that include the rare 'striped marlin'.
Another rarity is 'mahi-mahi'.
It makes delicious food when marinated with Mexican spices and grilled.
Cabos San Lucas being a highly visited tourist destination in the Mexican Riviera has numerous resorts and exclusive nightclubs. The best among them is Cabo Wabo Cantina.
Cruising the Pacific
Snorkeling
Fishing
Whale watching
Parasailing
Horseback riding
Chileno Bay
Mazatlán
The "Cruise Mexican Riviera's third port of call is Mazatlán. It is part of Sinaloa, one of the Mexican states.
Mazatlán is another big tourist destination on Mexico's west coast. A large city, it is home to innumerable resorts and hotels that cater to different budgets.
Even during high noon when the weather is humid the beaches are crowded with swimmers and sunbathers.
What you can do in Mazatlán?
The foremost attraction of Mazatlán is the Malecon.
Isn't this promenade is quaint? It is 1.6 km long. You can shop to your heart's content and drink the afternoon away.
Roam around the Plaza Machado. To appreciate the ancient classic architecture.
Take part in an organized walking tour of Centro Historico.
Go to the El Faro observation platform.
I think the cruise ship will pay a visit to this island of fun and entertainment.
Another nearby island of Mazatlan is Deer Island.
Spend half a day exploring the Old Town of Mazatlan
San Blas
San Blas is the fourth port in the Mexican Riviera, starting from Ensenada.
What is popular in San Blas?
San Blas is not as popular as we have seen thus far in the previous three port cities. However, it is still known for ecotourism. The local Government is carefully protecting the untouched virgin beauty of the place.
Sailing is seen actively participated by the tourists. I too am very fond of sailing. It gives me goosebumps when the boat moves forward without any manual or mechanized power.
Wind is a great natural force and sailing with the wind can be an eco-friendly water sport.
Surfing and sailing go hand in hand. If the wind is slightly less forceful, people hit the waves with a surfboard under their feet.
Oh, some beginner surfers do body surfing in which they lie face down on the surfboard. In San Blas, Matanchen Bay is known for surfing-friendly wave conditions. Hey, this is mentioned even in the Guinness Book!
San Blas has a backdrop of palm forests that welcome the migratory birds with open branches for the birds to nest. December and January are the best months for bird watching in San Blas.
There are some remnants of a fort built by the Spaniards on the beachfront.
Another aspect of ecotourism in San Blas is going for a boat ride in the thick mangrove forest called La Tovara.
Mangroves:
It can be cool and at the same time, humid too under the canopy of the mangroves. Watch out for crocodiles that swim alongside the boat. If you are a birder, you can spot some rare birds on the trees.
A national park is carved out of mangroves and palm forests. It is called the Tovara National Park. It is home to nearly 100 species of birds, many of which are endemic!
Example:
What an apt name!
Wow! What a beauty!
If crocodiles don't create fear in you, visit the nearby crocodile farm. Strangely, when these beasts are inland, they always daydream with half-open eyes.
More bird watching is done in El Pozo Estuary. Actually, estuaries are always ideal places for bird watching because of the abundant food that is available in the marshy soil.
The coastline of San Blas stretches up to 40 km. Therefore, the beach area is quite large and never appears crowded.
Playa Las Isitas Beach is another popular spot for surfing and playing.
El Borrego Beach is good for swimming and just splashing around. I mean to say it is the kids-safe beach. On either side of this calm beach are the two estuaries known by El Pozo and San Cristobal.
If time permits, get on board a boat and go to Isabel Island, an uninhabited island. It is a good place for bird watching and go snorkeling to spot exotic marine lives such as sea lions!.
I think the birds here are simply captivating Birds that include the blue-footed boobies and red-footed boobies, frigate birds are some of the very rare birds that are easily spotted.
Blue-footed Booby
Wearing a lovely pair of blue-colored shoes over its webbed feet.
If you are old but still want to explore the beaches of San Blas, hop on to horseback and let the animal walk gently. On the way, the jockey points out to you Santa Cruz Beach, Miramar Beach, Los Cocos Beac, Tortugas Beach, and Aticama Beach.
Watch a mammoth white rock, that stand in the middle of the Pacific Ocean. You have to go in a boat to watch the awesome natural rock formation.
The rock is called "Piedra Blanca".
Did you notice the lack of waves? Has the monolith suppressed the waves?
I think your time spent in San Blas is the most worthy part of your Mexican Riviera Cruise.
Puerto Vallarta
Puerto Vallarta that is shortly called 'Vallarta' is a Mexican beach resort city situated on the Pacific Ocean's Mexican Riviera. This is the fifth port of call for your ship.
Beautifully lit Puerto Vallarta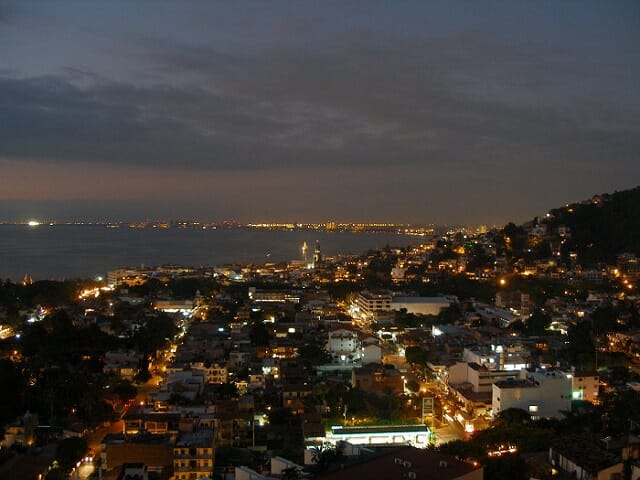 Tourist attractions in Puerto Vallarta:
Playa Conchas Chinas Beach
Quite an odd name for a beach! The word 'conchas' suggests the presence of conches on the beach. The word 'chinas' must be a Mexican word meaning 'curls'. But, aren't all the conches are curvy or circular rings?
Below is the photo of Conchas Chinas Beach, Puerto Vallarta.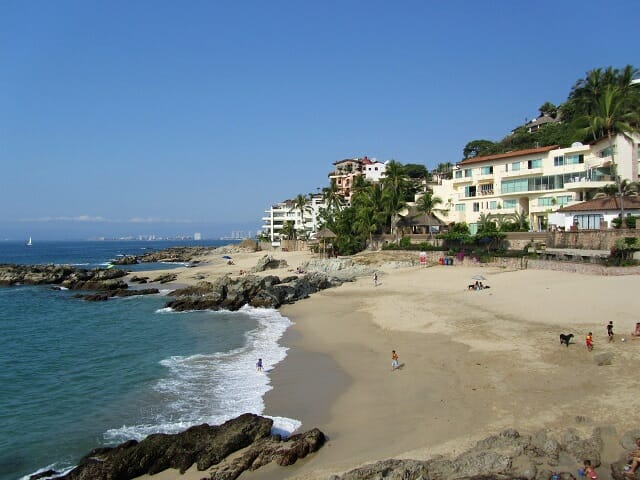 The beach (sandy area) looks quite small.
Somehow, Conchas Chinas Beach was developed well. There are several resorts and hotels. Even you can find small diners that serve authentic Mexican seafood that mainly contains mollusks. Don't forget to try a local dish called 'embarazado', a whole grilled fish. Even Octopus is served here, cooked in the Mexican way.
Sierra Madre Mountain Range
Small lagoons that naturally formed out of conclave land area. These lagoons are still part of the Pacific Ocean but the waves are gentle, making it;' kids friendly'.
Snorkeling is pursued to study the marine creatures, especially the mollusks and the rare Sea Anemones.
Sea Anemones. Man, what a creation!
Fraccionamiento Amapas Beach is meant for couples because of its secluded location.
Los Muertos beach
Playa Camarones Beach
Visit a nearby island called 'Isla of Cuale'.
El Centro Old Town for eating, drinking, and shopping
To sum up, Puerto Vallarta is loaded with wonderful beaches and great seafood collections.
Manzanillo, Colima State, Mexico
Manzanillo is right on the Pacific Ocean and is part of Colima, one of the Mexican states. The Colima state depends on Manzanillo's port and its capacity to handle several cargo ships that bring goods to the state.
The city's star attraction for fish-hungry tourists is the long 'sailfish'.
Manzanillo hosts numerous luxury resorts and budget hotels also. The majority of the lodging options are centered around the De Santiago peninsula. If you are looking to make an exclusive trip to the Mexican Riviera destination, try to stay in Las Hadas, the best resort in town. It is a sprawling property with hundreds of rooms.
Zihuatanejo, Guerrero
We have to the seventh stop during our cruise tour of the Mexican Riviera. Zihuatanejo is part of the Guerrero state of Mexico.
While Zihuatanejo is right on the Pacific coast, the Ixtapa resort near this coastal town has stolen all the limelight. Ixtapa is a full-fledged luxury resort. The majority of the tourists from North America and Florida head to this resort city.
Even the cruise ship passengers are taken here if there is an itinerary to stay overnight in Zihuatanejo.
Not only beachfront villas but you can book guest rooms through Airbnb. The range of accommo0dations in Ixtapa covers just about everyone's wallet size.
In addition to stone buildings, a few treehouses are available for those who like to have different staying experiences.
It is quite a long beach stretching up to nearly 2 km. The wave conditions facilitate easy swimming conditions. Even children can be seen bodysurfing on the gentle waves.
More beaches near Ixtapa Resort town:
Linda Beach
Las Gates Beach
It is a major snorkeling spot. To serve the hungry tourists, there are a handful of seafood restaurants here.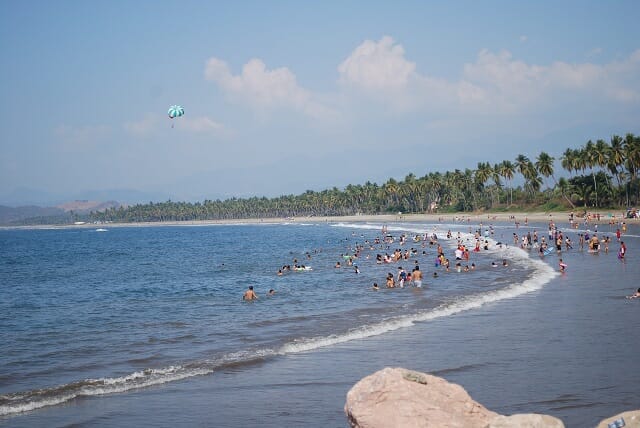 La Madera Beach
El Palmer Beach
Things to do in Ixtapa and Zihuatanejo:
Dolphin watching in Definity Beach Park
History buffs can go to see some Mayan ruins
Visit Xihuacan Museum which displays artifacts from the Mayan civilization
Downtown Ixtapa is a must-see place. Shops, restaurants, bars will engage you for about two hours.
Sea a golf course with the backdrop of the blue Pacific Ocean.
Visit the Ixtapa Island in a boat. Indulge in crowd-free scuba diving and snorkeling. The sea is all yours here.
Puerto Escondido, Oaxaca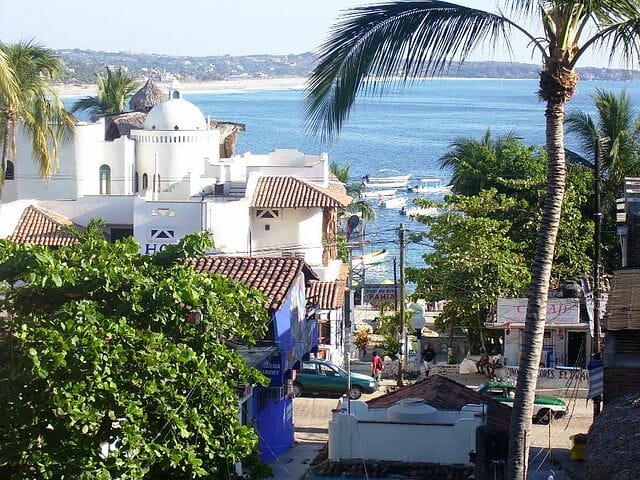 We have almost reached the end of our Mexican Riviera Cruise.
Wave surfing is the most pursued water sport here because of ideal waves. I think beginner surfers should step back from the waves and watch the veteran expertly slide on the waves.
Maybe the non-surfers hire a boat with a local fisherman handling the paddle. He will point out the celebrated 'sailfish' in the water. If you have catching gear, you can gleefully do it only to release the fish back into the ocean.
Principal Beach is locally called Playa Principal. Get on board a boat to travel about 20 minutes in the ocean to spot rare marine lives that include porpoises ( sea mammals) and sea turtles.
The oarsman will take the boat near some astonishing beaches that can be seen only if you dare the voyage in a primitive boat.
Inexplicably, the beach wears white sand here that is glaringly white because of the deep blue sea.
You have to go down a set of steep stone steps to get to the beautiful beach. Tourists throng the Carrizalillo Beach for surfing and playing in the warm waters.
Alternatively, enjoy a breezy water taxi ride from Principal Beach. The 15-minutes ride is thoroughly enjoyable.
Huatulco, Oaxaca
Huatulco town on the Mexican Riviera is part of the Oaxaca state of Mexico.
Besides, Huatulco is a geographically beautiful beach town that is blessed with as many as nine bays each one offers some sort of accommodations to stay for a weekend. Yes, you need two full days to go and explore every bay area.
Tangolunda Bay is popular among luxury seekers because there a quite a few numbers of beach resorts.
Look at this breathtaking beach with a green-top mountain touching waves.
Sierra Madre del Sur mountain range is clearly captured in the photo above. It stretches endlessly for 1000 + km.
With so many bays and beaches, water-based adventure enthusiasts stay here for a couple of days and enjoy unlimited surfing and swimming.
Salina Cruz, Oaxaca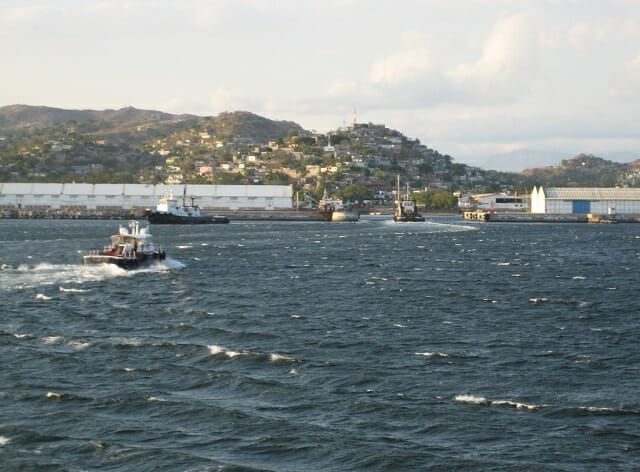 Salina Cruz is a major coastal town in the state of Oaxaca.
How much does the 7-day cruise cost?
The cost depends on the choice of your accommodation in the ship that varies from cabins and suites.
For details and bookings, go to their website.
Well, this is not the only cruise ship that offers a tour of the Mexican Riviera.  Cruise Critic lists out 25 different Mexican Riviera Cruises, each offering a varied duration. However, a minimum of seven days are required to cover the west coast of Mexico.
I read some cruises last just 3 nights cruise. Such tours invariably dock at just one or two coastal cities mentioned above.