You won't find the following ultra-familiar and too- crowded, best  places to visit in India in December for Winter holidays in this blog post for obvious reasons.
Instead, you will come across almost unknown Winter holiday destinations in India. These are hidden gems, uncrowded, and least expensive.
By winter holiday destinations, I don't mean winter escapes but vacationing in chilly places, enjoying the cold weather. In addition, skiing is possible only during winter when the snow fills the valleys and meadows.
In India, the months of December and January are winter months. Some very high altitude places such as Ladakh, Srinagar, Simla, and Auli remain in the grip of cold weather until March-end.
7 Best Places to Visit in India in December
My list of best places to visit in India in December for Winter holidays in quite a chilly weather that warrants the visitors to wear warm clothes throughout the day.
Let us begin exploring the comfortable and  best places to visit in India in December.
Khajjiar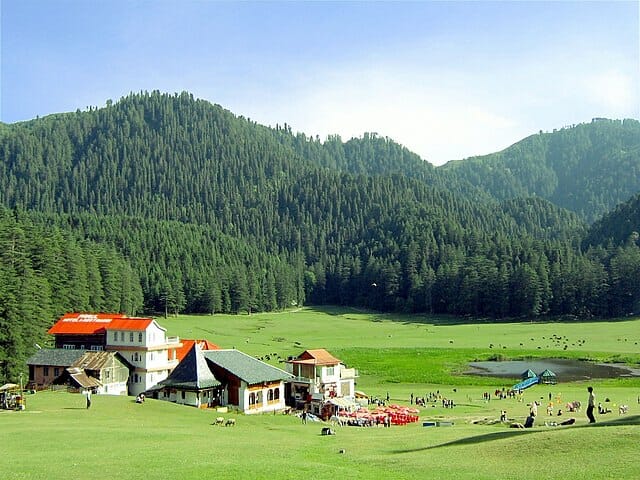 The lush green setting, the backdrop of tall, green trees imply that this photo must have been taken during the winter.
Of course, the hills behind the scene must be covered with snow. Khajjiar is the right winter holiday destination because you can see the snow as well as the eye-catching green-gazing land.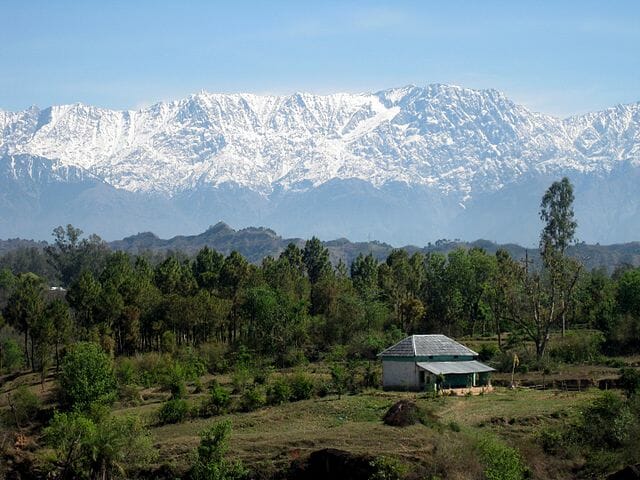 Khajjiar is located in Himachal Pradesh's Chamba district. The name Chamba might sound new to you but it is home to another familiar hill station called 'Dalhousie'.
These twin stations are situated at an altitude of 6,300 feet!
Tourists enjoy the lovely weather, go trekking in the mountains, and visit Kalatop Khajjiar Wildlife Sanctuary.
Khajjiar was christened as 'Mini Switzerland' by a Swiss Vice-Chancellor in 1992.
There are hotels that announce cheap rates during winter but you can choose better rooms to stay, offered by the Government's Forest Department and Public Works Department. They command terrific views of the mountains and meadows.
There is a small, picturesque lake in the heart of the Khajjiar town surrounded by lovely grassland.
Getting to Khajjiar needs some effort. Dharamshala is the nearest airport. The distance between the two points is 120 km. Dharamshala is where the highest cricket stadium is built.
Pathankot is a railway station that is also located at the same distance but in a different direction. Budget travelers from New Delhi and Chandigarh can travel by train up to Pathankot.
Vegetarian food is predominant here because it is a center for Buddhists.
Harsil
Have you heard about UttaraKashi? It is located in the state of Uttarakhand. Our winter destination Harsil is 70 km away from Uttarakashi.
The green pasture and the white snow will freeze your focus. I mean, you won't be able to take your eyes off from wherever you look.
Perhaps, you would plan your next winter holidays in Harsil if you that the holy River Bhagirathi flows through this calm and quaint Himachal village. In addition, you can hire a taxi and go to the Gangotri, the source of the River Ganga. The distance to be covered is only 30 km.
Harsil's altitude is over 9000 feet. At this alpine altitude, the weather tends to be chilly but still, it a pleasant during the day. It will be an ideal trekking weather.
Harsil is a very safe and cheap hill station because of the presence of the Indian Army.
Harsil also requires some effort to reach. Though it is a dreamy place for those looking to enjoy the Himachal climate in its purest form, it has no airport or railway station.
Dehradun is the closest airport but that is still a whopping 220 km away. Traversing that distance on the might Himalayas takes as many as 7 hours!
For train travel lovers, the railway station that can travel up to is called Maneri. Harsil is 60 km away.
Oh, that is better. I traveled in this region. Road traveling is the main option but it is tough to drive as well as to travel.
There are numerous places of attractions that you can see if you visit Harsil.
Yamunotri
Maneri Dam
Tranquil Dotital (lake)
Bhali dam
Nachiketa Tal
Saat Tal
Hotels in Harsil:
When I browsed through some of the hotels in Harsil, I noticed all of them offer breathtaking views.
Look at a few of them as examples.
Harsil Retreat
Neelangana Resort
There are some homestays too that you can choose. Euttanchal.com is the best source to finalize your hotel stay in Harsil. The site also offers several trustworthy tour packages in Harsil.
Kotkhai
It is an uncrowded and peaceful station near Simla. As a matter of fact, I would call Kotkhai town the best alternative to Simla but without the urbanization and cost of Simla.
Why do people go to Simla? They do it just to enjoy the Himalayan weather. You can get the same without any pollution in Kotkhai.
Kotkhai as a winter destination is rather unknown to the majority of Indians. It offers a chilly climate because of its alpine altitude of a little over 6100 feet!
What to see in Kotkhai in your free time?
You can say all the time you spend in Kotkhai is free time only. Nonetheless, the following places are some of the tourist attractions in Kotkai.
OMG! What a greenish place! I would spend hours in this alpine forest. Listening to the sound of forest is the most relaxing thing to do in one's life.
Kotlhai Palace
Apple orchards. It might interest you that Kotkhai is one of the finest producers of apples in India.
How to reach Kotkhai?
Due to its proximity to Simla, you can quickly reach Kotkhai if you fly up to Simla. From there, you can hire a taxi. The onward journey by road will make you stop your car at an intermittent duration to capture the scintillating beauty in your eyes as well as in your mobile phone camera.
What should you eat in Kotkhai?
Whenever we go to a restaurant, we browse through the menu and order only the familiar dishes, oblivious of the local specialties. So, it is clearly the unawareness of some of the local foods, we fail to eat.
Here are some of the foods that are exclusive to the hill stations in Himachal Pradesh, mainly Simla where the local chefs' innovation lead to the discovery of a few delicious dishes that are not available in other parts of India.
Here are some local foods that you should try in Kotkhai:
The unique aspect of Dham is, it is cooked by a clan of chefs called 'Botis', the local Brahmins who are traditional cooks. It is a festival dish but also available on all days now. If you notice 'Dham' or 'Dhaam' in the menu card, understand it is a vegetarian plate (thali) meal consisting of Rajma rice, dal, vegetable curry, and some sweet.
The way the usual chickpeas (chana dal) is prepared with a heavy dose of aromatic spices will make crave it when you return to your home.
Thukpa is basically a soup containing noodles, and vegetables such as spring onion, capsicum, and tomato.
It is our kachori but a different avatar that is native to Himachal Pradesh.
Kalpa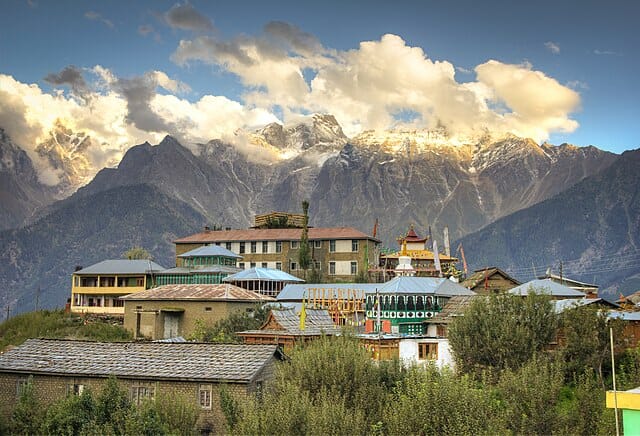 As soon as you enter this quaint village, you would pat yourself for landing on one of the freshest and purest Winter holiday destinations in India.
Nowhere can you see crowded areas; nowhere can you hear boisterous shrills.  Located on the banks of the famous River Sutlej, Kalpa is a mini hill station in the Kinnaur District of Himachal Pradesh.
It's altitude is at a whopping 9700 feet! Yes, it gets enshrouded with snow during the winter but no skiing takes place here.
Simla is quite far and south of Kalpa, at 265 km away. The small town is full of Buddhist monasteries and several Hindu temples that are dedicated to Lord Shiva.
If you trek a bit high on the north, you can view Mount Kailash, the most sacred mountain for the Hindus. Its altitude is 20,000 feet!
How to Reach Kalpa:
You can fly up to Simla and from there, road traveling is the only option. It is an arduous journey from Simla but an extremely scenic one. You will hear yourself saying it is the most beautiful place in India that you have ever come across.
Staying Options in Kalpa:
There is no dearth of hotels and tents in Kalpa considering the thin tourist traffic. I liked Eskape Camps facing a gorge and the tall Himalayan hill on their back.
Thachi Valley
Do you want to see a glimpse of Thachi Valley? Take a peep in the video below
Isn't it absolutely mesmerizing? This offbeat winter holiday destination in India is literally a 'hidden' gem in the Himalayas.
Chandigarh is the gateway to Thachi. It is 260 km from Chandigarh, situated above Simla that is way below south at 190 km away. You can guess the altitude of Thachi if Simla is way down below. Thachi stands at 9800  feet!
If you want to shorten your travel time, fly up to Bhuntar airport, Kullu Valley. Your final destination is just 50 km away. Are you relieved to know about this option?
Thachi may not be new to you and me but it is known to veteran trekkers who cannot resist the challenges of high altitude places in Himachal Pradesh.
If you just want to go to some hill station where the only action you can take is to rest, Thachi is the place. It has simply no match for its untouched natural beauty.
Only limited Homestay options are available. So, it is necessary to book your stay well in advance.
Barog
Barog is another unknown winter destination in India. These kinds of hilly railway stations create a pang in me.  A sense of longing surfaces. It would live forever if I am able to live in such a scenic railway station on a hill.
Barog is located on the way to Simla from the Kalka train route.
The tall trees that are sometimes kissed by the clouds are simply breathtaking to look at.
If you want to reach Barog quickly, take a cab from Chandigarh that is only 60 km. Simla is a further 65 km north of Barog.
At 6,100 feet, the weather is nothing less than salubrious almost throughout the year. The winter nights can be chilly.
Hotels are there to stay but not many. It requires some effort to narrow down your choice but once done, you won't be able to wait further. Barog is an absolutely spectacular winter destination in India.
Zuluk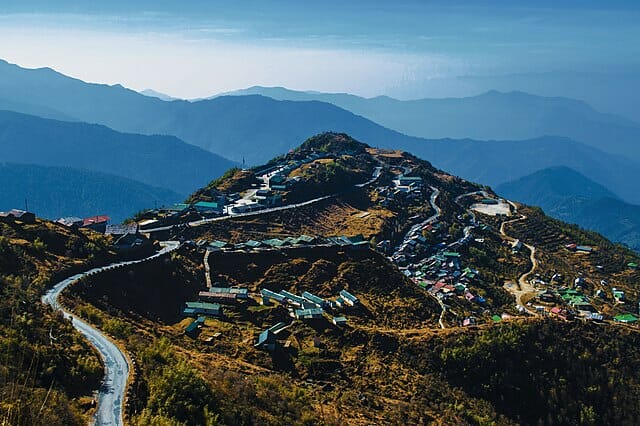 You can never get another chance in your life if you miss this time. What you see above is where Zuluk town is located. It is literally on top of a Himalayan hill. There is nothing else above but the sky.
The location of this offbeat winter destination in India appears to throw challenges even to veteran drivers. If you brush this caution aside, I will show you how the road to Zuluk looks from an airplane.
Hmm…. What do you say now? Won't you feel like being on top of the world after reaching the summit where this small East Himalayan town?
How to Reach Zuluk:
Now, your burning question must be where exactly is Zuluk and how to reach the place'.
I must admit it is a time-consuming journey to reach Zuluk but it is not difficult.
Zuluk (it has three spelling that includes Dzuluk, Jhuluk, and Jaluk) is in Sikkim, a state of India. Its altitude is 9400 feet!
You can fly up to Gangtok, the capital of Sikkim, and hire a cab to reach Zuluk in about 4 hours. The distance to be covered is 90 km.
Alternatively, if you are based out of Calcutta, you can either take a flight or a train up to Siliguri. From Siliguri, the road trip to reach your unknown hill station takes nearly 8 hours.
The above two photos of Zuluk are getting viral thus attracting an increasing number of tourists. Since the town is on top of a village, you get an uninterrupted view of several Himalayan peaks including the shining Kanchenjunga.
Staying in Zuluk:
The presence of 8 hotels (there were only 2 hotels a few years before) is proof that this offbeat winter holiday destination is picking up tourism.
Wildlife spotting in Zuluk:
Zuluk is home to a few species of beautiful pheasants. You can easily spot the slow-moving Red Panda.
See the Himalayan Monal.
It is also called Impeyan Pheasant.
There are a couple of unknown Winter holiday destinations in Arunachal Pradesh that are yet to get on the Indian tourism radar.
Tawang is one such place that is located very close to the Chinese border. Even Itanagar, the capital of Arunachal Pradesh is somewhere around 45 km down south. Tawang is situated at a staggering height of 10,000 feet!
Similarly, Kohima, the capital of Nagaland is also a winter holiday place in India. It is one of the most naturally beautiful places in North East India.