Here is a list of zip line locations in India. Zipline adventure sports are available in various locations in India.
Zipline adventure is undoubtedly is a thrilling entertainment. Whenever we ride inside a cable car, we are overjoyed when we look below the valley.
The views below the cables, and ahead of the moving cable car are simply breathtaking.
What is Zipline adventure?
Instead of the metal capsule that is sliding on the cables, imagine yourself hanging on to the cables and sliding from one end to the other end. This is what is ziplining or zip-lining. You can also call it sky-riding.
See this video below that shows people sliding on a zipline.
Who can participate in Zipline adventure?
Before we come to know of the various locations in India where zipline sport is available, we should know who can experience a zipline tour.
Actually, there is no age limit though if you are under 18 years, your parents' permission is required.
The important eligibility criteria for sliding on a zipline is you should weigh less than 110 kgs. There is a minimum height requirement but I believe the organizers of a zipline activity don't enforce it very strictly.
Types of locations for zipline adventure:
Well, it has to be between two tall buildings or two mountains. Ziplining used by skiers to go up to the exact skiing spot from the base of a ski resort.
Zipline Adventure Locations in India.
Zipline Adventure location India-Kikar Lodge, Punjab
The zipline here said to be the longest slide in Asia. The distance you slide over the zipline cables is 1.4 km. I suppose you will reach the other end in less than a minute.
That's all. Your excitement, thrill, and the joy of achievement will last for only a minute.
Nevertheless, if you dare to look below as you slide on the metal ropes, the view below will be stunning.
You may zip past the cables over a forest, or a valley filled with mist, or over a lake.
Kikar located in a place called Nurpur Bedi in Punjab. It is a forest resort owned by a private firm.
The zipline built on the Shivalik Hills of the Himalayan range.
Kikar Forest Resort and Ziplining is located 75 km from Chandigarh. If you are based in New Delhi, the distance to cover to reach Kikar is 300 km.
There are so many  zipline tour operator in India. They have a few zipline locations across India.
Zipline Adventure location India-Neemrana Fort, Rajasthan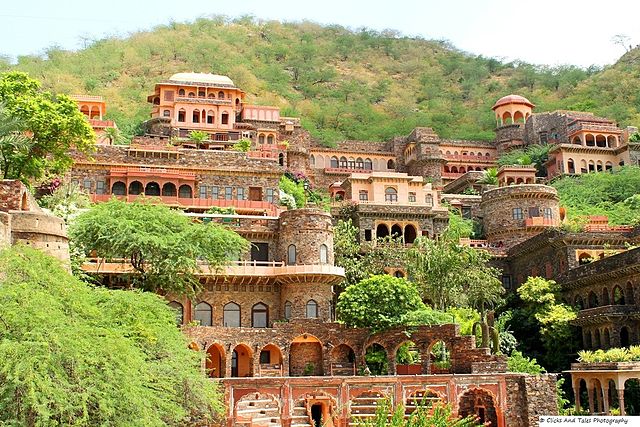 Wow! I have never seen so many captivating forts in a single location. Rajasthan in India is world-famous for its numerous palaces and forts, all built at beautiful locations.
Invariably, these pink stone forts are built on hilltops.
This paves way for constructing ziplines between two forts or between two hilltops of the Aravalli hill range.
The sliding distance on the cables is just 400 meters.
Neemrana town is located 155 km away from Jaipur. Delhi is almost at an equal distance away.
Zipline location India-Munnar Kerala
I think the adrenaline-pumping ziplining adventure is a recent addition to Munnar's several adventure sports.
Munnar, a very popular hill station in Kerala situated on the Western Ghats. There is no dearth of two hilltops located adjacently between short distances.
More than one ziplining company operates ziplining sport in Munnar over lush forests and tea estates.
In Munnar, you hang on to the ropes but in a horizontal position instead of vertical position.
The speed of sliding down the metal rope is at a whopping 90km/ph. At a height of over 6000 feet and at such a mind-boggling speed, the zipping will be a memorable experience.
The bird's eye view of western ghats will never fade away from your memory.
Zipline location India- Manali, Himachal Pradesh
Zipline location Manali's Solong Valley is suitable for all age groups. The distance of sliding is little more than 500 meters, but at a high alpine altitude in the Himalayas. You can expect to soar high above at a scary altitude of 6000 feet!
Zipline location India- Rishikesh
We have seen the gorgeous flow of Ganges in Rishikesh; it was often shown in movies. With the backdrop of Lakshmanjoola and the foothills of Himalayas, the frothing and murky Ganga fiercely flowing far below, this aerial view is etched in our memories.
Well, we can now really witness such a scene when we go on a zipline tour in Rishikesh. The ziplines are directly above the Ganges at a safe altitude of 200 feet!
We can slide over the rope for a neat 750 meters! That will give ample time for us to drink in all the breathtaking views of the Himalayas, the number of temples, ashrams, the roads below and the Ganges.
I think Rishikesh is an excellent zipline location in India because there are several allied adventure sports there including rappelling and whitewater rafting.
For a stint of zipline adventure action in Rishikesh, you need to go to Shivpuri village nearby. There are two zipline tour operators in Rishikesh.
Zipline location India-Mussoorie
If you have enjoyed your zipline adventure in Rishikesh, then, you can head to Mussoorie, 80 km away via Dehradun.
Wow. Just a six-year-old boy dared to be a sky-rider and he didn't show any fear at all! Amazing!
The view down for the sky-rider is not so beautiful when compared with the Rishikesh zipline but Mussoorie zipline location is a kids-friendly one.
Zipline Location India- Goa
Among a big range of adventure sports in Goa, the recent addition is zipping adventure. With the big number of tourists to Goa, I think the launch of ziplining is a smart move.
The zipline sky-ride is Goa is located in Dharbandora village. It is 50 km away from Vasco da Gama. Panaji too is at an equal distance away.
The name of the zipline in Goa is Elephant Zip lining.
Zipline location India-Bhopal
This scenic zipline location in India is about an hour of drive from Bhopal, the capital of Madhya Pradesh.
As a zipper, you would ride high above a long Kerwa Dam. The scene below is breathtaking. I think zip lines that are built above water bodies such as lakes, rivers, and waterfalls are more exciting than zipping between buildings and forts.
The distance between the two points of the zipline is 1770 feet that you can cover in a minute.
These eight zipline locations in India are the most recommended places to enjoy zipline adventure. I believe more zipline locations are coming up in India.