How many car routes do you know in India that will command you to drive through again? You may know the top scenic roads in your own state but that too is only a probability because, we all ways ignore our own state and are attracted road routes abroad. Lovely road trips in South India you should undertake.
I have travelled extensively in India by car. Some of the road routes are etched in my memory while several took through 'no man's' land that too I vividly remember but would not re-visit.
In this blog post, I share a few road routes in South India that will steal your heart. You will invariably stop your car at numerous places to drink the spectacular views and capture them in your camera.
Best Road Trips in South India
Shimoga to Augumbe
This road route is in Karnataka. Augumbe is the highest peak here and also receives copious rain. You can imagine how greenish the hill slopes would be.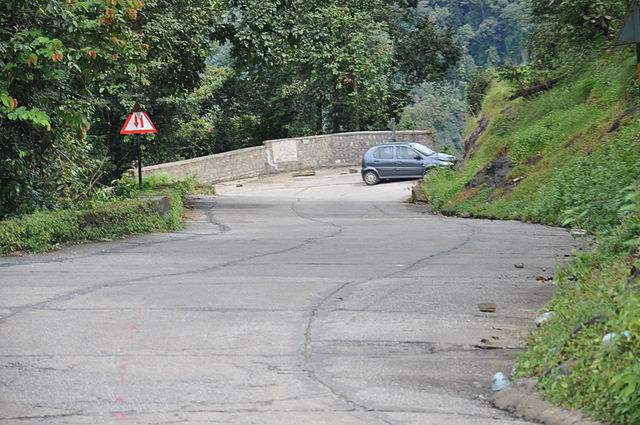 Just a few kilometres after Shimoga, we stopped our car at a kerb, attracted by the forest with really tall trees. It was silent too that was pierced by a lonely bird calling out sweetly for its girl friend. The place is known as Theerthahalli.
The mild drizzle enhanced our pleasure.
We walked through the forest a few hundred meters to hug some trees.
When we resumed our trip, we went through some beautiful hill villages. We repeatedly stopped to buy fresh and cool fruits.
The climb to Augumbe was steep. The hairpin bends churned our intestine. There were several viewing platforms that showed deep gorges filled with mist.
Monkeys were everywhere. Birds of forests flew swiftly to hide amidst canopy.
The journey to Augumbe took three and a half of hours because we stopped frequently to admire the views. The distance is only 95 km.
Bombay to Goa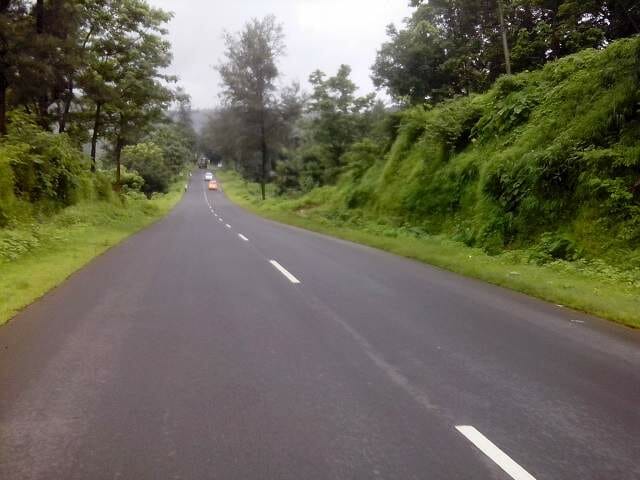 This is one of the most traveled road route by the people of Mumbai (Bombay).  The distance is close to 600 km but it will take nearly 11 hours to reach the destination because of lush Western Ghats.
Forests on either side of the road, sea view at a few places, waterfalls that are silent and roaring, tunnels and fantastic observation platforms are the features of the road route between Mumbai and Goa.
Bombay to Goa road trip is one of the best in India. These two destinations are accessible through air, rail, and sea also.
Roadside attractions during your car journey from Mumbai to Goa:
Tamini Chat Waterfalls
Ghoshala Fort
Kansai waterfalls
Dhood Sagar waterfalls
Panhala Fort
Panhalaji Cave complex (30 caves)
Kune Falls
Pawana Lake, Lonavala
Rankala Lake
Mahalakshmi Temple
Mumbai to Goa route should be in your wishlist if you are an avid road tripper.
Since this highway is extremely beautiful, I added it in this list in spite of its location in North India.
Chennai to Viazg
It's an eight hundred kilometre road route on the east coast of India. The lovely Bay of Bengal is on one side of the road.
On the way, you can see several lakes, marshlands, bird sanctuaries, and the lush green Eastern Ghat mountain range.
Arakku Valley is the top most beautiful place that you will fall in love at the first sight.
Godhavari Estuary
Coringa Woldlife Sanctuary
Lambasingi village, 3300 feet high
Pushkar Ghat
Godhavari Arch Bridge
Bangalore to Ooty
The road route to Ooty, the queen of hill stations in South India is also a highly travelled highway. From Bangalore, you will go to Ooty via Mysore, Bandipur wildlife sanctuary, Mudumalai and Masinagudi forests. The distance is 280 km only but the journey time will be around 8 hours because you will climbing the Nilgiri mountains.
I once rode through this scenic highway. On the way, there were some water holes where I saw elephants drinking water and bathing.
In addition, I saw numerous dotted deer, Nilgiri Langur, and some antelopes.
The forests on either side of the highway starts after some distance from Mysore city.
Prominent Highway Attractions between Bangalore to Ooty:
Remember, the best restaurants and clean rest rooms are not found after Mysore.
Shivasamudra Falls
Barachuki waterfalls
Gaganachukki Falls
These waterfalls are fed either by the sacred Kaveri River or her tributaries.
Bandipure bird sanctuary
Mudumalai wildlife park
Masinagudi Forest
Pykara Lake
Bangalore to Ooty road route is the best in South India.
Kochi to Alleppey
If you love to see backwater canals, river estuaries, boathouse holidays, and beaches, you must consider this road route in South India. Kochi (Cochin) to Alleppey road journey is in the state of Kerala fondly named as "God's own country' for the state's stunning green fields, rows and rows of coconut groves, enchanting canals, and tall mountains (though not found on this road route).
The distance to be covered during this road trip is just 55 km, along the Arabian Sea. You can imagine how picturesque it will be.
It is interesting to know that you can reach Alleppey by a car ferry from Kochi in just 40 minutes.
You will drive along such backwater canals during your journey to Alleppey. On the way, there will be temples that might not lure you. However, the highway journey will be scenic and memorable.
Coimbatore to Munnar
155 km is the distance for this spectacular road route in South India. You will be traveling from the state of Tamilnadu to the state of Kerala through attractive paddy fields and coconut trees of Pollachi, Azhiyar dam, Walparai hill station (a bit of diversion), tea gardens of Munnar, and mist-covered western ghats of Munnar, one of the most visited hill stations in India.
Udumalaipttai is one of the Tamilnadu towns on your way. It is located near Kerala borer. You can see giant windmills. A couple of waterfalls on your way will make stop your car enjoy a refreshing bath.
The famous Parambikulamam tiger reserve will beckon you. The choice yours to either go inside to spot the majestic Bengal tigers or quickly reach the cool hills of Munnar.
The other places to spot wildlife in their natural habitat include:
Chinnar Wildlife sanctuary
Bookmark this blog post or add these 6 rood routes in South India to your wish-list of things to do at least once in your lifetime.