Fort Lauderdale is the tenth largest city in the state of Florida. This implies, you have to visit all other 9 cities and make all the day trips to visit each other city and to some nearby islands. You require a full three weeks to see all of Florida, the all time hottest vacation spot for the Americans.
Fort Lauderdale is on the Atlantic Ocean. It acts as the gateway for visiting three extremely popular islands namely:
Bermuda 1640 km away
Cuba 560 km away
Bahamas 300 km away.
Let us look into the best things to do in Fort Lauderdale.
Reason for the word "Fort" in Fort Lauderdale.
During the 19th century, the Americans were surprised by an attack by Seminole Indians. In defence, a few forts were built by the Americans.
Best Things to do in Fort Lauderdale:
Sadly, no fort remains intact as of now.
Visiting Miami
One of the top most things to do in Fort Lauderdale is to make a day trip to Miami which is located on the Atlantic Ocean's shores, 50 km south.
Miami's main attractions are its terrific beaches. It is not that Fort Lauderdale lacks beautiful beaches.
On the contrary, Fort Lauderdale is also blessed with stunning beaches. But the Miami's skyline when looked from a boat in Miami is breathtaking.
In addition, you will have the satisfaction of visiting two great cities in Florida, on the same day.
You can go to Miami from Fort Lauderdale by road, rail, and water.
I highly recommend the water route. A high-speed boat will get you to Miami in about two hours. The boat ride is really exciting than traveling by car.
Beaches
The beaches in Florida are on either side of the state; on the Atlantic Ocean side and on the Gulf of Mexico.
In addition, the southern tip of Florida abuts the Strait of Florida.
Beaches are the treasures of Florida and accounts for the maximum tourism.
Here are some of the beaches in Fort Lauderdale.
Dania Beach is known for restaurants that guarantee freshly-caught sea food delicacies.
Hollywood Beach is one the best beaches in and that has a boardwalk.
Boardwalks are scenic roads that run parallel to the beach. It will be lined with boutique shops, coffee shops, restaurants, and street food stalls.
Biking, and roller skating are the favourites of the children.
Hollywood Beach's boardwalk is one of the major attractions.
Here, in the late afternoon, you can spot adventurers walking towards the sea, lugging a rented surf-board. Surfing is indulged throughout the year, but especially during December and January when the temperature is milder on your back.
The Beach Park is full of entertainment options.
A few more beaches to visit are:
Hillsboro Beach
Deerfield Beach
Pompano Beach
Boat Rides in the Canals
For its 165 canals, Fort Lauderdale is known as the 'Venice of America; These waterways are big Fort Lauderdale attractions.
Together, the canals run for almost 500 km.
You can appreciate the skyline of Fort Lauderdale from the boat.
Different tour operators offer canal boat tours of different duration. If you are a water junkie, you can choose a boat tour of 4 hours duration.
Boat tour of the city is one of the most enjoyable things to do in Fort Lauderdale.
Butterfly World
Who won't be interested in seeing the incredibly colourful butterflies in an open garden?
The butterfly world is located in Coconut Creek, a city that is located about 22 km from it.
It has another name that goes by "Tradewinds Park".
The park is a habitat for more than 20k butterflies. In addition, it has an aviary for the lovely Hummingbirds.
The whole Tradewinds Park is planted with tropical flora in the middle of which is a fountain.
Visit Key West
Key West is the largest of the 'Keys' (Cays) or small islands and is the highly visited among other Florida Keys.
Do you know there are as many as 800 Florida Keys?
Though, the majority of the Florida Keys are connected with different cities by road, you can enjoy a boat ride to Key West in a boat with amazing speed.
The ride involves 3 and a half hour. Spend about 2 hours in Key West and get back to Fort Lauderdale.
This speedboat ride is one of the top Fort Lauderdale attractions.
Little-known fact:
Do you know the coastal city was inhabited by Tequesta Indians for 2000 years?
Port Everglades
It is another port in Fort Lauderdale. And,  it is one of the busiest harbours of the U.S. It is a big terminal for luxury cruise ships.
A visit to see the port bustling with the ship movements is worthy of your trip to Port Everglades.
It is so busy a port that it handles a staggering 4 million visitors every year. It is no wonder that Fort Lauderdale is considered as the "Yacht Capital" of the world.
Airboat Ride in Sawgrass Recreational Park
An Airboat is a weird kind of boat with a very flat bottom. It will be fitted with a propeller at its rear end.
The airboat ride is one of the biggest Fort Lauderdale attractions. The pleasure ride takes you over calm waters.
You can spot numerous birds such as the lovely Osprey, a species of Raptors.
The Sawgrass Recreational Park is part of the Florida Evergaldes, a werland (swamps) region that is noted for acting as a habitat for several species of insects, butterflies, and birds.
It's an ecosystem that supports hundreds of wildlife including iguanas, and alligators.
Top buildings to see in Fort Lauderdale
This 410 feet tall office complex is one of the major tourist landmarks in the city.
110 Tower doesn't have 110 floors but only 30.
The two tall structures comprising 42 floors are meant for residential purposes. It is a prestigious address in Fort Lauderdale.
Hugh Taylor Birch State Park
As one of the important Fort Lauderdale attractions, it's a huge public park that offers several hiking trails, a lake with canoeing facility, campgrounds, dedicated picnic area, and more.
The park is built near the Atlantic Ocean.
Riverwalk Arts and Entertainment District
Visiting the place is one of the fun things to do in Fort Lauderdale. It is more of a center for cultural attractions. In addition, it has a shopping street that attracts mainly tourists.
Moreover, by taking a relaxing stroll,  you can find several cafes, and restaurants.
Further down, there is a museum, an opera house, and a 3D IMAX theatre.
Tourists are certainly lured to enter a drive-in movie theatre. In a sprawling open area, there are as many as 13 screens! You certainly won't develop any neck pain while watching the movie from a car.
NSU Art Museum
Art Museums are present in every big city in the U,S. and Europe. I think art galleries, fine arts museums are more in every city in Europe than the U.S.
Swap Shop
This is a flea market where whatever you like, you can buy at dead cheap rates. Actually, when no movie is scheduled, the large drive-in theatre is transformed into a flea market.
The Flea Market is called Swap Shop that sells anything and everything.
Below is a short video clip of the Fort Lauderdale Swap Shop.
I generally used to look for homemade bakery products, squashes, and jams, and organic fruits in a flea market.
Las Olas Boulevard
A boulevard is usually a shopping area, with bars, and restaurants. Tourists are attracted by the brightly lit shops and enjoy window shopping.
Las Olas Boulevard is one the biggest Fort Lauderdale attractions. You can spend a whole evening walking up and down the street.
Museum of Discovery and Science
Seeing this museum is one of the 'must-do things' to do in Fort Lauderdale. Since it deals with scientific discoveries, it will attract all age group.
This museum is a must-visit for children too. It might kindle them with a spark on some future innovation.
Museum of Antique Cars
Have you ever wondered from where the movie makers get vintage motor cars? I am sure this particular museum of authentic antique cars is a one source. They are cute and funny too. You would be bewildered at how the owners of these vintage cars found comfort in driving them.
Flamingo Gardens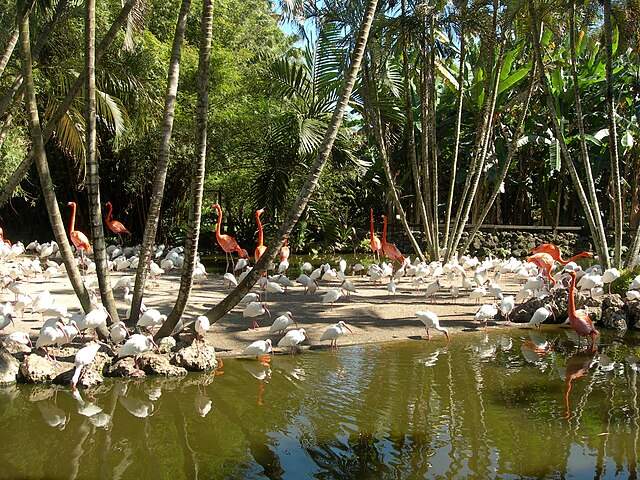 Just on the outskirts of Fort Lauderdale, lies a sprawling botanical garden. In a 60 acre space, thousands of tropical trees and plants are planted.
The thick foliage acts as a sanctuary for numerous birds including the elegant flamingos.
You must take your children because there is a tram ride inside the garden. It is a sort of guided tour.
The jungle out there is really thick and will be a haven for numerous avifauna, insects, and reptiles.
Did you notice the so-called tram is towed by a four-wheeler? Moreover, there are no rails for the tram. It runs on a paved road!
I reckon with so many things to do in Fort Lauderdale, you need at least 4 days if not a full week.