Tree tunnels in USA are enchanting to look at irrespective of the season. While they provide cool shade in summer, they look dreamy when it rains.
And in the fall, tree tunnels transform us into romantic inclinations.
However, I like only the naturally formed tunnels. I must admit tree canopies that are the outcome of creative gardeners but still, they are artificial anyway.
Well, it is obvious the three don't protest to bending them abnormally to please the landscape artists' whims and wishes.
A tunnel of tree is formed when the trees provide a continuous canopy. I hope I have defined a tree tunnel clearly.
6 Beautiful Tree Tunnels in USA
I will post the images of several tree canopies that riveted my eyes on them. Whenever you pass by their location, remember to slow down your car and capture the magical avenue in your mobile phone camera.
Apart from individual like you, this article will be useful to film or serial makers who are always on the lookout for spectacular locales.
Harbor Springs, Michigan
This lovely tunnel of trees is in Michigan's Harbor Springs. To be more precise, look for it somewhere near Bear Creek Township.
More landmarks:
Community of Bay View
Route #31
M 119
This location has attracted the filmmakers of Discovery Channel too, who made a mention of it in one of their episodes.
Coral Gables, Florida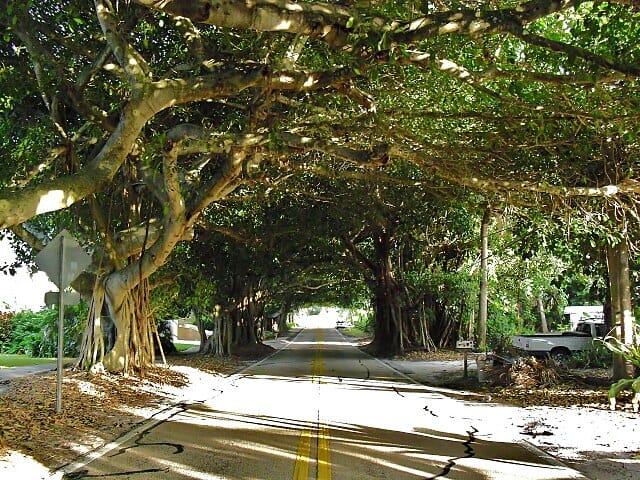 Coral Gables is part of Miami-Dade County, a very thickly populated area in Florida.
Nearby attractions:
Everglades National Park
Anhinga Trail
Biscayne National Park
South Beach-this is Miami's popular beach
University of Miami
Above all, Miami International Airport is just 6.5 km away. Though the tree canopy is not very long, it is still a pride of the Coral Gables community.
Hilly Autumn Avenue, New York
I was directed by Google to this avenue is Brooklyn, New York. I dug in further and landed on the avenue's stunning images taken during more than two seasons.
While fall season's tree tunnel was the pick of all, others did not do badly!
This particular tree tunnel in the USA. was among the "World's 35 most stunning tree tunnel"
Autumn Tree Tunnel, Vermont
I happened to look at a breathtaking tunnel in Smuggler's Notch National Park, Vermont. The photo was taken during autumn. The canopy was a mixture of yellow, red, and bright orange.
A video clip below will virtually take you through this tree tunnel in the USA., arguably one of the most beautiful tunnels of trees in the world.
In such a spectacular place lives the God! As far as I am concerned, this is the most beautiful roads in the world during fall.
BTW, I wonder why it is called a 'fall' season when the trees still hold onto their colorful leaves that are yet to fall?
The national park is an elevated location of 2100 feet above sea level. Go to Mount Mansfield in Vermont so that you get close to national park.
Nearby attraction include numerous hiking trails in the Mount Mansfield State Forest.
Oak Alley, New Orleans, Louisiana
During my search for the beautiful tree tunnels in the USA., I clicked on one of the search results that bore the title, "Oak Alley". My interest and a bit of knowledge about oak trees made me click on the result.
Though I could not find much information, I was pretty impressed by the tunnel of trees. They were not tall by any means but the branches reached to touch their neighbors.
They are probably the offspring of the mother tree! I discovered the oak trees' age is 300+ years!
Maple Tunnel, Oregon
From the look of it, the trees are not maple trees. I am living in Ottawa and there is a maple tree in our backyard. Its flowers are never red.
So, Maple Tree Tunnel is just a name.
It is in St. Louis, Marion Country, Oregon. The nearest city is Gervais, about 5 km away.
I saw several more tree tunnels in Japan that are also very beautiful.