Those really life size windows and partial glass roof in the train makes you feel like you are actually sitting in an open car and admiring the picturesque countryside as the train rolls by. There are plenty of picturesque train rides in US. Let us see best few.
That is the beauty of America as well as the beauty of the trains in America.
Throughout the United States, all passenger train services are operated by Amtrak.
Don't imagine train transportation in the US. is bullet fast. The maximum speed by an American train is only 240 kmph where as the fastest train in the world is operated in China that zips across at an incredible speed of 460 kmph!
7 Picturesque Train Rides in the US
However, when it comes to scenic train rides in the world, America is ranked number one because very diverse geography, and different climatic conditions.
In this blog post, you will come to know about several train trips in the US. that go through some of the world-class country-sides that include mountains, lakes, canyons, agri-fields, caves, sea- view routes, and more.
Each train trip description will be brief. To get the full details such as various classes, perks inside the trains, stoppages, and price, please visit their website
These train routes pass through 46 states. However, in only 35 routes, the trains are running.
Boston to Washington DC
This is highest travelled train route in the US because two big cities are connected in this route namely New York, and Washington DC.
This East Coast route is called Acela Express.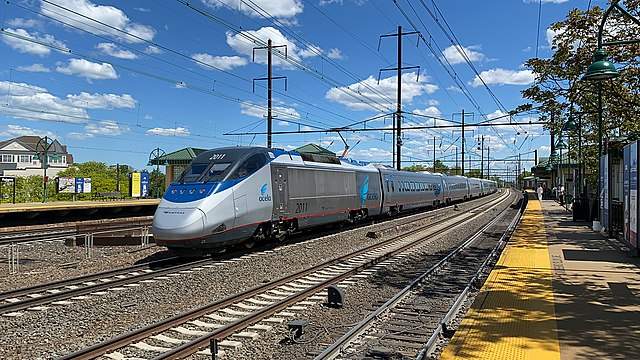 From Boston to Washington DC, the train takes only 7 hours. I think that is real quick because by road, it takes nearly 10 hours.
Due to high traffic route, there are as many as 20 services a day.
The maximum speed of the Acela express is 240 kmph. Free wi-fi is offered in this prestigious and very busy train route.
Acela express is one of the scenic train rides in the US.
Auto Train
I could not find the meaning of the train name but this is a long haul ride, going along the Atlantic coast.
Is it because you can transport your car along with you in the train, it is called Auto Train? It's not a creative name.
Train names are generally given after important monuments that come across, rivers, temples, major tourist landmarks etc.
The train starts from Lorton, Virginia. Its first stop is at Washing DC.
The train's final destination is Orlando, Florida. It's a 20 hours-journey approximately.
The train timing is very convenient to all. It leaves Virginia around 1 pm and reaches Florida the next day at 10.30 am.
Auto train passes through a picturesque train ride in the US.
Maple Leaf
That's a good name for the train. Its starting point is Toronto, Canada. Maple Leaf is Canadian national symbol.
The train's last stop is New York. Two major cities of North America are connected by this scenic train route in the US.
For your information, the train's first stop itself is a world famous tourist landmark namely the Niagara Falls! It is certainly the most picturesque location in the US.
If you posses some knowledge about North American geography, you will know what you can expect to see during this picturesque train route in the United States.
When compared to road travel, this train journey is definitely slow. Once I traveled from Ottawa to New York City in 7.5 hours and that included 30 minutes stop at US. check post in Canada.
Other scenic places you can see on the way include:
Finger Lakes
Hudson River Valley
Pet-friendly train.
The train journey lasts 12 hours. Considering the Canadians are big pet lovers, all passengers are allowed to carry their pets with them.
The distance between the two big cities is 875 km.
Being a long haul train, it has a dining car with large viewing windows.
Empire Service Train
It's a strange name for a passenger train. I read this train route between New York City and Niagara Falls is called "Empire Corridor".
I suppose, there are two routes between these two world-famous tourist landmarks.
The train passes through Albany, Syracuse, and Buffalo. The 740 km distance is covered in a little more than 7 hours.
By the way, do you know New York City, considered as world capital is itself not a capital of New York State? Albany is the capital of New York State.
Adirondack Express
It's another long haul passenger train that connects New York City and Montreal, a big city and the capital of Quebec, one of the provinces of Canada.
I had been to this city twice while living in Ottawa.
Adirondack Express takes 11 hours to reach Montreal. You can watch the Hudson valley, and the Adirondack Mountains pass by.
Conway Scenic Railroad
It's a heritage railroad in the state of New Hampshire. There are two scenic train rides in this section; both connects two different destinations.
North Conway to Conway
North Conway to Crawford Notch
For once, Amtrak doesn't play a role in operating these very picturesque train rides in the US.
The route is considered as heritage, but I doubt about the patronage of the same as the number of train traveling buffs is dwindling in North America.
Empire Builder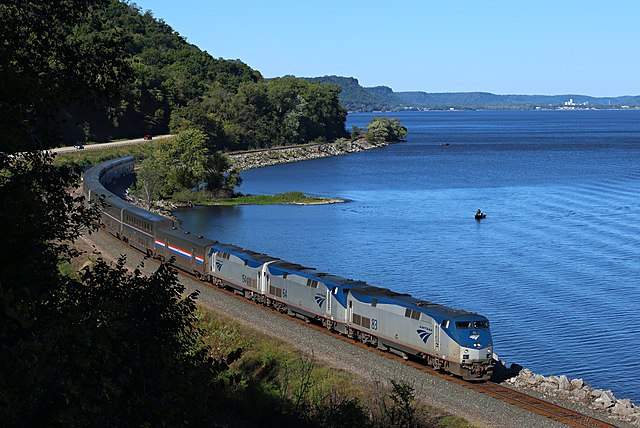 We get back to the services of Amtrak. Empire Builder train connects Chicago and Seattle. The journey goes through some fantastic scenery including the Maple Springs in Minnesota.
The duration of this train journey is a whopping 46 hours. Unless you buy a comfortable sleeper coach, the journey will be arduous.
I read the train rides covering the west, and north-west states in the US are not very beautiful and thus lack patronage.