A seasoned traveler knows Europe is best seen only by riding its various train routes. The famous Eurail pass enables you to visit or travel through as many as 33 European countries.  There are several kinds of Eurail passes and each one of them can be classified as one of the most beautiful scenic train rides in Europe.
The luxurious trains take you through some breathtaking places such as the Alps, Rhine River, Julian Alps, stunning mountain ranges, tunnels, and cute European villages.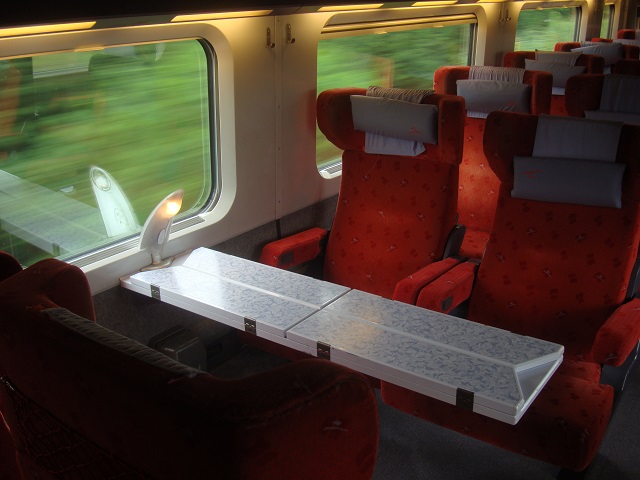 Here are some of the dream European countries that you can see if you choose Scenic Train Rides in Europe for your next train vacation.
France
Poland
Germany
Austria
Belgium
Croatia
Estonia
Bulgaria
Sweden
You can cover all the 33 beautiful European countries if you purchase a Eurail Pass for 22 days!
List of Scenic Train Rides & Exclusive Train Vacations in Europe
Drink the beauty of Rhine Valley
Bernina Express
Glacier Express
West Highland Line
Venice Simplon-Orient-Express
France to Russia by Nice-Moscow Express
Black Forest Railway
Semmering Railway, Austria
8 Most Scenic Train Rides in Europe
Take a note of the following gorgeous train routes in Europe that you can enjoy even without buying a Eurail Pass.
Drink the beauty of Rhine Valley
Ah, the Rhine, the river that always finds its name in romantic poems, novels, and films. The beauty of the Rhine and wherever it has decided to flow just cannot be expressed in words. You must see it to let out an audible gasp.
Either a ride in the Rhine Valley rail line or in a cruise ship in the Rhine River itself are your best ways to see the Rhine.
This scenic train ride lasts just two and a half hours. This beautiful train route is between Mainz and Cologne in Germany. The distance covered is 150 km only. However, the train passes through breathtaking Rhine Valley. The flora is simply magnificent. The mountain slopes that you can see on your right are full of vineyards. The entire stretch is one of the big wine-producing regions.
Inside the train, wi-fi is provided. In addition, there is a small restaurant to cater to the cravings of the children who can't resist wanting a fluffy pastry.
Bernina Express
I have watched more than 40 videos of the most Scenic Train Rides in Europe in order to shortlist the top ten scenic train journeys in Europe.
I would rate the Bernina Express train that connects the Swiss Alps and the balmy plain of Italy as the number one ranking train trips that one should take in Europe, at least once in a lifetime.
The beautiful red train with a glass roof travels at a little over 100 km per hour. When the train passes through breathtaking glaciers at an elevation of over 7500 feet, its speed alters accordingly.
The Bernina Pass will make you gasp. The long stretch of blindingly-white snow is a sight to behold.
For your interest, I recommend a video clip of Bernina Express.
Watch the entire 35 minutes video to admire the natural scenery that the train passes through. On its way, the Bernina Express goes through 55 tunnels!
There are approximately 100 bridges that the Bernina  Express crosses, giving you a glimpse of the alpine river stream flowing underneath.
Bernina Express Train runs from Davos Platz located in Chur, Switzerland to Tirano in Italy.
The landscape includes pristine mountains, glaciers, pine and birch forests, grass-covered mountain slopes, glistening lakes, and deep ravines.
This picturesque train route between the Swiss Alps and Italy has UNESCO World Heritage status.
This splendid and picturesque train ride in Europe takes nearly 4 hours to complete.
Glacier Express
Glacier Express's picturesque train journey in Europe is extremely popular in the world. No tourists to Switzerland would skip a ride on the fantastic train. In fact, your trip to the land of chocolates and watches is not complete without going to the Glacier Express.
To give you an example or two of what you can during this scenic train ride in Europe, I give below a couple of images.
This is the ski resort town of Zermatt in Switzerland. Its elevation is 5200 feet.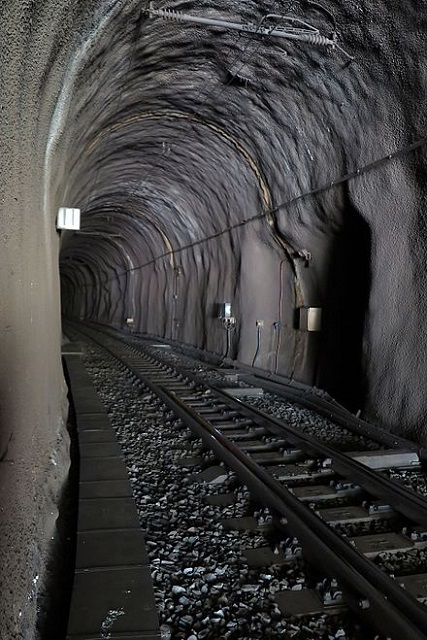 This is called the Furka Tunnel through which the Glacier Express train passes through. The tunnel's length is  15 km and at a height of nearly 5000 feet!
The duration of Glacier Express is 8 wonderful and joyous hours. The train connects two highly-visited skiing resorts namely Zermatt and St. Moritz.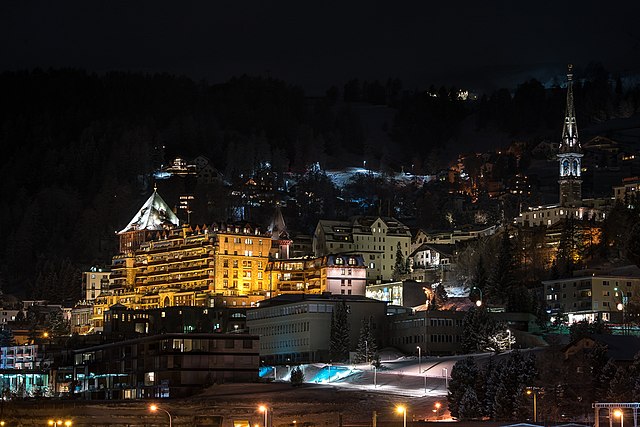 St. Moritz at night.
The total distance covered by this picturesque train journey in Europe is 290 km. The entire train ride is in the Swiss Alps!
There are as many as 290 bridges en route. It means, there is a bridge once in every kilometer! The train chugs through 91 tunnels including the 15 km long Furka Tunnel.
To enjoy this beautiful train journey in Europe, you must choose the 'Excellence Class' on the train that assures you a seat by the window. You can have an uninterrupted panoramic view of the gorgeous Alps mountain range.
Inside the classy train, there is a bar and a diner where you can have a choice of beverages including hot chocolate or a cup of Swiss coffee. I would order a tall glass of champagne if I ever travel on Glacier Express.
Since the train journey involves 8 hours, you can order a big dinner on board.
Glacier Express is one of the highly sought after scenic train rides in Europe.
West Highland Line
The moment you come across the name 'Scotland', pictures of unending wilderness with almost no human in sight will come into your eyes.
That's Scotland for you. Located on the westernmost part of the U.K., the landscape is absolutely picturesque. It becomes more beautiful when you spot only wildlife such as red deer and highland cows.
The West Highland Railway line operates passenger trains mainly for tourism purposes between Glasgow city and Mallaig, a port city in the west highland region.
The distance between these two train stations is 265 km. A journey in the train on the West Highland Railway takes roughly six hours.
On your way, you come across ancient castles in dilapidated condition (the Scottish castles are the pride of the Scotsmen) and moorlands (grasslands and bushes).
The West Highland train journey has been awarded as one of the most beautiful train routes in Europe.
Venice Simplon-Orient-Express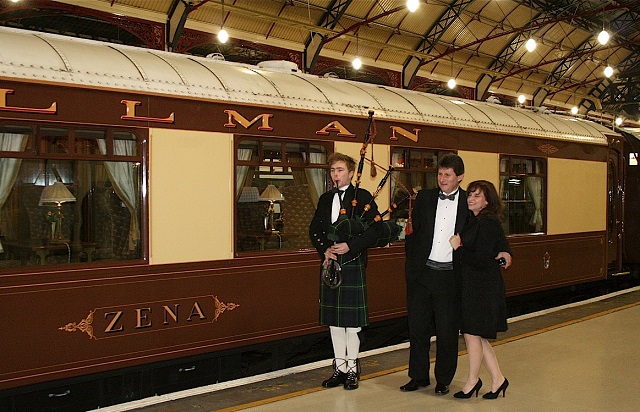 How about traveling from London to Venice by this prestigious Venice Simpleton Orient Express? The scenic train ride in Europe passes through spectacular sceneries in the heart of Europe.
The Venice Simpleton Orient Express train is a privately owned ultra-luxury train that is entirely different from any passenger trains. This is a tourist train exclusively.
The Venice Simpleton Orient Express (VSOE) runs between London and Venice in Italy. On the way, the train goes through some of the most romantic cities in the world including Paris and Milan.
The total duration of your train journey connecting the U.K. with Italy will be 24 hours covering 1650+ km.
During some time in a year, you can travel on this picturesque luxury train from London to Budapest via Vienna! Oh, how we all yearn to tour these beautiful cities in Europe!
The picturesque train journey goes through the gorgeous Alps, quaint villages of France, and the sunny Italian countryside with a totally different culture from the United Kingdom.
France to Russia by Nice-Moscow Express
This is a pretty long train journey in Europe. Imagine passing through eight countries that include France, Montana, Italy. Czech, Poland, Austria, Belarus, and finally Russia!
Forget visiting these exotic European countries by flights. Get on board on a scenic train and enjoy breathtaking landscapes that you have seen thus far only in movies.
Eat diverse cuisines and drink liquor you have unheard of in your life. Meet fellow passengers from so many parts of the world including Japan and Sri Lanka!
The long and scenic train journey lasts a whopping 50 hours!
A terrific scenic train ride through the Black Forest
Höllentalbahn (Black Forest Railway, Germany)
I always wondered how a forest can be black. Here is an image of a place called Hell Valley in Germany's Black Forest.
Hell Valley (Höllentalbahn in German)
Surely, the forest looks green and not black. However, the Black Forest is one of the most beautiful tourist landmarks in Europe.  To appreciate the stunning beauty of the Black Forest and the deep 9 km long gorge is possible only if you travel on a train.
The Hell Valley train ride starts from Freiburg and ends at Donaueschingen. At a speed of roughly 100 km per hour, the picturesque train ride will be over in less than an hour as the distance is just 75 km.
There is a uniqueness about this European train journey. When the train starts at Freiburg, the elevation is a little less than 1000 feet.
Freiburg train station
However, when the train reaches the Hinterzarten railway station, the altitude is 2900 feet!
Semmering Railway, Austria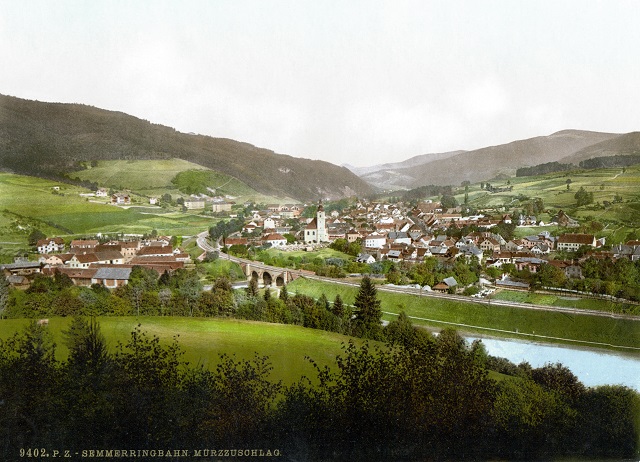 Austria, a rather under-visited European nation is, to my knowledge, the most beautiful country in Europe. I would rank even Switzerland next to Austria.
Austria is best seen by road trips. Since tourists won't have so much time to see the entire Austria by road, they board a train for a short journey involving a 40 km crossing through some of the breathtaking and rugged mountains dotted with peaceful village settlements.
The Semmering Railway is the highly suggested scenic train ride in Austria. Since it is just an hour ride, most of the tourists to Austria would not miss enjoying the ride.
The landscape is simply pristine and the air intoxicatingly pure. Since it is a mountain train, you would see numerous bridges under which silent streams flow.
Except for a few months in a year, the Alps are snow-clad and it is a gorgeous sight from your train.
The scenic train ride begins at Gloggnitz railway station and terminates at Mürzzuschlag, Austria.
Semmering Railway in Austria is a UNESCO World Heritage site.
A few more additions to the list of scenic train rides in Europe exist in Norway, Sweden, Poland, Serbia, and Montenegro.
I intend to write a brief story of them when I cover those cute European countries individually in this travel blog.