Haridwar is one of the most sacred cities in India. It is a major pilgrimage center and acts as a gateway to numerous religious towns, villages, temples, and confluences of rivers. Tourists from India and abroad are always on the lookout for riverside resorts and hotels in Hardwar.
You can manage to eat delicious food anywhere in city by eating at the roadside eateries but you definitely need a comfortable place that promises cleanliness.
The demand for quality accommodation in Haridwar is high and genuine. Though, once in two or three years, a new hotel comes up in Haridwar, promising Ganga River views and modern facilities, they are not as promised by the hotels.
This city is known for the mad crowd of pilgrims throughout the year. There is a perennial 'no rooms' signboard can be seen in front of the hotels and lodges.
I have compiled a list of riverside resorts and hotels that offer river-view rooms. I am sure you will find this blog post very useful and 'share-worthy'. Here  is 7 Beautiful Ganges facing riverside resorts and hotels in Haridwar.
Amatra by the Ganges
Amatra Resort by the Ganges is the number one riverside resort in the city. It commands a high occupancy in spite of expensive rates. I think the room rate starts at Rs.10,000 a night here.
Food is generally good all over. However, remember, there is no meat and fish in Haridwar hotels, restaurants, cafes, and roadside eateries.
You can choose to stay either in a riverside suite or in a garden suite. Alternatively, if you are a family of four, you can opt to rent a 3-bedroom villa by the riverside.
All the rooms are air-conditioned. TV is a statutory requirement these days and you will get that in every room.
Make your own tea or coffee anytime you want in your room. However, there is no bar. Alcohol is prohibited at this  pilgrimage center and further up such as Rishikesh.
Amatra Resort's swimming pool by the riverside is built in such a way that it looks like an infinity pool.
Amatra Resort offers quite a few indoor and outdoor games, trekking, and jungle safari.
Visit their page for full details and booking your riverside suite.
Namami Ganges Resort
Namami Ganges Resort and Spa is located on the way to Rishikesh, right on the national highway.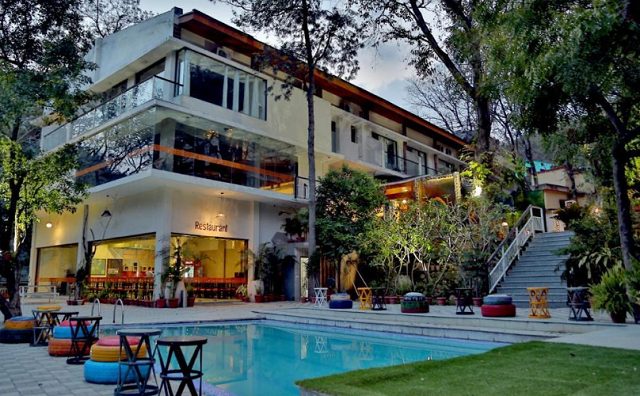 The image depicts a nicely built resort with scenic beauty surrounding it. Adventure enthusiasts prefer to stay in Namami Resort because they organize whitewater rafting water sport.
This is a riverside resort in a true manner as the building and swimming pool is abutting the mighty Ganges.
You can choose to stay in a presidential suite or in an executive suite.
Go to their website for reserving your riverside room.
Atali Ganga Resort
This riverside resort in Haridwar built at a stunning location between this pilgrimage center and Badrinath. The view of the gushing Ganges will be spellbinding.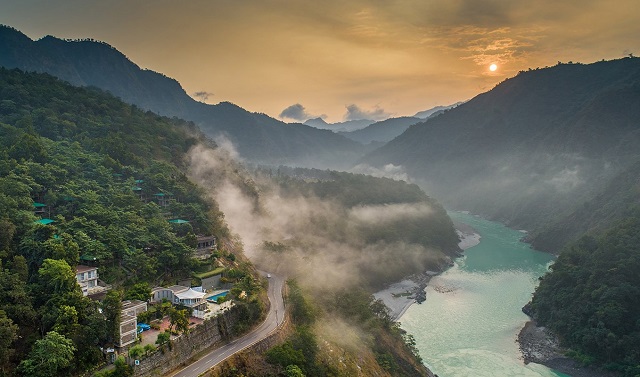 The Atali Ganga resort can be seen on the left side, built right in the middle of the Himalayas Hill. A thick forest cover enshrouds the riverside resort. Moreover, I am sure the Atali Ganga riverside resort is one of the most beautiful places in India.
In addition, I believe most of the Ganga River facing resorts are located on the outskirts of this city and Rishikesh. I think it is very convenient as you can reach both the holy towns in less than 30 minutes.
Air-conditioned cottages in Atali Ganga Resort are good option.
You can stay with your family in any one of the spacious cottages (22 cottages) that are fully air-conditioned. With such a facility, the surrounding green cover, and the view o the River Ganga, I would plan a two-week holiday in this riverside resort near Haridwar.
Similar to other Ganges Riverside resorts in and around the pilgrimage city, the Atali Ganga Resort also organizes several adventures that include river rafting, kayaking, trekking, and rock climbing.
To satisfy the spiritually-inclined tourists, the resort offers a yoga facility too.
Visit their website for more details and to reserve your cottage.
Hotel Dewa Retreat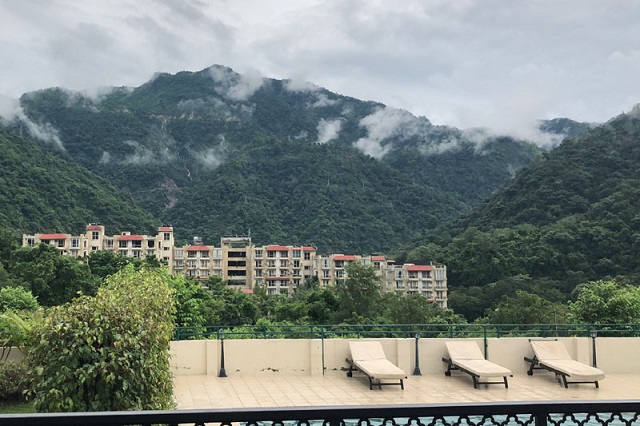 Hotel Dewa Retreat is a true Himalayan retreat because it is built on a hill facing the Ganges River and surrounded by a fantastic green cover. The famous tourist landmark Lakshman Jhula in Rishikesh is at a stone throw distance.
Lakshman Jula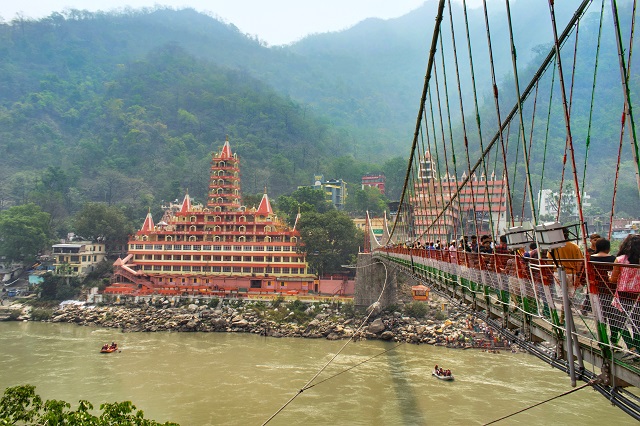 The hotel offers yoga, meditation, a spa to rejuvenate, river rafting, and swimming facilities for the guests. I read there is also a sauna for the guests.
There are thirty rooms, all with a view of the Himalayas and some with a view of the Ganges River.
The room types include:
Semi deluxe
Deluxe
Super Deluxe
Deluxe Suite
For more details about this riverside hotel, please visit their website.
Ganga Lahari by Leisure Hotels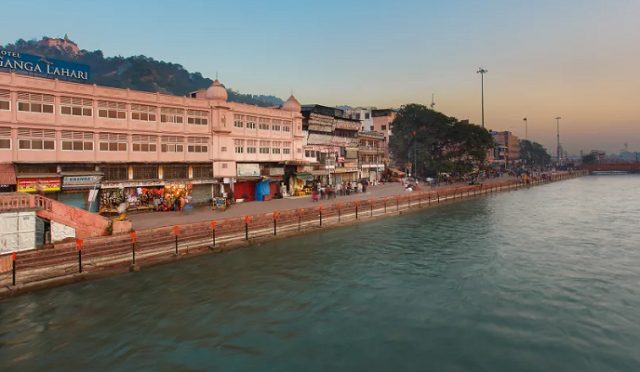 This palatial riverside resort in Haridwar built right on the edge of the River Ganges. In fact, you can see the Hari ki Pauri, the most visited bathing ghat in this pilgrimage center.
All the sixteen rooms in Ganga Lahari resort are provided with river –view windows.
The furniture and the furnishings belong to another age but without compromising comfort. This river facing resort has received rave reviews about comfort and cleanliness.
All the rooms fitted with the following:
Air-conditioner
Coffee maker with which you can also brew tea.
Wi-fi
Safety locker
Intercom
Bathroom with free toiletries.
This resort competes with other riverside resorts in this pilgrimage center by offering outdoor activities.
Go to their website and view the gallery before reserving your room.
Haveli Hari Ganga
Play the video of how the resort looks, its furniture, the sprawling deck abutting the Ganges River. I have no doubt you will instantly like this riverside resort in Haridwar and bookmark it on your computer or mobile phone.
I think I need not describe the resort in words as the video spoke for the resort's location and interior.
You have a choice of two types of accommodations namely Heritage Room and Ganga View Suite.
The multi-cuisine vegetarian restaurant will convert you from a normal eater to a food connoisseur. You may even resolve not to eat non-vegetarian food anymore and vow to stick to vegetarian food only. That is the standard and taste of the food in the Haveli Hari Ganga riverfront resort.
Ganges Rivera, Haridwar
Around  40 air-conditioned rooms in this hotel but only some of them are facing the Ganga River. As the hotel is built on the riverbank, one side of the entire hotel is on the riverside and the other side is facing the main road.
Some budget-friendly hotels and lodges in heart of the city may not face the Ganges but are located within a very short distance from the riverbank.
When you plan your trip to Haridwar, don't try to save money by opting to stay in dingy hotels. Choose a riverside resort or hotel so that you will enjoy your stay.