Montana is rich in natural attractions drawing over 13 million tourists a year. It is fondly called 'The Land of Mountains' because a whopping 77 mountain ranges are part of Montana. We will visit most of the top Montana attractions in this article.
Montana is one of the states in the U.S. It is located in the northwestern part of America. Visualize Montana's location by drawing a line across its border on the north of which is Canada's several provinces including British Columbia, Alberta. Yes, Montana's closest neighbor is Canada.
List of Top Montana Attractions
Yellowstone National Park
Flathead Lake
Bighorn Canyon and Lake
Cedar Walking Trail
Lake McDonald
Going-to-the-Sun Road
St.Mary Lake
Weeping Wall
Avalanche Gorge
Heavens Peak
Bird Woman Waterfalls
Goat Haunt
Two Medicine Lake
Big Sky
Billings city and the seven spectacular mountain ranges
Lakes, ranches, badlands, national parks,rivers, skiing grounds, and prairies (vast tracts of grassland and meadows) are the biggest crowd-pullers of Montana.
If you want all the natural attractions of the U.S., Montana should be your ultimate destination. You need not travel the length and breadth of America to see its breathtaking sceneries. In Montana, you can see them all except beaches.
Montana should attract only nature lovers who like to spend major time outdoors. City buffs generally stay off Montana and look for destinations like New York and San Francisco.
15 Best Montana Attractions
Let us look at the 15 top Montana attractions. Let us start with Yellowstone National Park.
Yellowstone National Park.
Yellowstone National Park is too large to be confined into a single state. It is part of the states of Wyoming, Montana, and Idaho. Incidentally, Yellowstone National Park is the first national park in the U.S.
Even during winter months when the whole area is covered in thick snow, adventure tourists storm Montana to make use of numerous snowmobile trails. They enjoy dog sledding and skiing.
As part of the Yellowstone Nation Park, the Grizzly & Wolf Discovery Center attracts wildlife lovers in large numbers. They are excited to see grizzly bears, wolves, and raptors enjoying their natural habitat.
Natural hot water fountains and streams are another big tourist attraction of Yellowstone National park.
Look at the eruption of steam and water below.
Video Courtesy: Rick Beach
Other big attractions of Yellowstone National Park are:
Yellowstone lake
Yellowstone Caldera
Wildlife watching (it takes several days to watch the majority of forest animals and birds)
Spotting a herd of bison is a thrilling experience.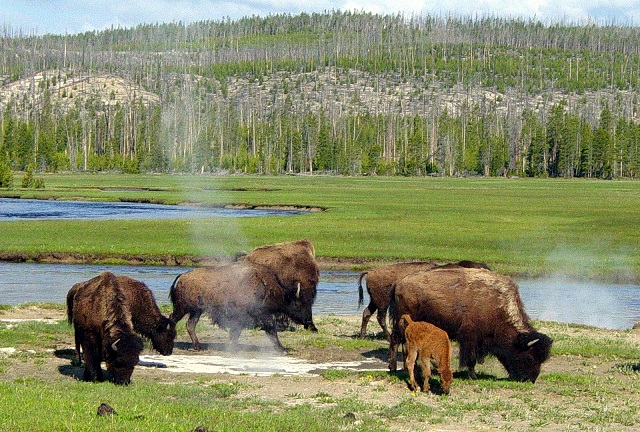 Yellowstone National Park's natural attractions are too many to list in a blog post. After all, an area comprising a mind-boggling 9000 sq. km can throw an incredible number of surprises-right?
Flathead Lake
Can you visualize a lake that comprises an incredible 22,000 sq. km? It is beyond our imagination limits. Flathead Lake is one of the fifteen top attractions of Montana.
Passionate fishers sit along the lake's shores waiting patiently to catch fish such as trout, whitefish, and mackinac.
You can go boating in the lake; stay in a tent pitched upon its shores.
Flathead Lake is a must-see place and truly a top Montana attraction.
Bighorn Canyon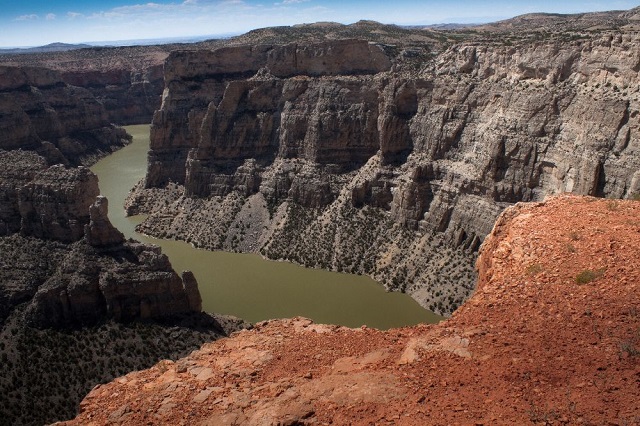 So, that's a canyon in Montana. While it can't replace the Grand Canyon, it is still a large canyon in Montana and remains as a top attraction in Montana.
The formation of this canyon is the outcome of years of erosion caused by the Bighorn River.
The place looks wild and fittingly, you can spot wild horses here.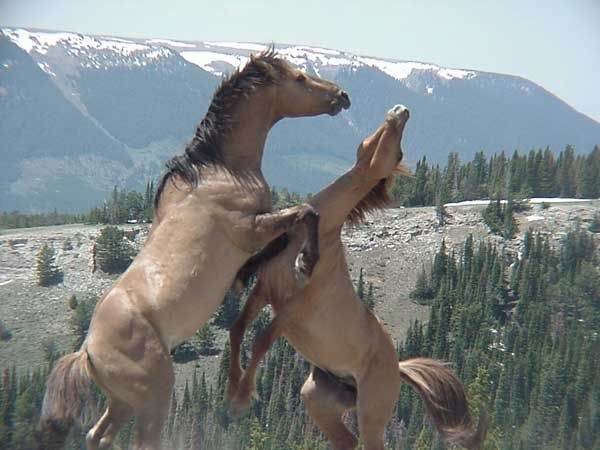 Boating is allowed in Bighorn Lake and fishing too.
Trail of the Cedars
As the name indicates, it is a walking trail on the mountain planted with cedar groves. The Cedar Walking Trail measures just a kilometer that is well paved. Stop at the observation platform to breathe deeply, sucking all the pure air.
Video courtesy: The West is Big-Travel Guides
Don't think of giving a skip to this picturesque spot in Montana. It is rated as one of the top Montana attractions.
Lake McDonald
The Lake McDonald is the largest lake inside Montana's Glacier National Park, measuring 16 km in length.
McDonald  Lake is one of the beautiful attractions to visit in Montana. It has a mountainous backdrop that makes the place dreamy and romantic. Fishing in the sprawling lake is a lazy pastime.
Not only romantic but the area that surrounds Lake McDonald is ideal for strolling around the lake and spotting some wild animals such as mountain sheep and even black bear and the fiery elk!
A drive on the "Going-to-the-Sun Road".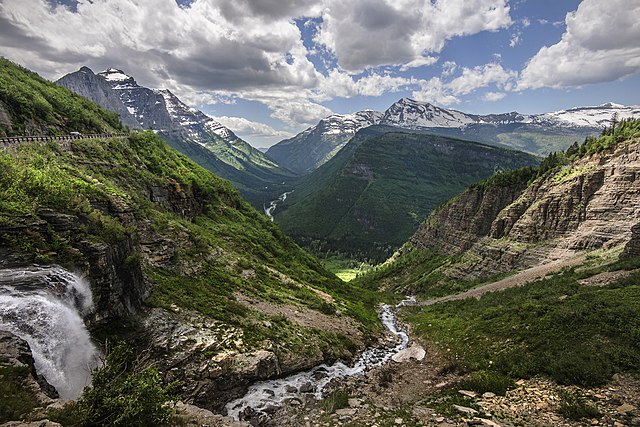 It is a strange name for an eighty km road that goes through the highly visited Glacier National Park, Montana.
Driving on Going-to-the-Sun Road is a breathtaking trip that goes through some of the most spectacular lakes, glaciers, and mountains.
When you drive through the Logan Pass with an elevation of over 6600 feet, you will feel on top of the world.
Don't have a car?
No worries, buddy. There are vintage buses, painted red and thus called Red Jammers take the tourists on a guided tour of the entire 80 km stretch.
St.Mary Lake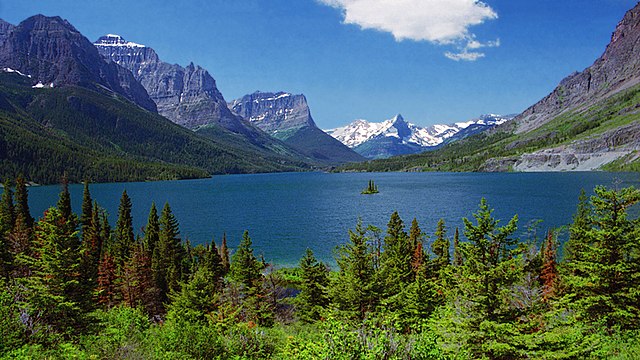 This stunning blue lake can be seen during your drive on the "Sun Road". Stop by the lake, stretch your legs by taking a stroll on the banks of the lake, click pictures before you resume your journey through the Glacier National Park.
Weeping Wall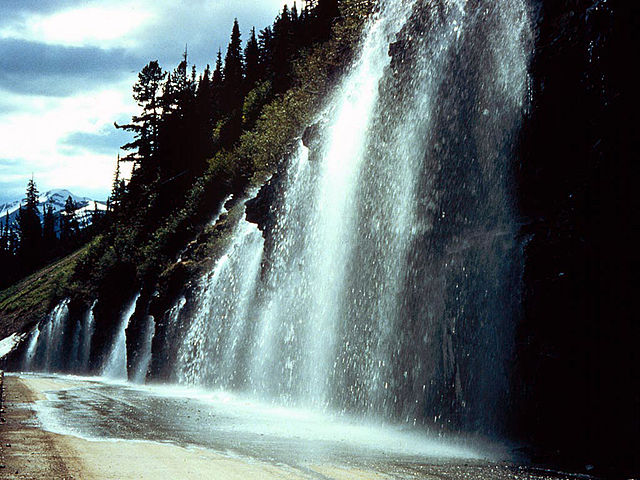 Actually, what the image says is a series of waterfalls that flows through a wall of rock. The sight looks as though the wall is weeping. I think it is a poetic expression.
Avalanche Gorge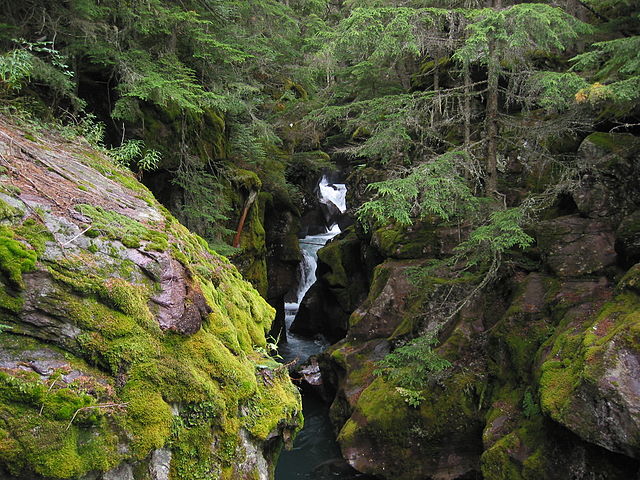 Any gorge, irrespective of its depth, is thrilling to watch. Even if the depth is around 50 feet, it gives us goosebumps when we look down the ravine.
Heaven's Peak
Heavens Peak can be seen from a distance when you drive through the 'Going-to-the-Sun Road'. You can't miss it as the summit looks at you from a height of nearly 9000 feet! It is part of the Livingston Mountain range. Since you will be seeing Heaven's Peak when you drive through the 'Sun Raod', it is part of the Glacier National Park.
It seems the Glacier National Park will consume a full day of your trip to Montana.
Bird Woman Waterfalls
The name is rather weird but I believe there must be a reason to name the waterfalls thus.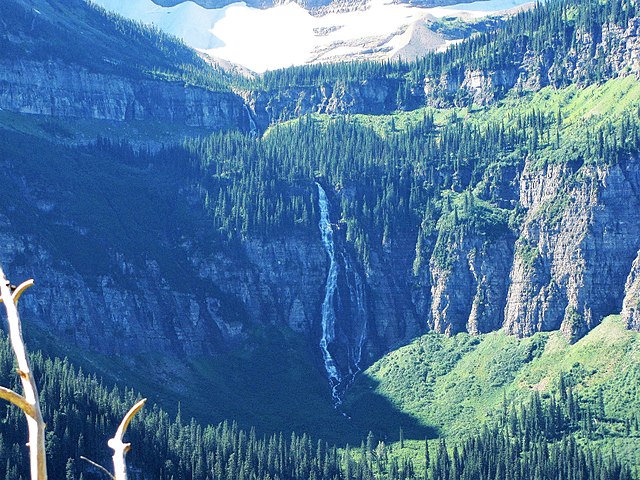 The water is falling from a height of 560 feet, producing a thunderous noise that can be heard from quite a distance.
Goat Haunt
We come again to the Glacier National Park, Montana. Goat Haunt region is one of the top Montana attractions, especially for wildlife enthusiasts and hiking buffs.
The long hiking trail will lead you into Canada. I wonder whether there is a border check-post. In addition, one can spot wildlife because of the abundant water supply in the form of lakes and very less human traffic.
There are several lakes in the Goat Haunt region. Some of them are:
Waterton Lake
Nashukin Lake
Lake Janet
The Lake Francis
Lake Cootenal
There are quite a number of beautiful spots in the Goat Haunt region that are perfect for camping but with almost no facilities.
Two Medicine Lake
Two Medicine Lake is another region within the Glacier National Park, Montana. There are numerous spots to erect your canvas tent and stay overnight.
Campers indulge in long trekking before retiring in their tents. Boat rides are available in the Two Medicine Lake, one of the top places to see in Montana.
Are there any native Americans still living in this region and in the Rising Wolf Mountain?
Rising Wolf Mountain: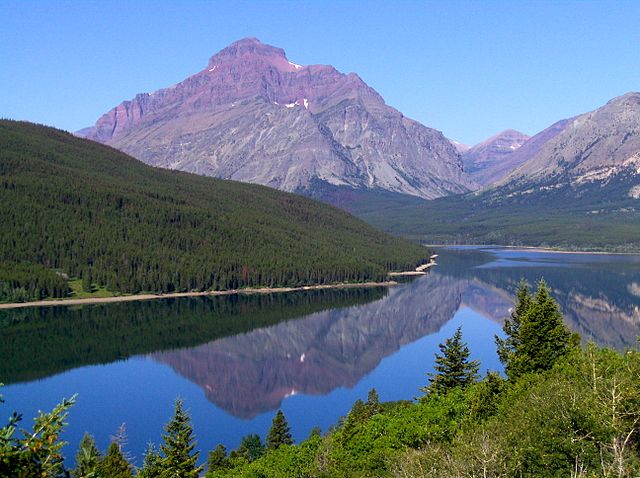 The water body you see in the image above is of the Two Medicine Lake. The summit of the mountain stands at about 9500 feet!
As the background of the Two Medicine Lake is breathtaking, a boat ride will soar your spirits. On the list of twenty top Montana attractions, the Two Medicine Lake occupies the 13th position.
Big Sky
Big Sky is one of the best 15 attractions to see in Montana.  It is part of the Yellowstone National Park. This is a very picturesque region comprising over 300 sq. km. The area is mountainous with thick forest cover. The highest elevation is situated at 7200 feet!
The forest, mountain, and high elevation mean the Big Sky region is ideal for skiing during the snow season and a great place for trekking and wildlife watching.
Big Sky attracts a huge number of adventure travelers and hence, you can find a few ski resorts that offer wonderful summer escapes too.
Gallatin Canyon and the Gallatin River that caused the canyon make the Big Sky a top Montana attraction.
Billings city and the seven spectacular mountain ranges
Billings is one of the large cities in Montana. As you go the outskirts of the city, your guide ill point out the seven magnificent mountain ranges that are:
Crazy Mountains
Bull Mountains
Absaroka Mountains
Bighorn Mountains
Big Snowy Mountains
Beartooth Mountains
Pryar Mountains
Since Billings is a very large city (bigger than Helene, the capital of Montana), you will be naturally attracted to it and in fact, you are likely to stay here during your trip to Montana.
This list may contain only 15 top Montana attractions to see but it might take definitely more than a weekend to see all of them.