est things to do in San Diego, during your vacation holidays. Moving down south some 750 km from San Jose, we arrive at San Diego, the second largest city in the state of California.
The tinsel world capital Los Angeles is 200 km north, towards San Jose.
A big geographical advantage of touring San Diego is its proximity to Mexico.  Only 25 km distance separates the two destinations.
As one of the most beautiful cities, it is a highly visited city in Southern California. It is known for stunning beaches and several natural reserves. We will begin our San Diego tour with La Jolla.
Best Things to Do In San Diego
La Jolla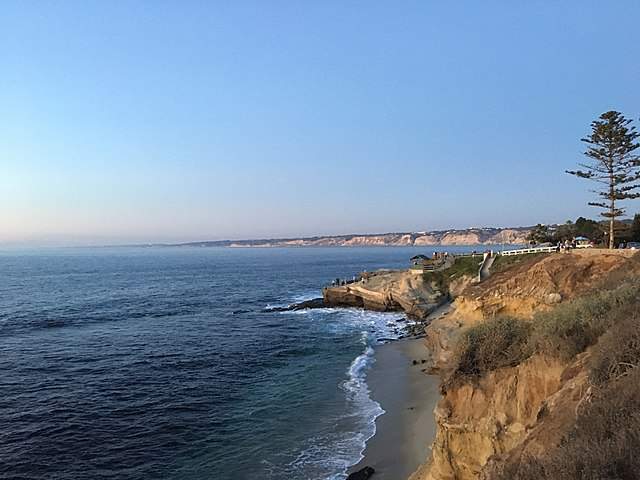 La Jolla is a suburb of San Diego with a beautiful beach. La Jolla is home to the University of California.
The Pacific Ocean in this part of San Diego is gentle and friendly to surfers, divers, oarsmen, and snorkelers. When you see kayakers oars down the major ocean, you can be assured of the kids friendly beaches that run nearly 20 km long.
The Californians even from Los Angeles hit the La Jolla coast during the weekends. It is not that the ocean is much different from Los Angeles but still, people love to find out if there is anything new in a beach that's a stone's throw away from their own backyards-right?
Wildlife (marine lives) lovers generally linger in the beach called La Jolla Cove to sight marine creatures that include the rare 'sea lions',
Sea Lions
Sea Lions don't differ much from Seals which also can be spotted on the La Jolla shores. The small town is full of restaurants, shops, and malls. There are hotels too to stay during the weekend.
Nature lovers would love to spend quality time in the naturally formed 'rock pools' that are visible only during the low tides. These pools are great things to do in San Diego.
Since it was originally a Spanish colony, you can still see their architecture in La Jolla town. Right in California's second biggest county, you can eat some authentic Spanish cuisine. Don't be surprised if you stumble on to a real Spanish Tapas Bar.
Another one of the top things to do in San Diego is the Birch Aquarium in La Jolla. Situated on a cliff overlooking the Pacific Ocean, the large aquarium houses numerous rare marine species that include the penguins! You can spot the ugly Octopuses swimming along with the sharks without any fear.
One more place to have an encounter with marine creatures of Pacific Ocean is the La Jolla Underwater Park. However, you need to shed your fear of water, put on snorkeling gear and float on the water to watch colorful fish species.
Bluffs are geographical phenomenon that you come across rarely. When you go on San Diego tour, you see several 'bluff's in La Jolla coast. They are sandy cliffs that frequently collapse.
For capturing stunning sunsets in your camera, go to Ellen Browning Scripps Park, a place full of the so-called 'bluffs'.
Dramatic Sea Cave exploration in La Jolla, san Diego.
There are a series of Sea Caves in La Jolla. You hop on to a dingy (rubber kayak) and paddle down the sea and enter the cave and come out of it from its exit. Wouldn't that be an exciting adventure?
Torry Pines State Reserve is one of the best things to do in San Diego.
It is a place for trekking and wildlife watching.
I think your weekend will be fully engaged in La Jolla.
Top Beaches in San Diego
Within the city limits, there are numerous beautiful beaches that attract large tourist crowd from other parts of California.
Some of the San Diego beaches are:
Mission Beach
Coronado Beach
Imperial Beach
Ocean Beach
Beaches are always occupied with locals and tourists. It is so much fun to mingle with the boisterous crowd and enjoy the myriad snacks, drinks, and ice creams.
San Diego Zoo
The zoo  is one of the best zoos in the world. It is developed over 100 acres of different habitats for different animals, and birds.
It is 107 years old and houses more than 12k animals and birds.
Children must be taken to the zoo  because, apart from watching the wildlife, they can enjoy a few fun rides and slides.
The zoo authorities have built an app that will facilitate better viewing of the zoo and get to know different activities and events held inside the premises.
Another attraction that is similar to your wildlife interests is the nearby San Diego Safari Park.  Choose one or all the different safaris that include a butterfly safari, gorilla safari, and many more.
You need to allocate one full day to enjoy the Zoo and safari park.
The zoo opens at 9 am and closes at 7 pm. Visiting both the wildlife worlds is a must-do activity during your San Diego tour as you can watch animals from Australia, Asia, Africa, South and Central America.
Some of the deer species are very rare and that include the Chinese Sika Deer, Ugandan Kob, and the Blackbuck.
Don't fail to spot the Bongo Antelope. In fact, it is easy to identify from the picture of it.
Balboa Park
It comprises 1000 acres and houses the world-famous San Diego Zoo apart from different themed gardens, museums numbering as many as 15, and many more.
There are several restaurants, souvenir shops, and numerous parks with recreational facilities.
Being one of the top things to do in San Diego, even two full days are not enough to cover all the Balboa Park attractions. It's a wholesome family entertainer. I would say the Balboa Park demands an exclusive San Diego tour.
Other parks in San Diego that are included in the itinerary of San Diego city tour:
Belmont Park
Sunset Cliffs Natural Park
Pecto Park
San Diego Sea World Tour
How about enjoying a ride in an amphibian vehicle and seeing the wonderful world of marine creatures! It's an important sight-seeing activity.
Cruises in San Diego
The Pacific Ocean has its own charm. Take a tour of it in two different cruises namely, San Diego Harbor cruise and San Diego Whale watching cruise tour.
Ah, there is something cooking for the food lovers. For them, there is a San Diego brunch cruise that lasts for two hours. Champagne is on the house; I mean, it is included in the price.
Hop on and hop off bus tour
The most enjoyable way to explore any big city is to join the bus tour that offers the facility of hop on and hop off at your whims and wishes.
In San Diego it is known as 'trolley tour'.
Little Italy
I have visited a Little Italy in Ottawa, Canada. The small community is full of typical Italian bistros, taverns, boutiques, curios shops. There is one such Little Italy here in it.  Surrounding the Little Italy is a 'plaza', the public square and art galleries.
You cannot miss seeing the sprawling amphitheater and a small dog park. It is recommended to visit the Plazza della Famiglia in the evening.
Sesame Place
This is a children's sector that will engage them fully and kindle their memories of puppet shows and characters.
Lego -Land
No big city is complete without an amusement park-right? It is home to the Legoland, one of the largest chain of amusement parks in the world.
There are as many as 60 rides including a couple of roller-coaster and giant Ferris Wheels. In addition, a water theme park is also present that offers thrilling slides through winding tubes.
And, You can stay inside the resort and extend your sight-seeing one more day because there are movies to watch and an aquarium to visit.
Liberty Public Market
You cannot afford to ignore visiting the large public market full of food courts and drink holes. Further, You can try cuisines of different countries and also buy a few edible souvenirs from a different country. Isn't that convenient?
Embarcadero
This is the bustling promenade in  harbor and bay area.  Shops and dancing fountains will cheer you up if you are feeling dull due to humidity.
Point Loma
It is more of a viewing platform with jagged landscape and sporting a wild look.
Cabrillo National Monument
It points out to the day it was found by the Spaniard called Juan Rodriguez Cabrillo in the year 1542.
San Diego tour has everything you can expect such as beaches, shore walks, wildlife, water sports, amusement parks, food tours, and Pacific Ocean cruises.