Mexico is certainly an underrated tourist landmark in the world. Except for the Americans who know how beautiful Mexico is and visit the large country frequently with their family, other nations in the world show a stepmotherly attitude towards Mexico. Let us discuss 24 best places to visit in Mexico.
I would attribute such negligence to safety aspects in Mexico. Actually, Mexico is quite safe and welcomes tourists from all over the world.
24 Best Places to Visit in Mexico
The country's tropical islands, lengthy Mexican Riviera, rich historical monuments, stunning beaches, colorful festivals, and amazing food are some of the big attractions of Mexico.
National Palace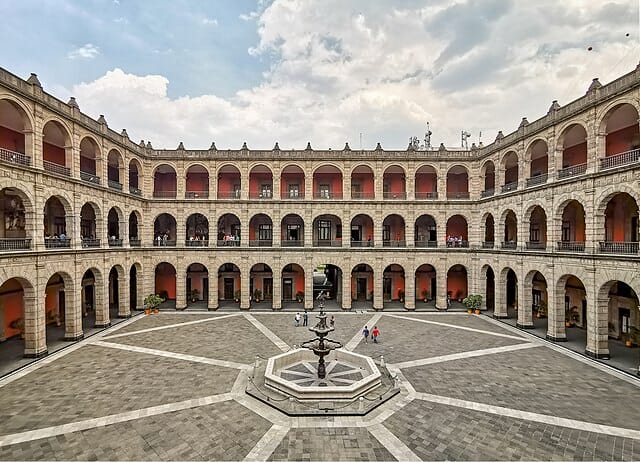 The image of this blog post points to the spectacular building of the seat of the Mexican President's official residence. It is just one example of the beauty of Mexico. The National Palace is one of the top places in Mexico to visit.
The sprawling place fronting the palace is the Plaza de la Constitucion, alternatively known as "El Zocalo". The public square is a people-watching palace similar to all the 'piazzas' in Italy.
Official events and public festivals are celebrated in El Zocalo. Look at one of the halls inside the National Palace.
Isn't it absolutely magnificent?
Paseo Reforma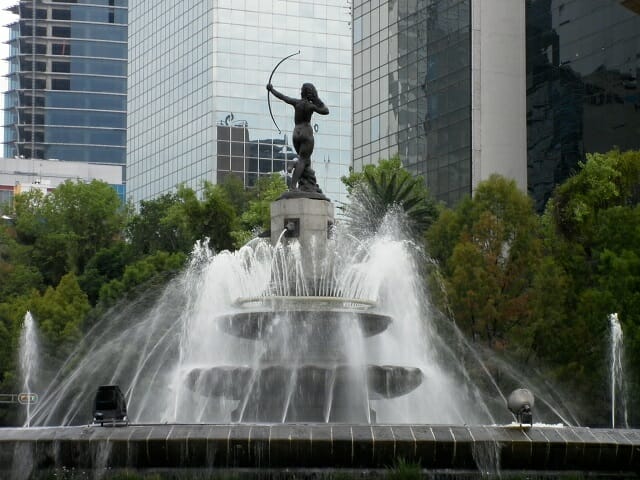 The Paseo Reforma is one of the main places to see in Mexico. The extra-large shopping mall comprising a mind-boggling 1,356,468 sq. ft is located in Nuevo Laredo, a city in the Mexican state of Tamaulipas.
It may be interesting to note the beautiful city is located on the banks of the long Rio Grande, a river that flows for a whopping 3,051  km! The Mexicans call the river 'Rio Bravo' which starts its long journey from Colorado, one of the states of the U.S., and terminate in the Gulf of Mexico.
The huge shopping mall is one of the skyscrapers in Paseo de la Reforma, the arterial avenue in Mexico City.
Church of San Hipolito
This 16th Century church is a big tourist attraction and one of the places in Mexico to see. The old church is part of the skyline of Paseo de la Reforma.
Torre Mayor
It is simply a breathtaking sight to see in Mexico.
You don't have to go to any place to see this top sight in Mexico; it lies in your path as you stroll through the Paseo de la Reforma.
There are 55 floors in this tall tower. The roof is measured at a height of approximately 450 feet!
The unique aspect of this building's design is its resistance to very strong earthquakes (up to 8.5 on the Richter Scale).
Another interesting factor of this tall tower is that it uses only solar energy to maintain all of its electrical needs including the running of as many as 29 elevators!
Angel of Independence
You can't miss it, boss! It lies in the center of Paseo de la Refoirma. The Angel of Independence is a clear symbol of victory for Mexico in the war of independence against Spain.
Zona Rosa
If you are part of any guided tour of Mexico City, you will be certainly taken to this important shopping region in Mexico city. Nightlife in Zona Rosa is vibrant. It is one of the tourist landmarks in Mexico City.
El Tajin
What a beauty! The El Tajin pyramid is one of the top places in Mexico for tourists. It is truly breathtaking.
UNESCO has awarded this site as one of the World Heritage Sites in the world.
To take a picture of this magnificent pyramid, you have to go to Poza Rica, a city near the coast of the Gulf of Mexico. The distance from Mexico City is 270 km.
El Castillo
Surprisingly, this temple belongs to the Mayan civilization period. Today, this step pyramid is located in the Yucatan region.
This temple's name is Kukulcan, pointing to a serpent that is defied by the Mayans between the 8th and 12th Centuries AD.
To see one of the top tourist landmarks in Mexico, you have to travel nearly 150 km from Mexico City toward the Yucatan peninsula.
Puerto Vallarta
Some of the beaches in Mexico are madly loved by the Americans. They are always sun-starved. Anything sunny such as a beach becomes their favorite hunting place.
Puerto Vallarta is one of the best beaches to see in Mexico. It lies on the western side of Mexico, facing the majestic Pacific Ocean.
Once a foreign beach becomes a haunting place for American tourists, it is soon developed well with beachfront resorts, high-end condominiums, holiday rentals, and restobars.
Puerto Vallarta is no exception. To cater to the tourist mainly from California, Seattle, Phoenix, and Texas, this beach city has no dearth of luxury resorts and hotels.
Even the Canadian residing on Canada's western side are regular visitors to this beautiful beach city with a lovely skyline facing the beach.
Another important thing to note is Puerta Vallarta commands a stop from the cruise ships roaming the Pacific Ocean.
Among various things to do in Puerto Vallarta, is a stroll along the long promenade that is teeming with busy activities because of shops selling curios, bars, nightclubs, and restaurants.
Being an internationally famous beach resort city, you can find several water sports including the low-risk parasailing activity.
If you are used to eating raw seafood, you will have a great day eating raw shrimps and scallops that are served with onion rings and jalapenos. This particular dish is Mexico's favorite and is called, 'Ceviche'.
Best Things to  in Puerta Vallarta Mexico:
One of the activities in Puerta Vallarta is a visit to the neighboring (8 km) islands that are uninhabited. These small islets are called Marieta Islands drawing quite a several tourists and marine life lovers.
It is a protected reserve for marine creatures. Being uninhabited islands, there are beaches hidden from views that are haunted by lovers and just married couples.
If you want to know one such beach, there is a 'love beach' that is also a secret beach.
Make a note of it, folks! Who knows, one day you might go there.
Nuevo Vallarta
If you find Puerto Vallarta expensive, head to Nuevo Vallarta, another beautiful beach city near the former.
Once you reach the Puerto Vallarta airport, hire a cab to Nuevo Vallarta. The road trip takes only 15 minutes from the airport. This resort town also is equipped with beach-facing hotels and shopping malls.
Acapulco
Similar to Puerto Vallarta, Acapulco is another beach city in Mexico. It is one of the must-see places to see in Mexico. Nonetheless, you are not likely to miss it as many organized tours of Mexico beaches would include a stop here. This Pacific Ocean beach town is also a favorite docking point for the big cruise ships in spite of the long distance from Mexico City (380 km ).
It is one of the 'balnearios' in Mexico. That implies Acapulco is a 100% beach resort city. All through the day and into the late-night, there will boisterous crowd singing and dancing on the beaches with absolute gaiety.
Los Cabos
Officially, it is known as Los Cabos Corridor. It is part of the Baja California Sur, one of the Mexican States, facing the Gulf of California.
As a coastal city, it is a big beach resort town and a favorite haunting point for the Americans residing on the west coast of the U.S.
One more attractor factor of Los Cabos is golf. There are a few golf courses that pull elite businessmen and Hollywood stars to Los Cabos Corridor.
Ixtapa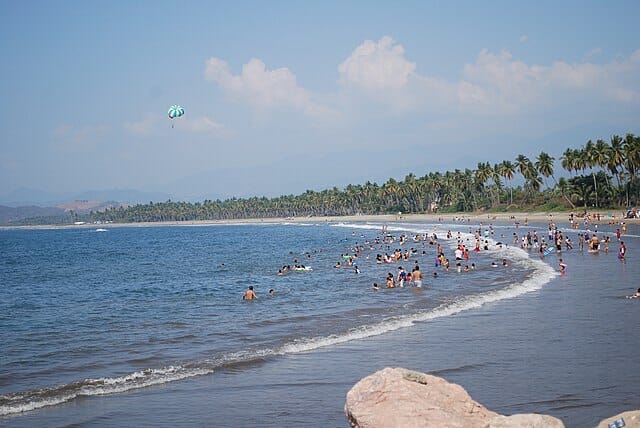 Ixtapa is another one of those terrific tourist landmarks in Mexico that you will invariably visit if your goal is to enjoy Mexico to the hilt.
From the image above, you can deduce it is uncrowded. That's the sole reason for the tourists to visit this Pacific Ocean beach city.
The popularity of this coastal city is evident in that several American cities operate flights to Ixtapa. Even Canada operates flights to this Mexican tourist destination.
Zihuatanejo
It lies adjacent to Ixtapa. Therefore, Ixtapa is always mentioned as Ixtapa and Zihuatanejo.
It is one of the breathtaking beach towns on the Pacific Coast. The resorts are ultra-luxury type and the beach is not at all crowded.
The Playa La Ropa is one of the beaches in Zihuatanejo. Look at it below and you will justify why it is rated as one of the most beautiful beaches in the world.
I could count as many as 12 beaches with some of them devoid of waves. Such lagoons are great for snorkeling, kayaking, and swimming.
The mangrove forests along these waveless beaches are ideal for bird-watching. A quickly spottable bird is the attractive 'brown Boobie' whose beaks and webbed feet are yellow.
When you are roaming this region of Mexico, allocate some time to go to Isla Ixtapa, a small island near the shores of Zihuatanejo.
Monarch Butterfly Biosphere Reserve
Aren't we all fascinated by these colorful winged creatures? Some of the butterflies are blessed with colors that are beyond the human mind's visualization.
The monarch butterfly is commonly seen everywhere in the world and thus easily identified.
The large Monarch Butterfly reserve in Mexico is located about 100 km from Mexico City. Several millions of them come here from various places in the U.S. It is a wonder that these butterflies belonging to a particular species identify a reserve that is exclusively created for them.
Even UNESCO has declared this place a World Heritage Site.
Cenotes in Mexico
Tell me, aren't you taken aback by the beauty of this site?
A 'cenote' is a sinkhole that is naturally formed. I think they are meant exclusive for us humans to appreciate their awesome beauty.
There are several places to visit in Mexico where you can enter a cenote and sim. The water will be surprisingly cool and fresh.
The Yucatan Peninsula region is famous for cenotes and they are the naturally beautiful places to see in Mexico.
As a matter of fact, there are as many as 6000 cenotes in Mexico's Yucatan region.
It is difficult for a tourist to Mexico to know which cenotes are easily accessible. Therefore, join an organized 'cenotes tour'.
Here is how you can enjoy in a 'cenote'.
Popocatépetl volcano
Viewing a volcano from a distance is a sight that we won't forget. If that volcano had just erupted or is in the process of erupting is much more memorable. Move a little closer and you can smell the burning lava.
Mexico has 48 volcanoes.
Mexico's Popocatépetl volcano is now the talk of the town because it erupted just a year ago. No one was hurt.
The smoke you see in the image above was captured when the volcano was spewing molten lava all around from its crater.
The crater (the mouth of a volcano) stands at a height of 17000 feet.
If you are excited to see an active volcano when you are touring Mexico City, you can hire a taxi to see it. It is located 70 km from the city. I know it is difficult to pronounce the name of the volcano. Just call it 'El Popo'.
Maya Riviera
As you can see, there are many several small towns along the Mexican east coast (Gulf of Mexico) that make up the Maya or Mexican Riviera.
These are beach resort towns that are known for fantastic beaches, luxury hotels, and a range of Mexican and Spanish food.
Americans flaunt these resort towns for the sun and sand. Starting from the high-traffic Cancun and ending at Tulum, the Mayan Riviera is one of the top places to see in Mexico.
In fact, the majority of the Mexican tourists' destination is the Riviera. Among the various resort towns, Cancun and Cozumel islands are the most sought-after tourist landmarks in Mexico.
In addition, the small fishing villages that turned into resort towns contain most f the ruins of Mayan civilization.
Underwater Museum
One of the biggest attractions in Cancun is the underwater museum where the submerged statues can be seen and touched if you are a scuba diver.
Even the exotic fish species and stingrays are likely to be ignored by you. You will be spellbound by these statues that are said to protect the reefs and fishes.
You cannot expect to see such a large underwater museum in the world. As soon as you reach your resort in Cancun, you can book your boat tour to Cancun Underwater Museum. Your hotel staff will arrange your boat tour in Cancun.
The boat will have a bottom deck that is covered with glass all around. You can easily descend the steps down to enter the submarine deck. Once there, you will forget where you are for the next thirty minutes. You will be taken to an alien world. It is an unforgettable trip and it will be a lifetime experience that you should not miss.
Scuba divers can touch these statues and ask another diver to take a picture of you standing amidst the sculptures.
Alternatively, you can wear a snorkeling mask and explore the sea. If you are a novice at snorkeling, you are given training on the spot.
Cancun is the number destination during your tour of the Mexican Riviera.
Copper Canyon (Barranca del Cobre )
All in all, six rivers have caused the formation of this breathtaking canyon in Mexico. The copper-colored walls of the rock gave the canyon its name.
I read that Copper Canyon, one of the top tourist landmarks in Mexico is larger than the Grand Canyon.
You have to reach the Sierra Madre Occidental region to see the copper canyon. It is somewhere northwest of Mexico City, some 1200+ km away.
The train journey is the most scenic and easy option to the copper canyon. The train journey that lasts about 13 hours begins from Chihuahua near Mexico City.
If you have the time to ride on this train, the spectacular landscape will make you scream loud. Watch the video till the end and you will agree with me.
Once you reach the site, you can rent a bike to go around the wilderness. Alternatively, you get on a horse and tour the region.
Guanajuato City
You have to either drive or ride a bus from Mexico City to Guanajuato City. The distance between the two points is 360 km.
It is a historic city existing from the colonial era. The entire city is located in an abyss. The narrow alleys, plazas (public squares), and colorful old houses would keep a historian cheerful.
There is more for a history buff in the form of a museum of mummies.
Have you ever seen a mummy? Here, take a look at a mummy.
You need two full days to explore and admire Guanajuato City. I think it is suitable for the Californians to take an exclusive holiday in Guanajuato City due to its proximity.
El Arco
I think we are all familiar with this natural rock arc in the sea. We have seen the pictures many times but never knew its name-right?
The arc's official name is Cabo San Lucas. Yes, it is also the name of a city in Mexico's Baja California Sur, one of the Mexican states. This stunning rock formation is at the starting point of the Gulf of California from the southern side- a tip of the Baja California Sur. From further south, the Pacific Ocean begins.
The map below will reveal the location more clearly.
Here is another view of Cabos San Lucas.
It is fondly called the 'Land's End'.
El Arco can be accessed by foot from either side of Lovers Beach and Divorce Beach.
Teotihuacan
It is the site of a pyramid known as the Pyramid of the Moon. Teotihuacan was constructed in the Mesoamerican era and is one of the important tourist landmarks of Mexico.
It can be reached in an hour from Mexico City. It looks magnificent from a distance.
Tamul Waterfall
After seeing a video clip of the mind-blowing waterfall in Mexico, you are likely to search further and end up booking your cheap flight tickets to Mexico.
Well, am I right? Are you already contemplating a trip to Tamul waterfall?
This extraordinary waterfall is situated in the state of Tamaulipas. The actual location is 640 km northeast of Mexico City.
To sum up, Mexico has some breathtaking attractions that demand an exclusive two-week holiday in the country.
Mexico City itself will demand four days. Its state, Baja California Sur may consume another three days.
It seems you have to visit Mexico twice in your lifetime.