There are so many things to do in Los Angeles, that you need a full week to see around the city. Los Angeles's nightlife itself demands all of your 7 nights of your week-long vacation.
Los Angeles, the capital of tinsel world and the city of world's top celebrities, is part of the state of California. It is located near the shores of the Pacific Ocean in southern part of California.
The nearest beach to Los Angeles downtown is Santa Monica at 26 km east.
Los Angeles, abbreviated as L.A. is America's second largest and the busiest city, next to New York. Moreover, L.A. is one of the most visited cities in the U.S.
The beaches in L.A. will engage you so much more that even a beach-hater will be seen lingering on the beach till late evening.
There are so many art galleries, museums, high-end residential areas, hundreds of bars and restaurants, parks, shopping arcades, and so on that, you will have to start your day early at 7 am daily!
25 Best Things to Do in Los Angeles
Let us go over the list of things to do in Los Angeles and browse at the big list of attractions in L.A. to see.
Getty Center
As a tourist to Los Angeles, usually your first day starts by visiting most of the tourist landmarks within the Hollywood city  before you start seeing the other attractions in Los Angeles that are outside the city.
Getty Center is a large complex of buildings hosing museums of arts, paintings, drawing, sculptures and even manuscripts.  It is a beautifully landscaped building complex where you have much to see and appreciate something outside the museums.
Getty Center sits on a small hillock from where, you will see the beautiful Los Angeles. From the basement parking lot, a unique cable car will whisk you to the top of the hill for viewing the city.
Disney Land Theme Park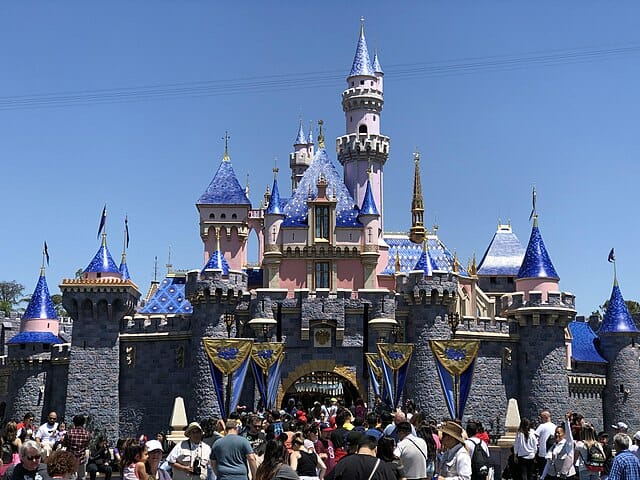 It is inevitable-right? Irrespective of your age, you will find yourself waiting impatiently in the lines at the entrance of the famous Disney Land Resort.
It is rightly called a 'resort', as there are hotels inside the sprawling campus for overnight stay. People do stay there because, one day is not sufficient to enjoy all the attractions of the world famous Disney Land.
Inside the resort is the Disney California Adventure where you enjoy all the mind-boggling rides with your family. Disney Land, one of the foremost attractions in Los Angeles is 50 km south of the Hollywood city.
Griffith Park
Griffith Park is slightly away from the city in order to accommodate the Los Angeles Zoo and a few other prime attractions in Los Angeles.
Of the many things to do in Los Angeles, vising the Griffith Park is very important. Inside the sprawling park is housed the zoo.
As you enter the zoo, you can pick up a brochure containing all that you should not miss that include:
Chimpanzee
A termite Mound
Gorillas
Asian Elephants
Chinese Water Deer
Sarus Crane
Rainforest comprising 560 sq. meters
Dart frogs that are classified under 'poisionous frogs'.
An artificial river within the forest that serves as a habitat for several underwater creatures that include Chinese Giant Salamanders, Fly River Turtles and a few species of rare fish from Australia.
You can spot a few rare snakes. Housing them and preserving them in a man-made rainforest is quite an achievement.
Tortoises from the exotic Madagascar
Orangutans
Several rare monkeys that you don't see in many zoos.
They include:
Uakari Monkey
Howler Monkey
Cotton-top Tamarin
Colobus Monkey
A scary looking spider that come under 'bird-eating spiders'.
In addition, you can spot numerous bird species including the colourful Toucan, African Spoonbill, and Black-necked Swan,.
Apart from these amphibians, reptiles, birds, and mammals, there are several more wildlife living within the zoo complex. If you are an ardent wildlife enthusiast, you need to allocate a full day at the zoo alone. I guess, you will come back the next day too to ensure, you have not missed capturing any wildlife in your camera.
Hollywood sign
I think it is visible from several parts of Los Angeles because of the sign was erected on a cliff in Mount Lee.
Seeing the Hollywood Sign is considered one of things to do in Los Angeles. The Mount Lee on which the sign is placed is located within the Griffith Park.
Originally, the big sign read "Hollywoodland". Sometime in 1949, the 'land' was shed.
If you interested to go near the steel sign, you can do so. Ask around for a way to go up the hill.
Branson Canyon
Branson Canyon is one the major attractions in Los Angeles and it can be accessed from the Griffith Park itself. I think it is from here only you can hike up to the "Holloywood" Sign. Branson canyon (don't imagine anything similar to the Grand Canyon) is a favorite location for film-makers.
Within the Griffith Park are a museum of American West, and an observatory, a sort of viewing platform of the city. The telescope facilitates distance viewing the sky and its inhabitants.
Amphitheatre
Within the Griffith Park, is a sprawling open theater and is named Greek Theatre.
La Kretz Bridge
Walking over the La Kretz Bridge is one the things to do in Los Angeles. Well, you will do that anyway when you are going around the Griffith Park within which, it is built.
The bridge is built over Los Angeles River.
Railway Museum
Anything to do with a train or even an abandoned railway station or the remains of a railway line arrests our attention.  There is a railway museum within the Griffith Park.
It seems, we have to visit the park two consecutive days of not three days to see all the attractions.
Venice Beach Boardwalk
The buzzing Venice Beach and its boardwalk is one of the most important attractions in L.A. You can imagine busy such a public watching place will look like in a city of mammoth popularity.
There are numerous cafes, bars, shops, nightclubs, and even tattoo studios.
I think one can do anything he/she pleases to do such as cycling, roller skating and showing a bit of acrobatics. Overall, it is a fine and sunny place to be and certainly visiting the Venice Beach is one of the fun things to do in Los Angeles.
Murals
The walls wear murals of multicolors depicting myriad things and humans. If you care a bit for such local talent, you will be quite amused. In addition, you may learn a bit about the local culture and some history too. Murals peaks to me. They expose what was going on the mind of the artists who displayed his skills.
Gifts and Souvenirs
Cheap memorabilia such as wall-hangers, stickers, books and numerous paraphernalia are on sale on the sidewalks of the boardwalk.
Some worthwhile pickups can include cheap sunglasses, t-shorts bearing slogans, and figures, seashell jewelries, etc.
Muscle Beach
It is a famous landmark in Venice Beach, one of the biggest attractions in Los Angeles. Muscle Beach is an open-to-sky gym where you can spend some time looking at various gym machines and equipment. It has been in existence over 70 years.
More things to do in Venice Beach:
There is a skate park where the locals enjoy and lure visitors to join them. If you have that skill, please take a pair of your rollers. Alternatively, you can rent them out at one of the outlets there.
Segway is an exciting on-shore ride. I enjoyed it in Singapore's Sentosa Island. Segway can be hired and practiced on the boardwalk. It is thoroughly enjoyable.
Play basketball, volleyball and tennis with whoever is at the respective courts.
Water sports are available at the beach. Wave-surf boards, body-surf boards are rented out in sidewalk platforms against a deposit. Here, body-surfing is called 'boogie boarding'. Below is a video of boogie boarding.
Roof top bar on the Venice Beach is always full. Unmindful of the hot sun, tourists boisterously sip beer, gazing at the Pacific Ocean and waiting for the sea breeze to set in by 2 pm or a bit earlier. Look for the signboard of 'Hotel Erwin" and go upstairs for the open-to-sky bar.
The length of the Venice Beach is 3.5 km. It is located some 30 km away from L.A. It is free to enter the boardwalk.
Among various things to do in Los Angeles, you have just spent almost a day at the Venice Beach. It is a day well spent, man.
Venice Canals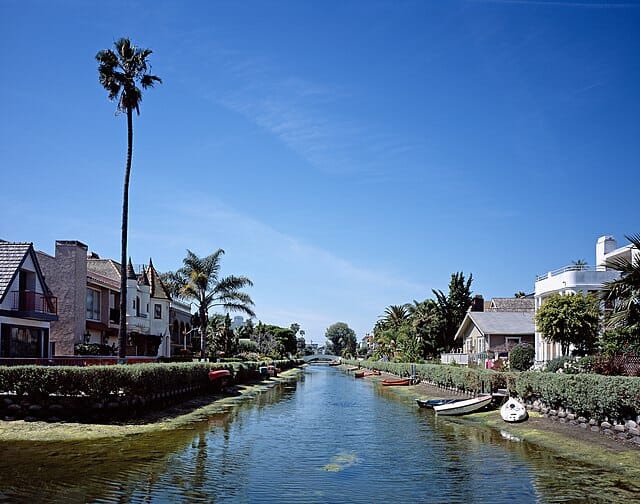 Hey Americans! You need not spend a fortune to go all the way to Venice, Italy to enjoy boat rides on the canals fed by the backwaters.
A replica of Venice's canals is right there in your own country. It's just a short distance away from the highly-popular Venice Beach in Los Angeles.
Hollywood Walk of Fame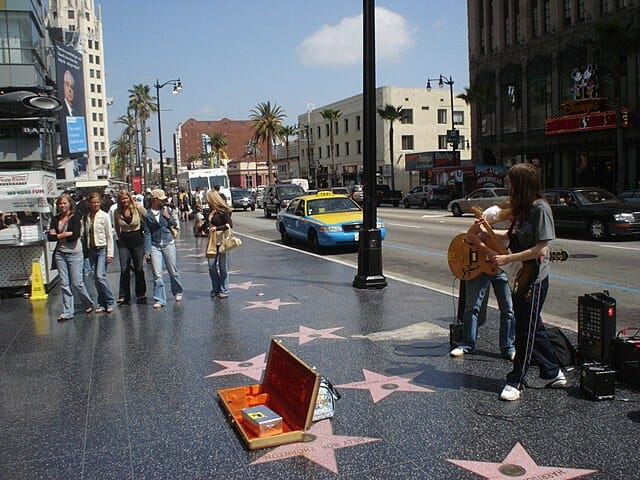 One of the must-do things to do in Los Angeles is to walk on the Hall of Fame or the Walk of Fame.
You are in Hollywood city and naturally, you have to see all the things to with it while you are touring Los Angeles.
The brass-colored stars that you see on the sidewalks (see the picture above) bear the names of eminent film personalities that include actors, directors, music composers, and producers.
Numerous stories are circulating about the Brass Stars and they give you a something to brag about in parties.
Warner Bros
How many pictures we have seen that were produced by the legendry Warner Bros! You would have never thought one day you will visit their film production studios in Hollywood.. I am sure it would be one of the most memorable things to do in Los Angeles.
Warner Bros production facilities are located about 20 km away from Los Angeles. Be prepared to allocate half a day as the tour of the studios will take 3 hours. Oh, there will be a waiting time too, buddy!
Universal Studios
Visiting another big name in Hollywood is one of the things to do in Los Angeles. You have already visited Warner Bros. So, you know what to look for in Universal Studios.
The biggest attraction inside the Universal Studios is where the Harry Potter serials are shot.
The Universal Studios is located in a huge area. There are several fun rides including an educative train ride that lasts almost 60 minutes! The train is called the "Hogwarts Express". It is going to be your ultimate day there.
Pacific Park
Pacific Park, one of the prime attractions in Los Angeles, is a theme amusement park. It is located in Santa Monica, a coastal city, 28 km west of LA, facing the Pacific Ocean.
You can expect the usual adventurous rides including a very big Ferris Wheel and the scary roller coaster.
There are exclusive rides for children alone and some rides are meant for the entire family.
Too many rides, games, eateries inside the Pacific Park that will make you to allocate one full day there.
LA's botanical garden
It is not only a botanical garden that usually consists of numerous flowering plants and a few trees. This is also an 'arboretum' which means, the place is planted with numerous trees of different species. Such trees wear totally differently colored leaves in the autumn, just before they shed their leaves.
This terrific, large garden is one of the biggest attractions in L.A. The whole site comprising 127 acres is located on San Gabriel Mountains.
Inside the botanical garden is a lake called Baldwin Lake, a fountain, a pond, and an elegant cottage built in Victorian style.
Some of the scenic landmarks that you should visit as part of the things to do in Los Angeles:
Mulholand Drive
It stretches for a whopping 34 km arterial road at the foothills of Santa Monica Mountains. Several important streets and boulevards of L.A. meet this long stretch.
If you drive through this road, you will see a stunning view of the L.A. downtown, San Fernando Valley, and even the Hollywood sign.
Accompanied by a local guide, he will point out at the palatial hoses of several Hollywood celebrities
Santa Monica Mountains National Recreation Area
Terrific sight! This large national recreation area is located on the outskirts of L.A. Nearly 650 sq. km area is earmarked for the national recreation region.
What can you see in this area?
Quite a lot of walking and trekking trails.
Balance Rock
Westward Beach
The Government keeps expanding the recreation area and developing park after park that are quite picturesque.
Visiting this national recreation area is one of the best things to do in Los Angeles.
The Broad
It is a uniquely shaped huge building in L.A. and houses a museum of art of which, the Americans are passionate.
Beverly Hills
One of the most coveted places to live and dine in L.A. is Beverly Hills where only the most affluent people live. L.A.'s top hotels are located here.
Rodeo Drive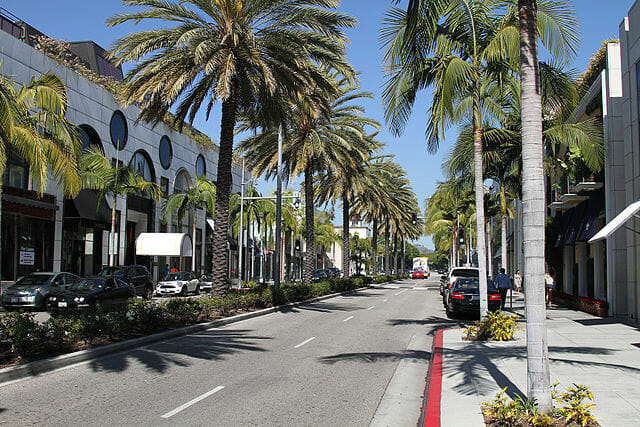 Rodeo Drive is a shining example of elite residential neighborhoods in L.A.
I am sure you would have come across the word, "Beverly Hills" before. It is a high-end place where the stars of Hollywood reside.
Rodeo Drive is one of the streets in Beverly Hills. On this street, you can find some of the world's leading boutique shops.
Both the above are important tourist landmarks in L.A. and taking a drive through them is one of the things to do in Los Angeles.
Beverly Hills is similar to the Cannes in France.
Hollywood Bowl
It is an amphitheater in L.A. And, It can seat 17,500 people at a time. It is where major music events take place.
Peterson Automotive Museum
Can you ignore such a wonder? You may not be interested in the museum but certainly, you can stand outside this terrific building and admire its architecture-right?
Walt Disney Concert Hall
It is another one of the futuristic landmarks in L.A. I think anything that is to with Walt Disney will make us sit up.
Sunset Boulevard
It is a 35 km long street that is the scene of numerous film shootings. There are too many important buildings, shops, and parks on either side of the road. Driving along the Sunset Boulevard is certainly one of the exciting things to do in Los Angeles.
Top Beaches in L.A.
Beaches are one of the obvious attractions in Los Angeles. You have already seen the Venice Beach. Other highly visited beaches in L.A. include:
Long Beach
Zuma Beach
Paradise Cove
Santa Monica Beach
Point Dume Beach
Malibu Beach
Laguna Beach
You can visit a few of the above beautiful beaches in and around L.A.
I am sure I might have left out another 25 top things to do in Los Angeles and they command more of video depictions.