Can you see the best of Greece in just 5 days?
Visiting Greece is the dream of majority of us. It's extremely rich history, incredible temples of Greek Gods and Goddesses, big museums, the beautiful Greek islands in the Mediterranean Sea, Aegean Sea, and Ionian Sea, diverse Greek culture, lakes, forests, and above all the exotic Greek cuisine, make us yearn for a long holiday in Greece.
However, can we see all of Greek attractions in a week? No is the answer. But we can see 50% of the best sights just in 5 days. Still I doubt it will be a satisfactory tour of it.
In this blog post, I will list out the most important places and islands to see in Greece in just 5 days.
I limit the description of the tourist attractions in Greece so that they will look new and fresh when you physically stand in front of them.
The best time to visit Greece
I would say it is an 'anytime visit' holiday destination. Maybe some island hopping may not be possible during monsoon but that would be wonderful if only the boats and ferries are operated.
Where do you head to Greece first?
Athens, of course! It is the Greek capital and is pretty well connected with international flights.
The Greek Islands are the favourite stops of major cruise ships. It is possible to see the mainland of Greece if you opt for a Greece cruise package tour. Piraeus is the busiest harbour in Athens.
Best of Greece in Just Five Days
Since Greek Islands tour in a cruise ship is highly popular, Piraeus port is the busiest of all the harbours in Europe.
Let us begin to explore the top sights in Greece in five days, assuming you are staying in a hotel in Athens.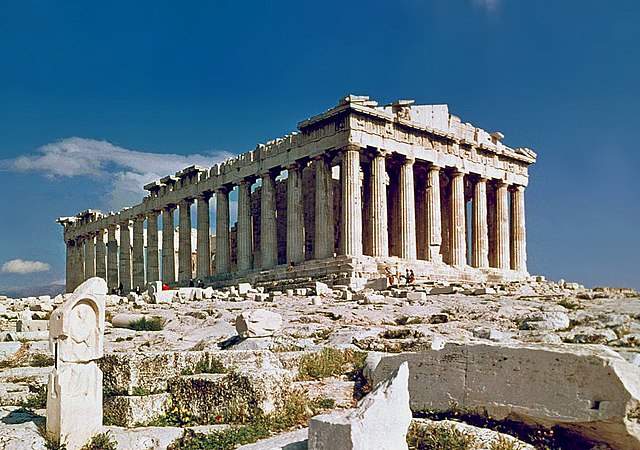 Does that look familiar to you? We all have seen it in films, and on the web. It is iconic of Greece and is the number one tourist landmark in Athens.
This ancient Greek temple in the Athena Acropolis was dedicated to the Goddess of Athens called, "Athena".
Invariably, this is the first stop for all the tourists to Greece because, you simply cannot say, "I had been to Athens but did not see the Parthenon due to lack of time"> It is like visiting Canada and returning without seeing the spectacular Niagara Falls.
Delphi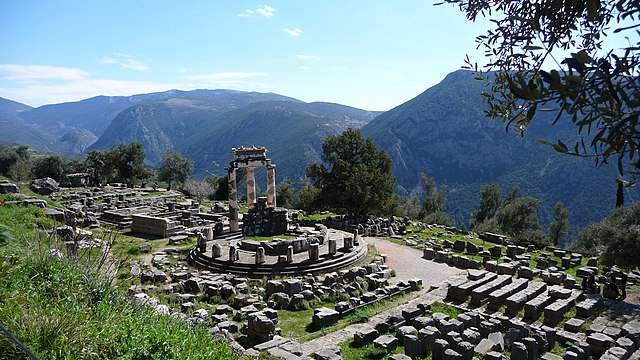 Delphi is the site of several temples built in ancient Greece. When you visit such historic sites, you will really feel a part of the history. A weird sense of pride will enshroud you.
You will hear the words, 'Apollo', 'Tholos', 'Oracle', 'Pythis' and many more from your local guide.
The Greek mythology is one of the most interesting and incredible subjects in the world.
Acropolis Museum
It is another important place to see in Athens, during your tour of Greece.  The Acropolis Museum is rated as one of the most important museums in the world and that makes it one of the must-see attractions in Athens.
Acropolis is frequently found in the list of top 100 beautiful places in the world.
Roman Agora
These are only the ruined remains of the erstwhile Roman architecture. Can you believe even Greek was under the Roman Empire once?
These four major sights in Greece can be seen on your first day in Athens.
Best of Greece in Day Two:
Since we were on our legs most of the day on our first day of tour of Greece and experienced quite a lot of evocative feelings, we will treat ourselves by undertaking a food tour of Athens.
Greek is the land of olives, herbs, spices, and cheese.
Some of the must-eat Greek foods in Athens.
Saganaki-a fried cheese dish that is served as a starter.
Dolmades-meat and rice stuffed in grapes leaves. Grape leaves? Must try this exotic Greek food in Athens.
Souvlaki-a kind of wrap containing grilled pork sticks, tomato, and onion.
Souvlaki is also called 'gyros'. Both the words sound Greek to me.
You can eat it in one of the so called 'Greek Taverns'. Taverns are the modern-day  'Restobars', where liquor and food are served.
Lathera-vegetables and meats cooked and served as skewers.
Greek Salad-you cannot escape without eating the famous Greek Salad that the Five-star hotels charge heftily.
Cheese and vegetables seasoned with Oregano and Olive oil.
A kind of bean soup with other vegetables and olive oil. Olive oil is ubiquitous in Greek cuisine.
Your Greek food tour will get over during the first half of day 2 in Athens.
The second half can be usefully spent by seeing the following, very important Greek attractions.
Temple of Olympian Zeus
This is again a familiar sight that we have come across quite often.
Zeus was the God of Sky and Thunder for the ancient Greeks.
It is a huge temple complex located in the heart of Athens city. The ruins belong to the 5th century before the advent of A.D. period.
Panathenaic Stadium
What a colossal stadium! I am sure there is no match to this immense and immaculate building.
Can you believe this multi-purpose stadium is entirely made of marble stones? It can accommodate 50k peoplw.
It is where the first Olympics games was held in 1896.  Only from this Panathenaic Stadium, the Olympic Torch (Flame) will leave, to be handed over to the country that hosts the Olympic Games and Sports.
Shopping in Athens
Finally, you can indulge in shopping that you would be looking forward to on day two.
The most visited shopping area in Athens city is Monastiraki Flea Market. Frankly speaking, you are very like to exhaust your credit card limit here; so be watchful of your spending spree.
What can you buy in Athens's biggest flea market?
Handicrafts
Antique times
Jade jewellery
Dress materials
Paintings
Gootwear
I think the most purchased memorabilia are Greek antiques.
Please do not forget to haggle over every item you intend to buy.
Best of Greece in Day 3 and Day 4
On Day 3 and 4, we go to visit a few important and large islands in the Aegean Sea and Ionian Sea.
This is the most visited Greek Island and is floating in the Aegean Sea, the east coast of Greece. Aegean Sea is part of the Mediterranean Sea. There are about 2000 islands in Aegean Sea. Please be aware that Greece has 6000 islands.
Delos
Passionate people who are keen about anything Greeck that includes Greek history, Greek Mythology, and ancient Greek culture and beliefs, would not budge from the Delos Island easily.
Their interests would be kept alive by the numerous archaeological sites, museums that deal exclusively with ancient Greek customs even before the advent of Apollo.
Overall, Delos Island is to be viewed as a sacred place during your tour of Greece.
It is also a UNESCO World Heritage Site.
Mykonos
Mykonos is a Greek Island that attracts quite a number of tourists through cruise ships. Usually, when you are taken to Mykonos Island, you will also visit its neighboring islands namely:
Mykonos's white sand beaches are beautiful and are perennial holiday destinations. Here is one of the beaches with a pier.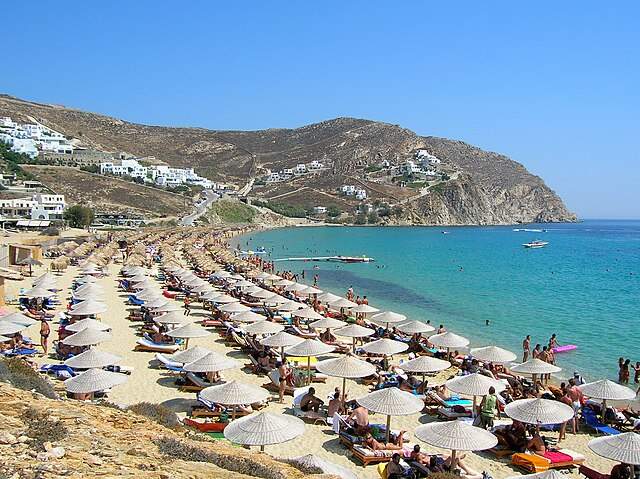 As soon as you step on to Mykonos, you will be swept apart, literally by the strong and gusty winds. Due to this strange weather conditions, Mykonos has numerous windmills that use the wind to generate precious electricity.
If you have ever heard of the Greek dessert "Baklava", you should eat it in Mykonos Island.
If possible, try to visit one of fishermen's houses in Little Venice town. When you are allowed, go straight to the balcony that seems to be hanging over the Aegean Sea.
Aegina
Aegina Island is facing the Saronic Gulf. It is one the closest islands to Athens, A fast boat will deposit you on the Aegina Island in just an hour. The island is on the west coast of Greece.
Aegina is an important island for the cruise ships. Those who tour Greece with a longer duration will stay overnight in Aegina. There are plenty of things to do in Aegina.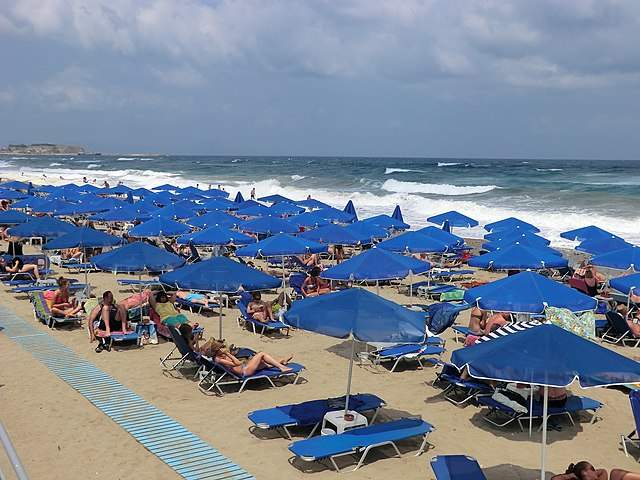 Rhodes
Rhodes's iconic landmark is the Colossus of Rhodes, a statue dedicated to Helios, the Greek Sun God.
It was in the ancient list of 7 wonders of the world.
Rhodes is a highly visited Greek Island and is a must-visit place during your tour of Greece.
Crete
Crete is an important island in Greece and is also the largest of all islands in Greece.
Crete is considered as the mother of modern European civilization.
Best of Greece in Day 5:
Meteora
This fantastic rock formation is one of the Greek attractions and is usually included in your itinerary of Greece, however short your duration of visit to Greece.
Meteora is known for the inaccessible Mount Athos and the orthodox Greek Monastery built on it.
It requires one full day to visit, because, the travel time on either direction involves 8 hours of train journey.
Meteora's numerous monasteries and their unique architecture earned the status of one of the World Heritage Sites awarded by the UNESCO.
I have listed out the best of Greek attractions that you can see if you opt for a 5-day tour of Greece.