15 terrific Bali hidden gems, those are lesser-known are covered here in this blog post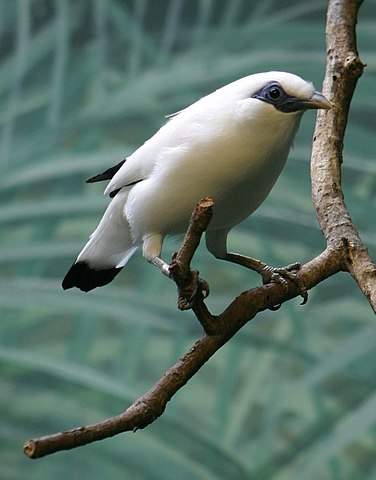 That is Myna, an endemic bird to Bali Islands. There are such very beautiful sights in Bali that the majority of the tourists to Bali don't bother to see.
They quickly see some beaches, visit a few Hindu temples, view the terraced rice fields, and bid good bye to Bali.
Bali Hidden Gems: 15 Stunning Bali Attractions
Bali Island is not to toured in haste. You have been dreaming about Bali for a long, long time. Finally, when you set afoot in that spectacular Indonesian Island, you should spend only the night in your resort room.
The rest of the time, you should be out in the open, eating local food in tiny make-shift restaurants, or go wild on sightseeing excursions.
You either hire a Bali guide or read this blog post fully to get to know some of the breathtaking attractions in Bali that include:
Hidden beaches,
Rare bird watching
Spectacular waterfall
Sea Caves
Bali's countryside
National Parks
Nearby small islands
Lakes
Cliffs that act as viewing platforms
The list goes on and on. Have patience and peruse the list of lesser-known natural attractions in Bali.
Waterfalls in Bali
Dusun Kuning Waterfall
It is truly a hidden gem of a waterfall in Ubud city. The water falls from a height of 82 feet.
The Dusun Kuning Wtaerfall is set amidst dense jungle that acts as a habitat for several birds, and animals, including the Grey Monkeys.
You have to walk through a bridge, and climb down a long staircase to reach the roaring, real tropical waterfall.
Taman Beji Griya Wterfall
Actually, this place was known for a sacred Hindu temple. The hidden Taman Beji Griya waterfall was found only later.
Since, it is more of a tourist attraction for the waterfall than a spiritual pilgrimage center, you urge your guide to take you to the Taman Beji Griya Wterfall.
The temple is called Taman Punggul Abiansemal.  From Denpesar airport, the Taman Bejo Griya Waterfall is only 25 km south.
Nung Nung Waterfall
If you rent a car in Singaraja town, you can reach this beautiful waterfall in just 60 minutes.
Please note that the Singaraja town is near Ubud region.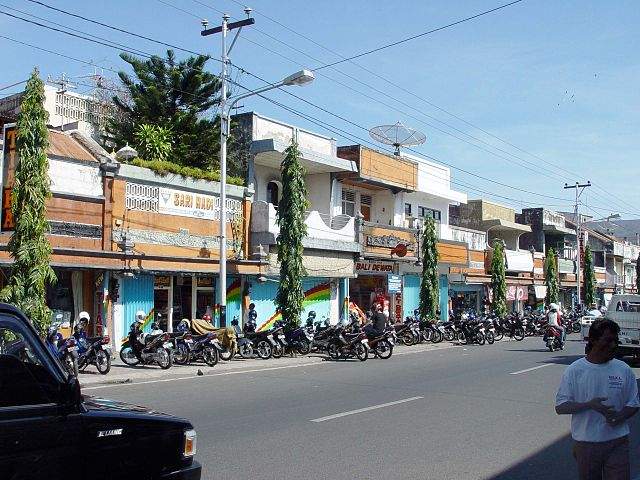 A street in Singaraja. It looks devoid of tourists. Singaraja was a major port town for the Dutch, who ruled it for more than a century.
The Nung Nung Waterfall is listed in the top 10 beautiful waterfalls in Bali.
Dedari Waterfall
Man, isn't the location very romantic? I am a firm believer that jungles or more beautiful than creatively landscaped gardens. The forests are wild; the flora excites, and the fauna interesting.
As you walk through the dense woods, you suddenly come across the Dedari waterfall, one of the hidden attractions in Bali.
The hanging wooden bridge above the pool is a canopy walk. It is also a good spot to capture the waterfall in your camera.
It is alternatively called, "Angels Fall". The waterfall is located in Sambangan Singaraja town in Northern side of it.
I am sure this is the first time you are hearing about this stunning Bali attraction. Won't you call it a lesser-known side of it, that is a must-visit place?
Sacred Monkey Forest
This forest is home to the Grey Monkeys in Ubud's Padangtegal village.
These monkeys are classified under the 'macaque' species that possess long tails.
As a preserved and protected sanctuary, the number of Grey Monkeys has increased considerably. The last census revealed about 700 monkeys.
The forest that serves as a sanctuary is full of nutmeg trees. We don't know whether this expensive but rarely used spice is cultivated as cash crop or they have grown wildly on their own.
Nonetheless, the forest is a must-see attraction of Bali that not many tourists go to. It is too good a natural attraction in Bali to ignore.
In addition, there are several ruins of temples in the forest that are covered with bushes.
Beaches That Are Rather Hidden in Bali:
Tegal Wangi Beach Cave
The beach as well as the cave are not actually hidden but not very well known to the tourists.
It is a rather small beach in Uluwattu region. You can meet numerous native Balinese here. Their colourful dress and unique culture will impress you instantly.
The picturesque Tegal Wangi Beach is located almost at it's southern tip.
Uluwattu's Tegal Wangi Beach somehow facilitates wave surfing.
Suluban Beach
It is one of the scenic beaches, but very less popular. The reason for its unpopularity is its location which is slightly far off from the center of Denpasar, the capital of Bali. Though only 32 km away, it is not a very well visited beach.
This Blue Point Beach (alternative name) is located in South West. It is a unique beach with jagged limestone rock formation.
As a matter of fact, you have to access the beach through rock-cut steps. You need to climb down.
Have a look!
There is very little shade here. The beach is rather small.
Surfers have to carry their surf-board quite a bit distance to reach the waves.
Suluban Beach is considered as a secret beach because it is not immediately visible but hidden behind haphazard rocks.
That's why I titled this blog post as "have you seen this side of Bali?"
There a few more such hidden and secret beaches in Bali that are worth visiting if you are a beach lover and if you don't mind the scorching heat on your head.
Dreamland Beach
It is abutting the Pacatu Indan Resort. This beach also attracts surfers because of its reef breaks.
Dreamland Beach is another hidden beach in it. That is behind jagged rocks.
Balagnan Beach
It is a lovely hidden beach. It is lying close to the New Kuta Golf Course.
If golfing is not your cup of tea, you will have to visit Bukit Peninsula. Balgnan Beach is part of this peninsula.
Inexplicably, some beaches have wave breaks that pull passionate wave surfing enthusiasts. Balagnan Beach is one such surfers' haven.
Like all the hidden beaches in Bali, you have to climb down some rocky steps from the adjoining cliff to access the Balagnan Beach, one of the terrific attractions in Bali.
In addition, the cliffs that form the backdrop of its hidden beaches serve as vantage observation platforms. A sea, when viewed aerially poses a different perspective.
The beaches in Italy's Amalfi coast and the beaches in Greek Islands have jagged rock formations that hide the coastline below.
Padangbai Blue Lagoon
Lagoons are ideal for swimming. They are children-friendly seascape for swimming.
Padangbai Beach is located in eastern. The beach wears white sand. There is a beach resort here that commands good occupancy.
This is a port town and acts as a gateway to Lombok Island, Indonesia.
Padangbai shoreline is blessed with abundant reefs and attractive marine creatures. Therefore, scuba divers and snorkelers book their weekend holiday in the resort and spend much of their time in the sea.
This Bali's picturesque beach is located in Candidasa town.
The Tall Cliffs in Uluwattu
When you take time to travel to Uluwattu region to see the beach caves, you will be attracted by the sight of a tall cliff, abutting the Bali Sea. Bali Sea itself is a part of Flores Sea.
Uluwattu Fire Dance
As mentioned earlier, the Ukuwattu region is not a highly visited area. Nevertheless, this region has some great beaches, and natural attractions.
The Fire Dance by the Balinese is one of the scintillating attractions.
When you are touring Bali Island, find out if the fire dance is scheduled during your stay.
It seems the Ulavattu Region bags more natural attractions.
Bukit Mende
Alternatively, it is called Mende Hill, one of the greenest areas in Bali and a terrific hiking place that promises stunning views of the sea.
The trail is through lush green tropical paradise. The bird species here would definitely slow down your walking pace.
The location of Bukit Mende is Subaya Village, located about 100 km from Denpasar.
Karang Bona Cliff
What a sight! The tall cliff is abutting the sea in the west coast of it. It attracts hundreds of tourists to watch the spectacle of sunset.
Again I ask you, have you seen this side of Bali?
Menjangan Island
Located about 8 km north-east of the city, Menjangan Island strangely attracts deer hers from nowhere.
The deer hers swim nearly 2.1 km in the Flores Sea to reach the Menjangan Island. This unusual migration of deer can be witnessed during the spring season.
The spring begins in the last week of September and ends during the last week of December. I believe it is the ideal period to tour and enjoy all the hidden Bali attractions.
I think this is the prime reason for the inclusion on Menjangan Island in the Barat National Park.
To visit this wonderful Indonesian Island, you can take a ferry from Singaraja town. The distance between the two destinations is 65 km.
Menjangan Island is a mjor scuba diving center because of the diverse reefs floating under the sea.
There are several more beaches lying below tall cliffs. In addition, you can visit some more waterfalls in its tropical forests.
Bali tour requires 10 full days. Don't contemplate shorter duration travel to Bali, the original paradise on earth.