Summer escape destinations in Maharashtra are largely less crowded because the number of hill stations in Maharashtra is many. They equal the number of hill stations in Kerala, and Karnataka.
Read further to find affordable but at the same time, less-crowded hill stations in Maharashtra state, India.
I am sure already you are aware of the popular places in the Western Ghats of Maharashtra that include:
Matheran
Lonavala
Mahabaleshwar
Kandala
And, I will skip these 4 four because they are expensive and also very crowded during the summer, the peak season for us to go to hill stations for a few days. In addition, I will cover several more mountain towns in Maharashtra that are affordable and nor brimming with the tourists.
Such places also welcome you with mist covered hill slopes, lakes, meadows, and waterfalls. The majority of these hill stations are located between Pune, and Mumbai.
15 Affordable and less crowded hill stations in Maharashtra
Some are on the way to Nashik from Mumbai. It means, they are easily accessible by air, rail, and road.
Malshej Ghat
I think you have not heard about it before. It is close to Mumbai. Kalyan railway station on the outskirts of Mumbai city is the nearest railway station to reach Malshej Ghat.
If you pre-book a cab, it will pick you up from Kalyan railway station and drop you at your hotel in Malshej Ghat, 90 km away.
The road poses challenge to even veteran drivers. Therefore, it is better to go by a taxi than drive your own car.
Wikipedia says Malshej Ghat is a mountain pass connecting Kalyan and Ahmednagar.
Trekkers and hikers haunt this place and also bird watching buffs. I believe even Flamingos can be spotted here but only during the monsoon.
The elevation is 2300 feet only and that's why Malshej Ghat is an uncrowded hill station in Maharashtra.
The lush green valleys, misty peaks, highly-trodden trails are the crowd pullers of Malshej Ghat.
Hidden waterfalls are infested with monkeys and numerous birds. You have to walk through dense woods to reach the waterfalls.
A few tourist landmarks to see in Malshej Ghat:
Harichandra Fort
Ajoba Fort
Pimpalgaon Dam
Malshej Falls
Konkan Kada ravine
The canyon's bottom is situated at a dizzying 4600 feet!
Rock rappelling is practiced by adventurous youth.
Jawhar
This fact might interest you; the mighty king Shivaji used to come to Jawhar to escape from heat of summer. Does that make you to find out more about this station's location, attractions, and facilities for boarding and lodging?
Location of Jawhar:
It is located 60 km from Igatpuri. Jawhar is part of Palghar district, Maharashtra. Mumbai city is 120 south of Igatpuri.  Kalyan railway station is closer at just 90 km.
Altitude of Jawhar: 1500 feet approximately
Attractions of Jawhar hill station in Maharashtra:
Jaivilas Palace
Warli Paintings
Shirpamal ruins
Hanuman Point
A gorge at 500 feet below will be an exciting sight.
Khad-khad dam
Sunset View Point
Dabhosa Waterfall

Kalmandvi Waterfall
The water is falling from a height of 330 feet!  You can see the falls in full flow perennially.
A few hotels and one resort offer boarding and lodging to the tourists.
Jawhar hill station is less explored and thus retains its natural beauty.
Karoli
Again I guess this name of a hill station in Maharashtra is new to you. This is a breathtakingly beautiful hill station and serves as a summer escape destination for the people of Nashik and nearby.  The distance to Nashik is 45 km only.
Very little commercialization saved the place to retain all of its virgin natural freshness and lush valleys.
Igatpuri is the gateway to this unknown heaven on earth.
Igatpuri
It seems Igatpuri in Maharashtra is an important point to escape the summer in India.
Iagtpuri itself is at an elevated location in the Western Ghats. Its altitude is 2000 feet! It lies on the way to Nashik from Mumbai.
Igatpoora waterfall is a major tourist attraction in Igatpuri.
As a gateway to other hill stations on higher altitudes, you are sure to find picturesque trekking trails in the hills of Igatpuri. The way will be filled with tall trees, thick bushes, silent mountain streams.
It is a favourite place for Hindi movie makers. Another reason for Igatpuri's popularity is the ancient Vipassana form of meditation is taught here in Vipassana International Academy.
Places of sightseeing in Igatpuri:
Arthur Lake
Bhatsa River Valley
Kalsubai Peak
Girisagar waterfall
Chikhaldhara
Thus far, I think you have learned about 4 new hill stations in Maharashtra. Go on to know a few more.
Watch a video clip of Chikhaldhara hill station near Nagpur.
Chikhaldara is a little-known hill station in Maharashtra. It is 3 hours drive away from an agricultural town called Amaravati which is 90 km away.
Amaravati has a train station and is connected with Mumbai, and Nagpur.
For air travelers, Nagpur is the nearest airport at 230 km from Amaravati.
Here is an interesting story behind the name 'Chikhaldhra'. Bhhema, one of the pancha pandavas, killed Keechakan here. So, it was originally Keechakadhara that somehow became Chikhaldhara.
The altitude of Chihaldhara is 3700 feet. I think it is good enough to offer pleasant weather throughout the year.
Surprisingly, coffee plants thrive here. It is a widely grown crop in Chikhaldhara.
The mountain slopes are quite thick and serve as ideal habitats for panthers, tigers, and sloth bears. They hunt Sambar, a species of deer.
For your information, the Melghat Tiger sanctuary is close by.
Prominent places to see in Chikhaldhara:
Prospect Point
Devi Point
Semadoh Lake
Hurricane Point
Nehru Botanical Garden
Narnala Fort
Bhim Kund
Malviya Point
Bir Dam
Shakkar Lake
A couple of waterfalls are located deep inside the forest.
In spite of being a less-crowded hill station, there are a handful of luxury resorts that also offer delicious Marathi food.
Toranmal
This hill station's elevation is an attractive 3700 feet! For a change, we are not climbing the western ghats but a rather little-known hill range in India namely, 'Satpura range''.
Again, for a change, this hill range runs from West to East; to be more precise, it begins from Gujarat, passes through Maharashtra, Madhya Pradesh, before tapering off in Chattisgarh.
The more popular Vindhya mountain range runs parallel to Satpura range.
The nearest popular city is Surat, Gujarat. From Surat, you have to drive north-east for 200 km to reach Shahada,
From Shahada, Toranmal hill station is 50 km north. I think you can go to Toranmal from Indore also.
It's a hill station that is not only abundant in waterfalls, lakes, and ravines but also Hindu temples.
Since it is known for quaint surroundings, cool weather, and good trekking trails, four very good resorts are functioning here in Tiranmal. They are:
Vythiri Mist
River Valley Resort
Bodhi Woods
Kalpavanam Heritage Resort
Famous tourist landmarks in Toranmal hill station:
Torna Devi temple
Yashwant Lake
Kalapani Waterfalls
Khadki View Point
Lotus Lake
Machindra Cave
Sita Khai waterfall and gorge
Goraknath Temple
Panhala
This hill station in Maharashtra is situated at a height of 3200 feet! It is an enticing enough altitude for tourist to visit as a summer escape destination.
The gateway to Panhala is Kolhapur. The Karnataka border city Belgaun is 110 km south.
Our hill town Panhala is located just 20 km from Kolhapur that is well connected with Bangalore, Hyderabad, and Pune cities.
The biggest attraction of Panhala is the ruins of Panhala Fort that also acts as an observation platform.
As a tourist, you can find good hotels in Kolhapur and dash to Panhala and get back. Alternatively, you can stay in Panhala also that has a few resorts and hotels. Food won't be a problem, anywhere in Maharashtra.
Rajmachi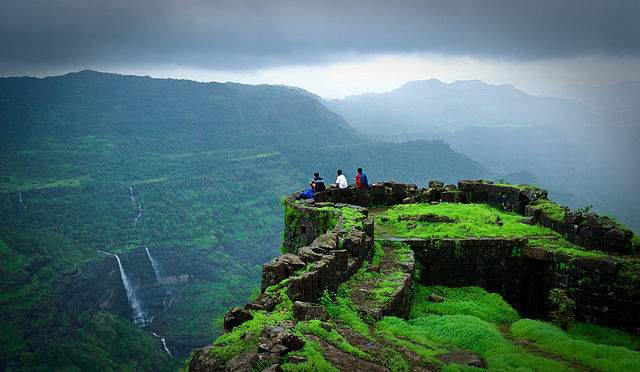 This literally unknown hill station in Maharashtra is located 60 km south of Satara city. Western Ghats  mountain range is the host of Rajmachi. Its elevation is 2700 feet.
The prominent attraction here is the Rajmachi Fort that has a stunning view of the gorge.  Trekking up to the Rajmachi Fort is one of the highly popular treks in India. The walk is through some dense forests, grassy hills, and breathtaking valleys.
Since the Lonavala hill station is only 15 km away, it is better to find decent and luxury hotels in Lonavala to stay and make a day trip to Rajmacji.
Durshet
This is another little-known hill station in Maharashtra, in the Western Ghats. Pune is 85 km south. Khopoli town is the gateway to Durshet.  Khopoli has a railway station on the way to Mumbai from Pune.
Even the more developed Lonavala hill station is only 35 km away
Durshet is a favourite hotspot for adventure travelers. There is a river called Kundalika in Durshet. Youth enjoy water rafting during high season.
To stay in this hill station, there is a well-equipped forest lodge. It is built amidst dense woods.
Uddhar is a spot in the hill that has a natural sulpur hot spring with medicinal properties. It is one of the attractions of Durshet.
Trekking on the mountain is also popuar. The trekkers' destinations are two old forts. I read the trails provide scenic views and cool weather.
Two Ganapathi temples are listed in the places to see in Durshet. However, I doubt tourist hardly go to a hill station to worship.
Wai
Wai hill station in Maharashtra is a hot spot for film makers who can't take their minds off from Wai that is known for numerous offbeat beautiful places with lush green covering. Some 300+ films were shot thus far at various spots in Wai.
Wai is situated at a height of 2400 feet. Though not an altitude to be called a hill resort, it is very picturesque.
Satara is the nearest city to Wai at just 35 km. If you are based in Pune, a cab can get you to Wai in 90 minutes. The distance to cover is 95 km.
If you are touring Mumbai, it is better to fly to Pune, and then hire a cab to go to Wai.
Wai is also a pilgrimage town with several temples; one of the temples is 400 years old. That's why Wai is fondly revered as Dakshin Varanasi.
Places to see in and around Wai:
Dhom Dam
Balkawadi Dam
Mandhradevi Kalubai Temple
River Krishna
Caves
Krishna Ghat
I think Wai doesn't warrant a stay but you can contemplate a day trip when you are holidaying in Lonavala.
Amboli
Amboli is a mini hill station near Goa. It is more of a highway attraction than a place to stay and enjoy the cool weather. Of course a couple of lodges are in Amboli with attached restaurants or food and beverages are procured from nearby name-sake restaurants; nonetheless, it is better to stay either in Belgaun or Panjim and visit Amboli as a day trip.
The two most spectacular attractions in Amboli are:
A reverse waterfall at Kavalesat
Wow! What a sight!
The voluminous Amboli waterfall
People walk up on the slippery steps on which the water flows down.
Amboli Forest
Amboli Ghat-it is a breathtaking view point in Sindhudurg district of Maharashta.
Belgaun at 70 km away and Panjim, Goa at 90 km away act as gateways to Amboli.
I would rate Amboli Ghat is one of the stunning beauties of India and is a must-see place. In fact, it deserves an exclusive trip.
Suryamal
Suryamal is an affordable hill station near Igatpuri. 40 km is the distance between the two places. Its altitude is 1800 feet only.
Suryamal is yet to be exploited and abused by the infrastructure developers. It is a raw hilly village with beautiful valleys and grassy mountains.
I have heard about three more hill stations in Maharashtra of which I could not unearth substantial information for the eager tourists and mountain lovers.
They are:
Mahismal
Tamhini Ghat
Bhandardara
If only you live in Pune or Nashik, you have a wide array of choices of summer escapes.