Wow! Isn't it absolutely beckoning! Karjat A picture-perfect location in Maharashtra.
Overview of Karjat:
It is one of the three very popular hill stations near Mumbai. The other two places are Lonavala and Mahabaleshwar.
Though it is part of the Raigad district in Maharashtra, it actually is a part of Mumbai city. Imagine a peaceful hill station set amidst the chaotic conditions of Mumbai.
Location of Karjat:
From Mumbai city, it is 100 km away. Strangely, the big city of Pune is also 100 km from Kajrat. This means it is situated in between the Pune-Mumbai national highway, making it easily accessible by road from Mumbai, Pune, and Bangalore.
Look at the location of this cheap hill station on the map.
For the residents of these three big cities, Kajrat is ideally a cheap weekend getaway in the misty western ghats.
Similar to the city of Coimbatore in Tamilnadu state, Pune is blessed with several hill stations nearby.
Reaching Karjat from Mumbai:
Karjat has a railway station. It is connected by the suburban train network of the Central Line.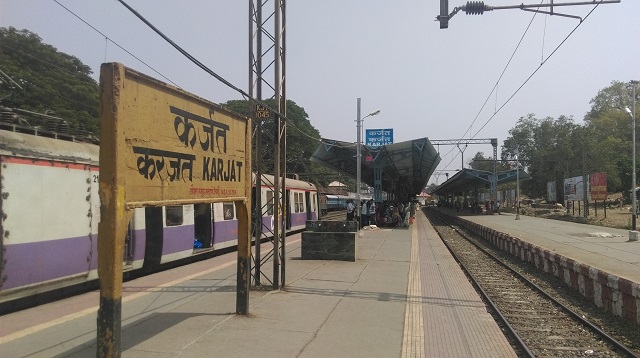 Some of the in-between railway stations on the way from Mumbai central include Khapoli and Panvel.
You cannot ask for an easier way to go to this hill station-right?
Similarly, from Pune city also, trains ply regularly to this town.
Do you know?
It is interesting to note that the highly popular Indian snack "Vada Pav" was born here. I suppose it is the sole reason every major express train also makes a brief halt in here.
Places to stay in Kajrat:
Now that you know how easy to go,  let us explore the staying options there. Since both Pune and Mumbai are within 100 km reach, visitors prefer making a day trip to this hill station. This is especially so when Mumbaikars and Punekars take their family visitors for a day trip.
However, the permanent residents of both Mumbai and Pune chose the cheap hill station as a weekend getaway. They stay two nights (Friday and Saturday nights) and return to work on Monday.
Let us see their choices of hotels, lodges, vacation rentals, and homestays.
As vacation rentals and holiday resorts, there is a handful of them that include:
Leela Holiday Resort
Forest Club Resort
Monteria Resort
Radisson Blu Resort
Pinewood Resort
Geetha Bhavan Villa
-it is the most expensive of all the high-end resorts. I believe you may have to shell out around Rs.20,000 per night.
Obviously, these places of stay cost more money and beyond the means ordinary people.
For mid-range hotels, the choices are many and you can easily get a room if you book just a day in advance. Yes, a last-minute booking of the hotel is possible.
Here, I name a few good hotels.
Hotel Saheb
Hemrush Holiday Home
I read you can choose between numerous spa villas that include:
EKO Stay Simbha Villa
Karjat Villa
Villa Mango
Rainforest Villas
Homestays
The Homecoming
Rippling Edge Gadhok Cottage
Lakeview Homestay
Maharaja Family Guesthouse
Most homestays offer all-inclusive options. This means you get to eat healthy home food.
Farmstay
Boutique Farm
Garden View Farm
Sagar Farm
Where to eat in Kajrat?
There is no dearth of restaurants and roadside eateries. Vada Pav is ubiquitous and so too Pav Bhaji-the poor men's delicacy.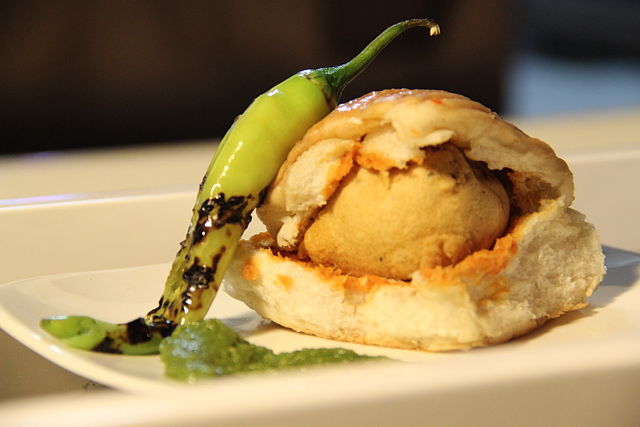 Vada Pav
The AluBatata (Aloo bonda in South India) is a wonderful delicacy in roadside food kiosks.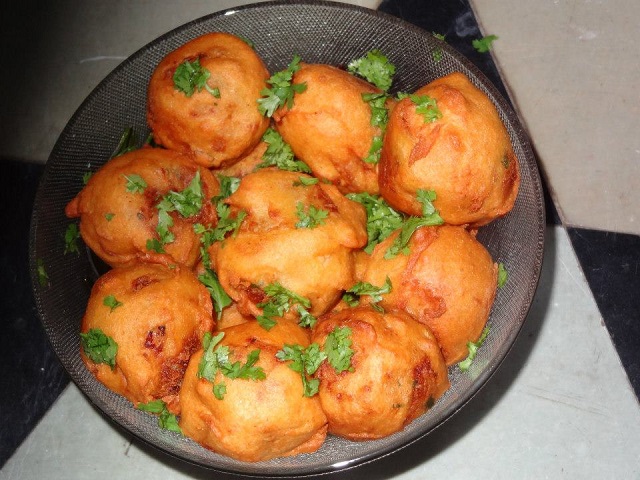 Alu Batata
Poori Sagu is the most eaten breakfast here.
It is also a lunch and dinner dish for the poor. The quality of sagu varies but the fluffy poori tastes the same everywhere in Maharashtra.
Marathi cuisine is predominant but that doesn't say no to the Chinese and Konkani food.
Some of the highly recommended restaurants to eat at:
Pervin Aunty home food
Visawa Family Restaurant
Palms Multicuisine
Hotel Shiv Malhar
Thakare Hotel
Parsi Dhaba
Rahi Garden
Lucky Corner
What to see in Karjat?
As a hill station in western ghats, you get to see several waterfalls. Bhivpuri is a nearby town that attracts hundreds of visitors all day with numerous waterfalls.
Located at 2300 feet above sea level, it promises a friendly climate, rainforests, waterfalls, mountain streams, and observation platforms.
Waterfalls: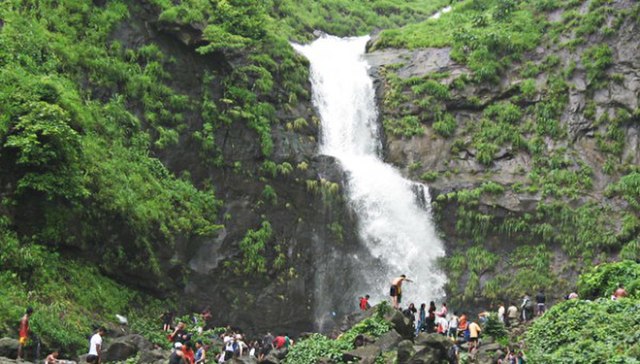 Bhivpuri Waterfall
Another excellent waterfall that is worthy of seeing is the 'Palasdari waterfall'.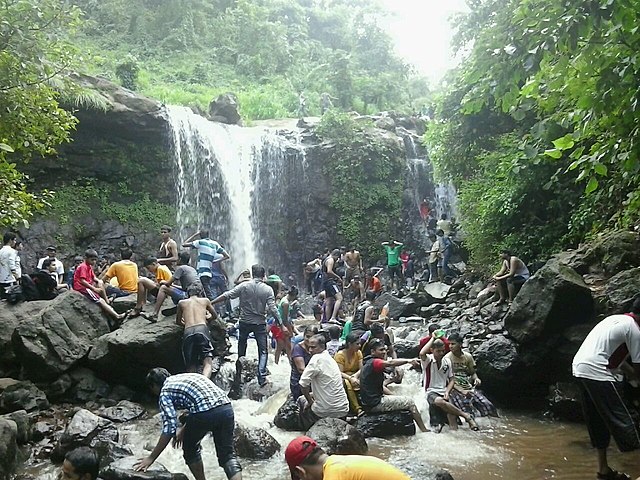 River Rafting
River rafting in a hilly terrain that promises thrill and fun attracts adventure-minded tourists. Here, you can indulge in river rafting in the Ullas River.
Trekking
Ardent trekkers find the hilly terrain, a haven for scenic trekking. To aid them, there are several trekking routes that are recommended by the local trekking clubs.
Kondana Caves
These are said to be Buddhist monuments.  The sculptures and architecture are reported to be spectacular. These Buddhist caves cannot be ignored.
Another popular trekking destination is Peth Fort Trek. Similarly, some trekkers divide and choose Chanderi Fort Trek.
Whatever may be your choice, you won't be disappointed with scenic beauty that includes misty peaks, rainforests, and several mountain birds.
Bhahiri cave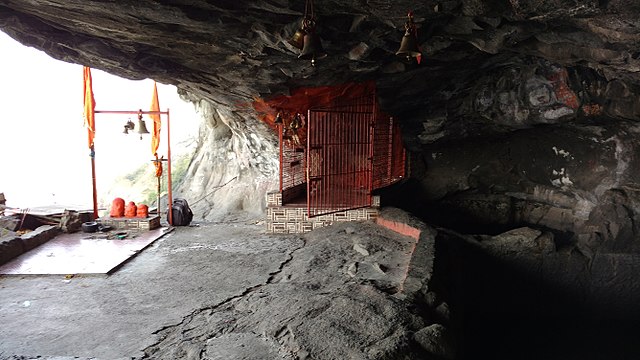 It reminds me of the final scene in the film 'The Guns of Navarone". I am sure the view from the Bhari Cave will be spectacular. Some adventurers put up camps inside the cave and stay overnight. I am sure it will be a memorable night where you can really experience the so-called pin-drop silence.
Ullas Valley
This tourist landmark will take your breath away when you see it immediately after the monsoon. The lush green landscape, meadows, and waterfalls are great food for your camera.
Peth Fort
It is alternatively called 'Kothaligad Fort.
It commands a terrific view because of its elevation location at a little over 3000 feet. The whole area is covered in attractive lush green plants and moss.
See the vantage location of a cannon, kept as a defensive tool.
Bhor Ghat
It is a mini mountain pass connecting two mountains. It is also a picturesque train route. See a train navigating the Bhor Pass.
Beautiful-eh? I wish I rode that train.
Overall, visiting and staying in Karjat during a weekend is worth spending time and money on.