Silvassa is a small city in the Union Territory of Dadra and Nagar Haveli, near Gujarat. Top Attractions in Silvassa are  many and they are worth visiting.
The Dadra and Nagar Haveli may not ring a bell to the majority of you. It was formerly known as Daman and Diu, the union territories that were merged into Dadra and Nagar Haveli.
You may remember that Daman and Diu along with Goa were under Portuguese rule long back. I think in 1961, these were set free from the Portuguese and formed as Union Territories of India.
In this blog post, I am going to take you on a virtual tour of this hill station, the capital of Dadra and Nagar Haveli. Some of the top attractions in Silvassa to see are worth planning a weekend trip to this hill station.
There is another major reason for Silvassa's high number of Gujarati visitors. It is not a dry city but the state of Gujarat is. I mean, there is no prohibition of alcohol in  this town.
Similar to Goa or Pondicherry, every liquor shop's shelves stocked well with numerous foreign drinks that include Scotch whiskey, vodka, and beer.
How to reach Silvassa?
Vapi is the nearest railway station for reaching Silvassa. They  separated by about 20 km distance.
Two major cities that are near to this tourist destination are:
Nashik at 125 km
Surat at 140 km
Can you get Portuguese food in this hill station?
I doubt the availability of Portuguese cuisine in this city. The majority of the restaurants and small cafes serve authentic Gujarati thali (plate meals).
At some places, Parsi food is served. However, I wonder how does it differ from Gujarati cuisine!
Top attractions in Silvassa.
Vasona Lion Safari
The foremost thing to do in  this hill town is to go on a lion safari in Vasona Lion Park. Gujarat is already famous for the Gir forests for spotting the majestic jungle kings.
Safari vans take visitors through the lion enclosures. There are not many lions; I think only three lions are lazing around the small lion park.
Even to watch these three lions, the Vasona Lion Park attracts a large crowd, especially during the holidays and weekends.
Satmalia Deer Park.
Deer always cheer children. Satmalia deer park is one of the top attractions in Silvassa. In addition, one can combine the Vasona Lion safari tour with Satmalia deer park since both are not far away from each other.
Animals that one watch in Satmalia deer park.
If you are alert, you can spot some peacocks too in Satmalia deer park.
Dudhni Lake
Dudhni Lake is one of the top attractions in Silvassa. You have to drive nearly 50 km to reach this picturesque lake that is surrounded by small hillocks.
A leisurely boat ride on the Dudhni lake will be a pleasant experience. This lake also feeds the Daman Ganga river. The Madhuban Dam is built over this sprawling Dudhni Lake.
Adventure enthusiasts would be delighted to see the availability of several water sports activities such as jet skiing and kayaking.
Vanganga Lake Garden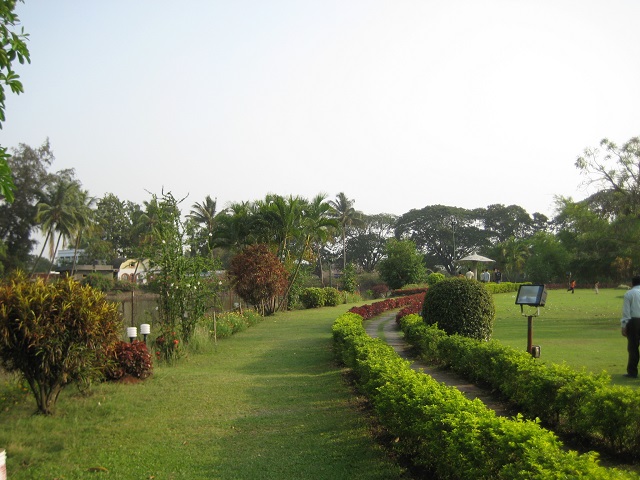 Among several top attractions, Vanganga (lovely name) must rank high on the list. In addition, the most striking aspect of this lakefront garden is the wildflowers that seemed to be in full bloom right through the year.
That's why filmmakers throng this beautiful place.
The lake is filled with plenty of prey for some water birds. You can get a close-up view of the water birds when you take a boat ride in the Vanganga Lake.
The pathway built around Vanganga Lake is neatly landscaped with small plants and flowering trees and rows of coconut trees.
Khanvel
OMG! What a spectacular place is! Such a gorgeous place in this city is almost unknown to an experienced travel blogger like me. This place surreal, buddy! It is no wonder quite a lot of high-end holiday resorts are available in Khanvel.
The mountain slopes covered with thick forests thus making them a habitat for birds and reptiles.
River Sakartod that flows through Khanvel, fertiles the entire area. The green cover everywhere is pretty cool for the eyes.
Khanvel is the most sought after weekend escapes for those living in Surat, Vapi, and Nashik.
Anjaneri Hills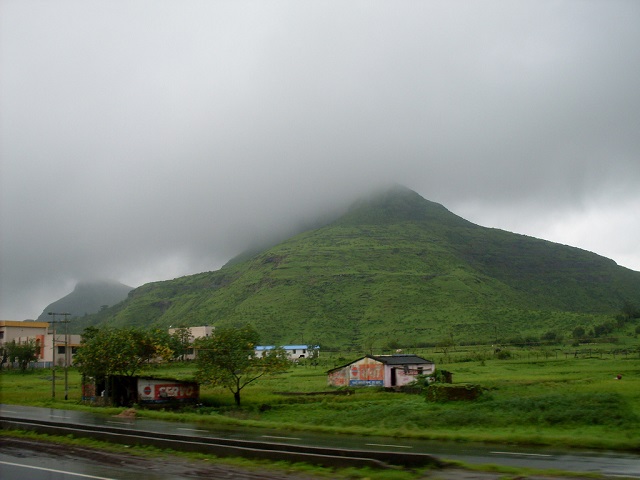 This beautiful hill is one of the holiest hills in India. Situated at 115 km from it, Anjaneri Hills is the birthplace of Lord Hanuman, one of the most revered Gods of India.
Though Anjaneri Hills is located closer to Nashik city, since you are touring this hill town, I thought I would mention it as one of the top attractions in Silvasa.
Anjaneri Hills attract ardent trekkers whose goal is to reach the peak that stands at over 4200 feet. Additionally, there is an ancient fort at the summit in dilapidated condition.
Sanjan,-Parsi settlement.
In addition, on your way to Anjaneri Hills, you will come across the town of Sanjan where the first Parsis arrived and settled., Sanjan town is a sacred place for the Indian Parsi community.
Hirwa Van Garden
Hirwa Van Gardens, a stunningly developed garden at the heart of the hill-station. The landscape, the flora, and the geese will make you spend a minimum of two hours there. In addition, There is a mini man-made waterfall to cheer the visitors.
What to buy in Silvassa?
Handicrafts made of bamboo wood are famous in this hill town. In addition, you will find attractive, carved pipes that smokers use.
Go to Kilvani road which is a bustling market place. Hundreds of souvenir shops will keep you engaged for an evening.
However, Wall hangers can make excellent gifts and colorful paper bags will be useful back home.
Places to stay in Silvassa.
There are quite a few options to stay comfortable in the heart of the city. In addition, Two hotels that I would prefer to stay at this hill town are are:
Daman Ganga Valley Resort
Tree Resort
Overall, Silvassa is a good place for a weekend getaway.