I am a train traveling buff. I usually read the blog of Rail Yatri. It has proved to be an excellent resource for me to find new travel destinations in India. Several times before, I have unearthed gems. Lamahatta and Lepchajagat hill stations are examples. Aren't you baffled at these two names of hill stations and wonder where they are?
There are so many hill stations in India that one need not travel to any other country's hill station. Indian hill stations are diverse and simply breathtaking in scenery, flora, and fauna.
Let us explore one by one- Lamahatta and Lepchajagat.
Where is Lepchajagat?
It is located in the West Bengal state of India.
How do you get to Lepchajagat?
Have you heard of a railway station called 'New Jalpaiguri' in West Bengal? Our destination, Lepchajagat hill station, is just a two hours drive away from New Jalpaiguri.
In fact, the darling of Indians-Darjeeling hill station is only 15 km away. Tourists who find Darjeeling hotels and resorts are expensive to go to Lepchajagat.
For frequent flyers, Bagdogra is the nearest airport that is located 90 km away. Both the airport and the New Jalpaiguri train station are at equal distance from  Lepchajagat.
Once you reach either the New Jalpaiguri train station or the Bagdogra airport, you can hire a taxi to reach Lepchajagat.
What to do in Lepchajgat?
This is just a hilly village on the outskirts of Darjeeling city. Therefore, don't expect too many things to do. However, it doesn't lack in attractions. Nature lovers would know what to look for in a Himalayan hill station.
There are simply too many beautiful locations in Lepchajagat that are rather hidden.
Just trek around without a local guide, and you will find yourself walking through picturesque pine forests, oak trees, and Rhododendron forests.
Apart from designated viewpoints from where you can see the magnificent Kanchenjunga Peak, you can discover observation corners that show breathtaking views of the deep gorges and ravines.
So, for whom Lepchajagat is suitable?
Don't be surprised if you don't get any accommodation in Lepchajagat as the rooms are invariably reserved for honeymooners. They find plenty of privacy, good food, a cozy stay, and excellent weather.
What else do the honeymooners want? In fact, what more do you want for a short holiday at a hill station?
Jore Pokhri wildlife sanctuary.
Spotting birds and animals is a patient job. Nonetheless, there are two lakes (twins) in the name of Jore Pokhri, where you can spend some solitary time, enjoying the tranquil settings.
Note: There won't be a crowd at all here or anywhere in Lepchajagat.
Ghum Monastery is worth visiting in Lepchajagat.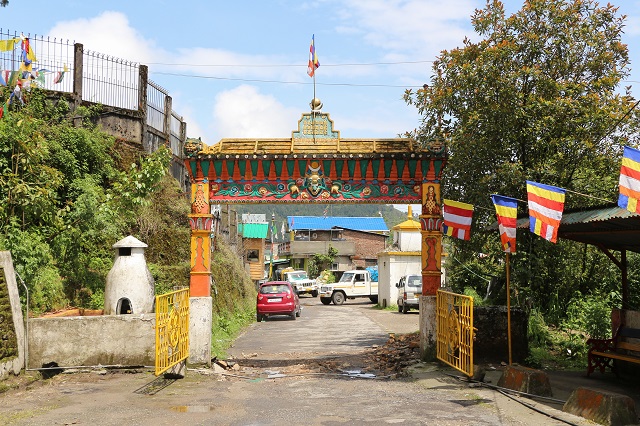 Where to stay in Lepchajagat? Are there any hotels or resorts in Lepchajagat?
Sorry, boss! There are no hotels, but only Homestay options are available in Lepchajagat.
Humro Home is a good place to stay when you are touring Lepchajagat.
Alternatively, you can look for a room in WBFDC, a forest bungalow set amidst gorgeous forests.
Another worthy Homestay option is Pakhrin Homestay. Reach them at their website.
All these Homestay options serve food and original Darjeeling tea.
Lamahatta Hill Station.
Lepchajagat and Lamahatta are always mentioned together in travel-related documents. Both are located on the outskirts of Darjeeling but on a different direction.
While the much popular Darjeeling is 25km away, Lepchajagat is also located almost at the same distance. This means Lepchajagat and Lamahatta are on either side of Darjeeling.
Lamahatta too beckons budget travelers who stay here and visit Darjeeling as a day trip.
Lamahatta hill station is again just a village but with strikingly beautiful surroundings. Oak and pine trees are just about everywhere.
Since Lamahatta's altitude is 5700 feet, it has all the attractions for honeymooners such as excellent weather, walking trails, and good food.
Stroll up to the beautiful Teesta River and let the scenic settings sink into you. Another riverside walk lies nearby. The name of the river is Rangit.
Both rivers are mesmerizing. All the Himalayan rivers have that effect on us who are living in the plains.
A familiar landmark for the tourists, this botanical park will force you to stay as long as possible. The landscaped garden and the pine and oak trees are wonderful to look at. Built on a mountain slope, the park offers splendid views of the Himalayas.
Lamahatta Roadside Garden will make you stop your taxi on your way from New Jalpaiguri. A lovely location to relax and sip the aromatic Darjeeling tea.
Throughout your drive, tea plantations will give you a green company.
Peshoke View Point is where most of the tourist cars will stop. The passengers with great expectations will strive for a closer view through their binoculars. Look out for the confluence of the Rangit and Teesta rivers from this observation point.
Staying options in Lamahatta.
You have to depend on a few scattered Homestay options only, but they are adequate. I mean, they don't provide 5-star comforts, but still, you can't complain.
There is one full-fledged hotel called Lamahatta Residency. Visit their website  to find room charges and facilities offered.
Lamahatta Villa is a good option to stay for a weekend in Lamahatta and tour Darjeeling.
Lamahatta Lodge and Lamahatta Druk Homestay are recommended by frequent travelers to Lamahatta.
Since Lamahatta hill station guarantees solitude and peace, just married couples, as well as stressed out corporate employees, haunt this quaint hill village.
When is the best time to visit Lamahatta and Lepchajagat?
Both these hill stations in West Bengal are suitable for a year-round visit.
What a pair of charming and picturesque hill stations in the Eastern Himalayas! Both are uncrowded and inexpensive way to visit the nearby Darjeeling.