Are there exclusive Indian restaurants in Austin, Texas?
Can I get Indian food in Austin, Texas when I go there on an official visit?
Are there any exclusive Indian restaurants in Austin?
These questions were asked by a friend of mine who is scheduled to leave for Texas on a short official visit. I wonder how he is going to fly to Austin under the present restricted conditions.
As a matter of fact, my curiosity was piqued. Knowing Texas and its popularity among Indian computer professionals, I guess there might be a few exclusive Indian restaurants in Austin, Dallas, and San Antonio. These three big cities employ thousands of computer engineers from India.
A casual search revealed four Indian restaurants in San Antonio and Austin. I decided there must be more of them and I have to dig deep.
If Austin and San Antonio cannot boast of Indian food, then, no other Texas cities are likely to offer Indian food in their restaurants.
Of late, Indian foods are widely liked and eaten by the Americans, Australians, and Europeans. About 25 years ago,  Indian foods are tagged with 'not safe' tags. It is a different story now.
Just about every country, however, remote it may be from India has exclusive restaurants serving Indian food.
For example, do you know that there are as many as 19 Indian restaurants in Florida, the highest visited tourist state of the U.S.?
List of Indian Restaurants in Austin
Madras Dhaba
Tarka Indian Kitchen
Clay Pit
Nasha Indian Restaurant
Bombay Express
Biryani Pot
Bombay Bistro
Jaipur Paradise
New York has 25 Indian restaurants; Rome and Amsterdam have 12 Indian restaurants each. This means one can find Indian food in as far as Alaska also.
Highly Reviewed Best Indian Restaurants in Austin
Here are my findings that reveal 7 of the highly reviewed restaurants in Austin that serve Indian food.
Madras Dhaba
Address: 1606 E 6th St, Austin, TX, 78702
Phone: +1 512-577-0327
I think I hit the bull's eye straightaway. I came across Madras Dhaba as soon as I began my research about the availability of Indian food in Austin, Texas.
Madras Dhaba serves authentic Indian food that includes:
Paneer dishes such as Paneer Tikka
Chicken Tikka
Range of parathas
Rice dishes including biriyani and pulav
Mango Lassi ( a dessert that is simply delicious)
If you prefer to dine in the restaurant, approach the 'take away' counter.
Tarka Indian Kitchen, Austin
For exact location and to order online, please visit their website.
Since this Austin restaurant that serves Indian food has its presence in more than one location, it is better to visit the website to note down the restaurant in your preferred location. However, if you order online, the location doesn't matter.
The online menu is handily classified under 4 different categories such as:
Vegetarian
Vegan
Gluten-free Indian foods
Nuts
Reviews of Tarka Indian Kitchen in Austin said the dishes are certainly spicy. After all, spiciness is the identity of Indian foods-isn't it?
Image attached
I like their idea of a 'kids friendly' menu.
I wonder what this Indian restaurant in Austin serves under the menu 'nuts'. Besides, I never came across a 'nuts' in the menu card of a restaurant. Did they mean 'legumes' such as 'rajma' or 'chickpea', or 'double beans', or 'one-eyed beans'?
Legumes:
If you want to have a quick look at the menu of Tarka Indian Kitchen in Austin, click at the link.
Clay Pit, Austin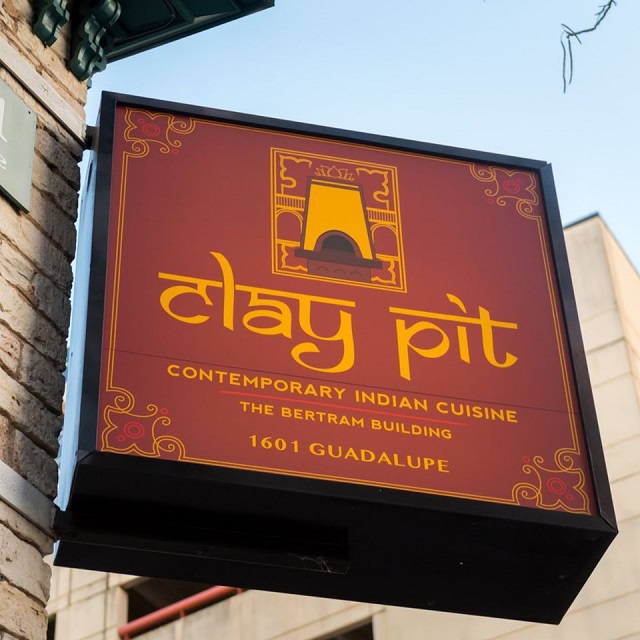 I like the short name. Had it been 'Clay Pot', it could have been more indicative of the business. Clay Pit has been serving Indian delicacies since 1998 in Austin's downtown.
Visit their website for the exact location and phone number.
The Indian food menu in Clay Pit Indian restaurant is quite large, thus making the act of choosing the dish a bit time-consuming. It is better to order a drink while browsing the big menu.
You get salads followed by a range of starters such as pakoras and kebabs. It is needless to say you can order the highly popular 'butter naan' under the 'Indian bread' category.
Choose your favorite tandoori side dish and end your dinner with an Indian sweet as dessert.
Nasha Indian Restaurant, Austin
Nasha's Indian food menu tempts you to try their vegetable biryani with chicken kuruma (a gravy) as well as several tex-mex cuisines that include 'paneer enchiladas' and 'vegan tofu'.
I think the Texans' love for tex-mex (Texas-Mexico) cuisine has caught the fancy of the Indian population living in Texas.
Under the 'drinks' section, it is suggested to try "Indian Red Ale" or 'Tulsi Margarita'.
Nasha Indian food can be ordered online also.
Bombay Express, Austin
I am glad they have not changed Bombay into Mumbai. This Indian food joint in Austin serves only vegetarian items.
In spite of a Bombay restaurant, you can get several varieties of South Indian foods too such as masala dosa and sambar idly. That is certainly an added advantage for the large South Indian population in Austin.
The Mumbaikars would heave a sigh of relief when they see the likes of aloo chaats, samosa chaats, bel poori, and pav bhaji on the menu card of Bombay Express.
You should try their 'shrikhand' for dessert.
Biryani Pot, Austin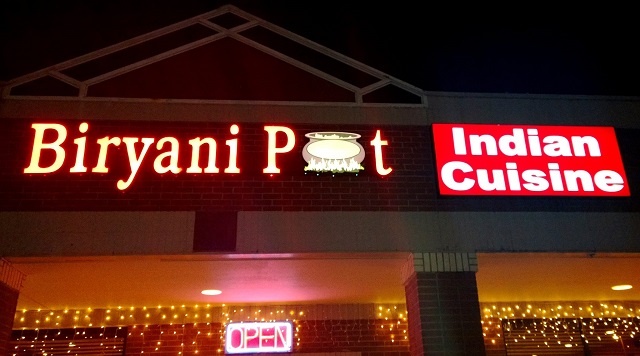 Biryani, the most eaten rice dish all over the world owes its origin to medieval India. Cooked with the aromatic basmati rice (biryani rice) to excellent perfection and mixed with aromatic spices, vegetables, or meat and garnished with grapes and cherries, Biryani is an Indian food that is now served in just about every Indian restaurants in Austin and all over the world.
Though the name of this Indian restaurant in Austin is Biryani Pot, you can also get starters, grilled skewers, and soups.
Under the biryani section, you will find dum chicken biryani cooked in the Hyderabadi style.
The most unique Indian food in Austin's biryani pot is the 'shrimp biryani'.
Vegetarians can order vegetable fried rice, a milder version of biryani that is less spicy also. Jerra rice is another option for staunch vegetarians in Biryani Pot.
The chef of Biryani Pot recommends garlic and basil naan, the Indian staple.
Garlic and Basil-what a strange combination!
Bombay Bistro, Austin
This Indian restaurant in Austin is for the die-hard Indian curry lovers who just start salivating at the mere sight of mutton curry or chicken 65-the most eaten chicken dish in India.
Bombay Bistro's unique dish on their menu card is 'Kadai lamb'. This is an exclusive Indian food cooked in desi style.
When I read 'lamb chop' on the menu card, I know Bombay Bistro has remained a loyal Indian restaurant because 'mutton chops' are still favorites of rural India, especially South India.
Jaipur Paradise, Austin
You guessed it right, buddy. You get to eat authentic Rajasthani cuisine in this Indian restaurant in Austin. However, I am a bit baffled when I found non-veg items on the menu card.
Chicken and Rajasthani cuisine don't go together traditionally.
There is a range of chicken and mutton gravies that are served your choice of Indian flat-bread such as butter roti, tandoori roti, and kulcha.
There is nothing unique or a specialty of the Jaipur Paradise on the restaurant menu card. Nevertheless, you can eat authentic Indian food here in Austin.
For more details about Jaipur Paradise, visit its website
To round up about Indian food and Indian Restaurant in Austin, the Indians in Austin won't miss their homeland.
I wonder whether you get Indian street food in Austin that would give a complete picture of the availability of Indian food in Austin, Texas.