This is all about Franschhoek, a rather unknown vacation spot in South Africa. Find out what can you do here, why the food scenario is rated as one of the best, and also, know about the places where you can stay.
The name is certainly an African name but surprisingly, the word France clings perfectly-what do you say?
It is a little-known place all over South Africa but is well-known to the permanent residents of the Western Cape province of South Africa.
Western Cape:
Western Cape as part of the well-traveled Cape Town province has two big oceans on its sides namely the Atlantic Ocean on the west and the Indian Ocean in the South. Put together, it has an enviable 900 km of coastline.
Our destination one of the beautiful South African vacation spots is almost invisible in the atlas but that doesn't undervalue its touristy.  This is so, in spite of its proximity to Cape Town, one of the biggest cities in South Africa. The distance between the two points is just 75 km.
Unique Fact:
Do you know that South Africa has as many as three capital cities?
Pretoria
Cape Town
Bloemfontein
Each city is officially for different purposes that include executive, legislative, and judicial respectively.
Let us get back to it, the little-known vacation spot in the Western Cape province of South Africa.
Overview
Only for the past thirty years, this small South African vacation spot has gained a stronger presence on the tourist radar.
Suddenly, during the last decade of the past millennium, the people of Western Cape province realized the tourist value of their own backyard.
Even during high summer, this wine valley is not so hot. Its weather is pleasantly tourist-friendly throughout the year.
In winter, the surrounding mountains wear snow on their slopes and peaks.
Franschhoek Wine Valley- Wine Tram Tour
The town's captivating beauty and great weather invited the South Africans from Cape Town to relocate to this quaint mountainous town.
Meet Some Original South Africans
South Africa's original inhabitants are several that reside across the length and breadth of the country. It is always an interesting experience to meet a few of them, try to strike a conversation, and get to know how they survive in the modern era.
Khoisans as they are called are still living in this part of South Africa. As a tourist, you will have a chance to meet them. With the assistance of a local guide, you can interact with them. You can even invite them for a cup of coffee and a plate of pastry.
These African tribesmen's extraordinary hunting skills and knowledge of the African wildlife could make an interesting ebook guide.
Their origin dates back to an incredible 26,000 thousand years ago. Compared to that, you and I have no history at all.
Wander the Streets of Franschhoek
The town may be small and old but it appears spick and clean.
Generally, we would like to know what the locals eat, what their groceries are, and what a shop's menu board would contain when we visit a strange town.
Look at a sample of boards in front of the shops.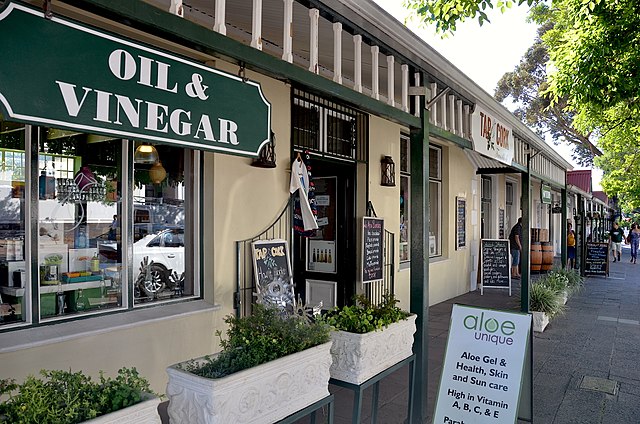 Wine Culture
Yes, this is a wine country that brews unique red and white wines that are distinctively different from the French and Italian wines.
Incidentally, the food in this place is so delicious that is accompanied by superb wine that it is called the food and wine capital of South Africa.
Imagine a small town that measures just 2 sq. km in the area has made it so big competing for the numerous big cities and towns of South Africa.
It is no wonder that South Africa's treasured vacation spot and retirement town.
Franschhoek wine tram
This is a not-to-be-overlooked experience. The short video of the wine tram shows a picturesque countryside with grapes plantations.
Of course, you will get a chance to act as a 'wine taster'.
Wine is being brewed here for the last 300 years. The wine tram tour also takes you to as many as twenty-two wine cellars.
You are given an opportunity to walk through the vineyards. There are 40 wine estates here. In addition, you can enjoy a relaxed and absolutely delicious lunch
Since the vineyards and the verdant countryside are too inviting for a closer examination, the wine tram makes it convenient for you to get down at any stop on the way. You can enjoy whatever you wanted to see and go back to the tram station. When the next tram arrives, just get on board to continue your tour of Cape Winelands.
This arrangement is called a "hop-on, hop-off" tour. Funnily, it is abbreviated to the "HOHO" tour.
Here is an important tip before you plan your Franschhoek Wine Tram.
Overall, there are eight wine lines that are named as follows:
Orange Line
Purple Line
Blue Line
Green Line
Red Line
Yellow Line
Pink line
Grey Line
Each line takes you through a different wine region in the wine valley. I read the last two mentioned wine lines are the best because it covers all that is covered by the other wine tram tours.
If you want this wine tour to be memorable for a long time, give yourself a total of three hours including the different disembarkations.
The scenery is simply breathtaking.
Let us see why its restaurants and cafes made a lasting impression on the connoisseurs' world. There is one particular restaurant that every tourist dare not miss is the 'Tasting Room'. It is voted as one of the top 50 restaurants in the world.
This is no ordinary achievement in the present scenario where millions of restaurants that are found in the bloggers' web pages act as guides to every traveler as well as the local residents.
It is surprising to note that such a small town has 20+ restaurants. It is proof that it is gaining immense popularity among South African and French tourists who have a passion to tour wine countries, wherever they are.
The top of the lot among the restaurants is Le chêne. I saw the photographs of it. It is no wonder ranked as the number one restaurant in this town.
Here are some of the local special foods to eat.
Cape Malay Curry
Boerewors
Bunny Chow
Amarula Don Pedro
Biltong & Droewors
Yes, it looks like sausage but a dry one.
Places to stay in Franschhoek
I must admit there are not too many hotels when compared to Cape Town, the nearest big city.
I think in such a small town, I would feel very comfortable staying in a 'bread & breakfast inn. There are many of them here. In addition, for family travelers, independent cottages are available.
La Residence stands out among the hotels. Another highly acclaimed hotel is Le Quartier Francais
Shopping
Don't assume you cannot find any gifts shops in a small town. On the contrary, being a touristy town, there are a few boutique stores that sell exclusive men's attires and home needs.
You can find good cheese brands here. The best is the Dalewood Cheese.
Do you like Belgium chocolates? They need not be manufactured in Belgium alone. Franschhoek manufactures Huguenot chocolates. You can buy them in local stores.
Go hiking in Mont Rochelle Nature Reserve
Any tour in South Africa, however short it may be must involve at least an hour of hiking as the South African countryside, mountains, beaches, and game reserves are just too many to list out.
You have 10 hiking trails to explore on foot. Be in for a big surprise with regards to diverse geography and wildlife.
If you have some knowledge about plants and trees, you will have a tough time identifying nearly 5000 species of flora.
Among the ten walking trails, these three are highly recommended:
Uitkyk Trail
Aalwynkop Trail
Breakfast Rock Trail
It is better to note that the Mont Rochelle Nature Reserve is part of Cape Wineland's Biosphere Reserve.
Wine Farms to visit
You are on a thick wine valley. It is your basic interest in worldly wines that brought you to this wine country in South Africa. You may wish to visit some of the popular wine estates here.
The French name says it was either owned or started by the French people. They grow two varieties of grapes namely Chardonnay and Pinot Noir. They are green and purple grapes  respectively.
With these varieties of grapes, the company makes sparkling wines that we all like. Yes, I am referring to the 'Champagne'.
You might have seen the labels on champagne bottles that read 'Pierre Jourdan'.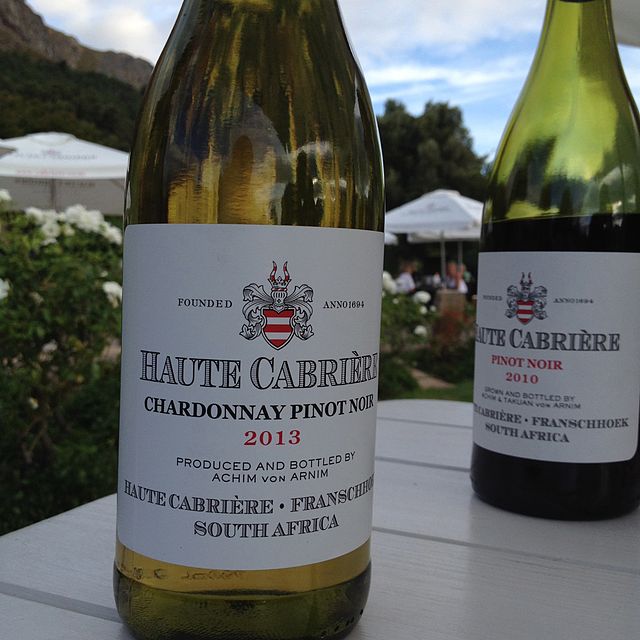 La Bri Estate
La Motte Wine Farm
Stony Brook Vineyards
Akkerdal Wine Estate
Dieu Donne Vineyards
Franschhoek Pass
It is a scenic spot for breathtaking views of the wine valley below. Surprisingly, I could not find the altitude of this mountain pass though it is a famous tourist landmark.
The residents of Cape Town have a great weekend