Safari tours are well organized in game parks all over the world. India too has numerous wildlife safari packages spread across the country.
In almost every state, you can take a wildlife holiday and take your entire family on a wildlife safari.
Safari packages usually last only half a day. Rarely, you need a full day in jungles to watch wild animals. The next free day of our 'weekend forest escape' is generally spent in one of the jungle lodges or we go to see nearby sightseeing attractions that include
Rivers,
 Lakes
Waterfalls
 Natural hot springs
Fort ruins
Hill stations
Bird-watching tours are different. It always takes two days if not more to spot at least 20 species of birds. Birding is a patient hobby.
In this blog post, you will come to know about the ultimate 7 wildlife safari tours from which you can choose that are near your hometown.
14 days safari
This is a mammoth wildlife safari tour in India that lasts 14 days. If you have the time and inclination,  you should choose to book your wildlife watching trip that lasts a fortnight. It is not for a solo traveler but for a group of family or friends.
Since you will be visiting different game parks, you will be able to see a great range of animals, birds, insects, and reptiles.
The wildlife sanctuaries in North India will be the point of interest. In addition to roaming the jungles and caves, the tour exposes you to a few cultural shows also.
Fourteen days India Wildlife and Cultural will also take you to one or two UNESCO World Heritage Sites as well.
You will really appreciate Indian national parks with different landscapes and geography.
The wildlife spotting will be either in open jeeps or on the back of elephants.
Wildlife sanctuaries and national parks that you will visit during the 14 days safari:
Bandhavgarh National Park and Tiger Reserve,  Madhya Pradesh
Here is the only place in India that you can spot the white tiger. In addition, the park is home to over 80 species of butterflies.
Kanha National Park and Tiger Reserve, Madhya Pradesh
Apart from tigers, leopards, and bears, you can spot two rare animals here.
Swamp Deer also known as Barasingha
Dhole also known as whistling red dog
Other places of interest revolve around different cultures, monuments, and heritage sites. I think it is a good concept of seeing the wild animals and birds and also cover the nearby tourist attractions.
Here is a list of places that are included in the long 14 days wildlife and cultural attractions in North India.
Qutub Minar
Red Fort
Gwalior Fort
Agra Fort
Erotic sculptures of Khajuraho
A tour of New Delhi, the capital of India
Fatehpur Sikri
In order to book this grand wildlife safari tour in India, visit the website address.
Pugdundee Safaris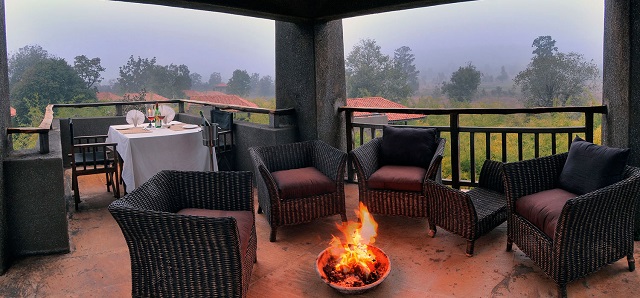 Nicely named as the word 'pugdundee' means 'beaten path' or the trails of animals in a forest.
A big team of naturalists, knowledgeable guides, and marketers manage several jungle lodges that are located just outside the wildlife sanctuaries. Additionally, they organize several safaris that include:
This is another long safari tour in India that lasts 16 days! Do you know that there are as many as five tiger reserves in Madhya Pradesh alone? Now, do you believe India leads in the tiger population in the world?
You will be taken to the following tiger reserves on this safari tour.
Kanha Tiger Reserve
Bandhavgarh National Park
Panna Tiger Reserve
Pench Tiger Reserve
Satpura National Park
The names of their wildlife safari tours in India are:
Satpura Explorer
Kipling Trails
Wildlife Trails
Jungle Book Trails
Central India Wildlife Safari
The minimum duration of their wildlife tours and treks is five days because you will be covering more than one wildlife sanctuary.
For the benefit of tourists to Kanha National Park and Bandhavgarh Tiger Reserve and the other three tiger reserves in Madhya Pradesh, the Pugdundee team is operating boarding and lodging facilities.
Their lodges for the safari tourists:
Panna  Pench Treehouse
Kanha Ken River Lodge
Kings Lodge, Bandhavgarh National Park
BandhavgarhTree House Hideaway
BandhavgarhKanha Earth Lodge
To book your choice of a wildlife safari tour in India, go to to their website for booking.
Kabini Backwaters Forest Safari
We now come down to Karnataka from Central India in our quest to know a few of the ultimate wildlife safari tours in India.
I think the forests and bird sanctuaries in and around Kabini River are rather under-visited when compared to Kanha National Park, Jim Corbett National Park, and Buxa Tiger Reserve.
Kabini Backwaters Forest Safari is operated by the Karnataka Tourism Department.
Where exactly is Kabini?
Kabini is located 80 km from Mysore, Karnataka's second-largest city and a center for numerous wildlife-watching places including the famous Bandipur Bird Sanctuary.
Taxi is the only option to reach Kabini from Mysore. Incidentally, Mysore is equipped with an airport and well connected by rail and bus network.
Kabini Backwaters Forest Safari includes
a short boat safari for nearly two hours in the Kabini River.
You can spot elephants, crocodiles, several species of birds such as cranes, cormorants, egrets, kingfishers, and a big colony of flying foxes.
a jeep safari that lasts three hours
If you are lucky and alert, you can catch the rare 'black panther' in your camera.
There is a fantastic Kabini River Lodge for staying overnight. Food is served to the guests. The lodge manager will arrange a boat safari for the guests.
For more details, go to Karnataka Tourism
Do you know?
Do you know Kabini River is a tributary of River Kaveri?
Golden Triangle Tour
When I was researching for content for this topic, the Golden Triangle Tour appeared quite a few times. Hence, I decided to include it in the list of the ultimate wildlife safari tours in India.
Don't assume Indian wildlife safari packages are worthless when compared to African safaris. In fact, all the wildlife safari tours in India are exceptionally organized offering great flexibility too.
I was under the impression the safari package involves a tour of three wildlife parks in India but I was disappointed to learn that, the Golden Triangle Safari Tour takes the tourists to only the Ranthambore National Park. The word triangle points to the touring of three big cities namely New Delhi, Agra, and Jaipur.
The famous Ranthambore National Park is located in Sawai Madhopur, Rajasthan. The majestic Royal Bengal Tigers are preserved and protected here.
Two other animals that are worth spotting in Ranthambore National Park are:
Nilgai
Oh, Man! This is really a huge beast.
I have not come across this animal in other wildlife sanctuaries in India. It surely appears ferocious.
Since you are taken to three cities apart from the safari, the Golden Triangle Safari Tour in India lasts eight days.
Your tour cost includes local transportation, staying, and breakfast. A guide accompanies you for which you need not pay extra.
To book the Golden Triangle safari tour, please go to their website.
13 days chasing birds and wild animals
An engaging thirteen days birding tour is offered by the experienced wildlife explorer India.
The name of this wildlife safari tour in India is "North India Birding Tour". I would rate it as a wonderful opportunity because the majority of the attractive birds in India are found to be living on the hills and forests of North India.
In addition to visiting the bird sanctuaries, you are also taken to some of the big names in the Indian wildlife parks that include the Jim Corbett National Park, really the biggest name in India for wildlife safaris.
Here is the list of national parks and animal reserves you will be visiting during your long safari tour.
Keoladeo Ghana National Park (Bharatpur Bird Sanctuary)
I think the latter name is more popular among Indian wildlife enthusiasts.
It was created by men; it is not a naturally occurring wetland. The wetlands and marsh ecosystems all over the world are known to attract birds because of abundant prey.
The Bharatpur Bird Sanctuary is one of the leading birding sites in India. It is located in Rajasthan's Bharatpur town.
About 300 species of avifauna are permanent residents here. To give them company, hundred more species of birds migrate to this wetland in Rajasthan.
The biggest attraction on this wildlife safari tour in India is Sarus Cranes. They break into a joyous dance during the courtship.
Look at the Sarus Cranes dance below.
When the monsoon arrives in North India in July, this birding paradise gets crowded by the arrival of numerous migratory birds that include:
Painted Storks
Purple Heron
Bronze-winged Pheasant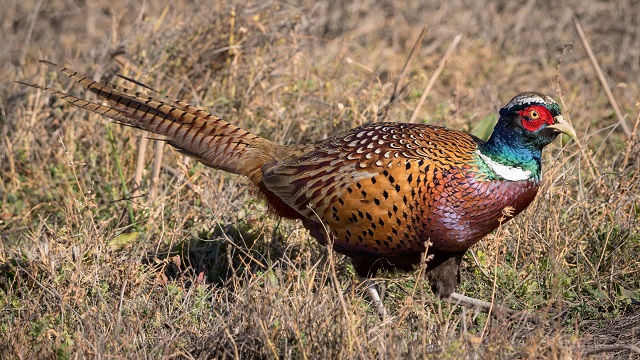 What a beauty! It is simply spectacular!
Openbill Storks (Asian Openbill)
Purple Swamphen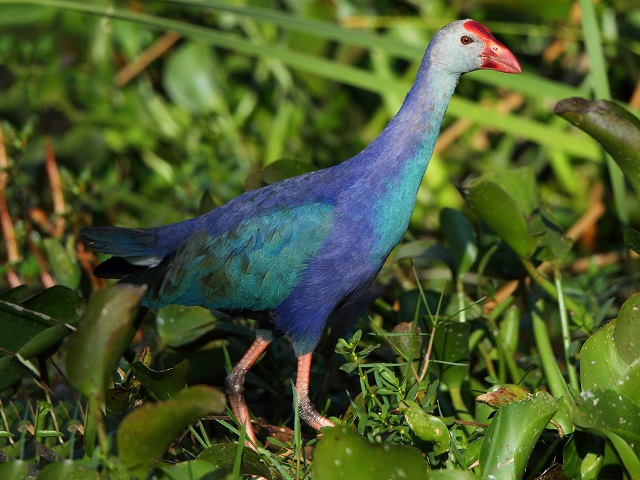 I am sure sighting these five gorgeous birds are worthy of your 13-day bird-watching safari.
Chambal Wildlife Sanctuary.
As many as three Indian states are looking after this mammoth 5400 sq. km wildlife sanctuary. It carries another name by National Chambal Gharial Wildlife Sanctuary.
The states that are involved in the protection of Chambal Sanctuary are Rajasthan, Madhya Pradesh, and Uttar Pradesh. The large area spread into three adjoining states.
The main focus is the protection of the endangered Ganges Gharial, a species of crocodile that posses a distinctive long snout.
Gharial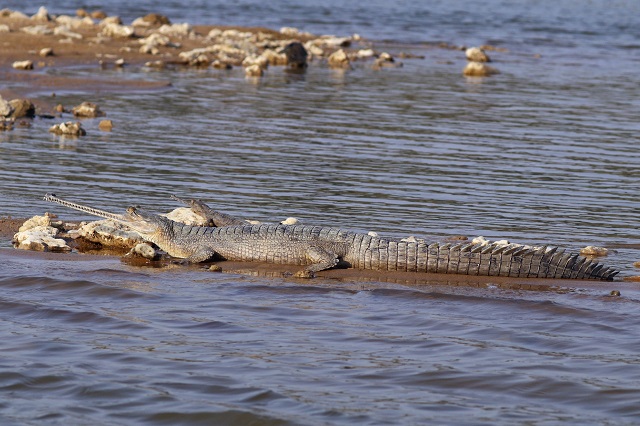 Another protected wildlife in this sanctuary is Ganges Dolphin that also is put under the 'endangered list.
These water-based creatures are found to be living in the Chambal River. As a tourist on a wildlife safari tour in India operated by the Wild Explorer India, you can spot these gharials and dolphins during a lengthy boat safari in the Chambal River.
Several woods are flourished by the Chambal River.  Birds and forest animals live in the woods.
While cruising the river, be alert to spot the stunning Indian Skimmer.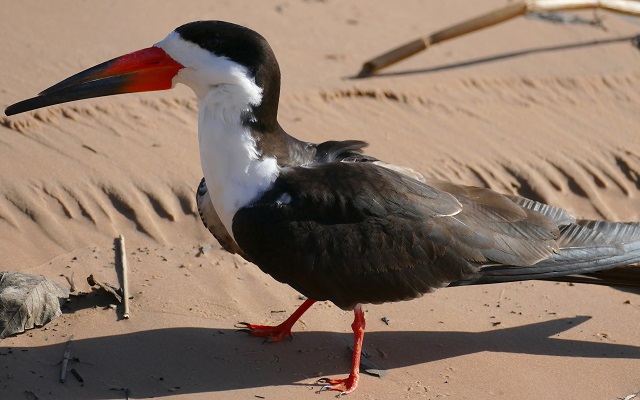 Jungle cats (feral cats) are also found roaming the shores of the Chambal River.
If you can identify the 'Tern' species of birds, you can spot the black-bellied Tern.
More birds for birds during the bird safari in Chambal Sanctuary:
Comb Duck
Long-legged Buzzard
Sanke Eagle
Fish Eagle
Osprey
Jim Corbett Tiger Reserve
Though named Tiger Reserve, Jim Corbett National Park is a haven for bird watchers who are lured by the statistics of 550 species of birds that are found to be living here.
Ninital:
It is located in Ramnagar, Nainital, on the Himalayan birding trail.
During this bird safari in Nainital, you can spot:
Ibisbill
Black Francolin
Spot-bellied Owl
Crimson Sunbird
Waterfowl
Crested Snake Eagle
Asian Green Bee-eaters
Orange-bellied Leafbirds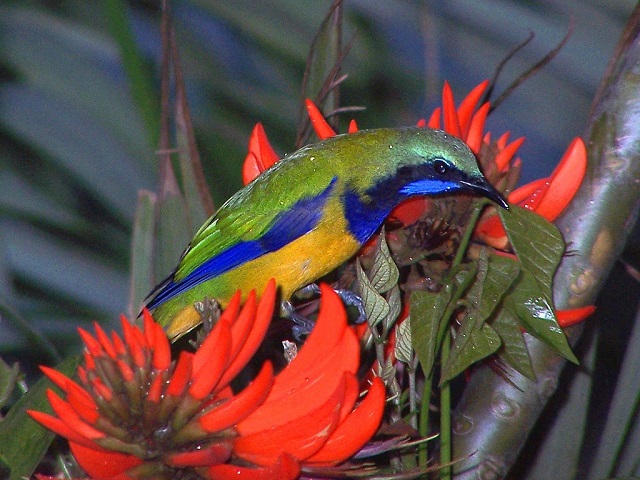 Pangoot Village
Sat Tal (Seven lakes)
Both these places are also covered as part of your North India Birding Safari. The two bird-watching places are also located near Nainital.
Pangoot is known as one of the top birdwatchers' havens in India. The colorful birds of this region on the foot of the Himalayas are simply breathtaking.
To name a few birds that are spotted here include:
Blue-Winged Milna
Laughing Thrush
Great Hornbill
Munivets
Flycatchers
Rufous-bellied Woodpecker
Even if you are a veteran birder, several Himalayan birds may be beyond your knowledge horizon. However, a local guide will be deputed to your bird safari in North India.
Red Chilli Adventure
Red Chilli Adventure must be a new kid on the scene because I have not come across its name before as a web content developer for travel blogs. However, the kid must have born as an adult. I have to conclude like that because their website offers:
Wildlife safari tours in India
River Rafting adventure packages
Trekking in the Himalayas
Mountain biking
I think this resource is one of the best for white water rafting enthusiasts apart from being one of the top wildlife safari tours in India.  I will get to that section after I go through their wildlife safari packages on behalf of you.
A large variety of wild animals and birds can be seen mostly in the Uttarakhand state of India.
Rajaji National Park is one of the venues for an exciting safari.
Jin Corbett Tiger Reserve is another big name for animals and birds watching in Uttarakhand.
Both these are covered by Red Chilli Adventure.
Rajaji National Park
Rajaji National Park comprises a large 820 sq. km area that spreads into three districts in Uttarakhand namely:
Haridwar
Dehradun
Pauri Garhwal
This makes it convenient to enter the national park. Please note that it has many points of entry also that includes:
Dehradun
Kotdwar
Haridwar
Rishikesh
Major portions of Shivalik Hills and River Ganga delta are part of the Rajaji National Park.
Interesting Fact:
Two other national parks Chilla and Motichur that were functioning independently were now merged into the Rajaji National Park.
Rajaji National Park safari involves just five hours. The best time to book this wildlife tour is anytime between November to June. As a matter of fact, this is the best period for wildlife tours in India.
Wildlife that you can spot in Rajaji National Park include:
Elephants
Tiger
Leopard
Hedgehog
Two species of bear
Several species of deer
Jackal
Goral is the lone unique animal that makes the Shivalik hills their habitat.
Goral
It is a mixture of deer and goat.
A couple of monkey species such as langur and macaque
To book your wildlife safari in Rajaji National Park, visit their website address .
Corbett National Park
This is another location for wildlife watching offered by the Red Chilli Adventure. As I have already mentioned all about Corbett NP, I will skip here.
Red Chilli offers a three-day game safari in Jim Corbett Tiger Reserve by jeep.
River Rafting Adventures by Red Chilli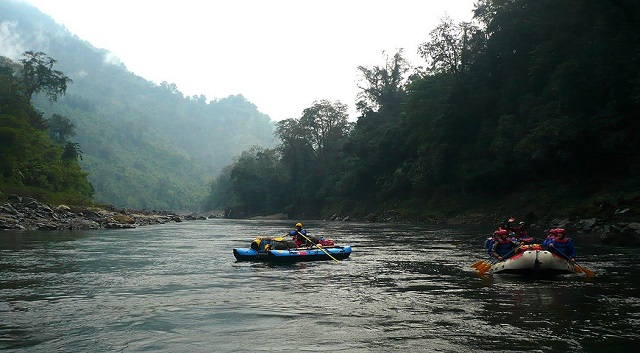 A brief description of several river rafting packages offered by Redchilli.com
The following are the rivers in which you can navigate a raft- an inflatable that can accommodate 4 persons.
Ganga
Alaknanda
Zanskar
Sarayu
Kameng
Kali
Hmm… quite an impressive list. I am sure river rafting buffs would like to test their rowing skill in all these rivers.
You can opt to start your rafting sport from four different towns namely, Shivapuri, Kaudiyala, Devprayag, and Marine Drive.
This adventure sport is offered in Chamoli town, on the way to Joshi Mutt from Haridwar.
The location for Sarayu River Rafting is Sheraghat, a small town in Bihar's Gaya district.
For full details of the river rafting adventure, visit red chilli.
Tiger Safari Tours India
If you or your children are interested in seeing only the Royal Bengal Tigers in India, you should visit the  nearest tour operator.
Backed by thirty years of offering wildlife safari tours in India, they operate different tiger safaris at different tiger sanctuaries with varying duration.
Here are their different wildlife safari tours in India. Tiger safari India also concentrates in North India National Parks and Tiger Reserves. Most of these safaris in North India covers Agra also. I think people are not too keen anymore on seeing the Taj Mahal.
 Just Tigers and Taj Mahal Tour
This 13 days safari takes you to tiger reserves in:
In addition, the tour involves sightseeing in New Delhi, Agra, Nagpur, and Jabalpur. These cities act as gateways to the above mentioned national parks and tiger reserves.
Kanha, Bandhavgarh and Corbett Tour
Again, this tour's duration is 13 days.
Golden Triangle & Indian Wildlife Tour
The Golden Triangle Safari seems to be the most purchased wildlife safari tour in India. This particular tour by Tiger Safaris India involves 21 days duration!
The wildlife spotting places that are covered in this tour package:
Ranthambore Tiger Reserve
Pench Tiger Sanctuary
Kanha Tiger Reserve
Bandhavgarh Tiger Reserve
Panna National Park
Corbett National Park
For booking your choice of safari, visit
What a wonderful seven wildlife safari tours in India that I would surely name them as 'ultimate safaris'.