Assam India, the gateway to North-East Indian states and the eastern Himalayas, the land of countless rivers (Do you know as many as 56 rivers flow through this state), thousands of acres of tea gardens, never-seen wildlife, jaw-dropping tribal cultures, acres and acres of jungles invites tourists with varied interests.
Adventures in Assam are diverse such as, boating and sailing, whitewater rafting, fishing, trekking on mountainous terrain, and so on.
Nature lovers would have to travel the length and breadth of it and its neighboring states, particularly Nagaland for a full fortnight of a tour.
As many as eighteen national parks are wonderful to see in the state for wildlife enthusiasts.
Even a short tour to this state means a minimum of two weeks of your holiday.
Come on, let us explore Assam India and how it can engage a traveler.
I start the list of places in this state to see with some offbeat and lesser-known attractions, in the hope they will lure you instantly.
Hoollongapar Gibbon Sanctuary, Assam India

As the name suggests, this national park in Assam is a sanctuary for "Hoolock Gibbon".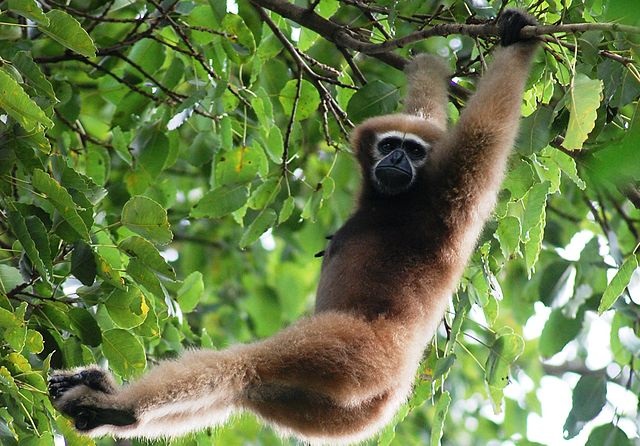 I think this is the first time you are hearing about "Hoolock Gibbon". It is certainly a rare species of monkey in the world.
In order to see these playful monkeys, you have to visit an evergreen rainforest in this Sanctuary. Hoollongapar Gibbon Sanctuary is located near a small town called Mariani. This gateway to the Hoolock Gibbon sanctuary is located 20 km from Jorhat, one of the cities in Assam. Incidentally, Jorhat has the nearest airport to tour Assam's gibbons' sanctuary.
Bengal Slow Loris
Loris is cute and similar to Panda, they are one of the slowest movers on trees.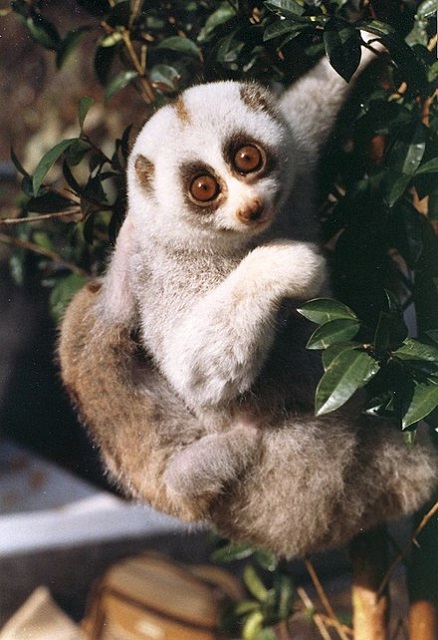 You can easily spot these Bengal Slow Loris in the Hoollongapar Gibbon Sanctuary.
Dissoi Valley Reserve Forest
Since the Hoollongapar Gibbon Sanctuary is quite large and extends up to the borders of Nagaland, a few more reserved forests and enchanting valleys and mountains can also be seen when you visit the gibbons. If you have a deep interest in forests and mountains, you would allocate an extra day to see them.
Birds and reptiles would welcome you as you leisurely stroll through the reserve forest.
Tiru Hill Reserve Forest
This green forest also lies on your path when you go deep into the gibbon sanctuary.
PatKai Peak
The Pat Ka peak stands at an elevation of just over 12,000 feet! The PatKai mountain range is quite large and passes through this state, Myanmar, Meghalaya, Manipur, and Nagaland.
Tourist attractions numbered 2,3, and 4 are near the Hoollongapar Gibbon Sanctuary.
Majuli Island, Assam India

Majuli Island is a river island situated on the mighty and furious Brahmaputra River. Don't assume it is just a piece of land because it is located in the middle of the fast-flowing Brahmaputra. It comprises a whopping 1250 sq. km area! In fact, Majuli Island is the world's largest river island.
Note: The large size of this river island warranted the Assam government to make it a district!
Since you will start your Assam tour from Jorhat because your prime attraction is the gibbon sanctuary, you can visit Majuli Island when you return to Jorhat.
The boat jetty to Majuli Island is just 20 km away from Jorhat city.
Majuli is the world's largest river island and it attracts tourists from all over the world.
Majuli is a must-see place during your tour.
You can meet several tribes that are living in Majuli's 44 villages!
Jorhat, Assam India

Jorhat is a big city and one of the best places in this state to see. Jorhat's major area is used for tea cultivation and produces one of the largest quantities of Assam Tea.
Jorhat city is located on the banks of River Bhugdoi, a  Brahmaputra tributary.
Majuli Island is located on the outskirts of Jorhat. Jorhat is well connected with the state capital Guwahati by road, rail, and air.
Some of the attractions of Jorhat include visiting Nimati Ghat of Brahmaputra River and at least two palatial tea estate bungalows that also offer rooms to stay with food.
Jorhat is a major tea tourism center in India.
Kakochang Waterfalls
Jorhat city is approximately 70 km away from Kakochang Waterfalls, a fascinating waterfalls that carry the Brahmaputra river. The green backdrop is a pleasing sight, folks!
If you are based in Guwahati, you can take a train up to Furkating, the nearest train station. For flyers, Jorhat should be their destination.
When you are visiting the Kaziranga wildlife sanctuary, you can combine that trip with Kakochang Waterfalls because only 30 km separates them.
Kakochang Waterfalls is one of the best places to visit during your tour. Don't miss it.
Gazpur Elephants Sanctuary
The elephant sanctuary of Gazpur near Jorhat was once a major attraction. I think the place is still home to several Asian elephants.
Umananda Island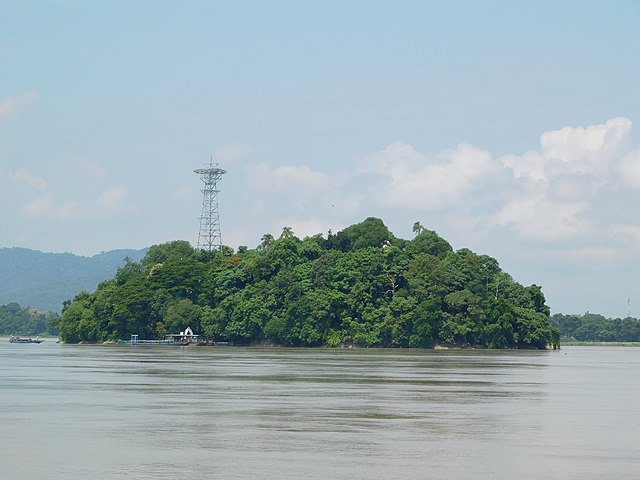 This is another river island in the Brahmaputra. It is located close to the capital Guwahati. Umanada Island is the world's smallest river island.
Two main attractions in Umananda Island are the sacred Uma (Parvathi)  temple and the rare Golden Langur, an endangered and hence a protected species of primus.
Manas National Park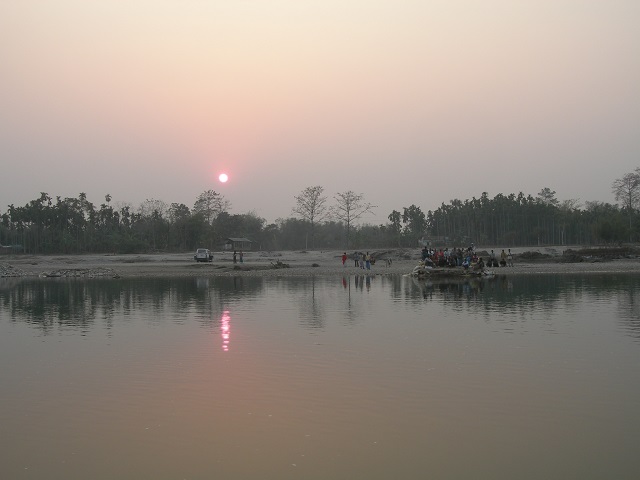 This tourist attraction in Assam is also known as Manas Wildlife Sanctuary. In fact, I would say it is proper to call it a sanctuary because it is the habitat for several endangered species of mammals and birds.
Manas National Park is located in Barpeta city, some 100 km near Guwahati.
Because this wildlife sanctuary is home to numerous endangered and rare species of wildlife, UNESCO has certified it as a Natural World Heritage site.
In addition, the presence of Bengal Tigers and Asian elephants in the sanctuary warranted the Government to award the Project Tiger Reserve status, an elephant reserve, and a biosphere reserve status.
Generally, the Kaziranga National Park comes to our mind before thinking of touring to this state. Manas wildlife park is a rather underrated wildlife sighting site in Assam India.
Two very rare and endangered species of wildlife that one can spot in Manas National Park are: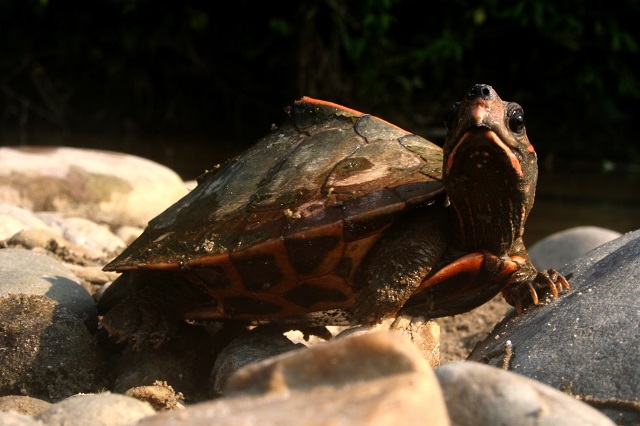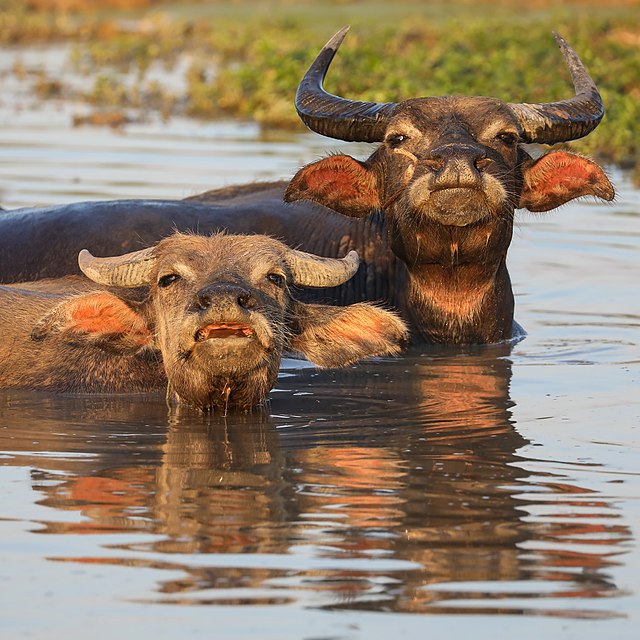 Other rare animals in Manas wildlife sanctuary include:
Golden Langur
Pygmy Hog
Hispid Hare
Hoolock Gibbon
Slow Loris
Moreover, if you are a seasoned birder, you can spot as many as 380 species of birds in Manas!
To name a few of the avifauna in Manas:
Bengal Florican
Crested serpent-eagles
Brahmini Duck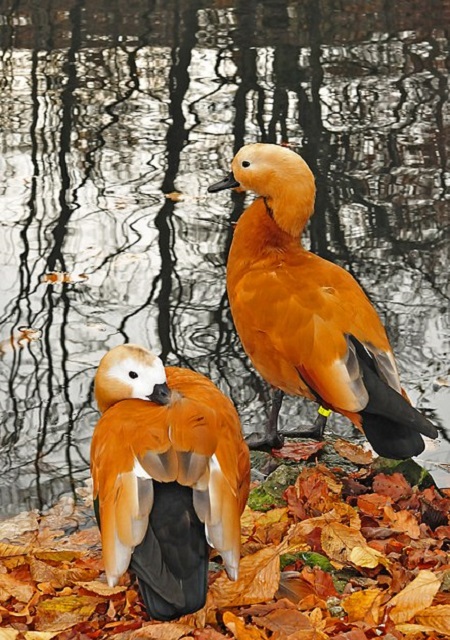 Great Indian Hornbill
Pied Hornbill
Kalij Pheasant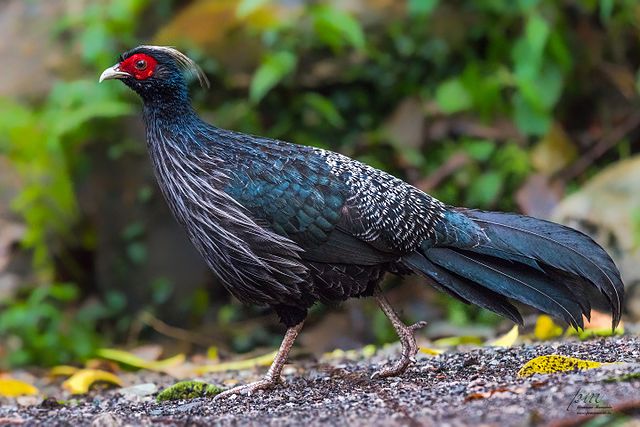 Manas is one of the best places to see. Apart from visiting the wildlife in Manas, if you have a jeep, you can go beyond the national park to see thick and evergreen tropical rain forests and villages in the Himalayan foothills.
Dibru Saikhowa National Park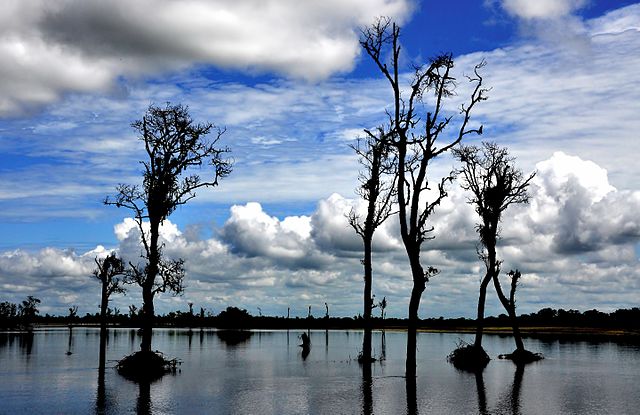 They are feral horses that are a rarity in the world because usually, horses are tamed.
Dibru Saikhowa National Park is located in Dibrugarh city. The entire 765 sq. km area is a diverse ecosystem comprising various types of forests and swamplands.
All the wildlife that you see in Manas National Park are also seen here.
Three major rivers flourish in the area. They are the Brahmaputra, Lohit, and Dibru river.
Visiting tea gardens of Assam India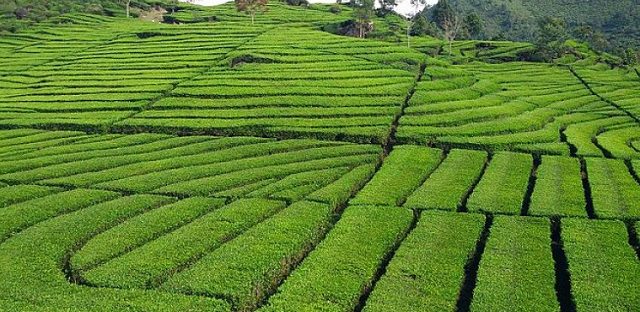 Going to Assam means visiting a few tea gardens at least. There is no point in ignoring the world's largest tea cultivation area. In fact, you can stay in a tea estate guesthouse. The stay will be very comfortable with home-cooked food and of course, the freshest brewed tea.
Cinnamon Tea Estate is one of the highly visited tea gardens and has been in existence since 1850! Another important tea garden landmark is the Tocklai Tea Research Centre.
Assam,  India is the world's most popular tea tourism center.
Pobitora Wildlife Sanctuary
This wildlife sanctuary is more of a birders' haven because of numerous bird species, the chief among them is the Rufus-necked Hornbill
This place also acts as a rhino breeding research center. This tourist landmark is located in Guwahati city and a wonderful place to see.
Kaziranga National Park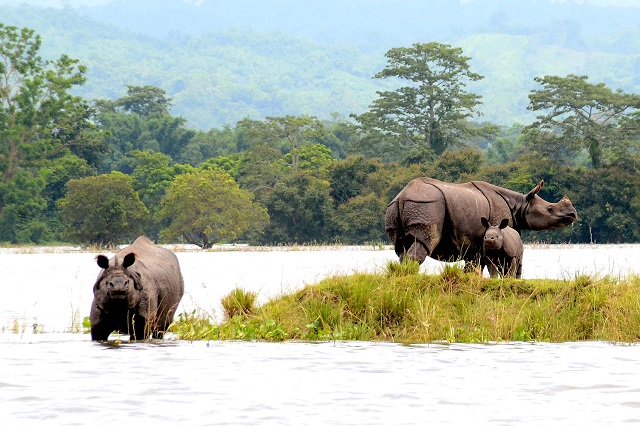 Kaziranga National Park in Assam needs no elaborate introduction. It is the sanctuary that houses the world's two-third population of the great one-horned rhinoceros.
Situated about 110 km from Jorhat and 200 km from Guwahati, Kaziranga Wildlife Sanctuary is one of the highly visited places and certainly a must-visit attraction.
This national park is more than a century old since its establishment.
Not only it is a known World Heritage Site of UNESCO for its protection of one-horned rhinos but also Royal Bengal Tigers. Yes, it is an official tiger reserve of India.
The third most populous animal that lives in Kaziranga National Park is the water buffalos.
One can spot numerous mammals in Kaziranga such as:
Indian Pangolin
Wild boar
Elephants
Sambar
Hog Deer
Slow Loris
Numerous species of Monkeys
Bird watching in Kaziranga is extremely popular. I think not many birders in India are aware of this fact. Some of the birds that one can spot in Kaziranga wildlife sanctuary are:
Lesser white-fronted goose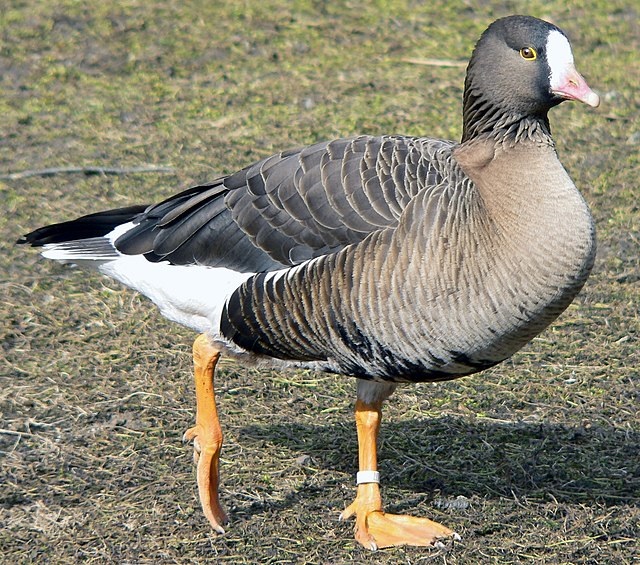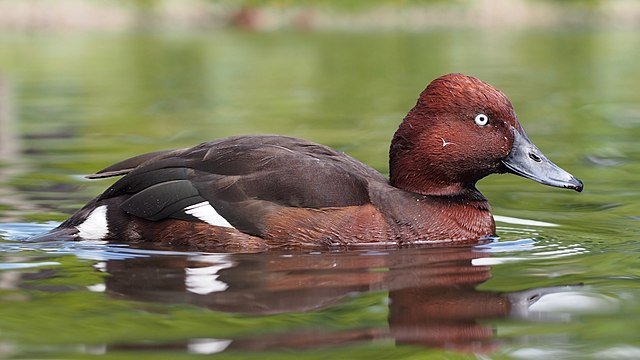 I think both these ducks are not seen in other places in India.
What a lovely color combination!
Apart from the Brahmaputra River, a few other rivers and several small lakes and tanks provide abundant fish to thousands of waterbirds in Kaziranga.
A few species of pelicans, kingfishers, and eagles also thrive in Kaziranga.
The only drawback of engaging a safari jeep in Kaziranga is you are not allowed to stay more than two hours inside the park. I think it is due to the large crowd waiting at the entrance of Kaziranga.
It is advised to book your Kaziranga safari package two days in advance.
The best time to go to Kaziranga National Park is between November and March.
Mayong
Mayong is a village located on the peripherals of Pobitara Wildlife Sanctuary and on the banks of the Brahmaputra River.
This quaint village is known for two tourist interests.
Black Magic
Whitewater rafting
Adventure travelers would love to go to Mayong for water sports.
Orang National Park
Located near Tezpur in south Assam, this national park must be a habitat for Orangutans though there is no information officially. Some images on the web showed Orangutans. Apart from the one-horned Rhinos, elephants, and numerous species of water birds, you can find the water-buffalos too.
Dipor Bil
Visitors to Guwahati won't miss seeing this large freshwater lake (over 4000 hectares). Situated on the outskirts of Guwahati city, Dipor Bil is a popular tourist land and one of the biggest attractions of this state.
If you have never seen Water Lilly and Water Hyacinth, you can see them in this lake.
Due to mud and marsh, it is officially declared as a Ramsar site. This means there is ample prey for birds and reptiles. Dipor Bil attracts several species of migratory birds including the big Siberian Crane.
You can certainly call Dipor Bil an excellent bird sanctuary.
Bogamati
Just about 100 km away from  Guwahati but on the Bhutan border, Bogamati is also a major adventure center at here. The Bogamati River is ideal for whitewater rafting.
Bogamatio is on the main itinerary of the tourists to Assam and Guwahati. It is a picturesque location near Guwahati.
Assam State Zoo
The State Zoo is one of the biggest attractions in Guwahati for all age groups. I think this is the only zoo in India where you can see Kangaroos.
Ostriches and chimpanzees have added attraction in this sprawling zoo that is also a botanical garden. You require half a day to enjoy the wildlife and gardens.
Hajo Temples, Assam India

Located 25 km away from Guwahati, this is a crowded temple complex of amazing beauty.
Assam state is a wonderful place to tour and is it is well connected by air, rail, and road.