Do you know that only in India, the rhinos have sanctuaries and are carefully preserved?  The picture of rhino above shows the Rhinoceros in India with a single horn on its snout.
The Rhinoceros in India are also known as the Greater one horned Indian Rhinos. It implies there are rhinos called Lesser Rhinos.which carry another name Javan Rhinos.
The Unicorn Rhino is a native of India and Nepal. I read a few of them are found in Bhutan also.
These big beasts are purely vegetarians. They are herbivorous, eating only plants.
Rhinos that are fully grown up and young are not attacked by the lions and tigers. However, the big cats target the cubs of rhinos or old rhinos.
Sanctuaries for Rhinos
Only in India, you can find Rhino Reserves. Though Africa has more rhinos, they co-exist along with other African mammls that include African bush elephants, lions, giraffes, zebras, elands, etc.
Where to Spot Rhinoceros in India?
Let us have a look at the Rhinoceros in India and Rhino sanctuaries in India.
Kaziranga National Park
This is the major reserve for Indian rhinos. Kaziranga National Park is located in the Indian state of Assam.
Because, this NP protects the one-horned rhinos that are considered as 'endangered', the UNESCO declared it as a World Heritage Site.
Roughly 3000 unicorn rhinos are living in the Kaziranga National Park.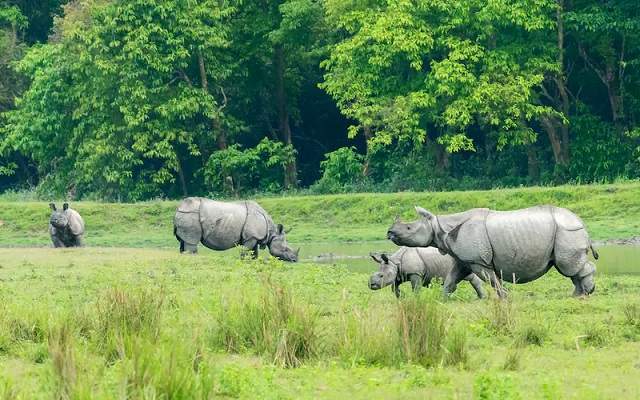 Rhinos in Kaziranga National Park's grassland.
In spite of heavy protection, rhino cubs are hunted by the big cats in the same national park.
Kazirangan NP is also an official tiger reserve. The park is a good habitat for several more animals suh as :
Wild Water Buffalos
Swamp Deer
Kaziranga is a precious ecosystem that also has a marshland. Marshes are great habitat for diverse marine creatures and numerous bird species. In fact, the Kazirangan NP is an official Bird Area declared such by Birdlife International.
Big Five of Kaziranga:
Similar to the 'Big 5' of Africa, the following mammals are classified as the 'big 5 of Kaziranga'.
Unicorn Rhinoceros
Wild Water Buffallo
Swamp Deer
Royal Bengal Tiger
Asian Elephants
How to go to the Rhinos Reserve in Assam?
Reach Guwahati, the capital city of Assam. It is well connected by flights and trains. From Guwahati, Kazirangan NP is 200 km east. Hire a cab from Guwahati to keep up your date with the Greater One Horned Indian Rhinoceros.
Valmiki National Park, Bihar
Biharis need not leave their own state to see the highly-protected Indian unicorn rhinoceros. Valmiki National Park in Bettiah city, Bihar came forward to give protection to the endangered Indian Rhinos.
As a matter of fact, this is the lone NP of Bihar.
Patna, the capital of Bihar is your gateway to Valmiki National Park which is also a Rhinos Reserve as well as a tiger reserve.
Interestingly, on the northern borders of Valmiki NP, the Chitwan National Park exists where also, a large number of Indian Rhinos are living. However, the Chitwan NP is in Nepal, a neighboring country of India.
Reaching Valmiki National Park
Bettiah city is 70 km south of the Indin Rhinos Reserve. This city is connected to several major Indian cities by the Indian Railways.
From Patna where you are likely to say, you can hire a taxi and go to the Valmiki NP, 300 km north, towards Nepal.
Apart from the Indian Rhinos and Royal Bengal Tigers, you can spot the wild water buffallos, Indian Leopards, and Asiatic Black Bears.
Another big beast is the India Gaur in Valmiki Rhinos Reserve.
Birders! Cheer up! You can have a field day as this NP is home to some 240+ species of birds. I would love to capture the strikingly-beautiful Emerald Dove in my camera.
The black and white Ibis is another spectacular bird that you can spot in the Valmiki NP.
Pobitora Wildlife Park
The single horn in this Rhino is clearly visible. This is our star of attraction in Pobitora Wildlife Sanctuary.
As soon as you enter the sanctuary, you can spot the Indian Greater One Horned Rhinos because there are about 120 of them.
Indian Rhino Vision 2020 is an official body in India that protects the Indian Rhinos with the support of several wildlife organizations in the world that includes the International Rhino Foundation.
Reaching the Pobitora Rhinos Reserve:
This rhinos reserve is again in the state of Assam, India. Within one and a half hour of travel by a cab, you can reach it from your Guwahati hotel.
The distance is only 55 km between the two destinations.
The sanctuary's numerous grass species serve as fodder to the herbivorous rhinos,
This park hosts the second largest number of Indian rhinos next to the Kazirangan NP. Apart from all the animals mentioned above in the two NPs, you can spot the Rhesus Macaques in Pobitora wildlife sanctuary.
The biggest crowd puller is the birds of this sanctuary. It attracts a mind-boggling 2000 species of birds from across the world.
They feast on the numerous reptiles that include several species of snakes.
Gorumara National Park
Now, to go on a Rhino Safari in Gorumara National Park, we have to go northern West Bengal state of India.
Reaching this Rhino Reserve from Calcutta is far off. Nearly 580 km distance is to be covered.
Gorumara NP is 20 km from Malbazar, a town near New Jalpaiguri city which is 70 km from Malbazar.
Equally, Siliguri town also acts as the gateway to Gorumara Rhino sanctuary. 55 km is the distance to Malbazar.
Incidentally, Malbazar is equipped with a railway station. It has road connections to Shillong, Guwahati, Jorhat, New Jalpaiguri, and, Siliguri.
As many as 8 small hill stations are located close to Malbazar, the gateway to Gorumara NP and Rhinos Sanctuary. Even the highly popular Darjeeling is little less than 100 km away from Malbazar.
Indians living anywhere in India can take a domestic flight up to Bagdogra Airport, Siliguri, West Bengal.
Siliguri, West Bengal
It is a scenic setting at the foothills of North East Himalayas, on the banks of River Neora.
The tea cultivation on the slopes of Himalayas are added attraction when you visit Gorumara National Park.
The famous Indian Rhinos are the major attraction to visitors to the cool Gorumara forests.
For the benefit of tourists, there is a special Rhino watchtower inside the sanctuary.
Similarly, for the passionate bird watchers, there is an exclusive point for spotting the East Himalayan birds,
All the wildlife that I have covered in the above three sanctuaries can be spotted in Gorumara NP also.
In addition, you can spot the Giant Squirrels that hop high, like monkeys.
The obvious exceptions are the absence of tigers.
The whole of the forests area is lit by the extremely eye-catching, Scarlet Minivet.
Sandwiched between the two major river Ganga and Brahmaputra river, the region of the Gorumara is known as Doers Region, a major watershed that enriches the forests' flora that include teak, sal, bamboo, and rain tree.
Do you feel the urge to touch these trees that you have only read about, thus far? To lure you more, there are numerous orchids that thrive in tropical forests.
Best time for your Indian rhino safari
The best time for your Indian rhino safari, December to March is highly recommended.
A few forest bungalows and lodges provide accommodation and food to the visitors.
Moreover, for the adventure-minded visitors, there is a tree house to saty overnight in the forest.
Since no jeeps are allowed inside the park, and elephant-back rides also are not available, tourists can hop on board a bullock cart.
Nearby to Gorumara, another wildlife park called Chapramari is located just 30 km away.
In addition, you can also visit the nearby Jaldapara National Park where elephant safaris are offered.
Your aim of watching the unicorn Indian rhinos can be fulfilled in this Rhino reserve also.
Finally, tiger lovers can think of visiting the Buxar Tiger Reserve. Malbazar railway station has a taxi stand. Talk to the taxi driver about a trip to the Buxar Tiger Reserve or Jaldapara National Park, or the Chapramari wildlife sanctuary.
Dudhwa National Park
What a dreamy capture of the forest and the deer family!
Dudhwa National Park is located close the border of Nepal, in the Indian state of Uttar Pradesh.
The nearest city is both Lakhimpur and Palia Kalan. Since both these places are almost unkown, you can consider staying in Lucknow, the capital city of Uttar Pradesh.
From Lucknow which has an airport and railway junction, Dudhwa national Park is 220 km north.
Though the major attraction is tigers, the Greater One-horned Indian Rhinos were let into the park from Pobitota Rhino Reserve.
Two animals that you would not have seen in the four national parks mentioned above can be spotted in Dudhwa NP.
The Swamp Deer also known as Barasingha are seen in large numbers here.
It seems half of the Swamp Deer population in the world are living in the Dudhwa National Park.
Birds in Dudhwa NP:
This Uttar Pradesh wildlife sanctuary provides habitat to nearly 400 species of birds and that includes countless migratory birds including the terrific-looking Sarus Crane.
There is a large swamp in the sanctuary that act as an ideal habitat for migratory birds.
If you are a follower the raptor species, Dudhwa NP is a haven for you.
Raptors are birds of prey that include
Eagles
Vultures
Falcons
Kites
Condors
Buzzards
Kestrels
Ospreys
hawks
caracaras
Have you ever seen a 'caracaras'? See it below.
Raptors should be seen when they swoop on a prey. It is a breathtaking sight.
Enjoy the act in this brilliant video:
Orang National Park
It is located in Sonitpur, Assam, on the other side of the dangerous and mighty Brahmaputra River.
This NP's population of Rhinos is quite healthy. I wonder why these Indian Rhinos like Assam so much!
Assam's capital Guwahati is only 140 km south of Orang NP. Roughly about 75 Indian unicorn Rhinos are spotted and recorded here.
A rare and endangered bird named Bengal Florican is spotted here.
Manas National Park
Manas NP is both a tigers and rhinos reserve. In addition, it acts as an elephant reserve and a divere Biosphere Reserve. It is also a UNESCO World Heritage Site.
Again, the Assam state is the lucky land to have this wonderful wildlife tourist destination in India.
The Indian Rhinos were brought here from Pobitora NP.
Search for "Rhino Safari India" to locate the nearest one to you. I did the same and I saw that the majority of the rhinos safari were also combined with tiger safari.
Isn't that convenient?
To sum up, to watch the bulky Indian unicorn Rhinos, Guwahati should be your destination.