The above image is showing one of the dark sky parks in India. This star-filled sky was captured without any telescope. Just an ordinary high-end camera was used.
Dark sky parks should aid just naked human eyes to stargaze, spotting all the important and brightest stars, constellations, and even the Milky Way.
Stargazing in India-Dark Sky parks in India: 
Visiting stargazing spots is not everybody's interest. Those who have a passion to know our universe and outer space will be keen to make trips to various dark sky parks in India.
There are exclusive places in India that are exposed to the darkest skies. They are considered the 'darkest' because there are no artificial lights in close proximity.
Imagine a place deep inside a desert, or vast wilderness, or even a mountaintop where there are no human settlements.
Such places not only help to look up a brightly lit sky but also help you to listen to strange and unidentified sounds because of absolute silence.
Let us peruse the list of stargazing spots in India.
Shaheed Dweep, the Andamans
I must admit the name Shaheed Dweep is new even to me who writes exclusive articles on islands of the world. Shaheed Dweep is a new name to Neil Island, one of the islands in the Andaman and Nicobar archipelago that is part of India.
Yes, some of the remote islands that lack electricity and lighthouse are also ideal places for stargazing.
Shaheed Dweep is not very far off from Port Blair, the capital of the Andamans. Just 36 km separates the two points.
Stargazers will have to trek up to the summit of Nipple Hill after 11 pm. The sight from that point is simply awesome It is a sight that will never get erased from your memory.
Yumthang Valley, Sikkim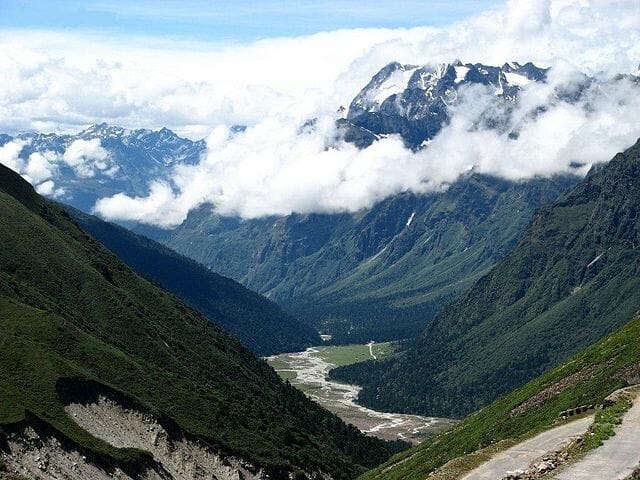 Yunthang Valley is an absolute beauty in Sikkim. I think all of Sikkim is a God-blessed state of India. Everywhere you turn, you see lovely meadows, verdant hills, snow-capped peaks, the ever-smiling Sikkim pheasants.
As a remote area in the Eastern Himalayas, Mount Katao that surrounds the Yumthang Valley rises up to 11,700 feet!
Though it is located 160 km from Sikkim's capital Gangtok, and reaching this place involves several hours arduous journey, is one of the best tourists in the world for the following reasons.
It is a dark sky spot
It is also a valley of flowers
There is a bird sanctuary
The River Teesta flows through the valley
You can see several natural hot springs
Yak rides
The place for stargazing reveals a sky that you would have never seen before.
You would wonder why you have never thought of going to dark sky park before and also vow to go after them wherever they are in India.
The Himalayas are probably the only region in the world that you can truly call a land of natural reassures. I think it will continue to make us wonder even after several centuries because new treasure\s would be unearthed by passionate travelers.
Kibber Village:
The exact place for stargazing spots in Spiti Valley is known as Kibber Village. It is situated at a little over 14,000 feet! Obviously, the place is much nearer to the sky to give us a very clear view of the stars and planets.
The Kibber village's mammoth altitude makes it the highest motorable place in India. Maybe it has no match in the world.
This dark sky park gives you a spellbinding view of the cosmic space. You would badly want the nighttime to extend for as long as possible.
Do you know that the land between India and its neighbor Tibet is called the Spiti Valley? It is a vast stretch of wilderness and during winter, it takes the shape of a white desert. The snow will be seemingly infinite.
The silence of this place suits the Buddhist monks who live in several monasteries between Spiti Valley and Tibet.
You would indulge in star gazing during the night. In the daytime, you can take time to visit the stunning Chandratal Lake and Suraj Tal.
Spiti is well known for its Buddhist culture and is home to several monasteries like the Key Monastery, Dhankar Monastery, Kungri Monastery, and Tabo Monastery. You would also find the Trilokinath Temple here. The crescent-shaped Chandra Lake is a breathtaking sight and is a must-visit attraction in Spiti Valley, along with Suraj Tal.
If you stay a bit longer, you can go to Pin Valley National Park where Yak safari is available.
There are too many places of tourist attractions in Spiti Valley. Stargazing is, of course, the major attraction here.
Nubra Valley, Leh
Leh has several places as dark sky parks because of its vast wilderness and high altitude. In addition, Leh is not a highly developed lace; most of its space is left untouched by nature.
Any nature lover, if he goes to Nubra Valley, will find it to leave the place. There are literally a hundred places to see that include hot springs, wildlife, gorges, forests, sand dunes, and a long stretch of nothing.
Stargazers are allowed up to TurTuk village. It is the last village of Indian on its north. Pakistan border stares at the wanderers. Turtuk that is situated above 10,000 feet is an ideal place to count the stars with no artificial light anywhere nearby.
Rann of Kutch, Gujarat
It is a vast area of saline marsh that extends up to the tip of southern Pakistan touching the Arabian Sea. The entire area is arid in spite of as many as ten rivers empty into the Arabian Sea.
I read that stargazers spend the major of their day spotting rare wildlife such as the Indian Wild Ass that is now endemic to the Rann of Kutch.
The region is mostly dry. The sky is devoid of any clouds exposing the grand panorama of twinkling stars, planets, and shooting stars known as meteors.
Considering very little civilization at the end of Rann of Kutch, it is an excellent place for stargazing. I would add to say it is one of the lesser-known stargazing spots in India.
Pangong Lake, Ladakh
Oh, man! What a star-lit sky. I think if you visit this dark sky park a couple of times, you would begin identifying some of the bright stars quickly and develop into a valuable guide to prospective stargazers.
In addition, I believe stargazing is one activity that requires a knowledgeable guide to point out the important stars, planets, and constellations.
Besides, I have been exploring several stargazing spots in India but so far, I have not come across the sighting of the milky way. Is it due to a lack of knowledge of spotting a milky way movement?
I read some interesting facts about Pangong Lake. It is an alpine lake that is situated at an altitude of 13,900 feet approximately. It is 134 km long and 5 km wide. That is really large. As a matter of fact, 50 of the lie in Tibet China.
This large lake gets frozen fully during the winter in India.
The best state in India for natural beauty is undoubtedly Uttarakhand. This tal called Roopkund is situated at a staggering height of 16,400 feet!.
Naturally, it is uninhabitable thus having no scope of artificial lighting.
This fact combined with the high altitude makes it a damn good night sky park. Stand anywhere in the area of Roopkund in the night and you will see stars, stars, and nothing but stars for miles across.
Mysteriously, at the bottom of the lake (only 10 feet depth) lies numerous human skeletons.
Roopkund's surroundings are the highly sought-after location for experienced trekkers. There are too many trekking trails and each one of them gives the trekker a unique experience and mind-boggling views of the Himalayas.
Dark Sky Parks in India and the adventure of stargazing are not as popular as in the United States. If travel bloggers keep writing about them, it will catch up with a large number of adventure travelers in India.