This post about Lesser-Known Bird Sanctuaries in Andhra Pradesh,  is the outcome of a conversation between me and one of my blog readers who hails from Andhra.
He was sore at me for not writing about bird watching places in Andhra, his home state. He asked me why I am writing about so many bird watching articles that described distant places in the world for birding, but not writing about any bird watching adventures in his state.
I told him Andhra is a dry and hot state and no birds will come there. He revealed that there are several bird sanctuaries in Andhra state and even migratory birds visit them. I was truly surprised.
5 Most Popular, Lesser-Known Bird Sanctuaries in Andhra Pradesh, India
I did a study of what he said and ended up composing this post on 5 bird sanctuaries in Andhra.
Kolleru Bird Sanctuary, Andhra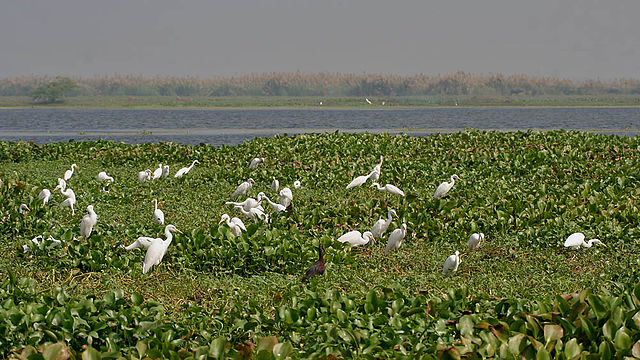 It is a fairly large sanctuary and is home to a Ramsar site also. Yes, the Kolleru Lake lies in the sanctuary and it has formed a wetland.
Wetlands that are habitat to large range of underground insects provide abundant prey to birds.
Where is Kolleru in Andhra?
Kolleru Lake is located 72 km north-east of Vijayawada, one of the cities in Andhra. Eluru is the nearest town at just 17 km away. It has a railway station too.
Best time to visit the Kolleru bird sanctuary:
October to March is the best time to watch the birds. This is when the rains lash the Andhra state, filling up the rivers, lakes, and reservoirs.
The nearly six months of water season is enough for the birds to build nest, breed, and raise their families.
Which are the birds that come to Kolleru bird preserve?
Flamingos
Glossy Ibis
Purple Moorhen
Marbled Duck
Painted Stork
Grey Pelican
Boating is offered in Kolleru Lake.
You can stay in Vijayawada and hire a cab to go to the bird sanctuary and come back on the same day. There are numerous hotels and restaurants in Vijayawada.
Pulicat Lake Bird Sanctuary, Andhra
Pulicat Lake is very close to Madras. Only 60 km is the distance. You can easily plan a day trip from Madras. You need to go by a car only to Pulicat.
When the lake is full during the monsoon, Flamingos arrive in large flocks. Several species of ducks, cranes, storks, and egrets fill up the trees surrounding the lake. Pelicans are regular visitors.
Boating is available. On the other side of the lake, there is a casuarina forest. Beyond that is the Bay of Bengal. Overall, it is a very picturesque place and ideal for a family picnic.
Local village fishermen sell freshly caught fish and crab fries.
Pulicat Lake is an excellent bird sanctuary in Andhra. Tamilnadu state also partially maintains the sanctuary that falls within its state.
Nelapattu Bird Sanctuary, Andhra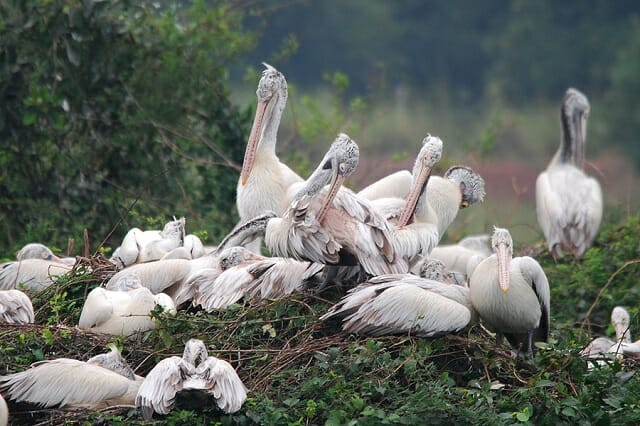 Have you ever seen so many pelicans at a time in one place? These winged beauties are known as "Spot-billed Pelicans". Nelapattu Bird Preserve is one of their favourite but temporary habitat in India. Yes, they will migrate to other places where abundant water and ample prey are at their disposal.
Where is Nelapattu village?
It is a part of Tirupathi district, Andhra. Srikalahasti is the nearest town to reach Nelapattu bird sanctuary. 35 km is the distance between Srikalahasti and Nelapattu. From Tirupathi, it is 75 km.
There are swamps and evergreen shrubs in Nelapattu that are liked by the birds, especially the spot-billed pelicans. A big water body comprising 83 hectares lies amidst the shrub and swamp area that provides nesting, breeding, and feeding facilities for the large pelicans.
The evergreen shrubs remain so, throughout the year. They manage to survive even if they are fully submerged in the rain.
Not only the funny-looking pelicans but 180 more species of birds find the Nelapattu tank and the surrounding forests to be suitable for living.
Here are a few more birds that you can spot if you visit Nelapattu bird sanctuary.
In India, this avian beauty is called Indian White Ibis.
A few species of colourful ducks can be spotted right through the year. They include:
Northern Pintail
Little Grebe
Northern Shoveler
Indian Spot-billed Duck
Garganey
Gadwall
You too can be a professional birder if you can identify swamps, marshes, and mangrove forests where, you are sure to find numerous avifauna. Another vantage place for birds to nest are islands in the lakes.
Kondakarla Ava
What a strange name! This is a lesser-known bird sanctuary in Andgra, near Vizag, 31 km away. , The GVH Resort is close to our destination.
A perennial green forest that thrives on the banks of a huge lake named "Kondakarla Ava" supports several species of birds to live and rasie their families.
Apart from the birds mentioned in Nelapattu and Pulicat bird sanctuaries, you can spot a few more here that include:
Shelduck
Common Teal
Pheasant-tailed Jacana
The bird sanctuary allows visitors from 9 am but closes the gate at 5 pm. So, you have to exit the sanctuary around 4.45 pm.
The whole setting is amidst green hills (Eastern Ghats), and blue beach. You can enjoy a boat ride in the lake.
Here is a short video clip of the huge Kondakarla Ava Lake.
It is no wonder the migratory birds converge here. A wonderful tourist spot in Andhra, near Vizag.
Uppalapadu bird sanctuary, Andhra
This excellent bird watching paradise is located just 10 km away from Guntur city.
This is what is called a 'Heronry'. It means, the trees that surround the lake are favorite breeding grounds for herons, cranes, pelicans, storks, cormorants, and spoonbills.
These are large aquatic birds that feed on big fishes found in freshwater lakes.
Herony is nicely shot in a video camera.
It reminds me Vedanthankal, a similar bird sanctuary near Madras.
A Pelican family is in Uppalapadu bird sanctuary. The sanctuary authorities say there are as many as 1500 pelicans live here permanently.
How do you like these five bird sanctuaries in Andhra Pradesh? I feel they are all lesser-known bird watching places in India that deserve more mentions in the print and social media.