We adore birds, their colors, their intricate homes on trees, and their melodies. Besides, we also use to hold them in our hands and feed them. We wish to take photos with birds in our hands. For some people canopy walk on the canopy trails is a mind-boggling dream.
Have we ever wondered how birds see us from the treetops? What it will be like to see the earth from the top of a tree?
Watch this video below.
The whole world of trees looks awesome from such a height-eh? The hanging wooden bridge built at the height on which we walk gives a new perspective. These such walk is known as canopy walk.
Most Incredible Canopy Walkways around the World
Dandeli Tree Top Walk
The video that you watched above was shot in Dandeli, Karnataka, India. It is India's first canopy walk. The height of the hanging bridge is 30 feet. Numerous trees have already outgrown canopy walk. The total length of the observation platform is 230 feet.
At a few intervals, you can enter a balcony that serves as an extra viewing area and also facilitates giving way to the other walkers.
The walkers (ten at a time) will be accompanied by an official guide who will help in naming the trees and the birds that are spotted.
Among the trees, some of them excite us such as cinnamon and silver oak.
Dandeli is located at a height of 1550 feet and is known for receiving substantial rain without any deficit. Consequently,  trees on their own come up in abundance and they were made into thick forests, thus paving way for building a walking platform that runs parallel to the height of the trees.
Dandeli's Kali River attracts rafting enthusiasts with its navigable rapids.
In addition, the river and forests have become home to several species of birds, reptiles, and animals. The Karnataka Government has established a wildlife sanctuary in Dandeli.
This sanctuary also serves as a tiger reserve.
Dandeli town is 460 km northwest of Bangalore. Hubli, another big city is located 73 km towards Bangalore.
Krkonoše National Park, Czech Republic
With the backdrop of the Krkonoše Mountains. This canopy walk is absolutely unique. Instead of a straight over-bridge, the canopy walk is built like a tall, circular tower with several layers of canopy walkways.
From start to finish, the 'Timber Trail' as it is called measures 1.5 km!. From what I could see, this is a disabled-friendly canopy walk.
The diversity of flora and avifauna warranted UNESCO to consider it as a Biosphere Reserve.
Yala canopy Walk, SriLanka
Sri Lanka is a typical tropical island and is blessed with several tropical forests on the land and on mountain slopes.
The Yala National Park is built with a canopy walk facility.
Imagine the richness of the flora and fauna when you know that Yala National Park is surrounded by six other national parks and three wildlife sanctuaries.
Among such a diverse landscape, Yala somehow manages to attract the most number of tourists in spite of its location (300 km) from Colombo, the capital of the Emerald Island.
I foresee you might want to stay within the forest for at least one night. It is possible with a number of treehouses built there.
Mulu Canopy Walk, Borneo
Borneo is a large island that is owned by three countries namely, Malaysia, Indonesia, and Brunei. Borneo is very rich in biodiversity and its tropical jungles are wonderful to visit. The island is home to some breathtakingly beautiful birds.
Borneo's treetop canopy walkway will give you a glimpse of the world's best rainforests and the wildlife that they support.
There is more than one treetop walking bridge in Borneo's forests and the best is the Mulu canopy walk that stretches into nearly half a kilometer!
It appears narrow enough to make walking is possible only in a queue. I don't think it will invite children and elderly persons.
Another tree walk is located in Danum Valley. The third skywalk is known as the Ulu Mutong Canopy Walk.
Canopy Walk, Hainich National Park, Thuringia, Germany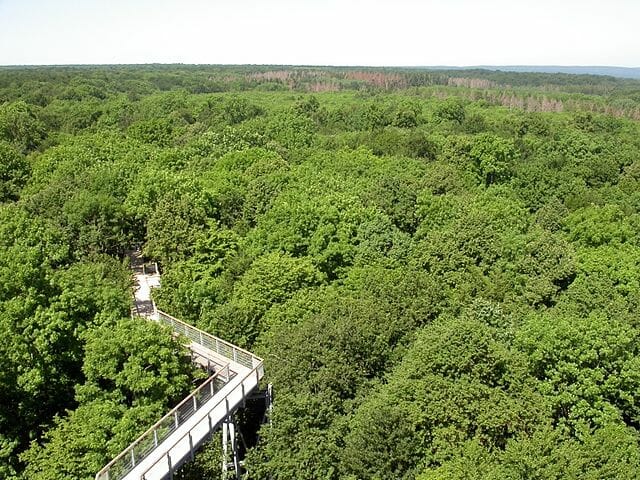 Did you notice how thick the canopy is? It is because of the more number of 'beech trees.
They grow up to 150 feet in height and their lifespan is 150 years minimum. Some beech trees may outlive younger saplings up to 200 years! I wonder what the secret of a long and healthy life.
The canopy walking bridge is about half a kilometer long. The bridge is winding up, reaching a height of 80 feet!
The Hainich National Park is a UNESCO World Heritage Site.
Treetop walk, Anakeesta Theme Park, Tennessee, USA
Simply spectacular. I appreciate the time when the video was shot. The mist covered trees and their surroundings look absolutely dreamy.
This is a skywalk in a true sense.
Anakeesta is not exactly a theme park. It offers just a few rides that don't entice even the children.
The treetop walk is little less than a kilometer; surely it is one of the longest canopy walks in the world.
You can watch the base of the tree trunks from a height of 60 feet!
In addition to the Skywalk, you can enjoy a cable car (chandola) ride that goes up to the peak of Anakeesta Mountain.
Parallel to the closed Chandola, you can see the open chair lifts also for those who dare.
Santa Elena Skywalk, Costa Rica
Costa Rica is known for its dense cloud forests. Actually walking through the could forest can be a once-in-a-lifetime experience.
As you walk through, your attention will be turned towards treetops from where you hear myriad sounds from birds and crickets.
Naturally, you would want to have a bird's eye view of the cloud forest.
In Santa Elena cloud forest, there is a canopy walk that gives you a different perspective of the forest when compared to your ground-level tour.
Your tree walk experience begins when you decide to arrive at the Santa Elena forest by boat through a scenic Lake Arenal.
Stay alert when you are on the skywalk to spot the colorful Quetzel bird.
This is the national bird of Costa Rica.
You can easily spot the Capuchin monkeys whose face is white color.
There is an alternative way to a have bird's eye view of the treetops. Take a zipline tour over the forest canopy and look down from a height above the canopy walk. You will zip across the metal wires up to three-quarters of a kilometer.
Cầu Vàng Canopy Walkway
This skywalk is alternatively known as the Golden Bridge. It is located in Sun World Ba Na Hills amusement park, Da Nang city, Vietnam.
It is not a very long treetop bridge running only for 500 feet. Besides, it is used for those who wish to reach the cable car terminal from the ground.
I think Vietnam has more places to construct canopy walks due to its numerous tropical rain forests, similar to India and Sri Lanka.
Germany has more treetop walks than any other country. I could not find solid data regarding these skywalks in Germany's forests.
Even the U.S has not too many skywalks in the forests.