Karnataka state in India has more wildlife sanctuaries than any other state in India. Do you know Karnataka has 20 wildlife preserves and nearly 100 jungle resorts and forest lodges? The many numbers of forest lodges in Karnataka make it tough to choose one.
At this time of the year, all the jungles in India are shrouded in thick green cover due to mild sunshine. However, in about two months, spring will come and the forests in Karnataka will be bursting with wildflowers.
April month begins the wildlife watching season as the birds and animals are out on the open for a longer duration.
Either now or at the beginning of the wildlife viewing season, the forest lodges in Karnataka are crowd-free. Hence, it is prudent to plan your trip as early as possible.
Here are some of the most sought after forest lodges in Karnataka. Apart from rustic lodges at the peripherals of forests, you can choose for a Homestay or a Farmstay.
Before browsing through the list of forest lodges in Karnataka, it is to better know of the major wildlife reserves and sanctuaries in Karnataka.
List of major wildlife sanctuaries and reserves in Karnataka:
Bhadra Tiger Reserve
Ranganathittu Bird Sanctuary
Cauvery wildlife sanctuary
Kudremukh National Park
Anshi National Park
Bannerghatta National Park
Mookambika Wildlife Sanctuary
Dandeli Wildlife Sanctuary
Kaveri Nisargadhama Island
Dubare elephant camp
Sharavathi Valley Wildlife Sanctuary
Bandipur National Park
Nagarhole Forest Reserve
Kali Tiger Reserve
Kabini reservoir
Mudumalai National Park
Bhimghad wildlife sanctuary
Daroji Sloth Bear Sanctuary
Jayamangali Blackbuck reserve
Arabithittu Wildlife Sanctuary
Since Karnataka is blessed with numerous forests and a lengthy Western Ghat mountain range, it is the best state in India for wildlife spotting and jungle resorts.
Eleven Crowd-Free Jungle Resorts and Lodges in Karnataka
Browse the list of charming jungle resorts and lodges in Karnataka below:
River Tern Lodge, Bhadra Tiger Reserve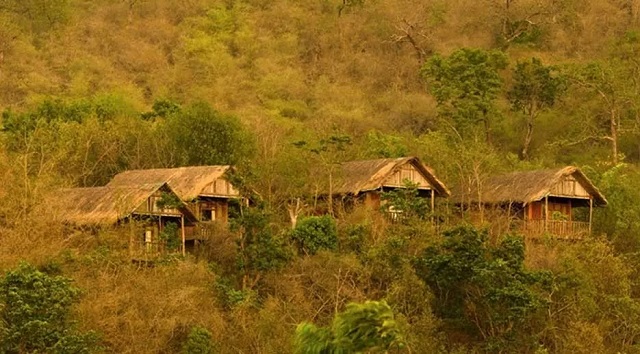 This forest lodge is located near the Bhadra Tiger Reserve, near Chikmagalur, Karnataka.
Though I said April to June is the best season for wildlife watching in Karnataka, that should not deter jungle lovers to visit the sanctuaries any time of the year as each season has its own beauty and attraction.
River Tern Lodge is one such place that you can visit throughout the year.
Don't assume there is a river called Tern. Actually, River Tern is an aquatic bird that is found to be living in large numbers here.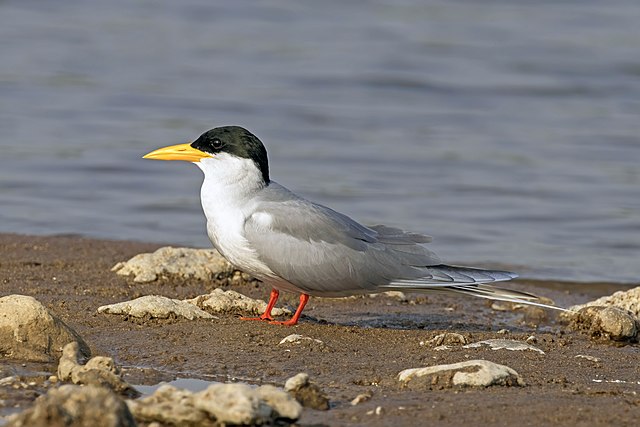 River Tern.
They feed happily in the Bhadra Reservoir.
The River Tern forest lodge in Karnataka is located just 5 km before the Bhadra Tiger Reserve.
There are two all-inclusive packages that are well worth looking at.
Visit the website to know what is offered there for you.
This is the only forest lodge to stay and enjoy doing various things near Bhadra Tiger Reserve.
Mayura River View Resort, Ranganathittu Bird Sanctuary
The sprawling Ranganathittu Bird Sanctuary is located 15 km from the big Mysore city. Though there are countless hotels in Mysore, I would suggest you avoid them and choose to book your room in Mayura River View Resort that is located in Srirangapatna, a temple town located just 3 km from Ranganathittu lake.
The resort is run by the Karnataka State Government Tourism Department.
There is a great range of birds in this bird sanctuary. You can take a relaxed boat ride on the lake and watch the colorful birds and crocodiles too that come out to sunbathe.
Kabini River Lodge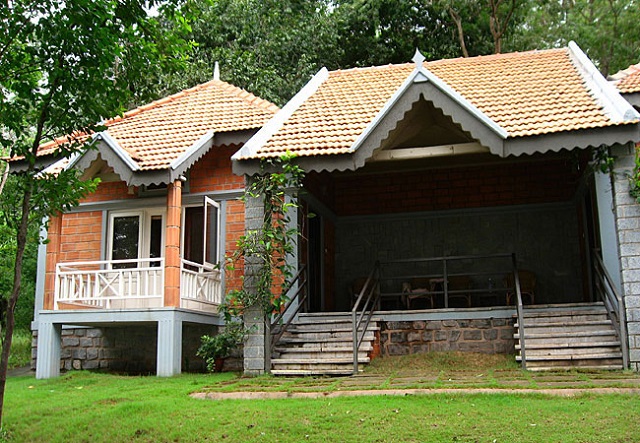 I think Kabini River Lodge is the most booked forest lodge in Karnataka. It is one of the perfect weekend getaways for those living in Bangalore, Mysore, and Ooty. Other big cities in Karnataka are slightly far off and not suitable for weekend trips.
Kabini River Lodge is built amidst tranquil surroundings of Nagarahole National park.
Visit their website for bookings and jeep or elephant safari rides. I don't think you need to book a seat on the thrilling 'coracle' ride on the river Kabini.
In addition to Kabini River Lodge, there are several more forest lodges nearby. I am giving below the names of a few more jungle lodges in Karnataka.
Serai Kabini Resort , Kabini
Bison Resort, Kabini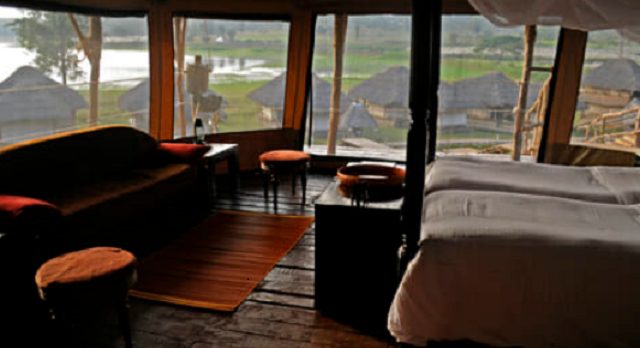 This forest lodge in Karnataka must be developed by someone who has an extraordinary love for nature and classic taste. Bison resort offers several types of accommodations that include African-style waterfront tents and rustic machans.
These rustic tents are rated as one of the best 100 tent-type accommodations in the world. You can feel like John Wayne.
Do you know these waterfront tents are equipped with a bathroom? Awesome!
Alternatively, machan is known as a treehouse. I like the sound of machan.
Red Earth, Kabini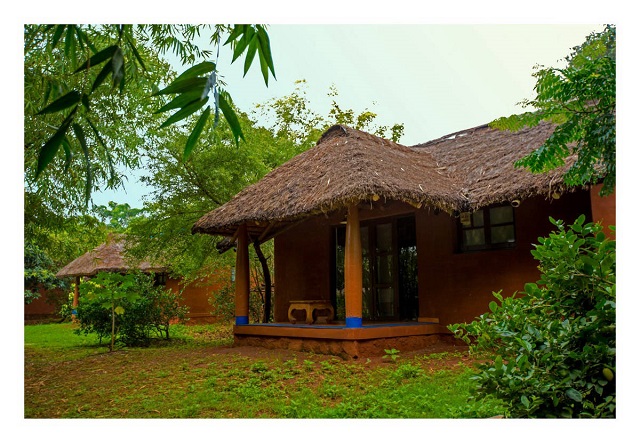 As I am listing more forest lodges near Kabini, you must be wondering where exactly is Kabini forest lodges are in Karnataka.
The Kabini Backwaters and Reservoir are located near the Nagarhole National Park.
In fact, those who are visiting the Mudumalai wildlife sanctuary and the Bandipur National Park, Wayanad National Park find the forest lodges in the Kabini area convenient to stay and visit more forests and wildlife reserves.
The Red Earth forest resorts in Kabini speaks of simplicity and living by nature and for nature.
Find out what is in store for you at Red Earth, Kabini by visiting their website.
Windflower Resort, Bandipur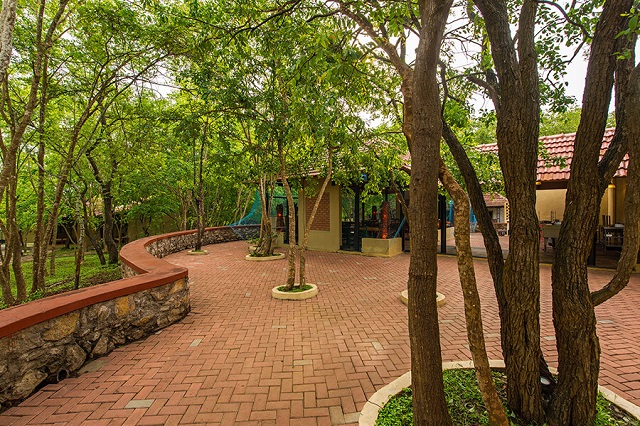 Bandipur Tiger Reserve and National Park are one of the most visited wildlife parks in Karnataka. The flora and fauna are rich and diverse that even a casual visitor would not fail to appreciate.
The Windflower forest lodge is the premier resort that is built on the outskirts of the Bandipur Tiger Reserve. Mysore is located 80 km away.
The celebrated hill station Ooty is also close by at 42 km distance.
The types of accommodation include independent cottages and luxury suites. Both are fully air-conditioned.
For knowing the facilities and amenities, visit https://www.thewindflower.com/bandipur/
Jungle Hut, Masinagudi
Masinagudi is a very small town cum village and is the gateway for Mudumalai wildlife sanctuary. This wildlife park is located on the border of Tamilnadu and Karnataka states of India.
Mudumalai wildlife park is a highly visited place in Tamilnadu. Ooty hill station is just an hour away from Mudumalai.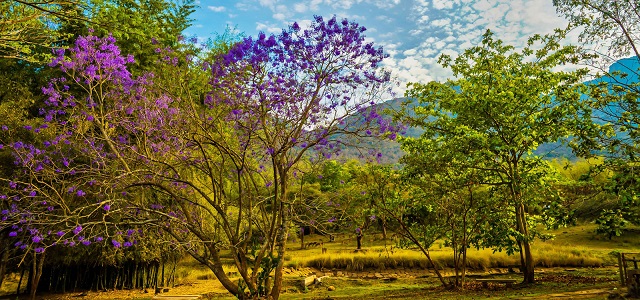 That is how the forest of Mudumalai will look in the spring season.
You can either opt to stay in a premium or standard room or in a luxury tent which will be a different experience.
Staying in the Jungle Hut forest lodge in Karnataka is advantageous because wildlife move about this spot frequently.
Thus, it is easy to spot them, especially the spotted deer.
Galibore Nature Camp
The city dwellers of Bangalore frequent this nature camp quite often as the distance between the two places is just 100 km.
The jungle lodge is ideally situated on the banks of River Cauvery.
The facilities are simple but eco-friendly.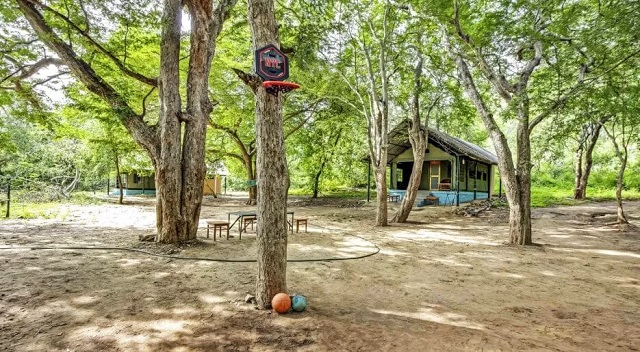 This is more of a nature camp than a sightseeing attraction. The main activity here is jungle walk, bird watching, and a campfire. For booking inquiries, visit their website.
Bannerghatta Nature Camp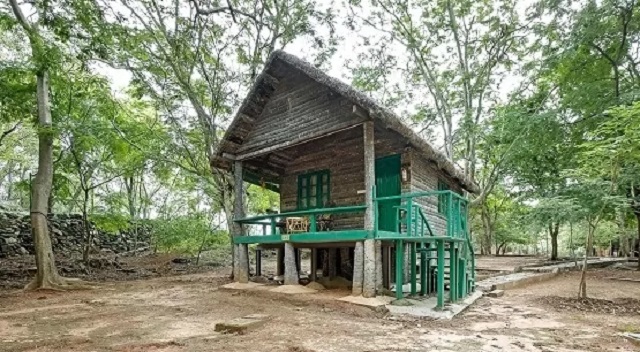 This is a very popular nature camp among college students and fitness buffs of Bangalore and Mysore. Bannerghatta Nature Camp is located within the city of Bangalore.
Visit their website to know about staying options and activities available.
Gorukana Jungle Resorts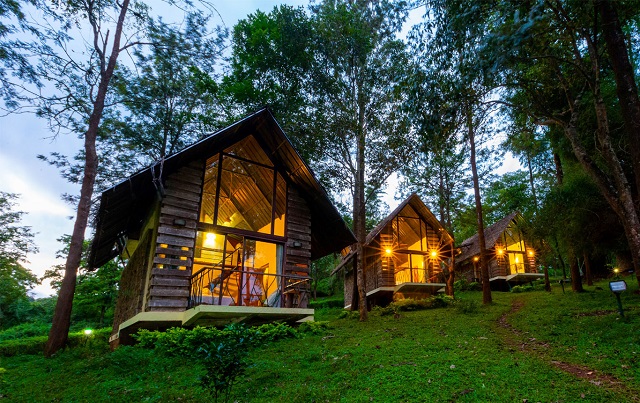 Aren't the cottages beautiful?
See the same cottages during the daytime.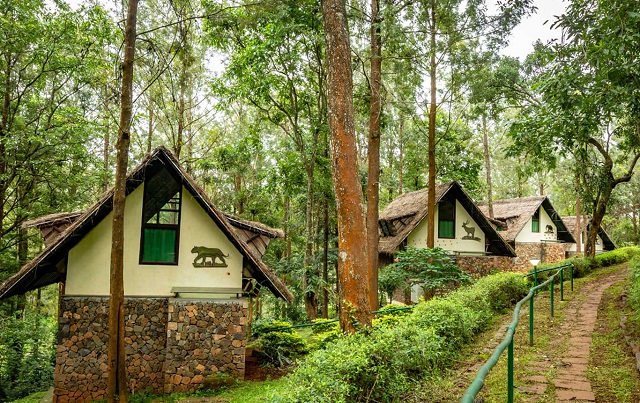 The Chamrajnagar district of Mysore is loaded with jungle resorts and lodges in Karnataka. Most of the wildlife sanctuaries and tiger reserves are located in this district.
In addition, the road route to Kollegal town, (the silk town) is beautiful with deciduous forests on either side. However, You can (if you are lucky) spot elephants and deer as you travel to Gorukana forest lodge near Mysore.
The distance is just 85 km from Mysore. Gorukana jungle resorts is built at the foot of Biligiri Ranganatha Swamy Hills (BR Hills).
Accommodation includes a treehouse too in addition to simple cottages.
To sum up the forest lodges and jungle resorts in Karnataka, you have more choices in Kabini National Park and Masinagudi, near Mudumalai.