Cape Town has received the coveted "world's best place to visit" by the New York Times. The year was 2014. I guess 6 years passed since that prestigious award, this South African city must have improved many folds. I am sure the number of visitors to this beautiful city in South Africa is increasing every year because the number of things to do in Cape Town demands one week holiday there.
The majority of Cape Town's tourist attractions can be classified into three categories that include:
Eating and drinking
Water Sports and Adventure activities
Beaches, mountains, and other places to see
Even amongst these 3 major attractions, I would rate water sports as the most exciting and thrilling things to do in Cape Town.
As far as the eating and drinking scenario here, I gathered that South African cuisine is unique and has no match in the world.
I think the reason South African cuisine's uniqueness can be attributed to the fact that it has not forayed much into the other parts of the world. Even their alcoholic drinks and mocktails remain close to their motherland.
Best Things to Do in Cape Town
Shall we delve into the big list of things to do in Cape Town, South Africa?
Ride a bicycle on water
Have you ever wished to walk or run on the water? I think it is one of the most wished-for skills for humans. Walking on the water and flying ability are our un-fulfilled desires.
However, you can now ride a bicycle on the water! Don't you think it is possible? Well, here, see a boy riding a cycle expertly on water.
This water cycle is a hydrofoil two-wheeler. Do you realize the excitement of reaching the far shore of a large lake quickly and easily without the help of anyone?
Water biking is available in Simon's Town. I think you can rent your hydrofoil bike for a minimum of two hours and off you go and enjoy a memorable water cycling.
You can even befriend a penguin or a seagull out there on the water.
Don't fret, buddy. You won't be left alone; a guide will follow you in a boat! Oh, won't that be wonderful?
I think riding a cycle on the water is simply the most enjoyable things to do in Cape Town.
Here is the address of the water biking location.
Simon's Town Jetty, 1 Wharf St, Simon's Town, 7975, South Africa
Phone: +27 83 777 1048
Call them to find out the timings of water biking activity.
Kirstenbosch National Botanical Garden
If the fauna of South Africa is already world popular, I would say the flora of South Africa, especially  this region's flora is nothing short of spectacular.
The Kirstenbosch National Botanical Garden ideally built on the slopes and foothills of the Table Mountain. It is one of the most visited place in Cape Town.
You can enjoy a canopy walk in Kirstenbosch National Botanical Garden through a foot-bridge built high above the trees.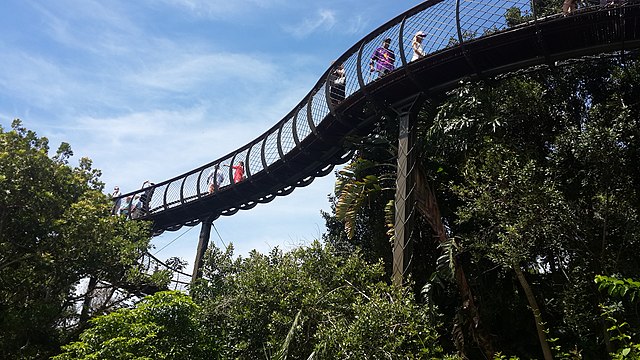 It gives you an excellent opportunity for spotting the famous South African birds and in addition, the view from above is breathtaking.
Won't you enjoy this visit to a botanical garden, one of the picturesque things to do in this South African city?
Boulders Bay, Cape Town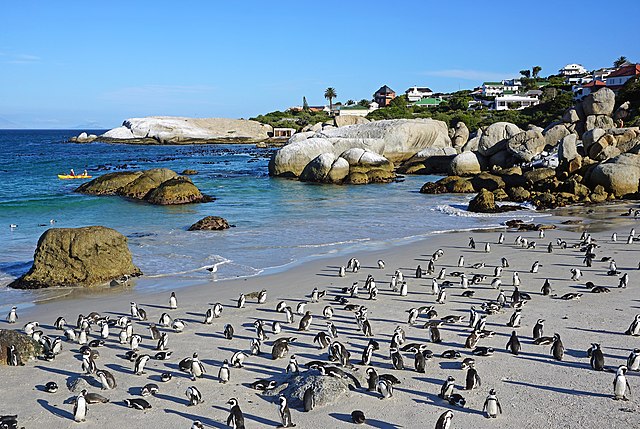 You need not go to the north and south end of the world to see the flightless penguins. You can walk along with a colony of African penguins right here in Cape Town's Boulder's Bay. A visit to the penguins' colony is certainly a memorable thing to do in Cape Town.
You can also swim in the Indian Ocean but be wary of the giant-size boulders.
Standup paddle-boarding
I wonder when this water sport was invented but it still is not that popular in the world in spite of no lacuna of water bodies.
Standup paddle-boarding is a rather convenient way of moving on the water. Among various things to do in Cape Town, standup paddle-boarding has not many takers.
Using a normal board that the water surfers use, you can leash yourself onto the board, stand on it and move about on the water using a light-weight paddle.
Beginners to stand up paddle-boarding practice the water sport on still waters. They then advance to rivers and finally hit the sea with confidence.
You can call +27 71 603 8388 and inquire about the timings of the standup paddle-boarding. This thrilling water sport is available in Victoria & Alfred Waterfront.
Sail on the Atlantic
One of the exciting things to do in Cape Town is to enjoy a two-hour sailboat trip on the Atlantic Ocean. You know It is located on the South-Western side of South Africa. It means some part of this South African city coast faces the Indian Ocean and some part of city is on the Atlantic Ocean.
You must go to the famous V & A Waterfront to enjoy a breezy stint of sailing on the Ocean.
This sailing trip is known as the 'champagne cruise'.
It is clear the V & A Waterfront is the happening place.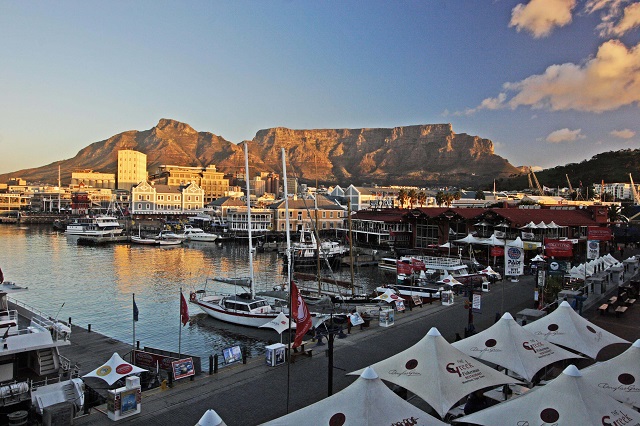 Kayaking stint, Cape Town
I almost forgot! The V & A Waterfront has another water sport activity. Eager water sports enthusiasts are happily rowing their kayaks here.
Additionally, Sea Point Beach, a highly popular waterfront, provides kayaks for rent.
Simon's Town is another kayaking adventure point in this city.
Ride the waves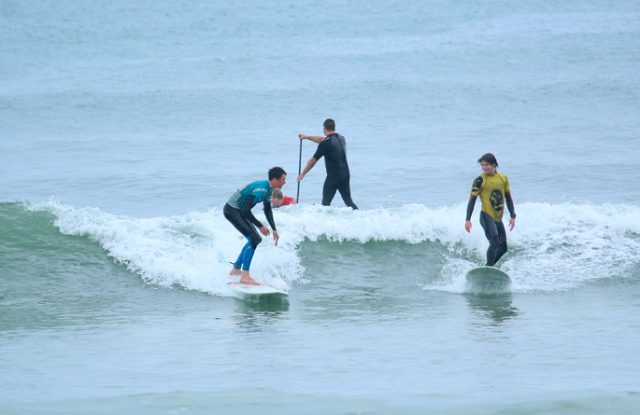 What is water sport without 'surfing',  the number one water sports adventure in the world? When I saw even teenage school students riding the waves on a surfboard without any fear, I thought, surfing is taught at their schools.
Surfing allowed at Muizenberg Beachfront. Wave riding is a big tourist attraction here.
Adventure activities in Cape Town.
Scooter ride on the slopes of Table Mountain.
Imagine a dwarf two-wheeler with plus-size wheels. You get an ugly looking scooter that you can ride down Table Mountain. The view of the city is stunning from the meadows of Table Mountain.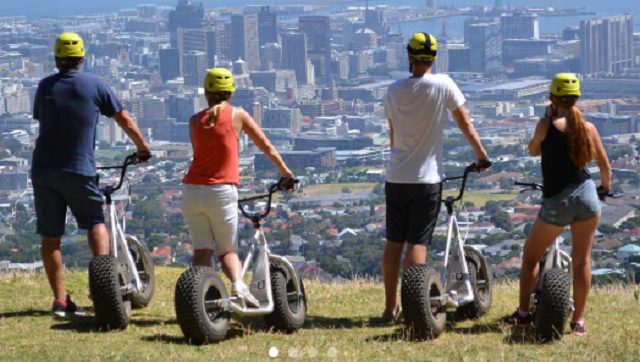 This fun scooter ride on the slopes of a hill is one of the most loved adventure things to do in Cape Town.
From the looks of it, it is not a scooter but a 'segway', a sort of an e-bike without any motor.
Ziplining in Cape Town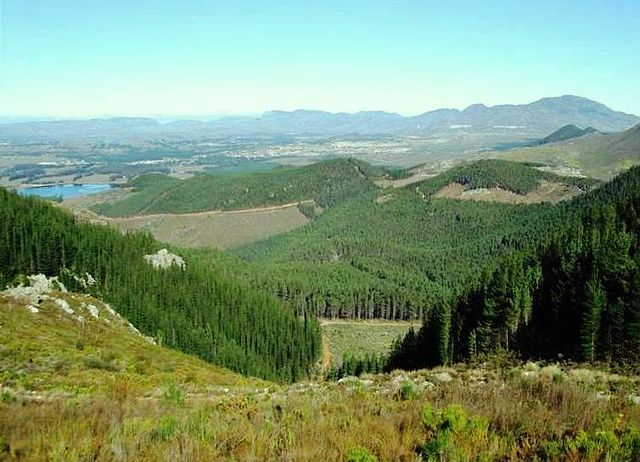 That's the grand view of Elgin Valley, about 70 km away from the main city. What a beautiful place! It is no wonder protected by UNESCO as a World Heritage site.
Here, between two mountain peaks, zipline adventure is offered. The zipline adventure is called 'canopy tour' in South Africa.
The Elgin Valley is big fruit cultivation area, apple being the highest yielding fruit.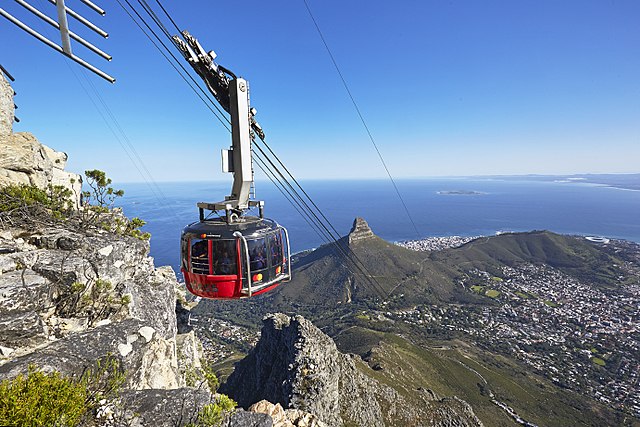 Table Mountain is the identity of  the city.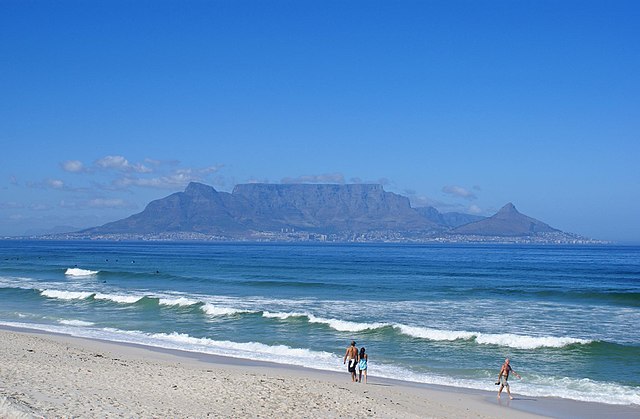 A ride in a cable car to the top of Table Mountain is certainly one of the foremost things to do in Cape Town.
Since a cable car ride is scenic and exciting, it attracts all age groups of tourists. As such, there will always be a long queue of people waiting for their turn.
If you have the strength and stamina and want to impress your fiancée, join a bunch of like-minded young men and go trekking to the summit of Table Mountain. In order to reach the peak that stands at a climbable 2100 feet, you have to walk nearly 10 km from the base of Table Mountain.
A visit to Table Mountain is a popular tourist attraction here.
Paragliding and abseiling are the two other
Paragliding and abseiling are the adventures that only veterans can enjoy. Yes, you and I can only appreciate and cheer them from a distance.
Take a bird's eye tour of Cape Town in a chopper
There is a 3-passenger helicopter tour of the city. It is offered from the V & A Waterfront pier. It would be an unforgettable experience when you are touring Cape Town. Don't miss this fun attraction.
Beaches in Cape Town
Remember, Cape Town is lucky to have two big oceans on its south and western border. Naturally, there must be quite a number of beaches that the locals recommend to the tourists.
Boulders Beach is the most visited beach because it is where you can walk with the African penguins. You can imitate their clumsy walking.
Clifton Beaches are another favorite beach for the permanent residents of the city.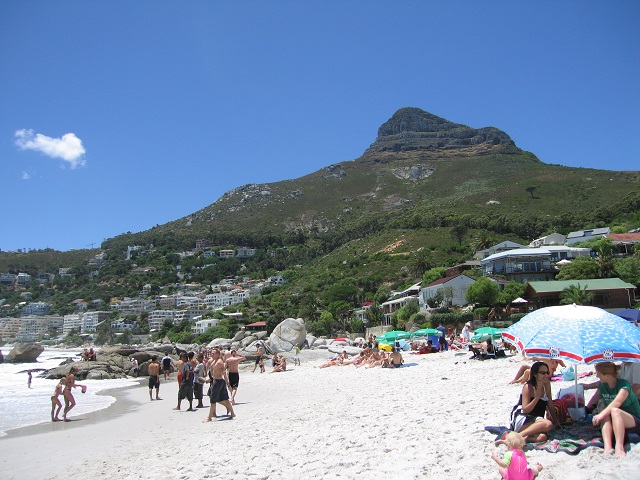 There are four Clifton Beaches here.
Camps Bay is a lively beach with substantial number of children splashing at the gentle waves.
Koeël Bay known for producing artifacts using seashells.
Sea Point Beach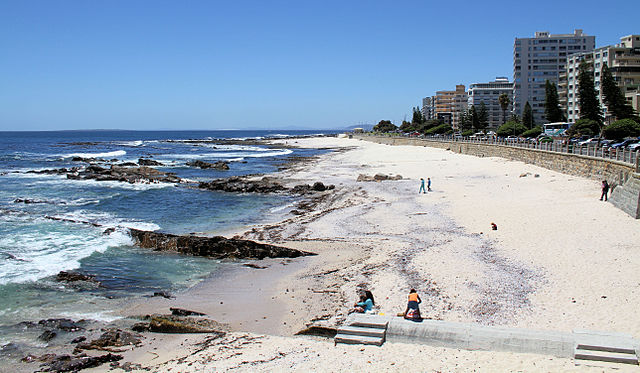 One of the beautiful suburbs of  the city, Sea Point Beach has also a promenade. Walking on the Sea Point promenade is a very pleasant thing to do.
There is a swimming pool in Sea Point, overlooking the Atlantic Ocean.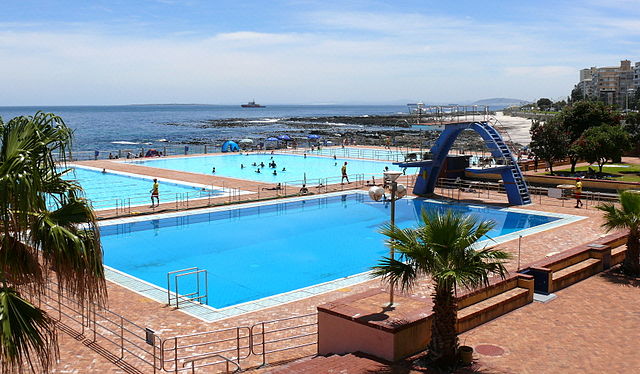 It is a breathtaking sight to view the ocean from the swimming pool.
In addition, you can stroll through the beautifully landscaped Green Point Urban Park.
Since all along Sea Point Beach, there are wealthy residences, the area is served by swanky restaurants and bars.
Sea Point Beach is one of the topmost tourist attractions in this South African city.
Wow! So many things to do in Cape Town means you need seven days at least to enjoy all the attractions in this city.
Visit Cape Point
A trek to Cape Point is thrilling.
Pineapple soda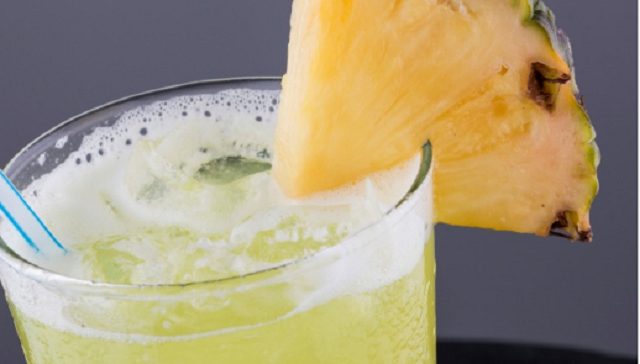 Whenever you visit a foreign country, eating or drinking the local specialty is one of the memorable things to do. The locally made fruity and fizzy drink aptly called the 'Fizz' is a very popular mocktail. You can choose between an apple soda or a pineapple soda.
Both the fruits grown locally.
I read the famous alcoholic drink 'gin and tonic' originated in South Africa. It may be anywhere in South Africa but certainly, one of the best things to do in Cape Town is to taste a chilled glass of colorless gin and tonic.
Hmmm.. I think it looks a bit turbid and hence not entirely colorless-eh?
There is an exclusive gin bar in Bree Street. For gin lovers, it is the most recommended place to taste the South African gin and tonic because the bar serves as many as one hundred varieties of gin!
Rooibos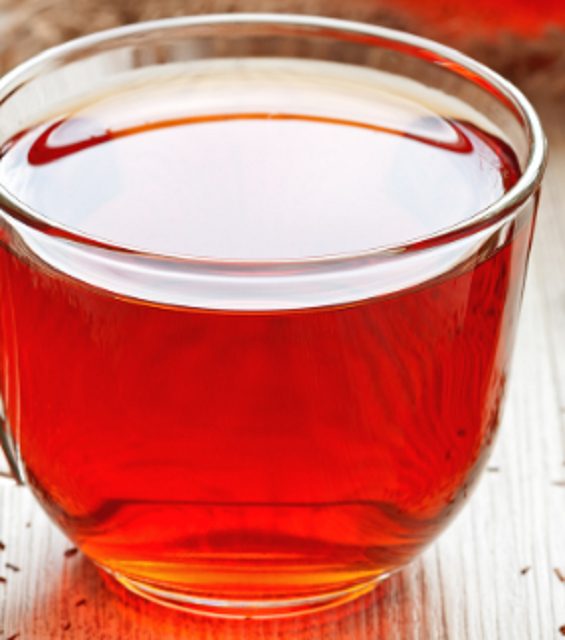 Wow! What a red colored drink! This is a local tea here. This is not the usual caffeinated tea, mate; it is rather a herbal tea and is named "red bush'.
Another exotic thing to do is to mix this red drink with vodka and drink at parties. Herbal tea and vodka-what a combination!
Mojo Market
A  half-a-day visit to the Mojo Market is one the foremost things to do in this city
This fun and frolic street is located right on a tree-lined promenade in the Town.
The Mojo Market is alive all seven days a week. There are 30 stalls selling diverse food that includes both continental and South African cuisine. Since the Mojo Market wakes up quite early, you can even have your breakfast there. Have your healthy and delicious pick from salads, juices, sushi, hummus, and macaroni.
The choice of food is endless. You will have a difficult time choosing what to reserve for the next day.
Similarly, you can have your drink for an excellent range of beer, gin, whiskey, tequila, rum, and red wines.
The teetotalers too have a fantastic choice of fruit juices and mocktails.
Your eating and drinking will be made more enjoyable because of the outdoor dining area.
If there are any popular sports going on right then in the world, you can watch them live on giant television screens installed at various places in Mojo Market.
If you are not in the mood to eat or drink, you can browse through stalls selling locally made handicrafts such as jewelry, wooden and beads gifts and home decors, and clothing.
Farmers' market
When you are touring this city, your hotel receptionist will go out of her way to do two things here.
One is to make a trip to the local farmer's market in Orangezicht City Farmers' Market. It is located on the V & A Waterfront. The crowded farmers' market will display the freshest of locally grown fruits and veggies. In addition, you will be tempted to buy fresh red wine in crates.
Dairy products that you can buy include a range of cheese bricks.
Another farmer's market in the city called the Neighbourgoods Markets. Ideally, it is located in the Old Biscuit Mill area, Woodstock.
While the first one is open on Saturdays and Sundays, the second farmers' market is open only on Saturdays.
The Must-Eat South African Specialties

I am giving below some of the food items that you must eat while you are in South African Town.
This is a unique South African food that is basically a sandwich but the filling in between the bread makes you grimace. The important filling fried squid stuffed along with cheese, vegetables, and condiments.
This is a submarine sandwich, buddy. The cylindrical long bread split lengthwise and the fillings haphazardly arranged.
Gatsby eaten after dipping it in a bowl of tomato ketchup or meat pickles.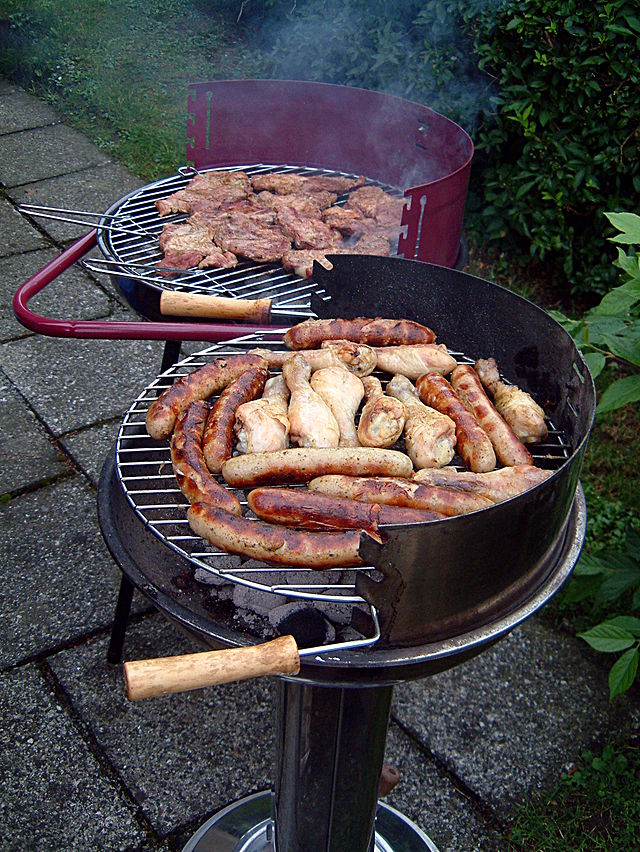 Raw meat marinated with spices and then grilled in bar-be-cue style.
Another image of Braai cooking.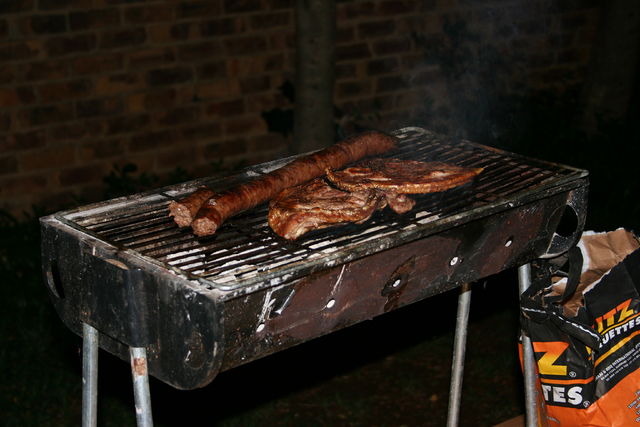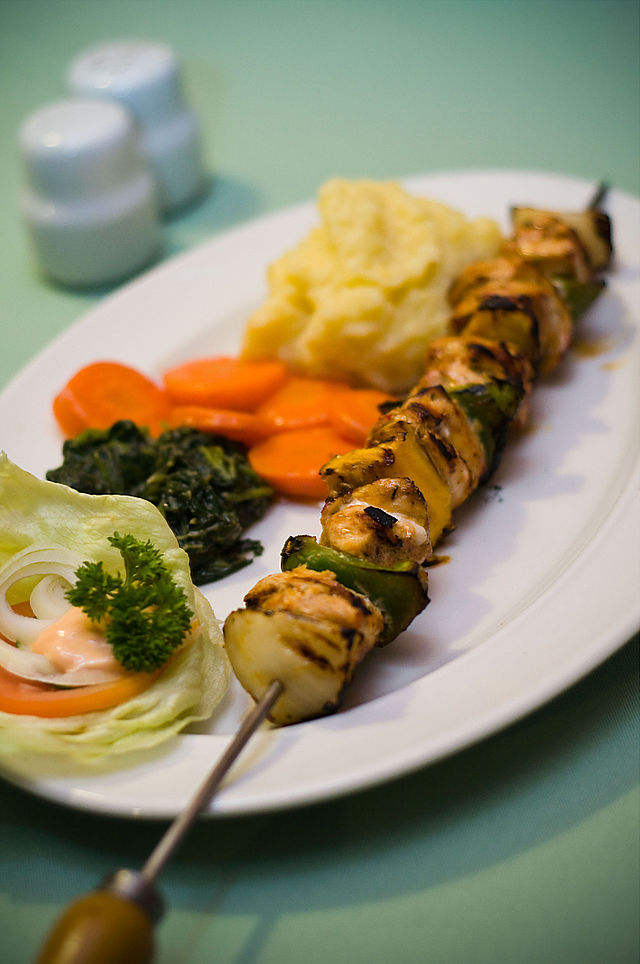 This skewer resembles Indian style kebabs, where lamb meat is the most cooked Sosatie in South Africa. Frequently, beef is also used in Sosatie.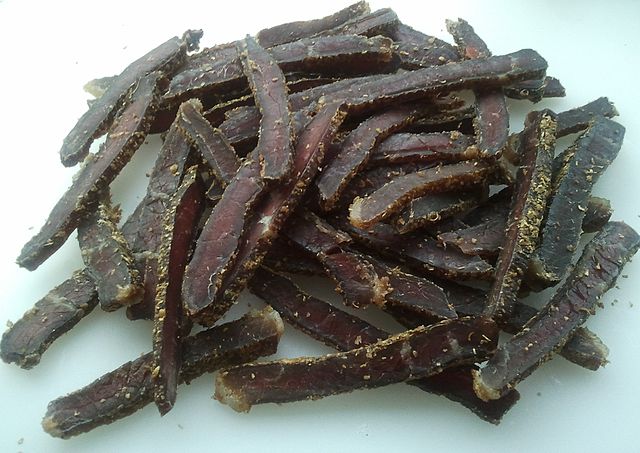 These cooked beef sticks don't appear appetizing to me but the people of South Africa love this local food. Similar to the dried fish, this is dried beef in stick form.
If you fancy eating exotic South African exclusive meat, inquire for biltong that uses Ostrich, Wildebeest, or Kudu meat.
After drying, the meat cured with vinegar, rubbed with African spices and condiments, and cooked dry.
When you are touring in South Africa, eating like a local African is one of the suggested best things to do in Cape Town.
It is a South African food containing yellow rice and meat generously spiced.
Exclusive South African drinks that you should try.
Umqombothi
Don't say goodbye to the town before tasting a few local drinks. One of the fun things to do in Cape Town is to try drinking a corn-based beer called 'Umqombothi'. No, you and I can't pronounce it. So, it is better to point it out in the menu card using your index finger.
This is a soft drink and non-alcoholic. This specialty made from fruits that include litchi, peach, and apricot.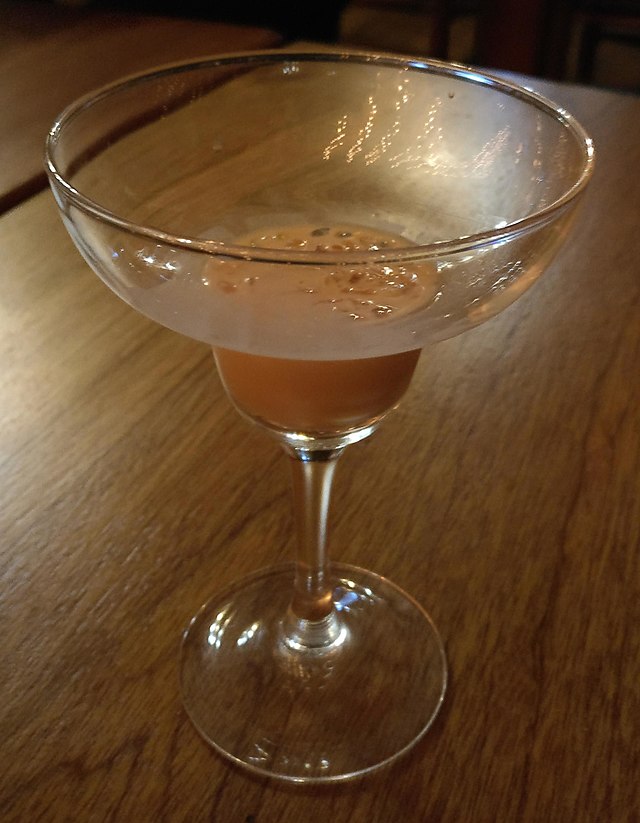 It is more of a party drink but now, it is found in most South African homes. A creamy liqueur, it is either drunk as it is or is mixed with coffee or topped up on ice creams.
The source of the drink is the local fruit named 'marula'.
I think I need to write an in-depth article on places and hotels to stay in and also the highly recommended restaurants and cafes soon.