What to see in India?
You must see these 7 incredible places in India.
India is not just the Taj Mahal, Qutab Minar, Red Fort, and the Hava Mahal. There are many more must-see places in India that are astonishingly beautiful in architecture, ecosystems, and natural beauty.
If only the places that I am covering in this blog post get highlighted as astoundingly incredible India, India's tourism will surge to new heights.
Of course, the architecture of Red Fort and Hava Mahal has no match anywhere in the world. There are similar places that should be included as spectacular tourist attractions in India by all the major tour operators in India.
After reading till the end, you would certainly say "Wow, why I have not known these places thus far".
What to see in India?
India's ancient temples and forts are world-class but so many of them are in a deteriorated state due to sheer negligence by the tourism department of India.
Ratneshwar Temple
You thought the Pisa Tower in Italy is the only building in the world that is leaning! Yes, it is a world wonder.
Nonetheless, the Ratneswar Temple in the image above is also leaning backward. The degree of incline is 9 degrees, 5 degrees more than the Pisa Tower,
Why this architectural wonder is not included in the list of wonders of the world?
How many of you have heard about this leaning temple in India? Isn't this leaning temple a part of Incredible India?
Ratneswar Temple is located in Varanasi (Kasi), right on the banks of River Ganga.
During the monsoon, the temple's sanctum sanctorum gets submerged but surfaces above the water in summer.
Kasi is home to numerous temples. Still, it is not difficult to spot this temple mainly for two reasons.
Due to its slant
Due to its location which is the 'Manikarnika Ghat', the most revered place to cremate a body on the river bank.
The locals call it Ratneswar Mahadev Temple. Here is another view of this leaning temple of Ratneswar Mahadev.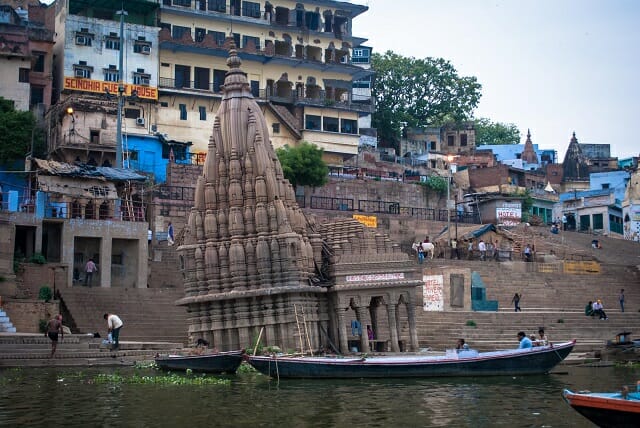 Add this world wonder to your list of must-see places in India.
Reaching Varanasi:
There is no dearth of road, rail, and flight connectivity to Varanasi. It is India's one of the foremost sacred towns.
Orchha temples and palaces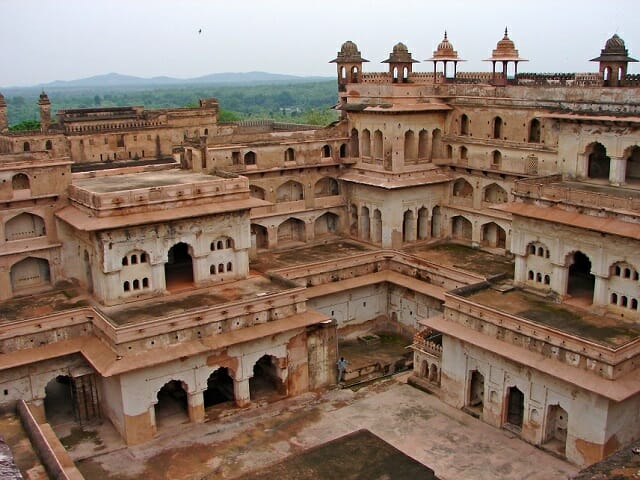 The architecture of this Ram Raja Temple resembles several palaces and forts in Rajasthan.  But this is in Madya Pradesh. However, Orchha town was founded by the famous Rajput ruler, Rudra Pratap Singh. That explain the different architecture.
This exquisite building is built on the banks of Betwa River, a tributary of River Yamuna.
How to go to Orchha Town?
Jhansi town is the nearest railway station to access Orchha. You can hire an autorickshaw to cover the 15 km distance.
The closest airport is in Gwalior, about 100 km away in the north, towards New Delhi.
If you intend to pay a visit to Orchha, please make note of some more monuments and temples there.
Chaturbhuj (four hands) Temple
A temple dedicated to Goddess Lakshmi
By the way, the very popular Khajuraho temple is located 170 km southeast of Orchha.
Adalaj Stepwell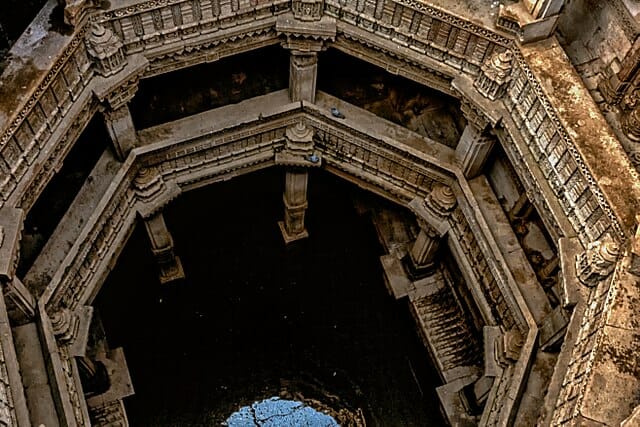 What a stupendous architectural feat! These lesser-known tourist landmarks in India are absolute gems and the pride of India.
Can you believe it was constructed at the end of the 15th century? There are five stories to step down to reach the water which is always incredibly cool. Well, that's the purpose of builders for the benefit of travelers.
The location of this extraordinary construction is Gandhinagar, Gujarat. The capital city Ahmedabad is only 25 km away. Adalaj stepwell is one of the must-see places in India.
Nangal Wetlands
Can you imagine a sleepy village near Chandigarh as a big tourist center that attracts even foreign visitors? The natural beauty cannot be read to appreciate but to be seen.
Before you know what is so special about the wetlands of Nanga, let me mention a few must-see places in India that are found in Nangal.
It is home to the highly popular Bakra Nangal Dam, the second-largest dam in India.
The Bakra Nangal dam is built over the legendary Sutlej River, one of the five great rivers that nourish Punjab.
Another important tourist landmark in Nangal is the Shivalik Hills, a mountain range of untold beauty.
The Nangal village's three borders are bound by rivers and one border is bound by the picturesque Shivalik Hills.
There are numerous important religious temples in Nangal that include Gita Mandir, Jalfa Devi Mata temple, Triveni Mandir, Bhabour Sahib Gurudwara, and Lakshmi Narayan Mandir.
The Nangal Town is a well-planned one with avenue trees.
Nangal village is a major production center of fertilizers.
The township is constructed with numerous attractive parks, and sports and recreation clubs.
Nangal Wetlands:
Any wetland is a highly protected nature reserve and wildlife sanctuary, especially for birds and reptiles. In order to spot and study the birds, reptiles, fish, and snakes, nature enthusiasts, ornithologists, geography researchers, and habitual bird watchers throng Nangal right through the year.
The wetlands are formed by several tributary canals of River Sutlej. The sprawling wetlands comprise a huge 700-acre area. With perennial water resulting in abundant prey, the Nangal wetlands attract even migratory birds numbering a whopping 10,000 species! Imagine the tourist crowd that visits Nangal Wetlands, truly a place of Incredible India.
Some of the Mallard Ducks are simply, breathtakingly beautiful.
A few birds that one can spot in Nangal Wetlands:
Yellow-eyed Babbler
Woodshrike
Red Jungle Fowl
Mallards
Pintails
Geese
Nangal wears a fresh and green look immediately after the monsoon. So, you better plan a trip to Nangal in October-November. Take your entire family.
Nagadevatha Temple
Do you know the most sacred temple dedicated to the five-headed serpent in India is located in Karnataka and near Bangalore? Have you never heard of it? That is why it is ranked as one of the must-see places in India.
The worshippers of the serpent god, buy a sculpture of the five-headed serpent and leave it on the temple premises. One can see hundreds of them.
Here, take a virtual trip to the Nagadavatha temple.
For an actual trip, you can locate this most revered temple on the Bangalore-Bellary road. The distance is around 40 km from Bangalore city center.
Lachung Hill Station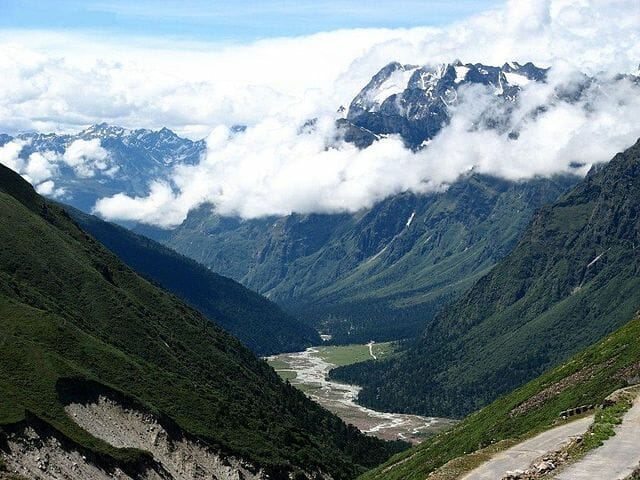 This quaint and peaceful hill station is definitely unknown to the majority of the Indians. It is part of Sikkim, one of the states in Northeast India.
The uncrowded virgin hill station is situated at a magnificent altitude of 9600 feet in the Himalayas.
To add to the hillside beauty of Lalchung, two rivers flow through the town. They are known as Lachung and Lachen. Both these rivers are tributaries of the River Teesta.
There are numerous places to see in and around Lachung but your main purpose for visiting this small hill station is to relax and enjoy the climate.
However, for those who are keen on sightseeing, here are some places of tourist interest in Lachung.
Chopta Valley
Seven Sisters Waterfalls
Gurudongmar Lake
Yumthang Valley
Shingba Rhododendron Sanctuary
Zero Point
Bhim Nala Falls
Green Lake
One can find Buddhist monks wandering the streets. They belong to various Buddhist monasteries of Sikkim.
In order to enjoy a weekend in this beautiful hill station, fly to Gangtok, the capital of Sikkim. Once there, hire a cab to reach Lachung which is 80 km away, in the direction of the Tibet border.
Vattankal Hill Station
This is one more secret hill station that is ignored by the majority of the tourists who go to Kodaikanal in the summer.
Vattankal is only 6 km away from Kodaikanal hill station.
Here is another unknown fact of Vattankal:
It is called 'little Isreal' because tourists from Isreal come here in large numbers all through the year. I wonder why they come from all the way to this little hamlet on the Palani Hills.
Vattankal offers hidden waterfalls and cascades, numerous mountain streams, and spectacular mountains and viewpoints.
These are stupendous and secret tourist attractions in India that are not known to even avid tourists.